One of the Greek marbles that has now become very fashionable all over the world, at a time when the trend has moved towards white/grey coloured stones, is Volakas marble.
The increase in demand has reached to the extent that currently (as of 2018) the demand for this material is greater than the production of this material. The production too has increased in recent years to catch up with the demand.
Quarries of Volakas Marble
There are approximately 10 active quarries of the material. The quarries of this marble are located in Volakas, which is what gives it its name. Some companies, however, choose to call this marble by other names, depending on the quarries from which they are extracted and the differences in tones etc that may exist.
Varieties of Volakas Marble
As is normal with natural stones, the marble comes in different varieties based on different aesthetic criteria.
a). Diagonal veins. The veins of this variety tend to be diagonal and this is its distinctive feature. Frequently the colour of this variety is of beige/brown or grey tones, depending on the quarry.

b). Cloudly/Flower veins. Not as well known as the Diagonal variety, this name comes from the aesthetic look that comes out of the cut while processing. Some quarries give the name Volakas Flower because of the form of the vein.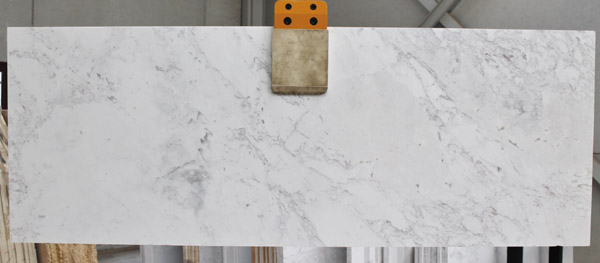 A new format has recently been presented in the market which is some people called Fantasy but goes also be other names. This too comes from the type of cut.
The Volakas marble from different quarries tend to have different patterns and colours. The predominant colour, however, is white background with grey veins or of beige or brown. The veins can also be of ocre, or wine, or violet. The veins, moreover, can be thicker or also be thinner, within the same stone. In some varieties it is the background that is predominant, in other varieties it is the vein that differentiates the most.
Classification of Volakas Marble
As is almost always the case, industry classification is based on aesthetic criteria. Normally Volakas would be white/grey with veins alternating between being thick and long and the patterns variation.
Volakas is a dolomite marble in terms of mineral composition. It differentiates from other dolomites by the type of veins and that is how different names are given. Its technical characteristics are similar to other dolomites. The resistence to wearing out is superior because it has greater flexibility. With big blocks care has to be taken that the slabs are not bowed.
*TABLE OF' PHYSICAL AND MECHANICAL PROPERTIES OF THE  DOLOMITIC MARBLE WITH THE COMMERCIAL NAME **"WHlTE OF VOLAKAS"
APPARENT SPECIFIC GRAVITY                                          2825 kg/m3
WATER ABSORPTION (DIN 52 103)                                     0,19%
OPEN POROSITY (DIN 52 102)                                             0,54%
COMPRESSIVE STRENGTH - Dry condition (DIN 52 105) 138,6 N/mm2
COMPRESSIVE STRENGTH -Wet condition (DIN 52 105) 145,9 N/mm2
COMPRESSIVE STRENGTH AFTER
FREEZE / THAW CYCLES (DIN 52 104 & 52 105)             102,6 N/mm2
FLEXURAL STRENGTH -Dry condition (DIN 52 112)           9,90 MPa
FLEXURAL STRENGTH•- Wet condition (DIN 52 112)       10,76 MPa
MODULUS OF ELASTICITY (DIN 1048/1991)                     35 GPa
ABRASION RESISTANCE (DIN 52 108)                           2,20 mm
IMPACT STRENGTH (UNI-U 32.07.248 0)                       59 cm
*Test carried out by: Institute of Geology & Mineral Exploration, Economic Geology Department, Ornamental Stones Quality Control Laboratory, "LITHOS", Athenas (Greece).
**Quarry of F.H.L. KYRIAKIDIS GROUP, Municipality of Prosotsani.
Different Finishes in Volakas Marble
The finish of this stone is almost always polished. It is also sometimes sold in the honed finish, once in a while also in fine sanded finish.
Application
Its application is almost entirely in decoration, mostly interiors. In milder and hot climates it is also used in exteriors.
Sizes
Slabs tend to come in size 270 x 140 cm depending on the quarry. Slabs are, therefore, medium or big sized. Tiles can be of sizes 60 x 30 cm, 60 x 60 cm, in 2 cm, in the standardised format. In 3 cm thickness this stone is usually made only under specific orders.
Aesthetically Volakas marble being similar to Italian white marbles, ends up being the competitive product.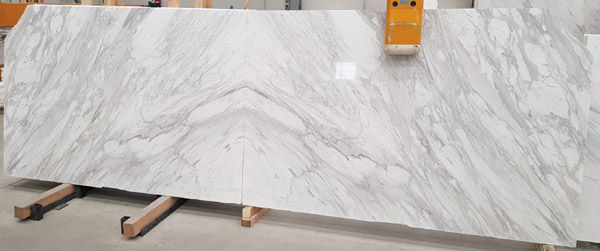 Markets
In the (still) globalised world where interior designers and architects everywhere have been showing a preference for white marbles, Volakas, needless to say, is popular everywhere, and has been known for several years.
Note: Our thanks to Francisco Amorós, Silverio Dobón and Keshav Kumar for the information and photos provided for this article.