During the celebration of the Marmomac fair in Verona, as always, one highlight is the Italian Stone Theatre, a thematic exposition that combines technology, design and stone. The theme of the 2021 edition was "Time in Stone". Its organisation was done by Raffaello Galiotto and Vicenzo Pavan and the displays were the following:
IN OUR TIME (Raffaello Galiotto y Vincenzo Pavan): Contemporary nature and timeless spirit in stone design for furniture products.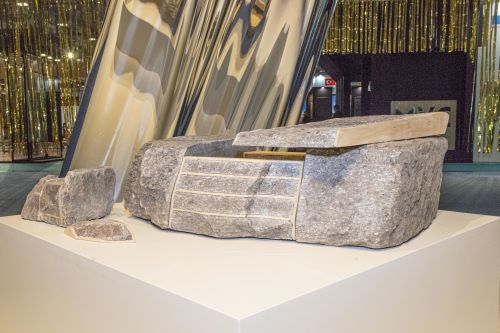 Stone Boxes
DESIGN: ANDREA BRANZI
PRODUCTION: ODONE ANGELO
MATERIAL: PIETRA DI LUSERNA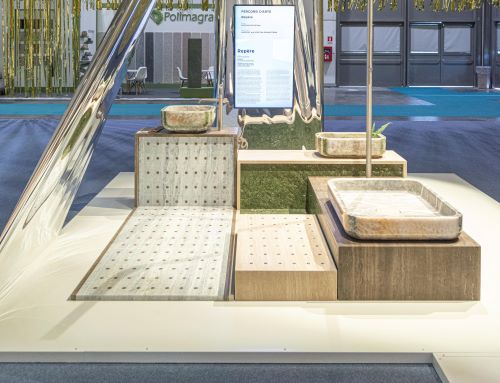 Repère
DESIGN: CRISTINA CELESTINO
PRODUCTION: MARGRAF with CRISTINA RUBINETTERIE
MATERIAL: TRAVERTINO, AZUL CALCITE, VERDE GIADA, FIOR DI PESCO CARNICO, ONICE ROSA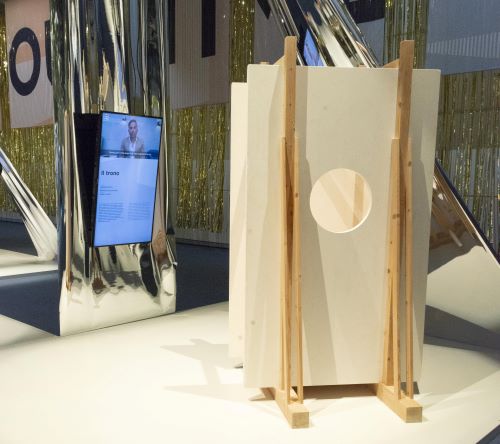 Il trono
DESIGN: FRANCESCO FACCIN
PRODUCTION: BIANCO CAVE by FATO STONE
MATERIAL: PIETRA DI OSTUNI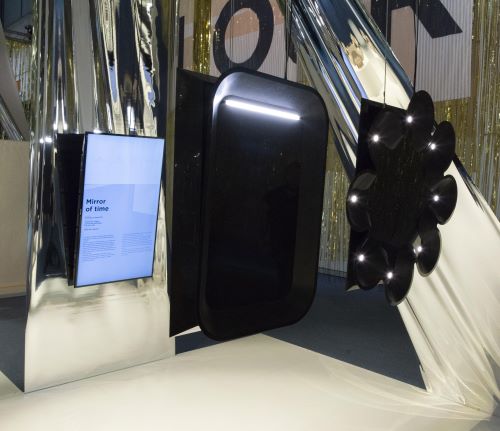 Mirror of Time
DESIGN: RAFFAELLO GALIOTTO
PRODUCTION: VICENTINA MARMI, DONATONI MACCHINE with ALL-LED
MATERIAL: NERO DEL BELGIO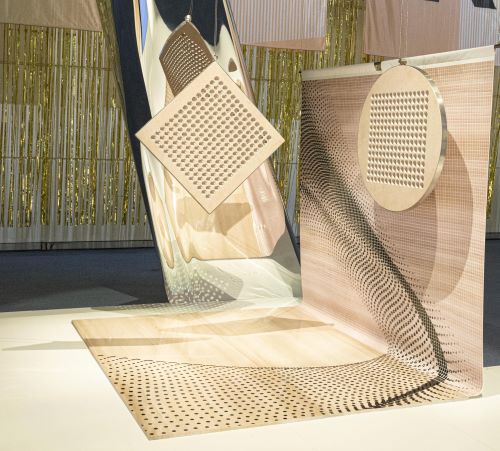 Virtual lithic screens
DESIGN: GIUSEPPE FALLACARA, MAURIZIO BARBERIO - NEW FUNDAMENTALS RESEARCH GROUP
PRODUCTION: STILMARMO with CNC DESIGN, PICCININI MARMI, MOSAICO DIGITALE
MATERIAL: UV PRINTED APRICENA LIMESTONE and NATURAL RESIN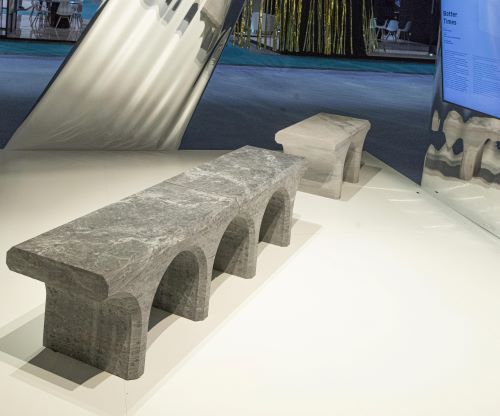 Better Times
DESIGN: MATTEO RAGNI
PRODUCTION: GMM, ALPHACAM by LICOM SYSTEMS
MATERIAL: PALISSANDRO by TOSCO MARMI
PERCORSI D´ARTE (Raffaello Galiotto): Stone processing machines as a source of artistic inspiration.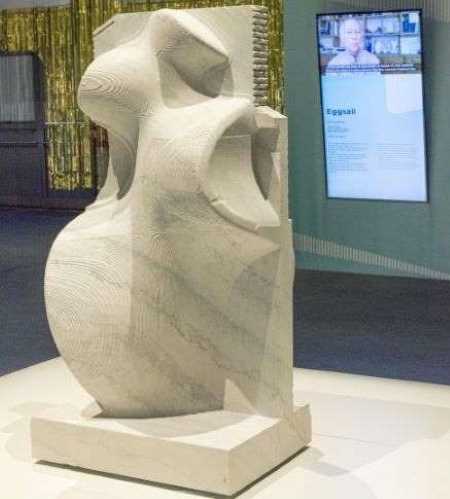 Eggsail
AUTHOR: NICOLAS BERTOUX
PRODUCTION: LUANA MARMI with LA FENICE MARMI, RONCHINI MASSIMO
MATERIAL: CIPOLLINO CREMO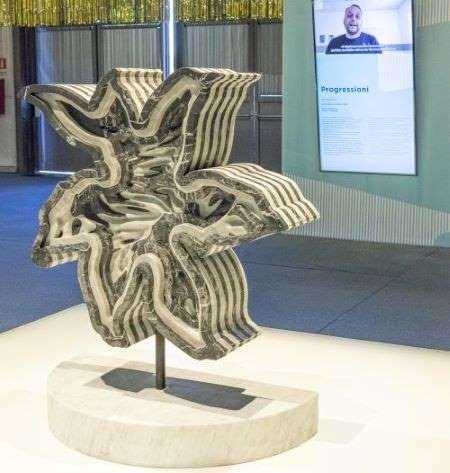 Progressioni
AUTHOR: JON ISHERWOOD
PRODUCTION: GARFAGNANA INNOVAZIONE
MATERIAL: NERO MARQUINIA, BIANCO CARRARA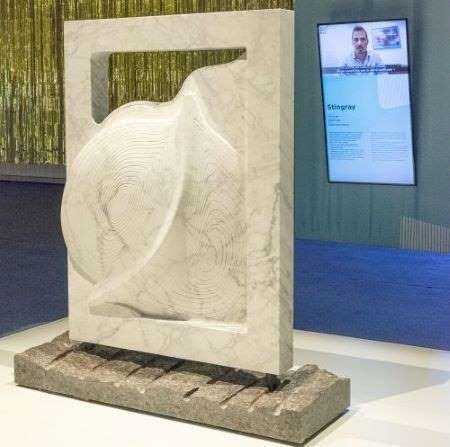 Stingray
AUTHOR: CYNTHIA SAH
PRODUCTION: EMMEDUE, DDX
MATERIAL: ARABESCATO DI CORCHIA
BRAND & STONE 3.0 (Danilo di Michele, Giorgio Canale): The use of natural stone for the production of objects and accessories included in the collections of international design brands.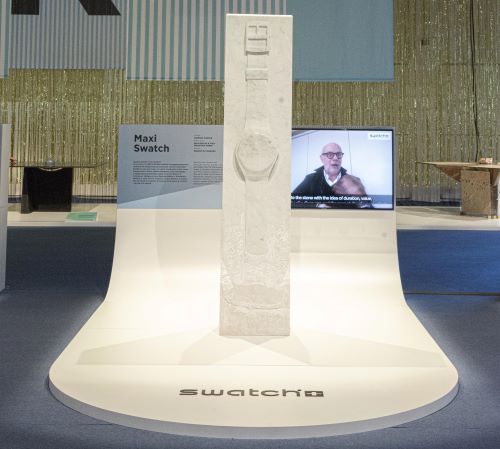 Maxi Swatch
BRAND: SWATCH
CONCEPT: GIORGIO CANALE
PRODUCTION: BIASI EMILIO & FIGLI INDUSTRIA MARMI
MATERIAL: BIANCO DI CARRARA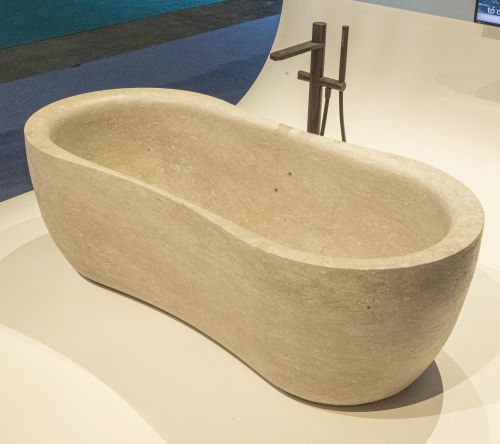 Fida
BRAND: ANTONIOLUPI
DESIGN: MARCO DI PAOLO
PRODUCTION: GRASSI PIETRE
MATERIAL: PIETRA DI VICENZA GRIGIO ALPI SPAZZOLATO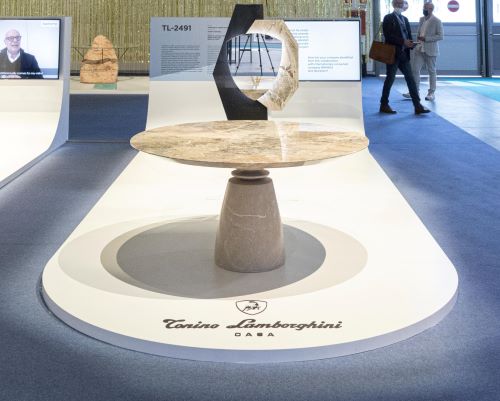 TL-2491
BRAND: FORMITALIA LUXURY GROUP - TONINO LAMBORGHINI CASA
DESIGN: FORMITALIA DESIGN STUDIO
PRODUCTION: MARMI GHIRARDI
MATERIAL: BRECCIA AURORA MARINA BLU, NERO ASSOLUTO, BRECCIA LIGHT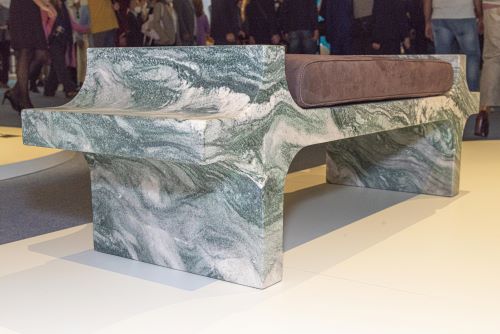 Dharma
BRAND: BAXTER
DESIGN: STUDIOPEPE.
PRODUCTION: BAGNARA
MATERIAL: QUARZITE VERDE LAPPONIA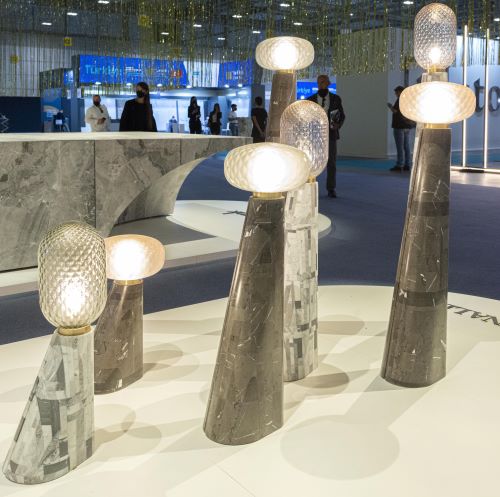 Seven Blooms
BRAND: IL FANALE GROUP
DESIGN: GIORGIO CANALE, MATTEO ZORZENONI
PRODUCTION: STONETHICA by PETRIS
MATERIAL: CARRARA MIX and PIETRA GREY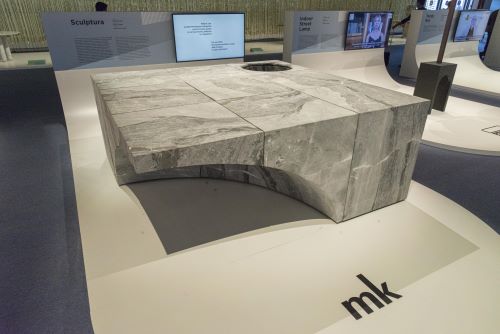 Sculptura
BRAND: MK
DESIGN: GIORGIO RAVA
PRODUCTION: MARINI MARMI
MATERIAL: NUVOLATO DI GRÉ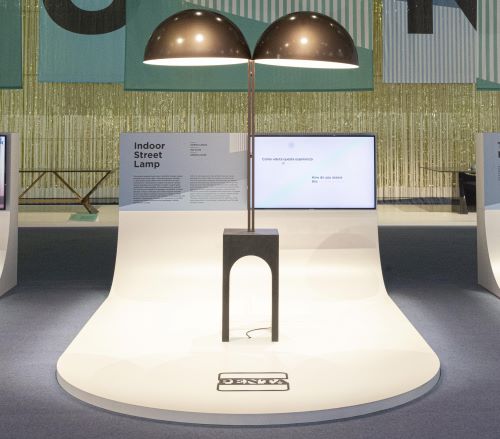 Indoor Street Lamp
BRAND: PENTA
DESIGN: GIORGIO CANALE
PRODUCTION: MAP SLATE
MATERIAL: ARDESIA LIGURE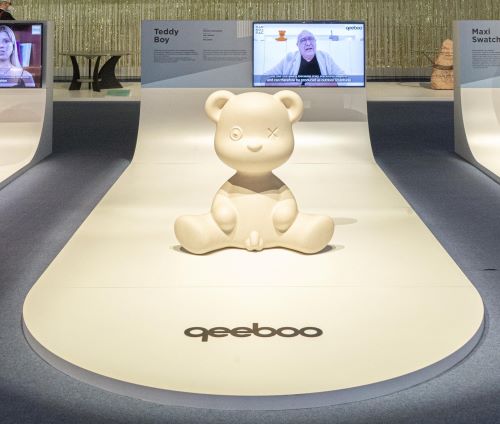 Teddy Boy
BRAND: QEEBOO MILANO
DESIGN: STEFANO GIOVANNONI
PRODUCTION: TESTI GROUP
MATERIAL: MOLEANOS
TAVOLI D´AUTORE (ADI VTAA, Delegazione Veneto Trentino Alto Adige): Stone is a witness to time in a collection of tables designed for restaurants.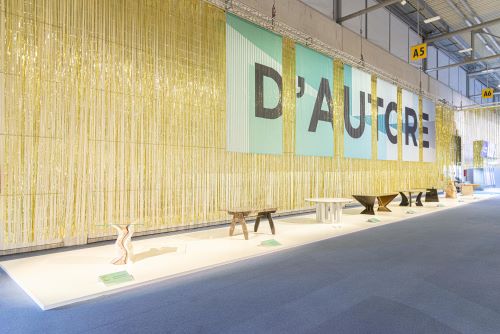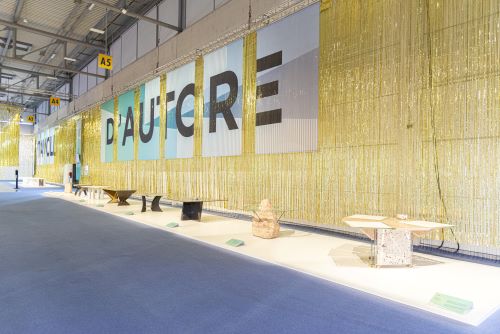 YOUNG STONE PROJECT (Raffaello Galiotto y Vincenzo Pavan): Stone experiments at universities.
POLITECNICO DI BARI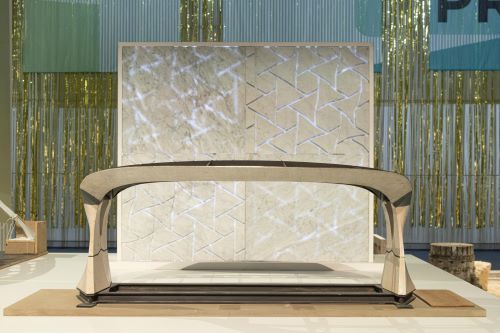 1. Fleur de ville
TUTOR: GIUSEPPE FALLACARA (PI), MARCO STIGLIANO, MAURIZIO BARBERIO
STUDENT: THEOPHILE DUQUENNE
PRODUCTION: ATELIER ROMEO, FABLAB POLIBA
MATERIAL: MARMO DI CARRARA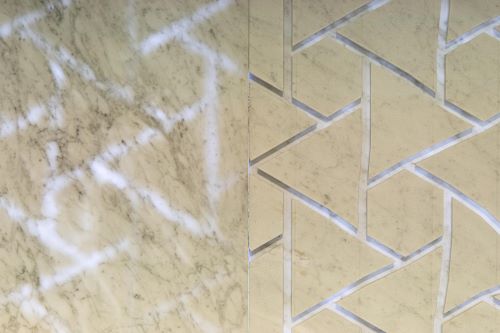 2. Luminescent geometric marble
TUTOR: GIUSEPPE FALLACARA (PI), MAURIZIO BARBERIO
STUDENT: SIMON CANNONE
PRODUCTION: ATELIER ROMEO, FABLAB POLIBA
MATERIAL: MARMO DI CARRARA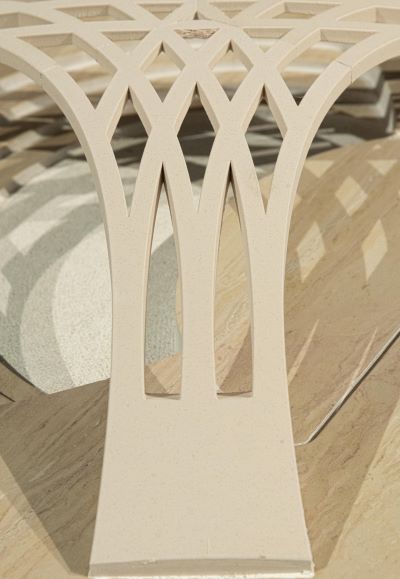 3. Trivault
TUTOR: GIUSEPPE FALLACARA (PI), MAURIZIO BARBERIO
STUDENT: LOÏC LAFOSSE
PRODUCTION: RECCHIA MARMI, CNC DESIGN, FABLAB POLIBA
MATERIAL: PIETRA DI APRICENA
POLITECNICO DI TORINO — POLITECNICO DI BARI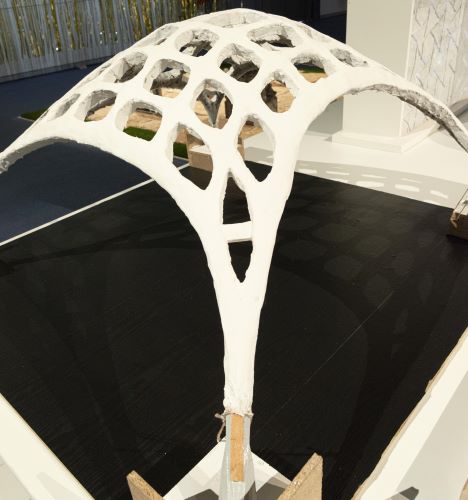 4. Addvault — Digital fabrication per strutture a volta
DESIGN: AMEDEO MANUELLO, GIUSEPPE CARLO MARANO with FEDERICO RIBERI, GIUSEPPE FALLACARA
MATERIAL: ACIDO POLILATTICO, PLA, CEMENTO, PIETRA CALCAREA COMPATTA
SAPIENZA UNIVERSITÀ DI ROMA – DICEA
Digitalstone morphing & processing
PROJECT MANAGER AND PRINCIPAL INVESTIGATOR: MARCO FERRERO
LAB TEACHER / RESEARCHER: FEDERICA ROSSO, ELIO RAVÀ, ADRIANA CIARDIELLO
SCIENTIFIC PARTNER: UNIVERSIDAD DE GRANADA, E.T.S. DE INGENIERÌA DE EDIFICACIÒN, INTERUNIVERSITY
RESEARCH CENTER ON POLLUTION AND ENVIRONMENT – UNIVERSITY OF PERUGIA
PRODUCTION: BALDUCCI MARMI with FILOALFA by CICERI DE MONDEL, MIND3D PRINTING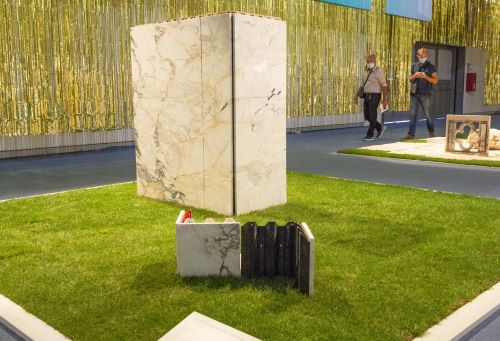 Breathing stone
STUDENT: MICHELE PASCUCCI, GIULIA BULF, FLAVIA DELLA TORRE, MATTEO TERZANI
PRODUCTION: BALDUCCI MARMI with FILOALFA by CICERI DE MONDEL, MIND3D PRINTING
UNIVERSITÀ G. D'ANNUNZIO CHIETI-PESCARA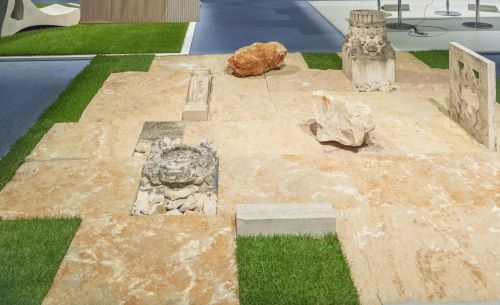 Il giardino del tempo, tra l'oblio e l'eternità
PROJECT MANAGER: DOMENICO POTENZA with GIULIO GIRASANTE and FRANCESCA BUX
PRODUCTION: HELIOS AUTOMAZIONI with FELICE CHIRÒ INDUSTRIA MARMI
MATERIAL: PIETRA DI APRICENA A SPACCO NATURALE
ACCADEMIA DI BELLE ARTI DI VERONA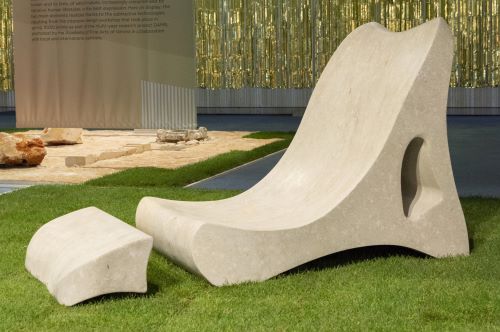 Arcadia
PROJECT MANAGER: SOTIRIOS PAPADOPOULOS with KATIA GASPARINI, LORENZO PALMERI, FRANCESCA PICCOLINO BONIFORTI
STUDENT: FRANCESCO LASALA, LORENZO FAVARON with ALAA ABDALHAMEED
PRODUCTION: SCUOLA TECNICA DEL MARMO - SETTORE ARTE E AUTOMAZIONE - SANT'AMBROGIO DI VALPOLICELLA
MATERIAL: GRASSI 1880 CAVE
Information provided by: Zed_Comm, Verona (Italy)
Photographs: ©Effezeta Group