1. The Portuguese natural stone industry in 2022 continues to maintain its dynamism, the pandemic period slowdown seems to have been only a hiccup.
2. One curious phenomenon, noted by sales people working in both countries of the Iberian península, is  that new investment in machinery in Portugal, in recent years, continues to be more than in its neighbour, Spain, a country with more than 4 times bigger population (10.3 million against around 46 million people in 2021).
3.Machinery investment is especially taking place in CNC machines, single wire and multiwire machines. Exact numbers for multiwire machines are difficult to obtain but there would be more than 50 installed in Portugal. Many of the CNC etc. machines are manufactured locally by Portuguese companies.Investment is also taking place in automation processes.
4. In terms of local demand, there is a lot of construction going on in the capital, Lisbon, especially in the segment of renovation of homes built decades ago. Lisbon was built to a great extent with the local limestone Yellow Lioz, extracted nearby, in Pero Pineiro. This limestone comes in red/yellow/cream varieties, has low absorption, which makes it perfect for exteriors in a high humidity city like Lisbon, which is next to the Atlantic. This limestone is being used widely in Lisbon, especially in facades.
5. Opening stone quarries has become increasingly difficult in Portugal in recent times. Many quarries and factories located in Vila Vicosa are currently closed. (Vila Vicosa is where Rosa Portuguese comes from. Stone quarries from Estremoz are affected).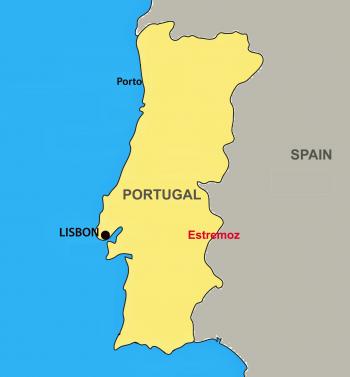 6. Rosa Portuguese is in fashion nowadays but the material now coming out of the quarries has less dense veins compared to what came out two decades ago. Most of the processing is done in Portugal itself but blocks are also exported to China and, increasingly, more to India, which is emerging as an important market.
7. While one can find stones from all over the world in Portugal, the most imported one is Negro Zimbabwe. Negro Angola, too, is popular. Both granites are, however, mostly re-exported to other EU countries after processing, especially to France.
8. The Portuguese granite industry is, currently, along with the granite processing factories in Galicia( Spain), a major supplier of thickness granite used in public works in Western and Central Europe. The two countries have replaced Chinese suppliers, in large part due to the high shipping rates. The fact that almost all processing factories owners also have their own quarries closeby  makes the Portuguese companies formidable competitors in this segment of the industry.
9. Portuguese exports in 2021 reached a figure of Euros 435 millions, according to the Portuguese organization Instituto Nacional de Estadística (INE). The main destinations were China (90 million €), France (80 million €), Spain (44 million€), Germany (30 million €) and USA (25 million €).
10.. One great Portuguese tradition, that of craftsmanship in stone, of an emphasis on design in elaboration, is still alive, and these skills are harnessed mostly in renovation works, but also in new projects with special pieces. These skills allow the Portuguese companies to win and supply complex projects all over the world.
11. Perhaps the most serious problem being faced by the stone industry is the severe shortage of workers, both in the quarries and the factories. The end result is workers from countries like Brazil, India, Pakistan and Nepal are now becoming more and more visible in the industry. The severe shortage of labour is also the prime reason why investments in machinery that automate processes is taking place.
Note: Our thanks to Felipe Longarito, Carlos Gómez Taviera, Nuno Abrantes and Rogerio Moutinho for the information and insights provided for this article.