The state of Rajasthan in India is well known for its rich variety of natural stones, and a millennium tradition of craftsmanship culture in marble. It has normally be identified as being the state to go to for green marble, white marble, and a wide range of sandstones and slates. It also has a reasonably sized granite industry, mostly focused on the local market.
The state continues to astonish in terms of the wide variety of deposits of different stones. Just one when thought one could claim that everything has been explored, in recent years there has been resurgence in mining and a new range of white and grey coloured granites, and black, very much in fashion nowadays, are now appearing in the market. This article highlights the relatively new granites, some of them are already known in the international markets thanks to the processing of the blocks by the factories located in the south of the country.
Alaska White
The mining of this Alaska White started in 2014. As of 2019 there are around 15 to 20 active quarries. The quarries are located in Beawer Bilwara area. Alaska White is similar to Brazilian materials like Bianco Antico, Delicatus White, Copenhagen.
One characteristic of Alaska White is there are several shade variations but most of them are in white and grey, and also sometimes gold. The background of this quarry can be either gold or white and with big veins of black, blue, pink etc.
The finishes most common are the polished, leather and hydrofinish. Available in gangsaws and free size slabs.
Care needs to be taken in its processing. Part of the processing involves netting being done on the soft material, which is feldspar.
Alaska White is especially popular in US, UK and Canada and is considered to be one of the premium materials from Rajasthan. When pretreated, it can also be used for countertops.
The wide range of names to different varieties of Alaska White can sometimes be confusing, the differences based on different quarries, tones and patterns, and suppliers, being the reason. The names can be Oyster White, Blue Dunes (light greenish with bluish grey tone in background), White Champagne, Bianco Typhoon (similar to Alaska White), Blue Pegasus (similar to Blue Dune and with bigger flower size), Bianco Azul (white with a few blue flowers), Oyster Blue (white with blue feldspar).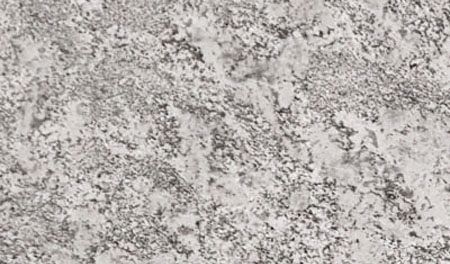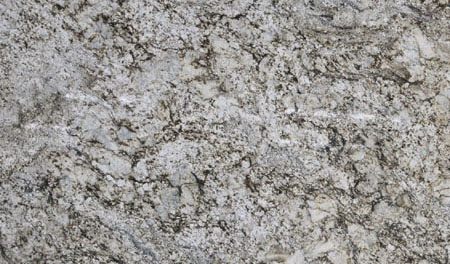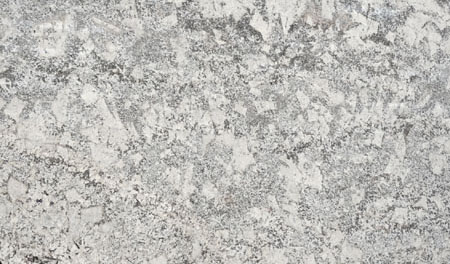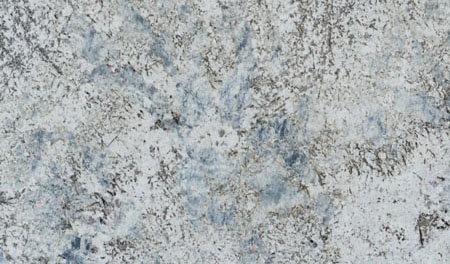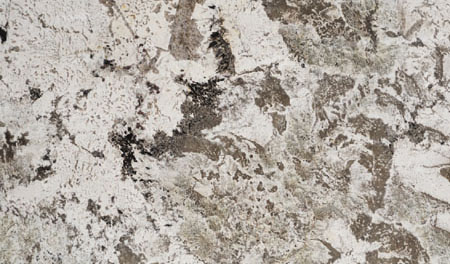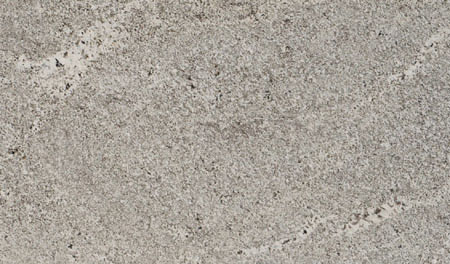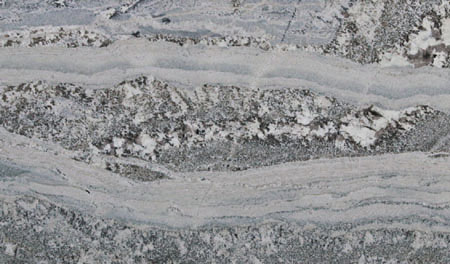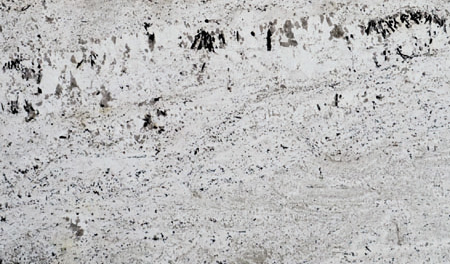 Rajasthan Black
The quarry is located in Devgar. There are around the area several quarries operating as of 2019. The two main areas of mining are Malkot and Chithambar. Total production is around 20000 to 25000 tons per month in 2019.
Rajasthan Black is a darker version of the popular granite Steel Grey and its availability is not an issue, as can be the case with some other black colours.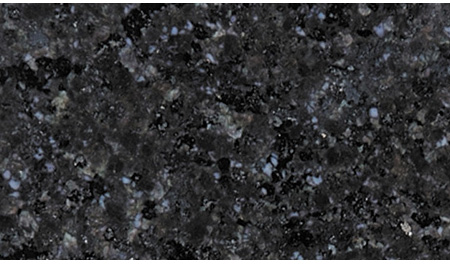 The variety mined in Malkot is darker and plain while the granite mined in Chithambar is what is known in industry parlance as of the "flower shaped" variety.
Processing is mostly done in Rajasthan in block cutters, which means the semi-finished material is mostly available in free size slabs. Processing in gangsaws allows for availability also in big size slabs. Common finishes available are leather, flamed, brushed, shotblast, water blast.
The material is very popular in UK, Turkey and also in the local market.
Coral Black
The name Coral Black is given to a different variety of Rajasthan Black in which the pattern is different.
This material, mined in Devgar, of which there are around 20 quarries operating in early 2019, has average production of about 2000 tons per month. Its availability is in big size slabs and also free size slabs. Geologically the material is charnorite though commercially it is sold as granite. The mining area is very long, perhaps 200 km, and the pattern changes every few kilometres- sometimes it is black with wavy movement and flowers structure. In tonalities it often has pattern of white flowers over black background. There is usually no colour variation. Typical finishes are same as in Rajasthan Black.
Coral Black is mostly sold in the domestic market though there are some exports too.
Coin Black
Coin Black is also mined in Devgarh. The structure of its flower is different from other blacks- it is silvery coin shaped quartz embedded into it. It is a very new quarry.
Forest Black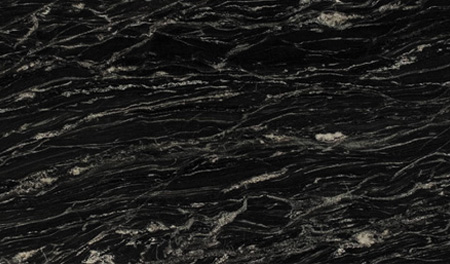 A new material in the market, the highlight of this variety of black is the wavy movement of the pattern. The material from different quarries varies in the size of flower and wavy patterns.
Titanium
As part of the new varieties of black granites that have appeared recently in the market Titanium is one of them. This material is similar to the Brazilian material with same name and Cosmic Black. Though there are four active quarries as of 2019, most of production still comes from just one quarry.
Marinace
This is solidified river stone, once again another material similar to the one in Brazil.
Prince Blue
Currently there is only quarry of this material and it is located close to Ajmer. The material is similar to Roman Blue. Another quartzite has only come into the market in early 2019: Acqua Blue, too early to say more about the material.
Maharaja
One quarry exists of this material. The production of this material is, however, low because of cracks. This makes the mining of this material relatively expensive.
CONCLUSION
The appearance of new granites from Rajasthan in the international markets, in white and black colours, has opened new possibilities of development of the industry. Expectations are that over the new few years, several new modern processing factories will come up in the state, located not very far from the well known city of Jaipur, making communications easier. Many companies, with strong focus on export markets, with factories currently located in south India, may open new processing units in the next decade, so a new industry cluster could soon develop.
One possible risk is what happens if white colour goes out of fashion, the development of the processing industry would be affected. But who said business is not without risks?
Acknowledgements: Our thanks to Mr Rajeev Lodha, Mr Sanjiv Goenka and Mr Sahil Arora for the information and photos provided for this article.