Steel Grey is one of the most popular granites from India, it remains in fashion three decades after it was first quarried.
The granite Blue Dunes has been in recent years the most sought after material from India in the international markets. It is one of the new materials coming out of Rajasthan, the northern state of India, well known for a wide range of natural stones but not as much for granites, till recently.
1. The Portuguese natural stone industry in 2022 continues to maintain its dynamism, the pandemic period slowdown seems to have been only a hiccup.
Teresa González Díez
IT´S BETTER TO PREVENT...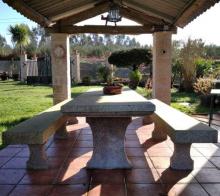 Private garden. Ponte Maceira, Negreira, La Coruña (Spain)
GRANITOS CABANILLAS. Cabanillas de la Sierra - Madrid (Spain):