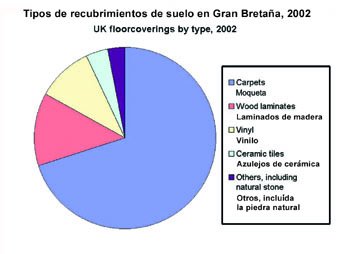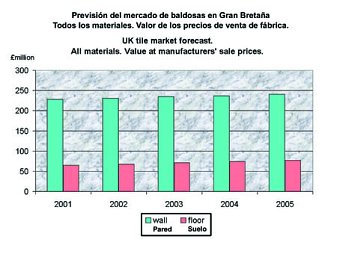 Fashion, a 26% annual increase in house prices and the emergence of the bathroom as the new home hot-spot, have stimulated UK sales in natural stone tiling for the home. Claire Santry reports.
Even as recently as 20 years ago, stone tiling was rarely seen in Britain except in retail interiors or the reception and lift lobby areas of offices and hotels. While these areas of the market remain sound and steady, it is the domestic scene which is causing the most excitement in the UK's stone tiling world. Natural stone floors have become de rigeur in the home as consumers, unafraid to spend on their homes when house prices continue to march upwards, seek an alternative to the traditional floorcovering: carpet.
Carpet manufacturing has been hard hit in recent years by this dramatic shift. It began with an assertion that asthma sufferers should live in carpet-free houses because dust mites and other organisms that aggravated respiratory problems would be reduced.
True or false, the UK's £2.1 billion floorcoverings market witnessed a major move towards the so-called smooths - wood, laminates and ceramics. Since 1997 carpet's share has dropped from 80% to 70%.
Natural stone tiling is making itself felt in this smooths market, even though it has not yet warranted its own set of statistics. In terms of usage and appeal, its main rival is the ceramic tile, which gives stone plenty to play for. The UK's ceramic tile market is estimated to be worth £299 m at manufacturers' prices and 47 million square metres in volume. About 78% of both volume and value is accounted for by wall tiles. But while the British ceramic market is mainly a story of wall coverings, the UK's natural stone tiling market is predominantly about floors. In total the country's floor tile market is forecast to grow from 8.7 million square metres in 2001 to 10.5 million square metres in 2005.
The move towards natural stone flooring for the home has been gaining momentum throughout the last two decades. In the 1980s domestic customers were looking for stone or terracotta for their hallway or kitchen floor but not elsewhere in the home. Now it is being laid across the entire ground floor. Some of the reason for this is the increased use of underfloor heating. Obviously the warmth factor is important in a colder climate.
But by far the most important recent shift has been the use of stone in the bathroom. The British have fallen in love with their bathrooms! It is not just the legal requirement, introduced two years ago, for all new dwellings to have a downstairs toilet and basin that has pushed the bathroom into the limelight. That legislation has helped, certainly, but it doesn't explain how the three-bathroom home has become almost as average as the three-bedroom home.
Only a few years ago the bathroom was considered nothing more than a functional room. Its dimensions were small by European standards, even in larger houses. There seemed to be little opportunity to individualise. And then an unexpected boost: the bathroom became something of a fashion accessory, a place in which to relax with soft lighting, aromatherapy and soothing music.
The pattern is now set. A standard (three-bedroomed) newly built home will have a downstairs cloakroom, a family bathroom and an en suite bathroom or shower-room to the master bedroom. At an average size of 76m2, the UK has the smallest new homes in Europe (the average size of existing homes is 85m2) but these rooms are being squeezed in. And owners of existing houses with just one bathroom are busy rearranging or extending their homes to create an extra toilet, basin and shower.
It is good news for the sanitary ware and brassware manufacturers and it has turned out to be good news for the stone industry, too. Although the bathroom is still relatively small, it is possible to get good meterage, especially with the advent of wet rooms.
Wet rooms are not unlike the steam room at the gym. They are, essentially, bathrooms with neither a bath or a shower cubicle. Instead, shower heads and body sprays spurt out from the walls and the water flows away in a neat drain hole in the floor. The beauty of this arrangement is that floors and walls need to be tiled in either stone or ceramic. There are no other options.
Tumbled marble and limestone is especially popular at the moment and mosaics are also coming back into vogue because their flexibility makes them ideal for covering the undulating drainage area. Interior designers are going mosaic mad and are finding the wet room a perfect location for their creations.
Although wet rooms are still at the top end of the market, they are quickly gaining ground because, with no requirement for a cumbersome bath or shower enclosure, the dimensions of a wet room can be even smaller than the standard bathroom. Some house builders have already switched from shower rooms to wet rooms. There have also been reports of social housing authorities choosing to install wet rooms because they cost less.
The British preference is for stone with a cream or beige tone. This preference is probably because most rooms in their home are fairly small; they seem bigger when pale colours are used. Inlay is not popular, either, probably for the same reason.
Slate flooring, although highly regarded and enjoying some success on the kitchen floor, is unlikely to win many domestic specifications for other rooms except when it has softer tones. In commercial settings, however, slate floors are extremely popular as a confident statement in lobby areas. In these cases, darker tones are generally preferred and the stone is usually polished.
Although sales to the housing market are still relatively small, slate is benefitting from a current trend towards grey stones for contemporary settings. Most stone importers have recently introduced a few lines of grey limestone or sandstone to their UK ranges to satisfy demand. Many interior designers are forecasting a shift towards darker colours. This may happen at the top end of the market but it is unlikely to be a mass movement; the British have very conservative tastes for their homes.