Richard Watzler
Stone lives through its haptic. Customers not only want to see a stone, but also touch it – important to know when it comes to marketing finishes.
Whether a stone appears hard or soft is not just a question of petrography. Marble can feel hard, granite silky matt – depending on how the surface has been finished. Almost anything is possible. Coarsely honed or jet-blasted, highly polished or roughened with a microfine finish by a laser beam. The decisive factor is what the stone is to be used for and the visual impact it is to create.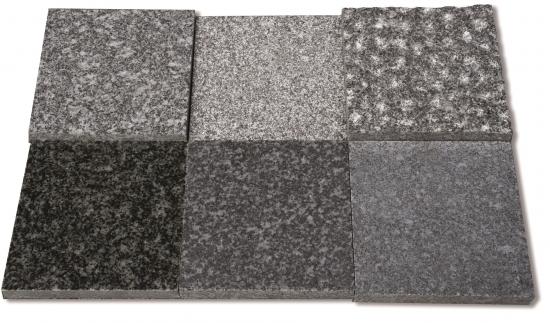 One and the same stone: Gebharts syenite polished, honed, diamond-sawed, brushed, brush hammered and finely gound.
Apart from polished surfaces, marks from the finishing process are now en vogue again. This makes every slab unique. A structured surface shows that the material does not end on the surface, but has depth; in other words, it is matter and not just decoration.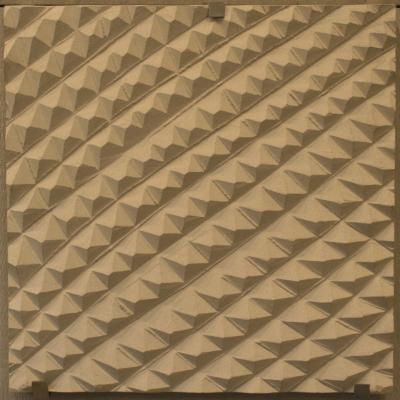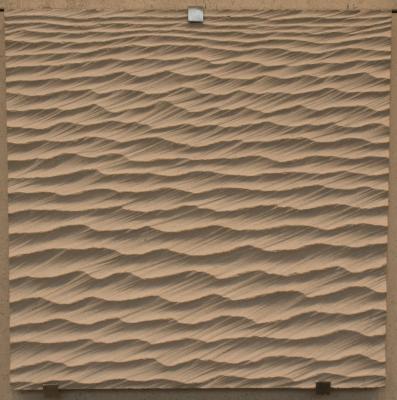 Examples of decorative surface treatment of French limestone. Rocamat.
Traditional processing techniques like honing or bush-hammering are still available, but the surface relief is very rough and is mainly suitable for accentuating walls. Honed or bush-hammered floors are non-slip, but difficult to clean. Artificially aged "antiqued" stones are an alternative. The slabs are sanded in a rotating drum by adding quartz or coarse ballast. Distressed edges improve the rustic look. A final coating of wax restores the colour of the material.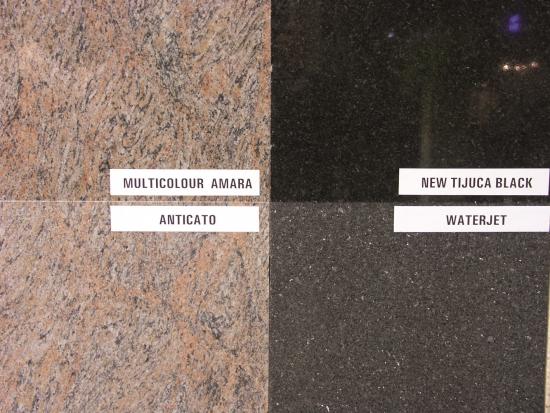 Comparison of polished surfaces and "antique" and waterjet treatment.
Grinding is one of the most frequently used processes. Despite modern machines and abrasives, there is still no standard or simple test facility for surface roughness. Ground surfaces always show grinding marks under opposing light conditions, also differences in gloss depending on mineral content and distribution.
The most attractive side of a natural stone is the polished surface, which brings to light the whole variety of colours and structure. Normally, the surface is polished to such an extent that no more grinding marks are visible. The advantage of the polished surface apart from the appearance is the best possible cleaning, but the necessary non-slip properties are not achieved.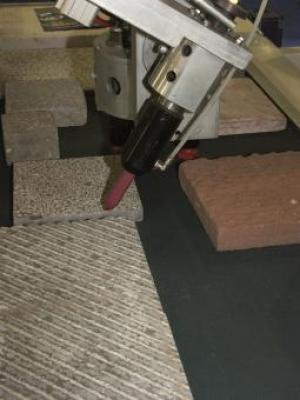 Automatic machinery for different types of surface treatment.
One of the most common forms of finishing hard stones containing quartz is flaming. The flamed surface has particularly good non-slip properties, but is difficult to clean, especially indoors. Not every stone is suitable for flaming and colour changes may occur, depending on material. Yellow granites change to a reddish colour, others turn yellow or grey. To roughen up the surface without changing the colour, stones susceptible to colour changes are blasted using a water jet. The resulting appearance is not comparable with any traditional finishing process. The surface structure varies according to water pressure and through put speed.
Brushed surfaces are currently experiencing a boom as an alternative to grinding. The surface has a soft velvet touch. Depending on the process, the gloss effects and visual properties are just as variable as grinding. Brushing is often preceded by a coarser finishing process such as flaming. After the coarse roughing, the rough layer is smoothed using brushes with metal or plastic bristles containing abrasive grains. The brushes can be mounted on conventional production plants. The advantage is a soft, living surface structure that is easier to clean than flamed surfaces.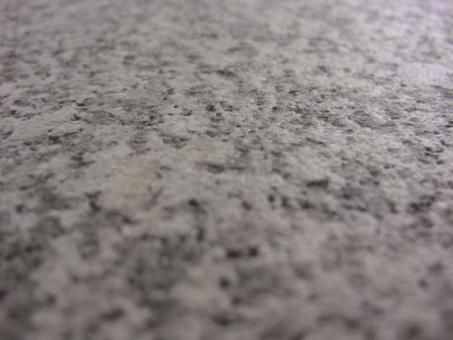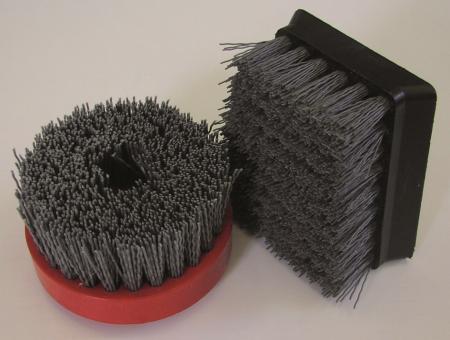 Mechanical and chemical aids against slipping
Stumbling, slipping and falling have been at the top of the accident statistics for years and even exceed road traffic accidents. The cause is frequently insufficient anti-slip precautions for the flooring. Especially highly polished stone floors often do not meet the requirements, so that retrospective changes are necessary. Chemical posttreatment is one possibility of improving anti-slip properties. The anti-slip agent reacts with the minerals in the floor covering, releases these partly and roughens the stone. The microscopically small depressions improve the anti-slip properties.
Polished natural stones – even if subsequently treated – can only be used in bare-foot wellness areas in largely dry gangways, changing rooms and sauna and rest areas.
No cleaning agents should be used after chemical anti-slip treatment. The durability of this treatment is determined by the abrasion resistance and the degree of soiling of the stone. Wear of the stone surface can cause a gradual smoothing that makes it necessary to repeat the treatment after some years.
With calcareous stones, crystallization with a fluosilicate can improve the anti-slip properties under dry conditions. In this process, the natural stone is first thoroughly cleaned with steel wool and then the emulsion applied and worked with a special pad. The process changes the surface structure of the stone, makes it harder and also improves the anti-slip properties. This process is also suitable for renovating scratched and unsightly calcareous floors. Many service providers offer this method.
Anti-slip strips stuck to the natural stone are a suitable aid for stairs, edges of basins or shower cubicles and are available from companies like 3M or Akemi.
Laser treatment is neither chemical nor mechanical. Stone surfaces made anti-slip with this treatment largely retain their gloss and colour intensity. A new mobile unit is available that can be used on tiles already laid. The pulsed laser beam creates microcraters in the stone surface. Various degrees of anti-slip can be set – up to maximum R 10 – depending on the separation and size of the individual craters.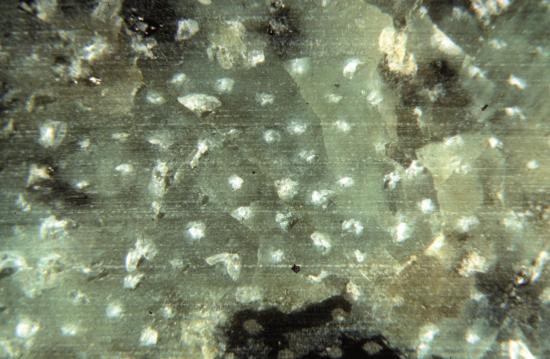 Seen through a microscope: anti-slippery treatment with laser.
The mechanical methods of treatment for anti-slip properties are almost exclusively applied before laying. One possibility is flaming and another established process uses bush hammering machines. A marble slab can be roughened by sandblasting such that first the desired anti-slip properties are achieved and second the floor remains even – not so in the case of rough-split or flamed stone. The so-called fine blasting or structure blasting makes the typical character of the stone type and its mineral components clearly visible and also creates an evenly processed surface that is anti-slip and safe.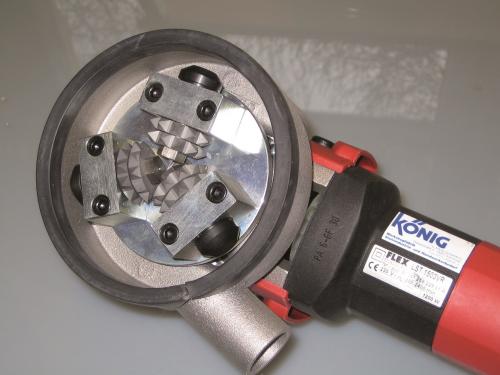 Electric device for bush-hammered surfaces.
On account of the large number of indoor accidents due to slipping on natural stone floors, the German Berufsgenossenschaft for administration initiated a research project into the anti-slip properties of such floorings. The project was aimed to elaborate recommendations as the selection of a suitable surface structure and treatment of natural stone floors in order to increase anti-slip properties of floor covering and thus prevent slipping accidents. 44 natural stone floor coverings with different surface characteristics were tested with rubber- and leather-faced footwear in dry, wet and oily conditions according to the German standard DIN 51130 "Testing of floor coverings, determination of anti-slip properties". The results show that polished natural stone surfaces are not sufficiently slip resistant. Natural stone floor coverings grinded C 120 make proof of a sufficient slip resistance in dry and wet conditions. Natural stone floor coverings grinded C120 should therefore be used in entrance halls, main halls and comparable areas.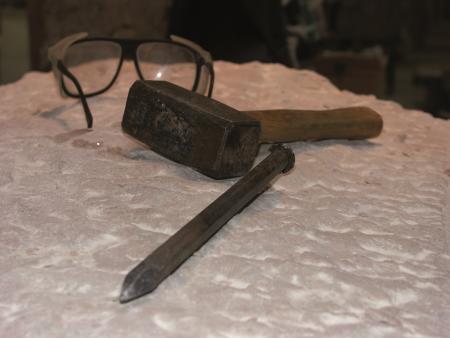 Chisels: the classic tool for sculpters and stonemasons.