Stone has been used to build churches and monuments in the three southern Caucasus republics since ancient times. Here we look at the decorative stones available today from quarries in Georgia, Armenia and Azerbaijan. Report by Paul Daniel.
Living next to big countries has always been rather tricky anywhere but this is especially true in the South Caucasus.
Georgia and Armenia have a centuries old Christian tradition, whilst Azerbaijan has its roots in both Turkish and Persian cultures. All three have considerable decorative stone resources, some of which may be of interest to overseas buyers.
Georgia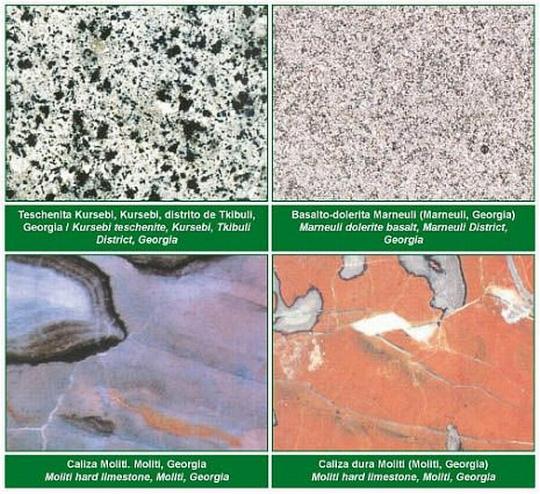 Georgia made more progress during 2006 in making itself "business-friendly" than any other country in the world, according to a recent World Bank report. Government reforms have made it easier to start a business, obtain credit, hire staff and enforce credits there.
The Republic of Georgia has a powerful tradition of hospitality, and a climate and national temperament reminiscent of Mediterranean lands. It has one of the most ancient winemaking traditions in the world.
Over the centuries, Georgia has been the object of rivalry between Persia (Iran), Turkey and Russia. It became a single country in the 12th century when Western Georgia (Colchis) was united with Eastern Georgia (Kartli-Iberia) under King David. Georgia was absorbed into the Russian Empire in the 19th century. Independent for 3 years (1918-1921) following the Russian revolution, it was incorporated into the USSR until the Soviet Union dissolved in 1991.
Elections in early 2004 swept Mikheil Saakashvili into power along with his National Movement Party.
The US has a major interest in security and stability in the region, having invested heavily in an oil pipeline from Baku in Azerbaijan via Georgia to Turkey. For up to date information, the English-language Georgian Times is online at www.geotimes.ge
Republic of Georgia – basic facts
Capital: Tbilisi
Population: 4.474.4004 (2005 est.)
Area: 26,912 sq. Miles
Official language: Georgian
GDP (PPP) per capita: $3.616
Time: CET +3
Country code (tel.): +995
Internet TLD: .ge
Currency: Lari (GEL)
Decorative stones and reserves
Marbles and hard limestones from Georgia have been quarried for ages. Today they account for around 40% of current explored reserves. According to Sychov (1), there are several hundred decorative stone deposits in Georgia of which 70 or so have been assessed in detail. Total reserves are estimated at around 260 million m3, however not all of this is block stone.
In terms of their age and association with defined geological structures, all the marbles and hard limestones fall into three principal groups: Paleozoic, Lower Jurassic and Upper Cretaceous. Noteworthy among the sedimentary rocks are limestones and dolomites of Western Georgia confined to Lower/Upper Cretaceous geosynclines formations. These materials are successfully used for building and cladding. Igneous rocks of Georgia include andesites, basalts and dolerites. Of special interest is the Marneulskoye deposit of grey and dark-grey basalts. In Western Georgia, of commercial interest is a group of deposits of grey and greenish-grey teschenites. Tuffs and tuff breccias occur practically all over Georgia in igneous-sedimentary Mid-Jurassic and Upper Cretaceous. The Bolnisskoye (Sarachlinskoye) deposit of grey-yellow and yellow-pink felsites tuffs has been intensively worked over the years. There are few intrusive rock deposits in Georgia. Granitoid deposits haven't yet been commercially developed. Gabbroids occur in the form of outcrops, both in the geo-anticline zone of the Main Caucasian ridge and also within the Dzirulskii crystalline massif and the Adjaro-Trialetskaya folded system. The Rikotskoye deposit of grey-black and greenish-black gabbro is one notable example.
The availability of a number of sources of stone and their locations near Black Sea ports give Georgia a high potential for decorative stone exports.
Www.yellowpages.ge has the names and addresses of 8 companies under Construction & Real Estate – Marble & Granite. However no e-mail addresses are listed.
Armenia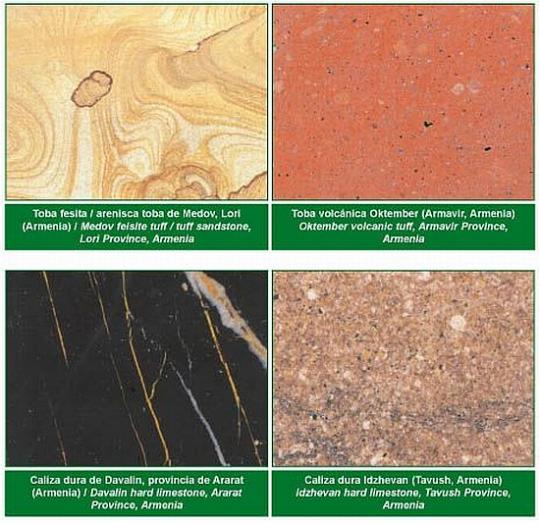 Armenia prides itself on being the first nation in the world to formally adopt Christianity, in 330 AD. According to the Bible, Noah's Ark came to rest on Mount Ararat in Armenia.
Despite periods of autonomy, over the centuries the country came under the sway of various empires including the Roman, Byzantine, Arab, Persian and Ottoman. In 1991 Armenia gained independence from the Soviet Union.
The economy enjoyed positive growth rates in 1995-2005. Investment in the construction and industrial sectors will help to ensure average annual real GDP growth of almost 14%.
In peak times during the Soviet era, Armenia had more than 600.000 tourist visitors a year. The devastating 1988 earthquake and split from Russia in 1991 slashed tourist numbers. But Armenia can be compared with Israel, Ireland and Scotland in that it has a very significant Diaspora. Around 20% of current visitors come from the USA boosting hard currency earnings.
Until the massive earthquake of December 1988, a factory at Leninakan in Armenia produced most of the former Soviet Union's stone working machinery. The factory was destroyed and has never been rebuilt.
Republic of Armenia – basic facts
Capital: Yerevan
Population: 3 m aprox.
Area: 29.800 km2
Official language: Armenian
GDP (PPP) per capita: $4.500 (2005 est.)
Time: CET +3
Country code (tel.): +374
Internet TLD: .am
Currency: Dram (AMD)
Decorative stones and reserves
More than 200 decorative stone sources have been identified in Armenia, with total reserves estimated at around 300 million m3 (1). The country's main stone resource is volcanic tuff. Over 100 sources of this soft stone are known, of which some 30 yield good quality building/decorative stone. Tuffs of widely varying colours are mainly located in the central and north-west parts of the country. There are five principal types:
The Aniysk type has the highest strength stemming from its homogenous structure (fine grained volcanic glass) and absence of cognate inclusions. Tuffs of this type are yellow-orange and pinkish-yellow in colour;
The Artik type has visible porosity (elongated pores) and prevailing pink-violet colour in various shades;
The Yerevan type features an obvious fragmental texture, low porosity and high density. The colour can be brick-red, brownish or black;
The Byurakan type has numerous cognate enclosures, including inclusions of pitch-black volcanic glass against a red-brown-black background;
The felsites type has a high density and porosity (fine porous texture) and a light colour -golden-yellow, cream, pink – sometimes there is a banded pattern.
Tuffs of the first four types are of Quaternary age, while the felsites type is from the Tertiary age. The territory of Armenia is very rich in basalts – they are found all over the country. The sources are mostly concentrated in the Central and North-West parts. The most characteristic are grey and dark-grey basalts.
Marble and hard limestone deposits have been evaluated in many regions of Armenia. In Gegarkunik Province pinkish-lilac marbles of Cretaceous age are extracted from the Agveransk deposit. The Idzhevan deposit of pinkish-brown hard limestones in Tavush Province is also confined to Cretaceous sediments. There are two sources of highly decorative black hard limestones in the Central part of Armenia (Ararat Province) – they are known as the Davalin and Khorvirabsk deposits which are associated with sediments of the Devonian and Carboniferous.
Among the sedimentary decorative stone varieties found in Armenia are travertines. Two sources have been evaluated, both in Ararat Province. Also to be found in this Province is the Agamzalin source of pearly-white and pistachio-greenish onyxes. The reference source (1) contains descriptions and colour plates of 18 Armenian decorative stones.
Commercial companies
The GETN Group Co. Was founded in 1958 and describes its general activity as the manufacture of stone products and asphalting. According to its website it owns basalt, tuff, conglomerate, marble and travertine quarries and imports blocks. The full list of products manufactured is shown on the web page www.spyur.am/getngroup.htm
Movsissyan Co. Was founded in 1997 and it has its own quarries of travertine and tuff in different regions of Armenia. Light or dark beige, chocolate or gold are some of the travertine colours available. A Fantini chain saw with a 4, 5 m arm was installed in 2004. At the company's tuff quarry in Shiraki region, dark tobacco and black coloured blocks are produced. For the customer who wants an imported stone, for example Greek marble or Brazilian granite, this can be delivered within a few days. Between 1997-2000 a lot of Italian machinery was delivered to the Movsissyan production factory. Products made from Armenian or imported stones are sold on the local market or are exported. Further details on www.movsissyan.am
Karart Co. Was founded in 2003 to specialize in the quarrying and processing of natural stone. The felsites quarry is in Tavush Region and has Benetti diamond wire saws to extract blocks of 5-10 m3. Armenian Gold is the stone's trade name. A new quarry has been established in Tavush Region to extract what is claimed to be a unique pale blue-green stone with the trade name Blue Sevan. By its structure and composition it is argillaceous slate. It is used for exterior and interior decoration, monuments and memorials. Karart´s processing factory is in Iljevan in north-eastern Armenia. It is equipped with Italian machines. There is also a sculptor's workshop on the premises. More details on www.karart.am.
Neolita Ltd claim to be one of the leading exporters of natural stone in Armenia, delivering blocks and tiles to thousands of consumers around the globe. The firm has its own marble, felsites tuff and travertine quarries equipped with Italian machines. The processing factory has a Pedrini tile line. E-mail newlitallc@yahoo.com.
Karastgh Co. Was founded in Artik town ("the tuff capital of Armenia") in 2003. The company owns more than 50 Ha of quarries in the Ararat valley. Materials include tuff, basalt and onyx. The processing factory in Artik has its own railway station. Karastgh claims to deliver travertine, basalt and tuff to every corner of the globe, including Europe, the USA and Russia. Products include flagstones, columns and statues. More details on www.travertin.org.
Shen Stones is seeking $3, 5 m for equipment to manufacture high quality stone tiles. The tiles would be fabricated from Armenian materials including tuff, felsites, basalt, marble and travertine.
Full details on: www.armeniaemb.org/BusinessEconomy/Investment/Mining/ShenStones.htm
Azerbaijan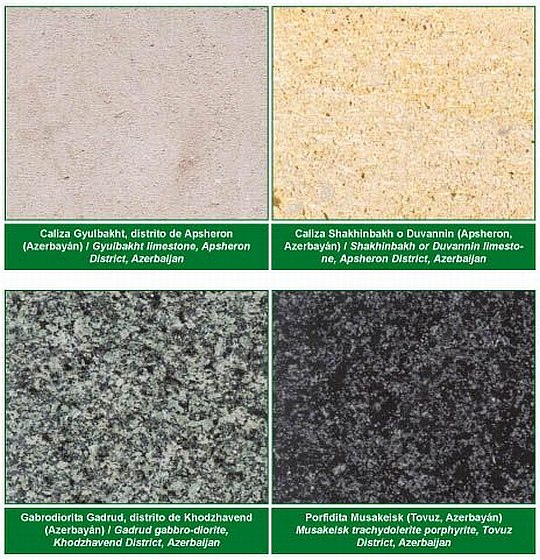 Azerbaijan means "Land of Fire". The capital city Baku fascinated visitors for centuries because of the way the land leaked fire. Marco Polo reported ´fires that cannot be put out´. Oil and gas have been extracted from the Caspian coast on an industrial scale for a century and more. For a brief period there were more millionaires in Baku than anywhere else on earth. A nation with a Turkic and majority-Muslim population, Azerbaijan regained its independence after the collapse of the Soviet Union in 1991.
The country shares all the formidable problems of the former Soviet republics in making the transition from a centrally planned to a market economy, however its considerable energy resources brighten its long term prospects. The first oil was delivered through the Baku-Tbilisi-Ceyhan (BTC) pipeline in June 2006. A Baku-Tbilisi-Erzurum gas pipeline was due to open in late 2006. The two will bring a massive $140 billion into Azerbaijan's state coffers over the next 20 years, it is claimed.
Republic of Azerbaijan – basic facts
Capital: Baku
Population: 7.392.000
Area: 86.600 km2
Official language: Azeri
GDP (PPP) per capita: $4.800 (2005 est.)
Time: CET +3
Country code (tel.): +994
Internet TLD: .az
Currency: Manat
Decorative stones and reserves
As with its south Caucasus neighbors to the north, Azerbaijan has a centuries old tradition of dimensional stone use. The most famous is the Maiden Tower (Gyz-Galasy) on the outskirts of Baku. It is believed that the lower part dates from the 7th-6th centuries BC. The 29, 5 m high tower has eight floors connected by a stone staircase. According to the type of stone and its position, various inscriptions were made during reconstruction works in the 12th century. Additional restoration was carried out in 1960.
According to (1), Azerbaijan is a country with considerable stone resources. More than 100 sources are known, of which 21 have been evaluated for decorative stone. Reserves are estimated at around 54 million m3. In addition, 36 sources with reserves of more than 440 million m3 have been evaluated for building stone: some of these could also provide decorative stone. More than 85% of decorative stones in Azerbaijan are carbonate rocks – marbles, hard limestones and travertines. Most sources are in the south-west of the country.
In the Nakhichevan Autonomous Region there are three major sources of cream colour travertines (Shakhtakhtinsk, Buzgov and Karabaglyar) and also the Uliya-Norashensk deposit of black hard limestones. The Julfinsk decorative conglomerates are also worthy of mention. There are considerable reserves at the Gyulablinskoye (Kilably) deposit of pinkish-cream hard limestones. The Gorovskoye source of pink limestone was popular in the past but its known reserves are exhausted. North-west of these sources are the Dashkesan greyish-white hard limestones and the only known marble source in the country – Amirvar. Building limestones are quarried from very substantial sources in the south-west and also in the east of Azerbaijan, on the Apsheron peninsula and in the adjoining regions. The detritus limestones of Gyulbakhtsk have an attractive yellowish hue – some are used as decorative stone cladding.
There are not many sources of igneous stones in Azerbaijan. They are confined mainly to individual intrusive bodies of the Minor Caucasus. They have been little investigated for block stone. Grey Miocene teshenites are to be found in the Nakhichevan AR. In the north-west of the country there is the Musakeiskoye deposit of black porphyrites. In the south-west prospecting is under way at the Gadrudskoye source of greenish-grey gabbro-diorites. The Edishskoye deposit of grey-black gabbro-diabase is located in the south of the country, near the border with Iran. A small deposit of light-yellow tuff called Gajialylarsk is to be found in the north-west of Azerbaijan. The reference (1) gives descriptions with colour plates of 11 decorative stones found in the country. The website www.bakutoday.net in English is a useful source of local information.
(1) SYCHOV, Yu. Et al. Decorative Stones of the CIS Countries and the Baltics. 450 pp. Texto en ruso y en inglés / Text in Russian and English. Editorial / Publisher – Polet Kamni i My, Moscow. ISBN 5-9900446-1-5