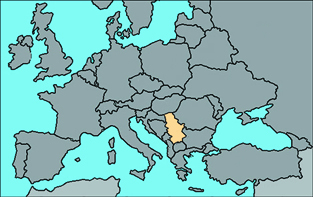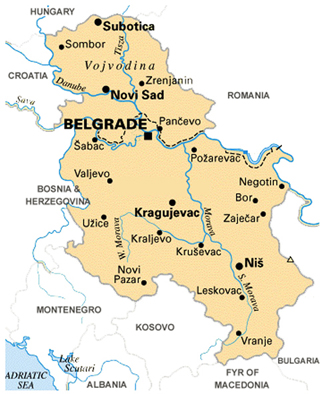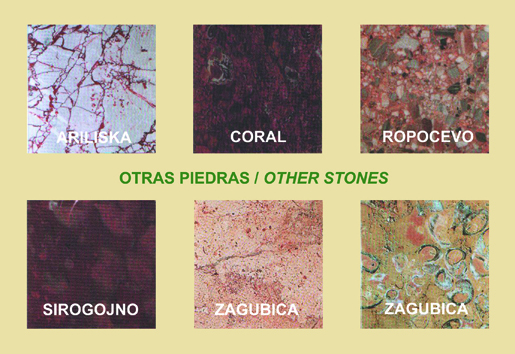 The Republic of Serbia has limited domestic resources of dimension / decorative stone in volume terms. Below, the Chairman of the Stone Association of Serbia, Zoran Djajic, and the Publisher of KAMEN trade journal, Zika Milovanovic, summarize current knowledge of the sector.
Around 6000 BC near a place called Lepenski Vir on the Danube, an ancient tribe decided it was a good place to settle. Not too long ago, archaeologists exploring this region discovered two stone sculptures - heads with torsos. They are probably the first life-size representations of human beings ever. The place is today on the territory of the Republic of Serbia. Little is known about the ancient tribe, but it is a fact that Slavic peoples first arrived here from the east between the 10th and 12th centuries AD. Many monasteries and churches were subsequently built by local inhabitants. The Kingdom of Serbs, Croats and Slovenes was formed in 1918 and its name was changed to Yugoslavia in 1929. The rest, as they say, is history. The common factor is that stone has been used for decorative purposes and for building in all the former republics of Yugoslavia for a very long time. In this article we concentrate on Serbia.
According to Zoran Djajic, Chairman of the Stone Association of Serbia, today there are some 1.200 companies and trade shops involved in some way with the domestic stone industry, from geological exploration to locate new deposits to quarrying, processing and marketing of Serbian materials plus quite a variety of imported goods. Materials extracted from Serbian quarries include:
Marble : Vencac beli, Vencac roze, Plavi tok
Granite: Bukovik, Slavkovica, Brajkovac, Radali, Josanica, Senokos
Limestone: Sirogojno, Skrzuti, Portoro, Slivovac, Zagubica, Koral
Sandstone: Bele vode, Brajkovac, Ljig, Dragacevo, Temska
Psephit: Ariljska ruza, Ropocevo, Grab
Onyx: Sijerinska banja, Lozovik
Blocks and tombolas from Serbian quarries are processed and the final products sold almost exclusively on the domestic market. The local stone industry is today based mainly on raw material imports, from blocks to finished products. With a population of around 10 million, this is a not insignificant stone consumer market. The ratio of processors to quarriers is about 100 to 1. According to Zoran Djajic, there has been an increasing interest in opening new quarries during the last few years. Several foreign firms have entered the market introducing modern extraction technology. Mesozoic and carbonate formations offer the best prospects. The colour palette in limestone goes from grey to yellow, ochre and red to totally black.
Though not much is seen walking through central Belgrade today, there is a long-standing tradition of sandstone use for larger buildings. Marble has been quarried on Mt Vencac since 1881. A company called Vencac with headquarters in Arandjelovac was found in 1894 and has had a turbulent history for a long time. Vencac was privatised in 2003 but there were problems and it is now back in public ownership, with the accent on roadstone.
Today the dimension/decorative stone processing industry in Serbia is focussed around two main areas - Arandjelovac and Krusevac. The leading processing companies are Timotijevic with different parts administered by Mr Timotijevic Senior and his son Milos, Sumadija Granit, Hydro-Stone, Napredak and Majdan. The Timotijevic factory at Topola, 10 km from Arandjelovac, was established in 1983 and today it can offer products made from more than 60 types of granite. Bukulja Granit is an associate company that was founded in 2000.
Dimension stone quarrying in Serbia
According to Zika Milovanovic, Director of KAMEN magazine, some new private dimension stone quarries have recently been opened or are about to be opened in Serbia. Traditional materials extracted include:
Vencac beli marble at Zabrezje near Arandjelovac, on the north slope of Mount Vencac. The marble is basically white with light to dark grey tones. Reserves are estimated at 357.929 m3.
Vencac plavi marble occurs in the locality of Tresnjica, near the village of Tvrdici, 18 km west of Pozega in the Uzice direction. This deposit has been exploited since 1966. There are essentially two kinds of marble: massive and brecciated. The colour of the marble ranges from light to dark grey with bluish shades. Reserves are estimated at 30.958 m3.
Ploce granite. The source is located east of Arandjelovac, on the northern slopes of Mount Bukulja. Granite outcrops are found over an area of 45 km2. The material is grey and white, grey or grey-green coloured and is mostly compact and homogeneous. A fault system running east-west makes it easier to extract blocks by traditional methods. Reserves are estimated at 1.736.179 m3. The biggest problem in the area is the energy infrastructure, but improvements are planned that will permit ´serious exploitation´ in the future.
Slivovac limestone source is situated on the south-east slopes of Mount Rtanj, 12 km from the Timok Co. processing factory in Boljevac. There are grey, violet, violet-grey and red limestones at the source. Total reserves of all varieties are estimated at about 70.000 m3 of blocks. The production level at present is around 300 m3 of blocks and 5.000 m2 of slabs and tiles per annum. Both the extraction volume and the processed output could be significantly boosted with modern equipment.
The area around Ljig, about 100 km south-west of Belgrade, has long been a source of sandstone for building. There were also limited amounts of granite, black limestone and tuff or tufa in the region - at one time there were around 70 quarries of greatly varying size operating here. Unfortunately, there are no sandstone quarries in continuous operation in Serbia today mainly due to a lack of efficient extraction and processing equipment.
A variety of granite called dacite is found near the village of Slavkovic, 10 km south of Ljig. In Serbian this stone is called Ljuta stena. The colour ranges from light grey to white and the material is massive, compact and homogenous. It is officially termed a biotite dacite. It is resistant to high temperatures, frost and atmospheric pollution in cities. It is relatively easily worked yet cut edges do not lose sharpness over time. Besides ashlar and slabs to be cut into tiles for interior and exterior cladding, Ljuta stena can be used for architectural elements, paving and cube setts. The deposit has been explored in detail and the reserves are in the order of a few million m3.
Decorative stones are found in the region of Novi Pazar, in a concession administered by IMRG "UKRAS" stretching from Kraljevo and Cacak in the north to Kosovska Mitrovica and Berane in the south-east and south-west. Paleozoic to Neogene formations yield various kinds of architectural stone, some of which have become famous on the market thanks to their aesthetic beauty. They include Kristalino and Bela Studenica marbles from Studenica, Roze mermer from Novi Pazar, Bela ruze marble from Tutin and several others.
Andesite lava Trahit was erroneously given this name in the mid-1950s but due to its commercial success the name has been retained to this day. The deposit is at the top of Mount Vinik (1245 m), 18 km NW of Novi Pazar. The stone has been used literally for centuries, and it can be found in the walls of St. Peter & Paul Church built in the 7th century AD and the oldest religious object in Serbia. It has also been used in other churches, monasteries and mosques in the area surrounding Novi Pazar. The finest example is at the 15th century Vitko minaret at Altun Alem. The stone is essentially a red porphyry, today mainly used for paving.
Marble breccias are found at Grab about 10 km SE of Guca town on the southern slopes of Mount Jelica. The reserves here are estimated at around 800.000 m3.
Marbles from Uzice area are perhaps the most interesting in the country. Southeast from Uzice, between Pozega and Kosjeric, is where the marbles Plavi tok, Vencac plavi and Portoro can be found. The Plavi tok deposit is near Kalenic village 11 km SW of Pozega. Dark grey concretions enclose lighter fragments and calcite cores giving a pleasing decorative appearance. Reserves are calculated at around 266.492 m3.
Sirogojno red limestone is from the middle Triassic period and the deposit is located about 30 km south of Uzice. The dominant colour is red with light grey sectors. It is mainly used as tiles in interior applications. There is around 69.000 m3 of usable material at the source.
Skrzuti limestone is generally of beige colour but in the quarry yellowish and red tones can also be found. Shell fossils can be found in the stone and they are of grey and white colour. Red calcite cores also feature, giving this limestone an attractive appearance. The source is located 22 km south of Uzice near the village of Skrzuti and the reserves are estimated at 53.000 m3.
According to DP PGM Mermer of Zagubica, activities in this area include investigating gabbro at Crna Reka locality and crystalline limestone at Djula locality, while at present extraction is limited to the Tisnica limestone deposit. This is located near Zagubica, just 1 km from the centre of town on the Zagubica-Bor road. Quarrying has been ongoing here for the past 25 years. Mainly red and beige limestones are extracted and the reserves are calculated to be 46.000 m3.
Black gabbro is found within the vicinity of Velika glavica (697 m), 23 km from Zagubica on the Zagubica-Bor road. The deposit is not yet exploited.
Finally in this brief survey we should mention marble breccias found near the village of Ropocevo, 40 km south of Belgrade near Sopot. The size of the boulders can vary a lot and the background colour can be white, grey and occasionally beige. The colour of the cementing layer can even be red. Reserves are of the order of 50.000 m3. This material is generally used for cladding and tiles in interior situations.
The authors would like to express their thanks to Mr Paul Daniel for inviting this contribution, and to Ana and Ivana Cumic for translations. Pictures courtesy: Milan Savic.