Today's homeowner has so many choices for their kitchen tops that it makes it so hard to choose.
Choices of countertop materials can be synthetic glass, cement, laminate, plastics, ceramic tiles, engineered stone, and others in which most cases these suppliers are trying to make a product that looks like natural stone. Even in Natural stone there are choices such as granite, marbles, slates, soapstone's, limestone's, and stone tiles. Granite is usually in today's market a good bet to buy and use and runs in the 35% to 45% of demand by most buyers.
Advantages of granite kitchen tops
The advantages of using granite are numerous and being a natural stone, the variation in color, makes veining, and movement makes each top unique.
Buyers in many cases find granite kitchen tops easy to maintain and will even put their hot plates right from the oven on top of the stone, not necessarily recommended but in any other product you would never consider this.
Other advantage of granite kitchen tops is that the stone is a green product which means it is eco friendly and recyclable.
It always feels cool to the touch as it does not transmit heat and is a good insulation product.
It adds dollar value to the home and color that no other product can offer.
Nothing is better than granite for kitchen tops and it is so hard to scratch or mar
Granite kitchen tops cleaning
Some granites will stain if not sealed properly and especially if acidic products or oil based products are used on the top surface without having protection on the stone.
The stone does require some minimal maintenance and should be cleaned right after use with soft soap and water.
Care for the tops just like you would a beautiful mahogany table top and it will last the homeowner forever. Products are out there either in liquid form or in paper type products to clean the stone and maintain it and seal it regularly. Anyone can maintain a granite top if given the facts.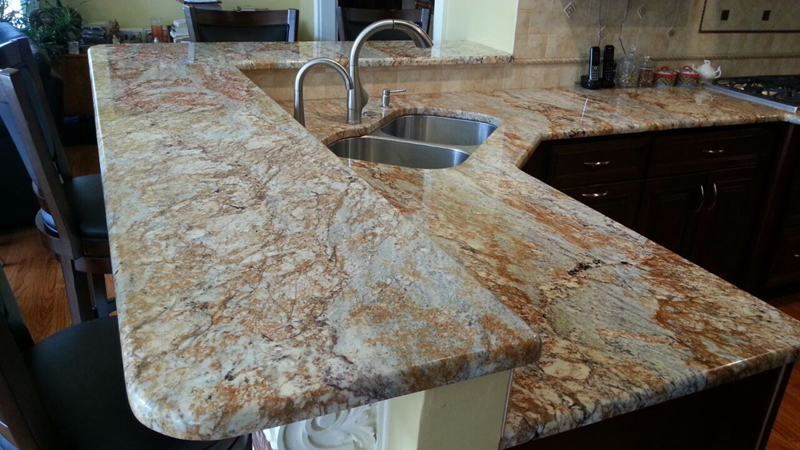 Today the abundant choices of granites range in the hundreds and the choices in the stones vary with many colors and patterns and now with a variety of finishes. Many suppliers are even offering long term sealers with warranties for using their stone.
How does one pick a granite and select a stone for their kitchen?
Many methods are used. Some people pick a designer to coordinate and layout the kitchen cabinets, fixtures and granite. Some homeowners prefer to do this themselves. Before picking a stone the buyer needs to be educated about granite in general and also just as important is to be knowledgeable of the supplier or fabricator-installer. Granite can be chosen by visiting a manufacturer or producer, or by visiting a wholesale distributor warehouse and selecting the slabs, or by choosing from a retail store and seeing smaller chips or pieces of the stone. It is recommended to be familiar with the granite and shop it as you would if you were buying a car. You need to know everything and check it out thoroughly.
Granite selection process
What are some ideas in this selection process are shown below.
1 - First, many of the granites being offered and selected today have veins. It used to be architects and designers when doing a building selected a more commercial grade of stone that did not have patterns in the granite but were rather consistent in grain and structure. For kitchens, however, many buyers want variation, multi-colors, veins, and movement. In order to know this select the general overall color you wish to have to narrow down your choices that will go with your fixtures, walls, appliances, floors and overall design. Visit several showrooms and distributors to look at what they have to offer as no two places will always have what the other place offers. You will find, if you do your homework, a lot of choices. Once you pick from a small sample the general stone you are interested in, try and pick at least three choices when you narrow the field down, insist on seeing the full sizes slabs of these materials. It will open your eyes and you might find yourself saying, is this the same stone I was looking at in the showroom? You will see movement and a balance or lack of balance in the slab where possibly one end of the slab has all the colors and veins you want and the other end does not. Having a balance is very important.
2 - You need to know how much granite you are looking for before shopping for it. If possible take the drawings with you so you can even lay out the granite slabs with your tops to see how the pieces will or could look if the slab is cut. You need to know that often a joint will need to be made in the top as there are size length limitations and where you get this joint is up to you and your fabricator. In some cases you will have L-shaped pieces that need to be made and how you lay this out is also important. I just did a kitchen where I made the fabricator book- match the L-shaped pieces from one continuous slab so that when it was jointed together tightly, it looked as if it were one piece of stone. When looking and picking and choosing the slabs which I insisted upon I chose three or four slabs for my kitchen that I looked for balance, color, veins etc. no matter how it was going to be cut and where hopefully the pattern would be in the center of the tops. Another words, most kitchen tops are 25 inches deep, but the slabs are over 50 inches high, therefore, two cuts lengthwise was being made so I needed to know that the balance of the top half of the slabs would match or blend with the bottom half of the slab. For the island larger pieces I made sure the cuts were made where I told the fabricator I wanted them and laid it out for him to do so I would get exactly what I wanted. Where the appliance cut-outs had to occur, I made sure it was located on the slab where I wanted them to occur. This took time but it was worth the time and money to get what I wanted. So many people are disappointed when they see their tops installed because they did not spend the time to study it and work with a fabricator who understood how to please the homeowner. Spend the time and do the research and it will pay off.
3 - Other issues are to know that certain colors are more problematic than others. White granites and very black granites show more imperfections and scratches than other colors. Many absolute blacks are not true granites and do not have the quartz in the stone that protects the wear on the tops. This type of granite is more susceptible to oils staining the stone, or scratches occurring, or even cracking. If you have ever had a real white car or a black one, you will immediately appreciate these issues of choosing the right color. These stones just require more care and maintenance to be used. Make sure you ask and get all the details of how to take care of your tops from the fabricator and ask the distributor and ask others. The more the better as you can never have enough information.
4 - Another important consideration is the edging of the stone and thickness. Personally I find the best tops are 3 cm thick (1-3/16") and do not cost that much more than that of a 2 cm but adds a perspective that the 2cm cannot. Sometimes a fabricator will say let's use a 2 cm top and laminate another 2 cm edge to it thus you get a built up edge of 4 cm. OK, but look at examples of workmanship and make sure you accept the size of the joint, the color used to glue the joint together and how the corners will look. Corners are also important and personally it is recommended to radius these corners for if you ever walked into a square corner of stone, you will remember how it hurt. The final thing to look at on this issue is the edging design as there are so many to choose from, like 20 or more. Some fabricators will try and show you only two or three, but there are many others you may prefer to have and each has a different cost factor. What is worth the money will be based on your budget and design. Ask to see some examples of the stone edging on the granite color you are choosing and if necessary have them make a corner sample for you to have and keep. Use this sample to control the job and to pick other colors for your kitchen you may require. At least with the sample you can control the workmanship and see the edge and corners as you want them to be on the final tops.

5 - Once you mark the slabs you choose, taking the fabricator with you, if possible to get his opinion on your choices, make sure these slabs are held for your job and the fabricator has control of them. Take photos of the slabs you chose. Layout each photo by numbering the slabs and layout with the fabricator how you want him to cut it, as surely he will want to give you direction or just say, I will take care of it and think I know what you want. Who do you trust is the real factor. Now you can also finalize the pricing on the tops and what it will take to get them installed.
6 - Another factor is the choosing of the finish for the tops. Polished has been traditionally the choice most buyers make, however, designers are now tending towards using a honed finish or a textured finish, to take away from the sheen and blend with the finish of the cabinets more. I personally like a lightly brushed and honed top combination which gives a nice texture yet remains flat for glass wear to move easily across the surface without tipping over easily.
7 - Prices of granite are now reasonable and compete with most other products being offered. Just as you shop the stone, shop the fabricator if you have chosen the stone to see what they will charge as prices can vary 40% from one to another. Make sure you look at examples of his works, photos, get recommendations from other homeowners who have used him, and check out his credit and see if there have been registered any complaints against him. Make sure the tops are cleaned on the surface after installation so you can check them for scratches or other issues. Many granites have small fine fissures in the tops and you need to know this is natural in the stone and should have seen them in the slabs when you chose them if you look closely enough and as well the sellers should point them out to you. Do not cut corners on the fabricator/installer as this is a key player and the granite such a key component in your kitchen as it becomes the focal point after all is said and done. You want it right.
8 - Finally make sure the cabinet company knows you are using granite tops and the thickness of the tops so they are responsible for giving the proper support and structure to hold the granite's weight. Check with the granite fabricator where he is cutting out a kitchen sink or the stove top and that he is giving the narrow remaining stone in the front and back which may only be 2 inches wide, reinforcement and strength so as not to crack or break after years of sink use and additional weights, as these are fragile stone areas. Many buyers have shop drawings done and include the granite layout with the drawings to make sure everything gets done the way you want.
Recommendations after the election
Whatever is discussed, whatever selections made, whatever special or other instructions are given, make sure all is in writing to everyone.
Make sure that the granite company fabricating your tops knows the selection, range, layout, edge works, corners, levelness, lippage between pieces and is knowledgeable of templating your job, watching the tolerances of cutting, sub-tops if required, joint colors, sealers, and expanses where the tops protrude further out from the cabinets then normal such as bar tops or eating areas and the extra support the cabinet company will need to make to hold these extensions.
Put in writing you do not want repaired glued material, chips, cracks, scratches, pits of certain dimensions as some pitting very fine is normal in stone, as are many times fine fissures in the face of the stone; after the stone is installed decide with your fabricator in writing which sealer is recommended and whether it is a surface or impregnator and how to maintain this granite for years to come.
Caution: Resinated tops. Many tops today are resinated with a resin that goes onto the face of the slabs to help hide certain imperfections naturally occurring in the stone. This is usually an automated process but sometimes done by hand. The issue becomes that in most cases this is a surface treatment and will cause the edges of the stone when cut and finished not to match 100% the surface top either in color (can be slightly darker where resined) or polish.
Make sure you ask if your slabs are resinated to ask the fabricator to show you edge samples of your work to be done to see the difference. It is harder to look at the integrity of the granite when it has been resinated slab format. This same resin has been known to cause problems when a sealer is applied to the stone and or joints showing a spotting in some cases. Also if you are using resinated stone for outdoor kitchens take note to make sure the resin being used will not be affected by UV light.
When you are maintaining your granite do not use abrasives on it. Use soft soap and water only and clean immediately after use, not hours later. Periodically re-seal the stone and there are certain cleaners recommended that can be purchased for granite. If the tops are properly installed and maintained, they will outlast any other countertop on the market as the life of these tops normally exceeds 50 years.
Note:
Look at  www.marble-institute.com  and see their publication Natural Stone Countertop Installation, they have videos for sales as well. Education is a key in any successful sale and use of a product if you want it to last.
by Jeffrey Matthews