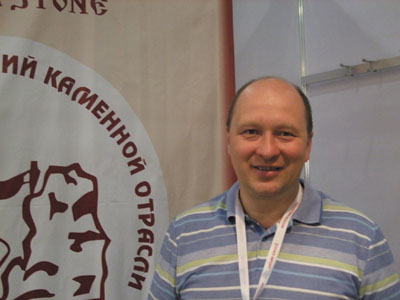 Dmitry Medyantsev, President of Russian STONE CENTER Association
Question.- How many factories and quarries are there in Russia?
Answer.- There are currently about 200 large and medium-sized factories and about 50 block stone quarries operating in Russia.
Question.- In your opinion what is the current situation of the Russian stone industry?
Answer.- It is a difficult period for the Russian stone industry nowadays, as is also the case throughout the world. Many companies in Russia went bankrupt or changed their line of activity due to the competition from stone companies in China. Cheap stone products from China come in from a few ports and across the land border. But the Russian thick stone products, such as paving stone are competitive in the domestic market. Our industry is supported by orders from the state and municipalities. Private sector orders do not have much affect on the state of our industry.
Question.- Are there any new areas in Russia where mining is taking place and where new stones are being discovered?
Answer.- The Russian production of natural stone is concentrated in the regions of the Urals, Karelia, the Caucasus and in the Leningrad region. There are several new quarries being exploited which have interesting materials.
Question.- Which stones both from Russia or imported, are most popular in the Russian market today?
Answer.- The most popular stones right now, in the form of tiles and large slabs of Russian granite, are "Vozrogdenie", "South Sultaevsky", "Siberian". Among marbles, the most popular are white "Koelga" and "Polotsk", gray field "Octyabrskoye" and others. Of the imported granites, the popular stones are Ukrainian, Indian and Chinese granites, as well as Finnish.
Question.- What is the image of natural stone in the mind of the Russian consumer?
Answer.- Natural stone in Russia is an expensive building material and people generally prefer to use granitogress .This is facilitated by the aggressive and often false advertising by corporations that manufacture artificial building materials. Our Russian stone industry does not have the capacity and financial power to do advertising campaigns in favour of natural stone. However, nowadays more and more production of stone is used in the big highways and streets of major cities in Russia.
Question.- It seems that in recent months several major projects have been postponed or cancelled. Do you think it is a temporary phenomenon or part of a general slowdown in economic activity?
Answer.- As I mentioned earlier, the largest orders for products made of natural stone come from our colleagues in Russia from  the state or municipal authorities. Indeed due a number of reasons, some projects have not received government funding and are, therefore, not being built. Now that the crisis that continues in the world is also reaching Russia, I feel the stone companies in Russia will get fewer orders.
Question.- What advice would you give to foreign companies who want to sell in the Russian market?
Answer.- I would advise foreign companies trying to enter the Russian domestic market to contact more with the Russian stone companies and our Association. I also invite all interested companies to participate in our Russian stone shows, especially in the "UralExpoStone" which is held every year in April in Ekaterinburg and organized by our Association.
About STONE CENTER:
"The Association of stone industry of Russia "Stone Center", a voluntary public non-profit organization, was established in 2002 by the decision of the Constituent Assembly of heads of the leading stone industry enterprises.
It consists of about 60 companies engaged in the stone business: careers and stone treatment companies, exploration organizations, producers of equipment and tools, construction companies, universities and commercial companies.The objectives of the Association "Center Stone" are:
• Integration of Russian companies and firms involved in the stone industry to support and represent the interests of businesses in the state structures of the Russian Federation;
• Collection and processing customer service information on the stone business, the analysis of the world market for submission of information to members of the Association
• Issue of the Journal of the Association "Stone Around Us"
• Organization of the enterprises of the Association for exhibitions, seminars in Russia and abroad
• Support for international relations and contacts with other associations on the interests of the Association
• The organization of advertising and market research companies for raw materials, finished products, equipment and tooling
• Conduct with "Ural State Mining University" annual international specialized exhibitions "UralExpoStone" in Ekaterinburg
• Organize and conduct together with "EXPOSTROY" annual international specialized exhibitions "EXPOSTONE" in Moscow
• Conduct professional competitions of different directions
• Organization of training of specialists of enterprises to improve the professional level in Russia and abroad."