In the world of limestone, Spain is best known for Crema Marfil, and this stone remains the biggest selling beige material by far, within the industry. However, what many people may not be aware of is that there are several other beige limestone also available in the country, with good market acceptance, and are also available in sufficient quantities. This article highlights the other beige limestone that are extracted and processed in Spain. 
Currently, different quarries in the provinces of Malaga, Granada, Murcia, Alicante, Valencia, Castellon and Tarragon are being or have been exploited. This has led a large variety of materials of beige tones which are known in the market under different commercial denominations and which have their own unique aesthetic characteristics, but common to all is the colour beige.
Given the large number of "other" beige limestone in the country, the most appropriate starting point would be to segment them by aesthetic criteria, with different colour variations being the differentiating element. Within the beige colour there are different shades that predominate, some being more or less white, for example. Briefly, the variations can be divided into-
1) Limestone of beige tones
2) Limestone of yellow tones
Spanish limestones of beige tones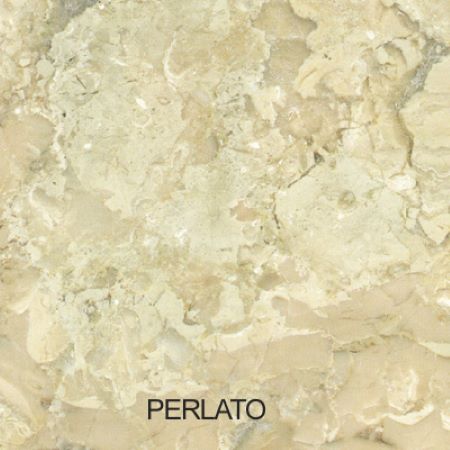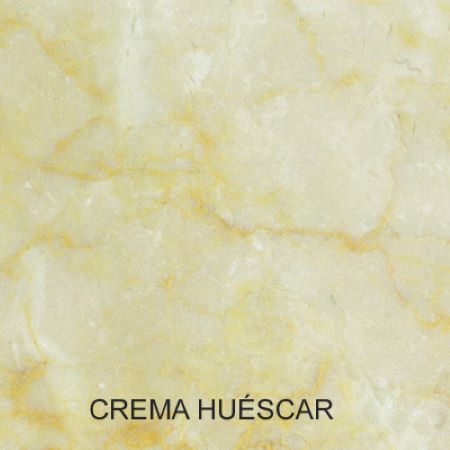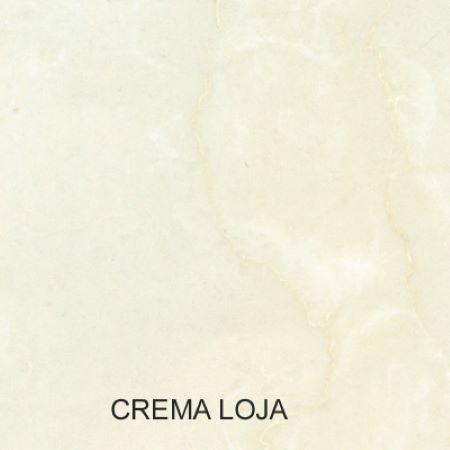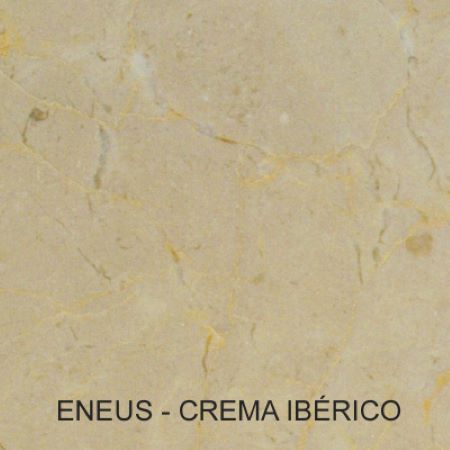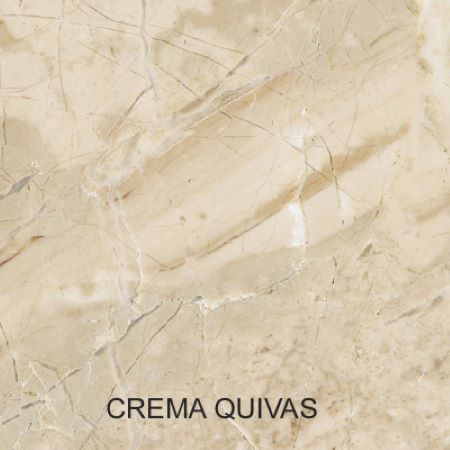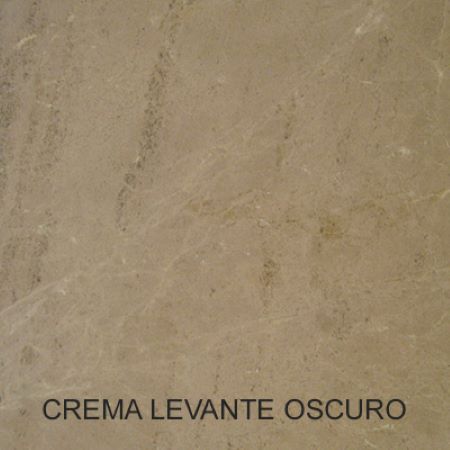 a) Perlato. There are two quarries of this material located in the province of Murcia. Another name for this material is Perlato Imperial and is also called Mistral.
b) Crema Huéscar.The quarrys is located in the province of Granada. There are two companies which work with this material. This material is very similar to Crema Marfil.
c) Crema Loja. The quarries are located in the province of Granada. According to the degree of crystalization, the presence of fossils, intraclasts or structures, they are also denominated Crema Nácar, Crema Real, Crema Tabaco, Crema Aduana.
d) Crema Ibérico. Another name of this material is Eneus and is traditionally known as Crema Ventaquemada.
e) Crema Quivas. The quarries are located in the province of Murcia. Aesthetically this material shows some presence of fossils and fissures of calcite. Three companies exploit this material.
f) Crema Perla and Crema Perla Marina. This is a material extracted in the province of Murcia. It is a rock of soft beige tones with high degree of polish. The tones are very homogenous and the quarry allows the extraction of blocks of big size.
g) Crema Levante. This is a variety of the previous material but with more intense beige shade.
h) Beige Romano. The quarry is located in the province of Alicante and this material is basically a variety of Spanish Gold in beige tones.
Varieties of Spanish beige limestone of yellow tones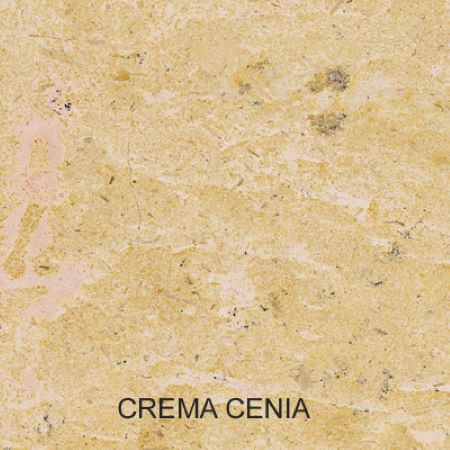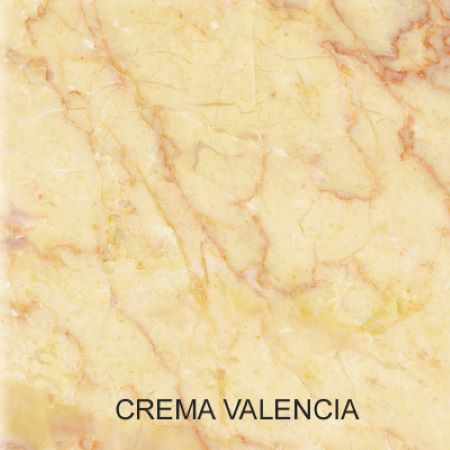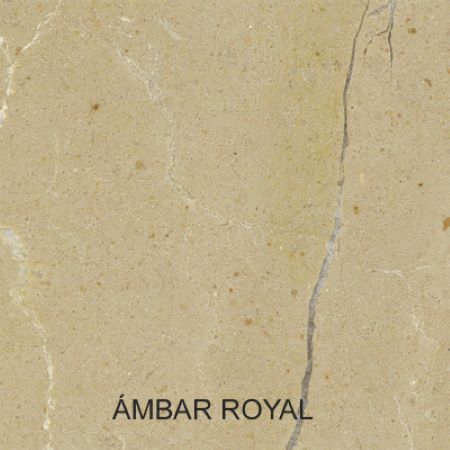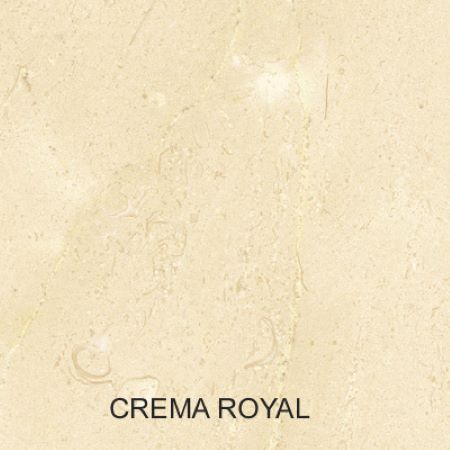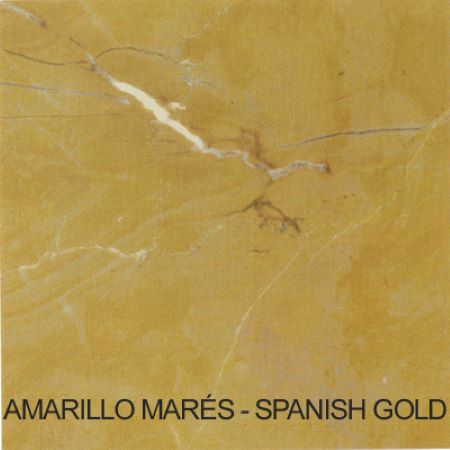 a) Crema Cenia. Located in the province of Tarragona, the quarries have been exploited with underground mines. The material allows for flamed surface treatment.
b) Crema Valencia. Currently there is only one quarry being exploited.
c) Ámbar Royal. Also known as Ámbar Siena, it is a rock highly appreciated in the international markets, with great ornamental value. It is exploited in the same quarry as Crema Royal from where approximate production is 5000 m3/ year.
d) Crema Royal. Also known as Crema Siena, it is exploited along together with Ámbar Royal. It is a rock with high polishing capacity and allows for any type of surface treatment.
e) Amarillo Marés, also called Spanish Gold. This deposit has high production capacity. There are three quarries from which material is being extracted.
The size of the grains in these limestone provides another visual difference, they can have fine grains or thicker sized ones. Most of them are quite homogenous in colour, texture and composition.
The beige limestone are mostly used for
interior claddings and exterior and interior pavements
. They are also used in facades though it is advisable to use in ventilated facades.
Regarding finishes, all the limestone in theory can be polished, however, in some of them the most adequate finish is the honed. Also the bush hammered, aged and flamed and brushed finishes are possible for most of these materials. 
The limestone of beige and yellow tones allow for good polish finish because they are crystalline. The flamed and aged finishes also come out well with these materials.
Total
production
of these limestone vary from quarry to quarry, and the total production is estimated to be anywhere between 15000 to 20000 cubic metres per year. Depending on demand, the quarry owners can incr
ease the production for most materials.
The world wide popularity of beige limestone in general means these materials are exported to more than 100 countries, and new quarries are constantly opened all the time all over the world. While Turkey remains the big beige producer, there are several other players too, including Spain.
NOTE: Our gratitude to Juan Ramón Sánchez for the information provided in this article.
PHOTOS: Asociación Mármol de Alicante (Spain) and Centro Tecnológico del Mármol de Murcia (Spain).