Novelda has been associated in the world of natural stone for several decades with the word 'marble', and its image is intrinsically linked to Crema Marfil, the beige limestone which is mostly processed by the factories that exist in the town and others close by.
However, despite its privileged location (the international airport of Alicante is just 30 km away), its visibility and easy access from the main highway from Alicante to  Madrid, indeed, its closeness to the city of Alicante,  Novelda is still relatively unknown by interior designers and architects of the world, and even by the professionals and general public within Spain itself.
What even the local people have not realised is that during the last decade the industry in Novelda has actually evolved greatly to reflect the new market conditions, and that its main identity has changed dramatically.
A clarification-  in this article we use the word Novelda in a generic manner since we are actually referring to the industry located in the nearby towns of Monforte del Cid, La Romana, Pinoso and even Elda .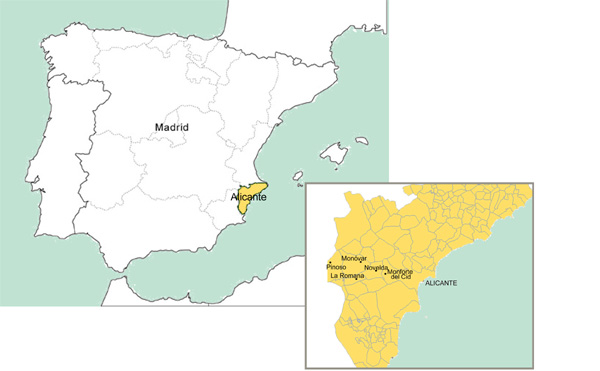 Novelda is now no longer only a marble procesing centre specialising mostly in Spanish materials, but a place where natural stones from all over the world are now processed and / or are commercialised.
Traditionally, when interior designers and architects need to choose a natural  stone for their projects, especially in the high end segment,  they have usually preferred to go to Verona (Italy), where they can visit  some fabulous showrooms displaying all kinds of stones, from the most luxurious, to the more economical ones. Or to Carrara.
Novelda has now emerged as a new alternative. No longer it is the place to acquire just Spanish stones but one can now find stones from just everywhere, be they granites from Brazil, onyx from Iran, white marbles from Italy and Greece, a wide range of Turkish materials, or from India, Morocco, Egypt, Afghanistan, the Nordic countries or sub- Sahara African countries- you just name the country, stones from these countries are there.
As is usually the case, different companies in the area have tried to differentiate from each other by specialising in different types of stones. Moreover, they are not just concentrating on the local market for their sales.
Driving on the highway from Alicante towards Madrid, using the GPS, after taking the underpass to the left takes one straight to the town of Novelda. Even before entering the town one can see both on the left and the right hand side of the highway signboards all proclaiming the names of different establishments, and they all seem to have the name "mármol".
On the left, once you go under the bypass you enter what the locals call the "polígono industrial". Wrong name! There is hardly anything industrial about it if one is looking for factories. There are around 25 stockyards there,  practically all of them stocking different types of stones from just about everywhere. You can enter all of them and ask to see the stones they have.
One prominent establishment is Nero Mármoles, and as the name suggests, the company has specialised in black colour stones- granite, marble and also Brazilian granites. Or visit Incom Pastor, one of the oldest companies in Novelda, having started  more than 30 years ago, and a company that has decided to specialise in materials at the premium end, and those that are usually difficult to find elsewhere- exclusive materials from Italy and Iran, for example. Incom Pastor is also one of the few companies that does projects.
You want to explore white colours? Mundo Pétreo has specialised in Greek materials and dolomites. Marcaline, another company close by,  has specialised in stones from Turkey. Hamistone has focused on materials from Iran. The speciality of Stonelink is national materials, as is the case with Pedra Natural. Graipicar Onyx, as the name suggests, has specialised in onyx.
Go some distance in the town and you could visit González Mestre, a company known for processing materials that can be considered complicated and difficult to work with. Fiorentina has a big stockyard in Novelda which is inescapable to the eyes. The company has generally specialised in the Arabic markets
Go towards the railway station and just before reaching there  on the left hand side of the road lies a very modern showroom of Marmolspain, another veteran of the industry. They have an exclusive range of imported exotic stones.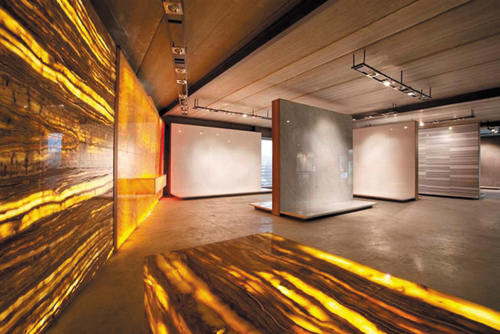 Showroom of Marmolspain
Cross the railway line, and on the left hand side one enters Intermarmor. They have several factories located elsewhere in Novelda. The decorator/architect can choose there among limestones of a wide variety from different countries.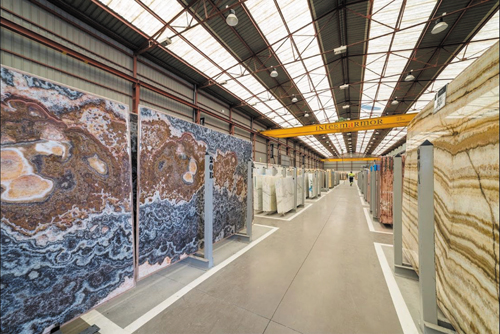 Intermarmor warehouse
On the right hand side of the road lies the state of the art factory of Bateig, one of the oldest company in the town. Bateig is capable of doing some of the most amazingly complex pieces in the Bateig stone the quarry of which first started being exploited in 1878.
Cross the highway to the other side and after meandering through a km of country road, with the help of several signboards, one reaches Levantina, the biggest company in the area. This company also has several factories in Novelda and showrooms in several countries. Their stockyard has a huge variety of marbles and granites from Spain and other parts of the world.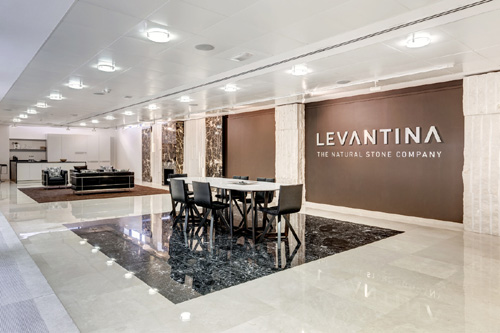 Showroom of Levantina
On to the town of La Romana just 10 km away (get the GSP system in of the car working). You could visit Semar, which has decided to some specialise in unique textures in limestones, which you probably have not seen anywhere else. Or Romanense, whose speciality is national materials, especially Marron Imperial.  Or Sinkmar, which has specialised in Spanish materials. Or Iberostone, which decided to differentiate from others by focusing on materials from Portugal and Greece apart from Spanish materials. In Pinoso you will find Marmoles Emerex which has specialised in thin formats( 1 cm thick) of Spanish limestones.
You could also go to Monforte del Cid, where López y López has a factory and a stockyard of materials such as Crema Marfil and onyx. There is also Pulycort, specialised in Crema Marfil.
Some distance away is Bemarsa, located in Elda, (you will definitely need to activate the GPS in your car). Some exclusive materials such as  Infinity Black and Emerald Brown can  be found only in this company,  which is also one of the few which does projects of all sizes and complexities.
The endless varieties of stones available to any interior designer or architect for any project anywhere in the world means it is only a matter of time before Novelda discovers it has already evolved into becoming one big showroom, and is no longer just a place visited by industry people. One can be sure that very soon the showrooms and warehouses will be bigger and more spectacular. And neither is that day far off when specifiers of natural stone from all over the world start making Novelda one of the must go to places.