Sponsored content
Falls on slippery stair surfaces are increasingly becoming more important in day-to-day accidents. A growing number of such accidents involve falls on staircases. Stairways in railway stations and other public buildings are a source of danger – especially for elderly people and people with poor eyesight – a danger which should not be underestimated. Often times, steps are either noticed too late or their surface has become dangerously slippery on account of wetness and/or dirt.
Compared to chemical or mechanical non-slip safety solutions (usually by bush-hammer, sandblasting, or flaming), the belated non-slip securing with AKEPOX® 4050 Anti Slip Mix is easier and more effective. The polished surface of the stone in need of treatment is left unaltered in order to highlight the color and polish gloss which lend the stone its superb quality. Additionally, a polished surface makes the cleaning process easier.
The purpose of AKEPOX® 4050 Anti Slip Mix is to belatedly provide mineral surfaces of natural and artificial stones as well as ceramic surfaces with an anti-slip profile. The product is particularly suited for staircases, frequently wet-surfaces, lobbies, and tilted surfaces.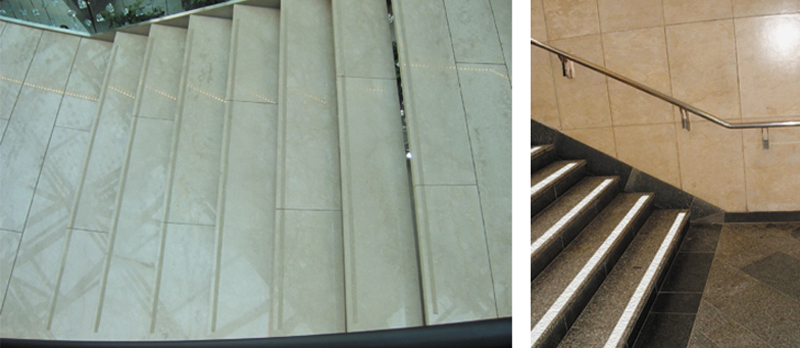 Staircase treated with AKEPOX® 4050 Anti Slip Mix
AKEPOX® 4050 Anti Slip Mix is a solvent-free two-component epoxy/corundum-composite (Mohs Hardness Scale 9), offered in a double-cartridge-system. Thereby, the imprecision often caused by manual mixture of the two components is effectively prevented and the system can be applied quickly and almost completely without loss of material. With no need to mill a groove, time and cost are considerably saved. The mixture is applied onto a preferably dry and rough surface.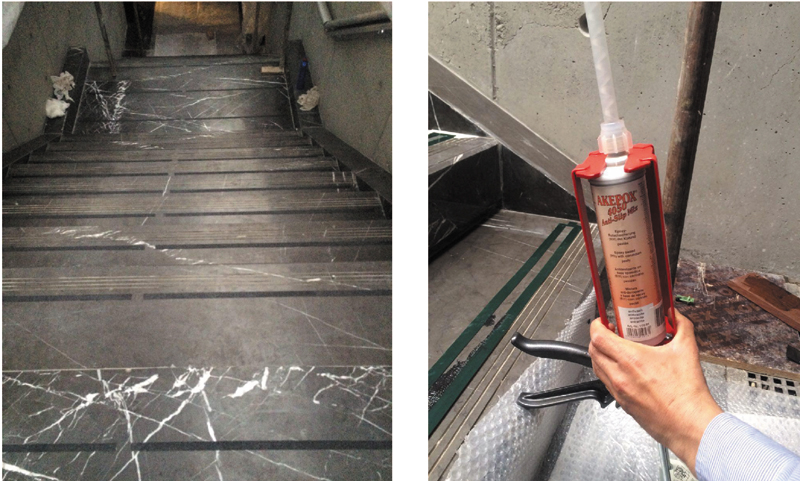 In order to manufacture the anti-slip profiles as precisely as possible, AKEMI offers a special adhesive tape that facilitates clean, exact, and fast work, while specifying how high the profiles should be.
All excess material can be easily removed with a spatula flush onto the adhesive tapes.
The adhesive tape can be removed with no residue 10 minutes after application at the latest.
The product guarantees an excellent protection against slipping (R12). It is extremely weather-resistant and can be used inside and outside. The long life of the anti-slip profile is ensured by the flawless adhesion and the extremely high abrasion resistance of AKEPOX® 4050 Anti Slip Mix.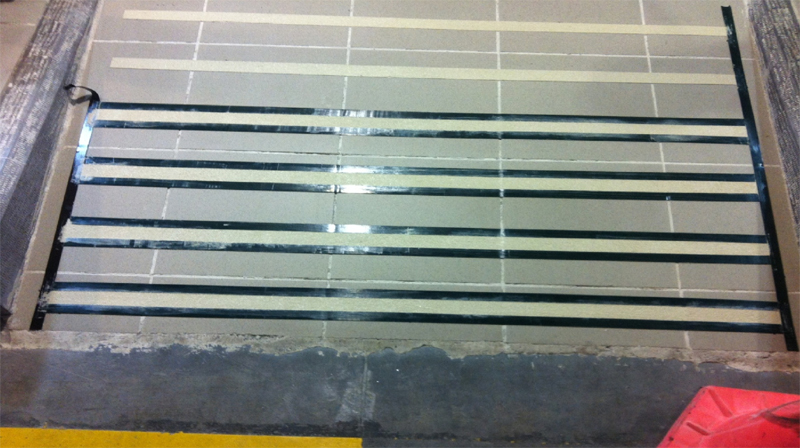 AKEPOX® 4050 Anti Slip Mix provides extremely slip-proof surfaces in the shapes of edges, stripes, or ornaments on natural and artificial stone and ceramic tiles. While the most typical shape are stripes, there is no limit as to the shapes in which the product can be applied.

AKEPOX® 4050 Anti Slip Mix the long-lasting protection against slipping; is available in the standard colors beige, reddish brown, grey, white, yellow and anthracite and also in neon-green phosphorescent form.  AKEPOX® 4050 Anti Slip Mix is its phosphorescent form is preferably used in underground parking garages, train stations, badly lit staircases, schools, airports as well as problematic areas in hotels and restaurants. This product is manufactured according to the norms established by the German Institute for Standardization (DIN) and fulfills the DIN 67510-requirements of 10-60 minutes afterglow.
Application Description
The processing of the product is easy. Mark off the area to be bonded with AKEMI Adhesive Tape on a thoroughly clean surface. Slightly roughen polished areas with the AKEMI diamond grinding pad and once more clean the surface. Apply a layer of the product at a thickness between min. 1mm and max. 2mm.

 Remove the Adhesive Tape 10 min. after application at the latest. AKEPOX® 4050 Anti Slip Mix phosphorescent is ready to walk on after 12-16 hours.
Case Studies
KEMPINSKY HOTEL PORTOROZ, SLOVENIA
During the restauration process of this 'jewel of the Adriatic,' numerous Akemi products were used, including AKEPOX® 4050 Anti Slip Mix. Especially in heavily-frequented staircase areas, to reduce the dangers of falling and injury is of the utmost importance. To this end, the splendid staircase that joins the historical part of the Palace-hotel with the modern wing was equipped with AKEPOX® 4050 anti-slip stripes.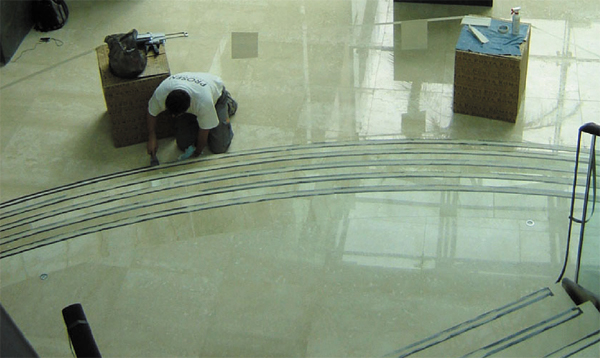 BERLIN EAST STATION
At the Berlin East Station the authorities were faced with the question how to make the stairways leading up to the various platforms less slippery and thus safer. There had been several severe falls in the past, caused by the slippery surface of the concrete building stone used in construction.  AKEPOX® 4050 anti-slip stripes were to be applied on the step surfaces. An 8cm broad strip of the supplied masking tape was applied to the front edge of each step in order to provide perfectly straight edges after the application of AKEPOX® 4050. After that, the surface of the concrete building stone was roughened up using a diamond grinding pad and AKEPOX® 4050 was applied from the 400 ml cartridge.
RAILWAY STATIONS STRASBOURG
What was unique about this project was the intense pedestrian traffic involved (i.e. Gare du Nord = 200 million passengers/year!) After successfully completing the project we are negotiating to obtain the Grand Paris Project, a long-term project of 200km new metro lines and 68 new Railway Stations. 

Stairs al Strasbourg railway station after 3 years of AKEPOX® 4050 Anti Slip Mix treatment.
Other projects:
ALB-Telecom in Tirana
TV and Radio conference center in Tehran
Espinas Hotel in Tehran
Epilogue
Due to its extreme slip-resistance, consistency, and easy applicability, AKEPOX® 4050 Anti Slip Mix has proven itself indispensable and extremely reliable for many years. The area of application is not restricted to edges or stripes, but open to many other forms.