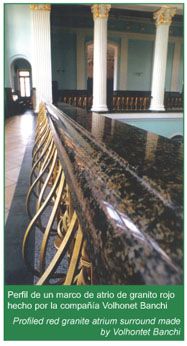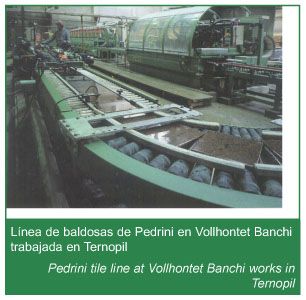 Viktor Yushchenko´s election as President of the Ukraine was confirmed on January 20th 2005. He supports a deepening of his country´s frail democracy and improved contacts with the west whilst maintaining traditional ties with Russia. In October last year, an international decorative stone exhibition was held in Kiev, the capital city. Leading Italian companies took part. All aspects of the Ukrainian stone industry are analyzed in this report by Paul Daniel and Oleg Geleta.
The international specialized exhibition Kamneobrabotka - 2004 (Stone Processing 2004) was held at the International Exhibition Centre in Kiev, capital of the Ukraine, from 20-23 October 2004. 85 exhibitors participated. Though accurate figures for extraction, processing, domestic consumption, exports and imports are hard to come by, it is a fact that the Ukraine has enormous reserves of decorative stones, with increasing volumes being extracted and processed in recent years. Granite, gabbro and labradorite blocks, slabs and tiles are sold on the domestic market, whilst exports to European countries are growing.
A brief history
Ukraine means "at the edge". At the western edge it borders with Europe while the eastern edge borders with Russia. It has been the quintessential buffer state for centuries. The capital city Kiev (Kyiv) can trace its origins to 482 AD. In 882, Prince Oleg of Novgorod arrived to declare "Let this be the mother of Russian cities!". It was the capital of Kievan Rus for almost 300 years. Independence in 1918 was short lived and in 1934 Kiev became the capital of the Ukrainian Soviet Socialist Republic. For only the second time in its history Ukraine regained its independence in 1991. The election of Viktor Yushchenko as President in late 2004 could mark the beginning of a new dawn. Ukraine is the second largest country in Europe - a territory comprising 603.700 km2 with a population approaching 50 million.
The country has a centuries old tradition of stone use. In 1125 Prince Vladimir Monomach ordered the Saviour Church to be built of stone in the village of Berestovo. A massive granite monument to his memory overlooks the River Dnieper in Kiev. An attractive stone castle built in the 13th century at Kamianets-Podilsky in the western Ukraine is still standing today. The Livadia Palace in the Crimea is a 20th century example. Built as a summer residence for Tsar Nicolas II of Russia and completed in 1911, it features white Inkerman limestone, Crimean diorite and other stones. The main entrance is decorated with Carrara marble. It was at the Palace that Churchill, Roosevelt and Stalin signed accords on the division of territories in Europe in February 1945. The Ukraine subsequently became the world´s third greatest nuclear weapons power. The last MWDs on its soil were destroyed in 1996. Some people consider that the years since independence in 1991 have been ´wasted´. Certainly there have been many allegations of corruption in political and business life. Hopefully the new government will bring about real improvements.
The basic facts
There are 166 deposits of decorative stone being worked in the Ukraine today. The greatest numbers of quarries are to be found in Zhytomir, Zakarpatsk, Kirovograd and Rovno regions. The total volume of decorative stone extracted in the Ukraine is difficult to calculate - it was probably between 50.000 and 60.000 m3 (130.000 - 156.000 tons), and possibly more in 2003.
Strong Italian attendance
Kamneobrabotka 2004 was organized by the Chamber of Commerce & Industry of the Ukraine, supported by Interexpo Exhibitions srl of Italy. There were 85 exhibitors - from Ukraine, Italy, Turkey, Finland, Poland, Russia and China. Several well-known companies from Italy showed quarrying and processing machines and diamond tooling. The Russian company Experimental Plant Ltd was pleased with the interest shown in their granite quarrying machinery, including diamond wire saws and drilling machines. Most Ukrainian quarry operators today are aware that the yield of saleable blocks is often no more than 30% when explosives are used. This can rise to 80% using modern extraction equipment - borne out in practice at the Marina granite quarry, Volodar-Volynsk in Zhitomir region.
Ukrainian stone processing factories use machines made in Italy, Poland, Germany and the Ukraine - in the latter case by the Zhytomir Automatic Machine Factory and a factory in Pavlograd. Many offers of second-hand machines are coming from Germany at present.
Following Kamneobrabotka 2004, three exhibitions featuring stone have been planned for 2005. Technostone Ukraine 2005 from 15 - 18 February is part of KievBuild 2005, while Primus: Stone & Stoneworking Technologies & Equipment 2005 from 19 - 22 April is a stand-alone show organized by Primus Exhibitions of Germany - details from www.primus-exhibitions.com/primus/de/messen_details. The third show, Stone Processing & Building Ukraine 2005, will be held from 14 - 18 June: details from the Organizing Committee on Tel. +380 44 251 9487.
The Ukrainian Stone Exporters Association was founded in 2003 with the support of the Private Sector Development Project of the Department for International Development (DFID) of the UK. The Association aims to assist foreign companies to identify and work with Ukrainian decorative stone suppliers, and to aid Ukrainian exporters. More details on the website www.stones.com.ua/association.
Extraction
There are about 26 leading quarrying firms in the country. Deposits which do not belong to processing firms export the highest quality blocks. Lower qualities are used in the internal market. Many quarries use individual items of modern Italian, Finnish or Turkish equipment, however due to poor financing and a lack of investment capital, not many have a full set of efficient equipment. This is the reason for the low volume of block extraction compared for example with Italy, Portugal and France.
Processing
There are several hundred stone processing companies in the Ukraine with around 500 involved in export/import operations. They can be divided into three groups:
- large companies having modern Italian, French and German machines: there are about 10 of these;
- medium size companies which are found in almost all regional centres: they number several dozen;
- small companies, usually privately owned and concentrated in the main quarrying areas. They often specialize in a particular product line, such as tombstones, architectural parts, paving setts, etc. - there are hundreds of these.
Exports
According to the State Gemmological Centre of the Ukraine, part of the Ministry of Finances of the Ukraine, 38.349 m3 (100.000 tons approx.) of decorative stone were exported in 2003, for a total value of 16,282 million US $. Of this total 22.304 m3 were raw blocks and 16.045 m3 finished or semi-finished goods. Granite products comprised 55%, gabbro 23% and labradorite 12%. Exports of all types of decorative stone in 2003 were 19% higher than in 2002, whilst 14% more granite blocks were sold.
In 2003 granite blocks were exported from 30 Ukrainian quarries. Principal export destinations were Russia (42%) and Poland (30%). Gabbro blocks came from 16 Ukrainian quarries and were exported to Azerbaijan (40%) and Georgia (35%). Labradorite blocks originated from 12 quarries and were exported mainly to Italy (59%) and the USA (19%).
Imports
The level of marble products imported into the Ukraine in 2003 increased by 54% in volume terms and 119% by value compared with 2002. Taking all types of decorative stone into account (marble blocks and tiles, granite tiles, slate and sandstone), 18.030 tons were imported in 2003 for a value of 9,66 million US $. The main suppliers of marble tiles, slabs and blocks were Turkey, Greece, Italy, China, Spain, India, Iran, Uzbekistan and Egypt.
Profiles of leading companies
Below is a selected list of Ukrainian stone companies for whom contact details are available.
Babich
Stockist offering installation services. The warehouse in Poltava stocks slabs from more than 50 sources all over the world. Cut-to-size products include window sills, table tops, stair treads, fireplaces and mosaics. Babich has a UK representative. E-mail: web@babichdesign.com
Basalt Ltd
The principal founder is a Turkish firm. 150-200 m3/year of granite blocks for export and 100-150 m3 for the domestic market are extracted from a quarry in Korosten district of Zhytomir region. In the overseas market the granite is known as Coral Mist. E-mail: basalt@kor.zt.ukrtel.net
Beutaga Ltd
Established in 1993, this is a quarrying and processing company based in Dnepropetrovsk. Products include granite blocks from Tokovsk quarry, slabs and tiles. Patience may be needed when making initial contact! E-mail: forever@elis.dp.ua
Bilychi Stone Co.
One of two previously state owned processing works on the outskirts of Kiev. Now privately owned, Bilychi´s products include granite and marble slabs, tiles, fireplaces, tables, balustrades and memorials. E-mail: ukrstone@irpen.kiev.ua
Citadel Ltd
Stockist of marble and granite slabs and tiles from Italy, Turkey, Greece, Iran, India and Russia, quartzite from Brazil and Ukraine. Manufacturer of fireplaces, stairs, fountains, mosaic floors, balustrades and columns with installation service. This relatively new company is based in Dnepropetrovsk but has distributive offices in Kiev, Zaporozhie and Simferopol. Citadel works with Antolini Luigi, La Quarzite and Santa Margherita (quartz surfaces) from Italy. E-mail: citadel@a-teleport.com
Di-Star Corp.
Di-Star is a holding company based in Poltava which includes Ukr-Diamant, a joint venture established in 1994 with leading Italian diamond toolmakers Diamond-D. Other corporate members include Granit Servis which manufactures stone goods, and Splav which makes steel centres for diamond blades. Di-Star is a leading manufacturer and supplier of diamond tools for the stone and construction industries in central and eastern Europe, also exporting to Italy, Brazil, the USA and Middle East. The Commercial Director is Alexander Panchenko. E-mail: sales@di-star.net
Elgran JSC
Elgran owns 3 quarries from which 5 types of granite are extracted: Rosso Santiago (Kapustinskoye), Rosso Santiago (Voinovskoye), Brown Santiago, Moon´s Night and Karmin. Company offices are in Sokolovskoye, Kirovograd region. The city of Kirovograd is 5 km away. E-mail: info@elgran-stone.com
Elita Ltd
Based in Uman, Cherkassy region, Elita is a stockist of Portuguese, Spanish, Italian and Egyptian marbles, plus granites from India, Brazil, Sweden, China and Poland. Various products are fabricated for internal and external decor - the company says it guarantees European quality. Tel / Fax: + 380 4744 3-38-80, 3-25-70.
Granit Ltd
Established in 1992, this company owns 2 granite/gabbro quarries (Buky southern section and Sychevskoy) in Zhytomir region, and a processing factory with Italian machines. A wide variety of stone articles are made, including building components, tables, vases and monuments. E-mail: granit@malin.zt.ua
Granity Ukrainy
This is a major granite processing company based in Kremenchug, Poltava region. Contact details are not available.
Grecheskii Zal
The name translates as ´Greek Hall´ and not surprisingly this Kharkiv company stocks and fabricates a wide range of products made from Greek marble. It also offers granite slabs and sandstone tiles. E-mail: stone@kharkov.com
Informgranit
This private company based in Zhytomir offers a very wide range of finished products in more than 50 colours or tints. Blocks or slabs are bought from Ukrainian suppliers or are imported from Greece, Bulgaria, Turkey or Italy. Fax: +380 412 208443.
Kyiv Granite Factory
Quarrying and processing of granite. Once a major state enterprise, the outfit is now a public stock company. Fax: +380 44 543 9760.
Kometa
This quarrying and processing company was the ´Ukrainian survivor´ highlighted in LITOS, May 2001. Kometa owns 6 quarries and 2 processing factories. About 40% of factory production is exported - to Russia, the USA, UAR and Latvia. Products include tiles, architectural pieces and memorials. Fax: +380 564 35 42 30.
Korostyshevskii Granitny Karier
The predecessor of this company was created in the 1960s "to provide memorials and gravestones". Quite remarkable under communism! Today the company supplies products of gabbro (Kamennobrod quarry) and gabbro-labradorite (Slobodsk quarry) to practically all republics of the former Soviet Union. E-mail: stone@kr.zt.ukrtel.net
Korostyshevskii Karier
The company owns Slobidsky labradorite quarry and buys in granite, gabbro and labradorite blocks from other sources. The processing factory has Italian frame saws and secondary saws with diamond blades up to 1500 mm diameter. The company has contributed significantly to the reconstruction of Astana, capital of Kazakhstan. E-mail: info@korostyshivskij-karier.com.ua
Krimar
Up to 20.000 m2 of marble and granite tiles and 15.000 m2 of slabs are always in stock in Krimar´s warehouses in Kiev and Odessa. Products include fireplaces, table tops, balustrades and mosaic floors. E-mail: info@krimar.com.ua
Labogran
Labogran owns a sector of Didkovichi granite quarry from which around 1800 m3 was extracted in 2003, and two labradorite quarries - Kamennaya Pech and Korchivka from which 1600 m3 and 400 m3 were extracted respectively. Korchivka is a new quarry from which commercial block production began in November 2003. All 3 quarries are in Zhytomir region. Slabs and tiles are the main products of Labogran´s processing factory - output in 2003 was around 60.000 m2. According to Aleksander Donskoi, sales director, about 60% of production is exported to Poland, USA, Turkey, Russia, Italy, Spain, Germany, France, Bulgaria. E-mail: donskoy.a@spillover.com.ua
Novator
Founded 16 years ago, Novator is a leading Ukrainian manufacturer of diamond tools for stone processing, the construction industry and engineering. Diamond blades up to 3500 mm diameter can be supplied, and all other types of tools used for stone processing. E-mail: novator@iptelecom.net.ua
Omphal
A quarrying and stone processing company with headquarters in Shaktersk, Donets region. Blocks of Brown Skif granite are extracted from Pervomaisk quarry. The factory has Giorgini Maggi, Bideseimpianti and Prussiani machines. E-mail: postmaster@omphal.shakhtersk. donbass.com
Ros Inc.
Founded in Cherkassy, central Ukraine, in 1988 with private capital. Currently Ros owns 2 quarries of grey and red granite. The processing works has a Pedrini tile line. Slabs and tiles can be supplied in Kapustjanske (Rosso Santiago), Mezhyritske (Flower of Ukraine), Didkovytske (Star of Ukraine) and Pokostivske (Ukraine Grey) granites. Tiles can be supplied in volumes of up to 3.000 m2 per month - contact Galina Gavrikova. E-mail: AO_ROS@ukr.net
SIAL
Based in Dnepropetrovsk, SIAL claims to own 4 quarries and 2 processing factories. The main factory produces around 50.000 m2 of slabs and tiles annually, plus architectural parts and monuments. The company supports ´the revival and development of natural stone culture in Ukraine´. E-mail: mail@sial.dp.ua
UGK - Ukrgranitkontrakt Ltd
Part of the state corporation Ukrbudmaterialy (Ukrainian Building Materials), Ukrgranitkontrakt quarries granite, gabbro and labradorite, and processes these materials together with imported marble. Domestic materials quarried include Leopard (Korninskoye), Volga Blue (Golovinskoye), Kometa Black (Slipchitskoye), Carpazi (Tokovskoye) and Rosso Santiago (Kapustinskoye). The total quarried in 2003 was 22.000 m3. 85% of the blocks were exported. Other products include roadstone, paving setts, slabs, tiles, fireplaces, fountains and monuments. Export destinations include Italy, Germany, Austria, Russia, Belarus and Poland. E-mail: ugk@ukrgranit.com.ua
Ukrnerudprom
A group of companies in the western Ukraine involved in the quarrying and processing of marble, labradorite, granite and other Ukrainian stones. The group owns Novoselitskii quarry, said to be the only source of marble currently worked in the Ukraine. The processing factory, administered by Zakarpatnerudprom, is at Khust, close to the borders with Poland, Slovakia, Hungary and Romania. Products include slabs, tiles, window sills, stair treads, tables and fireplaces. Fax: +380 31422 5048 / 5095.
Veras
Founded in 1992, Veras owns 3 quarries in Zhytomir region and its factory produces around 1000 m2 of granite products per month. It has supplied stone to major construction projects in the Ukraine, Russia, Belarus and the Baltic states. Tel / Fax: +380 4142 468-61.
Vlada
Based in Zhytomir, this joint venture company specialises in large radius products made of granite such as fountain parts, curved stair treads, decorative tables and spheres. It has taken part in foreign exhibitions. Fax: +380 412 398286.
Vladimir
Owns Soloshinskoye pink granite quarry. Italian equipment is used in the factory at Kremenchug to process their own granite and bought-in gabbros and labradorites. E-mail: common@vladimir.poltava.ua
Volhontet Banchi
A Ukrainian-Australian joint venture in which the foreign capital share is 45%. Launched in 1993, this is a multisectoral enterprise though stone quarrying and processing are the main activities. VB owns a private granite quarry in Zhytomir region and a factory in Ternopil, western Ukraine, equipped with Gaspari Menotti, Pedrini and Thibaut machines. The production capacity is 100-120.000 m2 of finished products per annum. Volhontet Banchi has exhibited at trade fairs in Nuremberg (3 times), Dubai, Melbourne, Singapore, Moscow and St Petersburg. E-mail: master@banchi.ter-nopil.ua
Yantsevskii Granitny Karier
This is a major processing company based at Yantsevo, Zaporozhe region. Contact details presently unavailable.
Conclusions
Anyone planning a visit to Kiev should bear in mind that the capital will be hosting the Eurovision Song Contest this year, after Ruslana´s win in 2004. And now that the Orange Revolution has put Ukraine squarely on the world map, tour operators are expecting a boom this summer. Stone quarrying, processing and trading companies are also expecting a good year.