Teresa González Díez
To find out what role natural stone currently plays in the world of decoration, we spoke to six interior designers in Spain and asked them about the current trends in the use of natural stone in decoration and interior design projects. We also wanted to know what criteria they use when choosing between natural stone and porcelain and, finally, we asked them to tell us what their favourite natural stone is.
These are their answers:
Javier Baldrich, COTONETBOIS
In recent times, we have witnessed the resurgence of natural stone as a key element in interior design and decoration. New trends have led to a greater appreciation of the beauty and versatility of natural stone, which is reflected in its use in a variety of styles, from rustic and traditional to modern and minimalist. We also believe that there is a trend for natural stone cut-outs mixed with other materials such as wood or brass, thus creating unique designs for each project. In addition, the saturation of the supply of synthetic materials, we believe, is leading to an increased interest in exotic and unique stones, as well as their application in innovative ways, such as wall coverings, countertops, floors and decorative elements.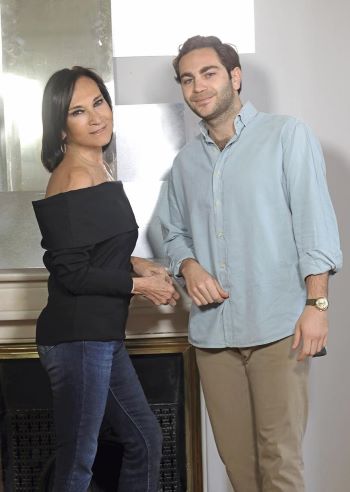 Asun Antó and Javier Baldrich. Photo: Juan Martín, for Casa Decor
The versatility of the material allows us to take it to all rooms of the house, to give importance to the kitchen worktop or floors, to cover bathrooms or in living room areas to cover fireplaces, walls, tables or floors. It is true that we cannot cover our rooms in excess with natural stone, we have to define where the material is going to show off the most and combine it with warm materials such as wood or shades that we find cosy.
We always prefer natural elements in our projects, but the client has to be willing to give up the ease of conservation of synthetic materials and pay a higher price, not in all cases is given priority to the natural and weighs more practicality and price, the same happens with natural or synthetic wood.
We have just used Cupastone's Parana Quartzite in the last Casa Decor project and we love it for its texture, colours and subtlety in its grain and tonalities. It is a very resistant material compared to other natural stones, its resistance to scratches and low maintenance makes it a very easy material for us to use.
Gio Duarte, GIO DUARTE ARQUITECTURA
As an everlasting element, dating back to ancient Greece and the Italian renaissance, natural stone is always in the "top five" materials that you can't miss when creating an interior design project. It all depends on the place where you place it, the creativity of the interior designer and the skill of the marble worker, so that it stands out like a precious jewel. Nowadays there is a trend to buy whole blocks of this natural material and work it to create monolithic pieces such as bathtubs, washbasins, consoles, accent pieces etc. A trend that is always well seen is to place the integral pieces to create the "book match" effect, creating unique spaces.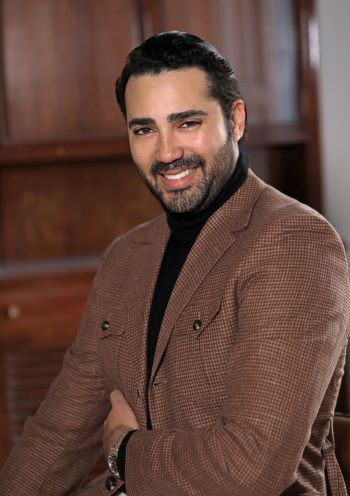 Gio Duarte. Photo: Juan Martín, for Casa Decor
I apply natural stone in most of the designs we make in the studio, whether we are designing a bar unit, with a stone that can be backlit, as a kitchen worktop and walls (treated natural stone, for acids), or on the floors and walls of a living room.
The final function where the stone or porcelain is going to be applied tells you which of the two has better medium to long term interaction qualities. When we design a space, we create it to accompany its owner in his investment, as much as possible, and to evolve with him.
Nowadays, it is very popular to place porcelain worktops where the burners of the cooker can be seen at a glance. In this case, natural stone does not have the physical and chemical characteristics to withstand high temperatures for long periods of time. In this case, porcelain tile is the absolute king.
Porcelain tile also goes well when it comes to accompanying the design of furniture for kitchens, if we want to place it on cupboard doors, as its thinness and weight means that the hinges of the cupboards are not damaged.
In all other cases, natural stone is ideal, due to its elegance and durability.
The beauty of a natural stone is that it accompanies you through time, undergoes changes that give it warmth and tells us how time has passed; it makes us reflect on our brief passage through this life.
My favourite natural stones are all of them... But exotic stones get to me more. A Rainforest Green or Red Onyx, even an agate.
Guille García-Hoz, GUILLERMO GARCÍA-HOZ
I've seen a lot of approach to organic shapes and colours that inspire intimacy, that embrace and spaces that make you feel at ease.
Natural stone, like all noble materials, has a perfect place in any room. I particularly like it when its edges are irregularly "killed", allowing the honesty of the material to show through.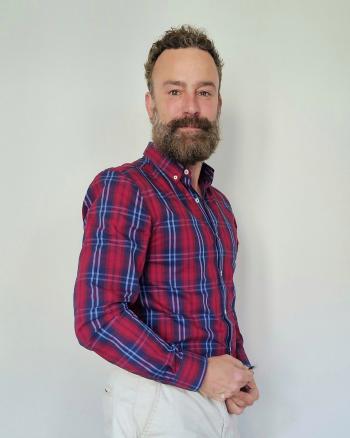 Guillermo García-Hoz. 
If it is possible due to budget and technical issues, I personally prefer natural stone for floors, walls and worktops, but it is also true that for ceilings, as it weighs less and is not subjected to the loads of daily traffic or rattling, it can work perfectly well.
My favourite stone is undoubtedly Campaspero stone and the more rustic the finish, the better.
Javier Páramo, DOSALCUBO
Natural stone is a material that never goes out of fashion. In a world increasingly concerned about the environment and sustainability, it is a trend in interior design to return to natural materials and projects linked to the earth. In this sense, natural stone adds its strong character, its expressiveness and its link with the earth. The traditional stone and finishes are being abandoned, creating new textures, new cuts, and new stones from other areas.
At the recent event we took part in, Casa Decor, there were many spaces that opted for natural stone. Retro illuminated stone is a trend, both in restaurants and hotels, as well as in the home, starring not only in the usual positions such as countertops and tables, but also floors, walls, headboards...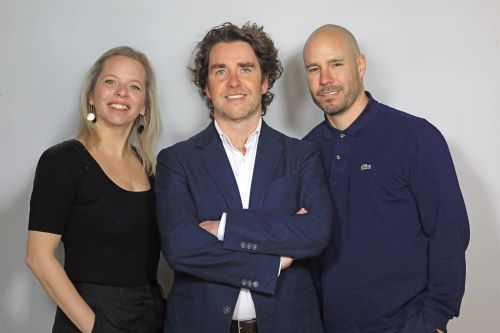 Helen Sánchez, David Moya and Javier Páramo. Photo: Juan Martín,  for Casa Decor
The rooms and applications where we most like to apply natural stone are in outdoor areas, countertops and singular walls. The personality and expressiveness of stone makes it ideal in our projects for singular points that we want to give character.
Nowadays, porcelain tiles have an infinite number of finishes and imitations of all types of material, even achieving backlit materials, they are usually easier to apply and in comparison with high-end natural stones, they can be better priced.
But you cannot compare the character of natural stone with a porcelain tile, however well imitated it may be.
We have recently installed a backlit Patagonia stone (Brazilian quartzite), which we were in love with, although it is difficult to choose just one, as each project requires certain characteristics, which make one or the other more suitable.
Sigfrido Serra
We are currently living in a moment in which natural stone brings a lot of strength to interior design projects; there is an intention to "go back to nature", whether in limestone, slate, granite, marble... or in any of its forms, stone is more "alive" than ever, creating the keys to modern craftsmanship, destined to build present and future spaces.
Great architects leave us proof of this: Peter Zumthor or Rafael Moneo "Stone is the history of architecture", they leave us a legacy and a culture about this material, which inspires and conceptualises current projects.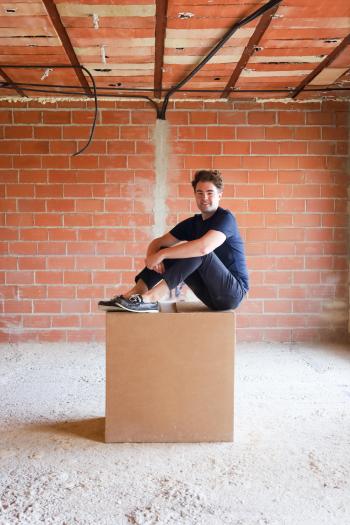 Sigfrido Serra. Photo: @Nuelpuig
The trend in the use of stone is very diverse, whether for the new resistant finishes, the ability to generate shapes or volumes with the cuts or the new contributions of typologies, stone is more fashionable than ever.
I love the use of natural stone in bathrooms, flooring, wall cladding and kitchens. I think it brings elegance and sophistication to interior design projects.
I have never dared to use it in ceilings, but it is a challenge that I am already working on my next project.
I consider stone to be a work of art that nature gives us, which is why it is worthy of being introduced into any space; using good lighting and control of the environment, it is perfect for giving personality and elegance.
There is a lot of difference between porcelain and natural stone in a project, we have to know how to select the perfect material for the right place; for this reason, I propose to my clients to use natural stone in cladding, flooring and strategic places, in furniture. On the other hand, porcelain brings me certain characteristics to other places where a more aggressive use is prioritised, although I have to confess that not only marble brings certain characteristics of resistance through its finishes and treatments, we also have granites, which comply with these characteristics and are perfect for our projects.
I love Macael Marble, apart from being a marble from Spain, and with all that it means: sustainability, made in Spain, support to local commerce... its white totality makes it for me a timeless stone for life and that enriches my projects, the perfect inheritance of White Gold!
Although I also consider myself a fan of Negro Marquina, Patagonia or Travertino; they are a sure hit for any project.
Daniel Pérez and Felipe Araújo, EGUE & SETA 
Being natural stone, natural and having arrived in the world before us, it seems almost unbelievable that, by now, it has not completely exhausted its capacity to transform and surprise us. The truth is, on the contrary, that due to its apparent malleability and, why not, thanks to our ever-changing tastes, natural stone is always finding a new way to sneak into the picture of our built landscapes, be they our homes, our offices or the places where we go to shop, share or disconnect. Strictly speaking of the very current, perhaps we should highlight the current dissociation between the colouring traditionally considered as "stone" with the very wide range of colours that the natural stone industry has made available in recent years for the cladding of surfaces of the most diverse nature. With increasingly dramatic grain and grain patterns, deep greens, hypersaturated blues and intense reds that we used to only see set in metal mountings and goldsmiths' wares are now available in perfectly machined slabs suitable for standardised installation.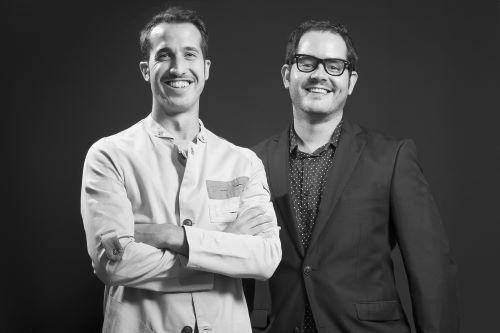 Daniel Pérez and Felipe Araújo. Photo: Juan Martín, for Casa Decor
It is perhaps not entirely demagogic to say that there are no boundaries to the application of stone other than those imposed by the budget. There is no room in the house that proscribes them or that cannot benefit from their attributes of durability, textural richness or colour. That said, it is undeniable that its tolerance to humidity makes it particularly suitable for cladding exteriors, kitchens and bathrooms inside the home, although no one forbids us to design tables, fireplaces, armchairs, headboards, shelves or doors clad in stone, since the limitations imposed by the weight and thickness of the material have been reduced to their minimum expression without sacrificing, for this reason, its resistance.
On the basis that both materials (natural stone and porcelain) are extremely strong, durable, practical and aesthetically versatile, it could be said that porcelain, being a manufactured product, is an even harder, more stable, economical and easier to maintain covering than stone. Natural stone, on the other hand, would be the more exclusive, tactile and sustainable alternative.
Not even the very favourite could fit in all environments, please all clients or fit all budgets, that's why years ago we stopped investing time in choosing favourites and preferred, for each project, to find the material, the colouring, and the pattern that best responds to all these variables. This does not mean, of course, that sodalite granite, for example, does not seem to us to be a real bluish wonder or that Rainbow Onyx is not crazy.