Teresa González Díez teresa.litosweb@gmail.com
When something or someone is given the title of "Emperador" or Emperor it is usually because it is considered that its dignity is above that of others. So what quality does the marble MARRÓN EMPERADOR have that it receives such a high sounding name?
Geological formation
Geologically it is classified as being a dolomite limestone or dolomia of intense tones of dark brown colour, almost black. Its structure is brechoid which gives it a special characteristic since this aspect is highly typical of marbles that fall within the family of browns.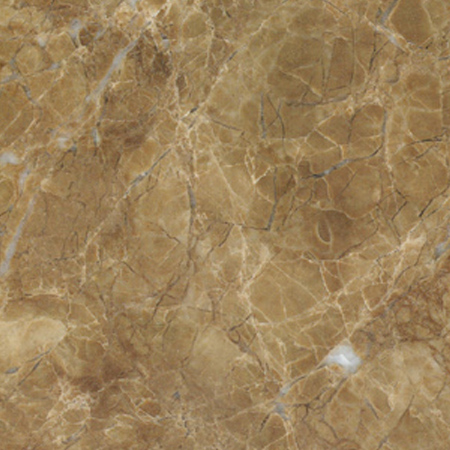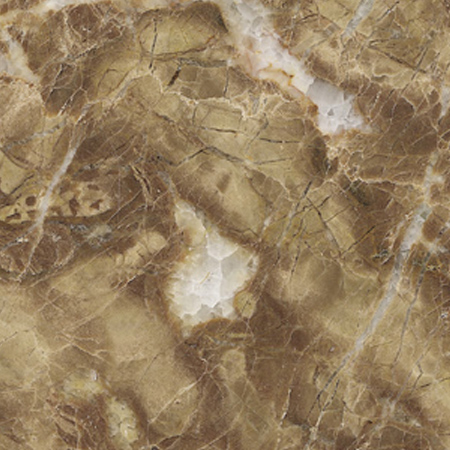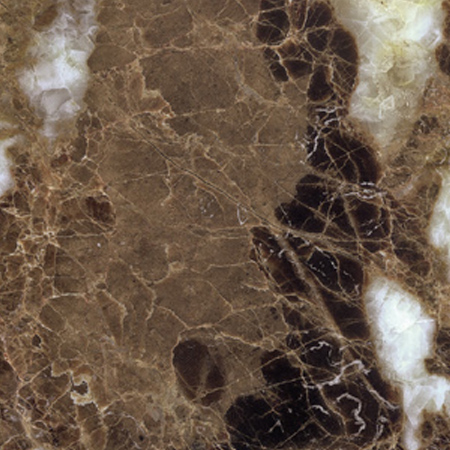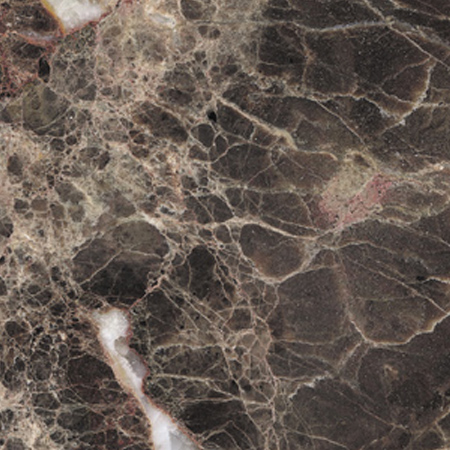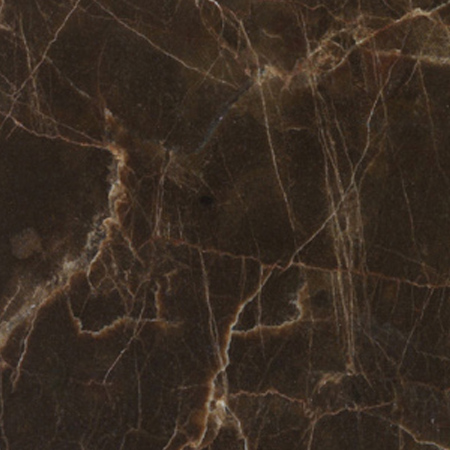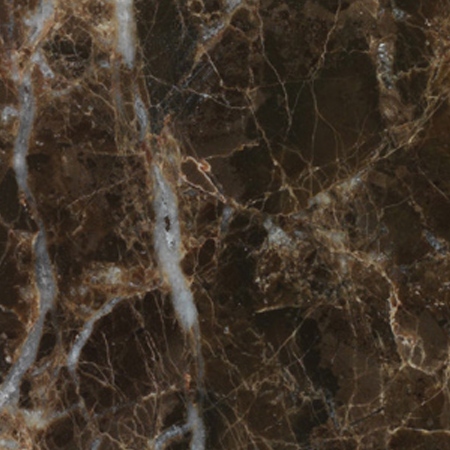 Commercial names
Its colour, texture and strong capacity to get a polish, which means it acquires a very good polished finish, is what characterizes this commercial denomination, which is known indistinctly by names such as Marmol Marrón Imperial for the dark shades and Marrón Emperador for the lighter ones.
There is also a more clear variety of the tones of Marrón Emperador, as of coffee with milk, known as Marrón Emperador Claro (or light). Within Marron Imperial there is a variety of dark shade and half, with white pearl, that is extracted in Jumilla (Murcia), which is characterized by its strength, its commercial name being Marrón Imperial Perla.The shades of the slabs of this natural stone tend to be quite homogenous.
All these different varieties are one more example of the uniqueness of natural stone.
Unique Characteristics
A unique characteristic of Marrón Emperador is that, having been produced through a process of low pressure metamorphosis in the limestone rock, which is its component, it has been transformed in dolomia giving it physical-mechanical properties similar to that of Macael or Carrara. Given the brechoid nature of the product it is necessary to give a good treatment in the processing plants for strengthening its qualities of polish and colour and achieving an optimum finish.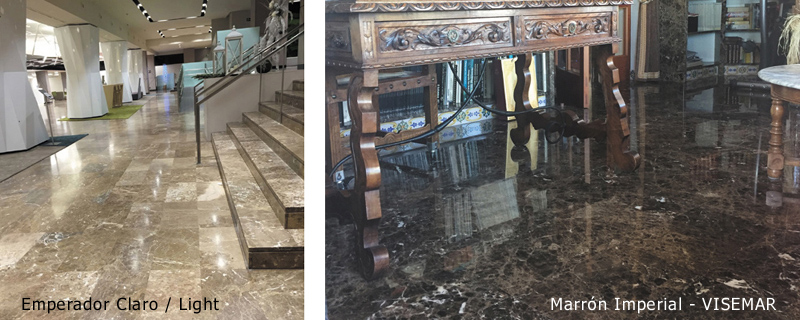 It is also worth mentioning that it does not have the usual absorption of a limestone and that its aesthetic qualities means the spots that may be produced are barely visible.
Quarries of Marrón Emperador marble
The quarries of this elegant natural stone are located in southeast Spain.
The most important deposits that are associated with the big tectonic fault in the Yecla, Jumilla, Calasparra (Murcia) and Caudete (south of Albacete). In parallel there are other local metamorphic processes which have created rocks of similar characteristics but with less dolomitazation. These local phenomenon have generated more marginal deposits in Pinoso (Alicante), in Castril and Puebla de Don Fabrique (Granada) and in Buñol (Valencia).
In general these quarries tend to be of big dimensions and therefore the blocks come out are of big size and in the quantities required.

Quarry and slab of Marrón Imperial Perla (ROMANENSE DE MÁRMOLES)
Finishes
Being a rock of fine grain and high mechanical resistance, it allows for all kinds of finishes: honed, aged, bush hammered, flamed, sanded and grained. But what is most popular is the polished finish, which is of high level and sophisticated, worthy of an Emperor.
Sizes
Blocks are sold by the quarry owners but a large part of the demand is in the form of slabs, tiles and mosaics.
The most common thickness tends to be 2-3 cm. The slabs tend to have very varied sizes, though the most common are approximately 250 x 145 cm. The tiles are basically sold in sizes 60x60x2 cm and 60x30x2 cm. As recovered material the sizes are also 40x30x2 cm and 30x30x2 cm. These last two tend to be more economical.
Applications of Marrón Emperador marble
Although Marrón Emperador is used both in exterior and interiors the elegance of its polish means it is most used for interiors; flooring, walls, steps, columns and bathroom countertops. It is also used frequently in bathrooms and sculpture.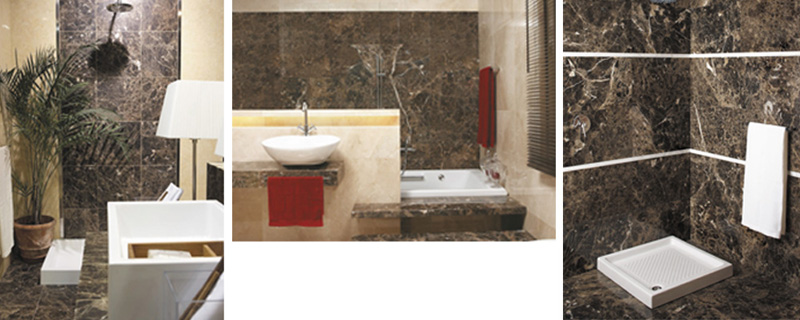 Pictures: VISEMAR
From palaces, hotels and elegant buildings both old and the modern ones, to simple doorsteps and staircases in our houses are enriched with this marvelous material offered by nature.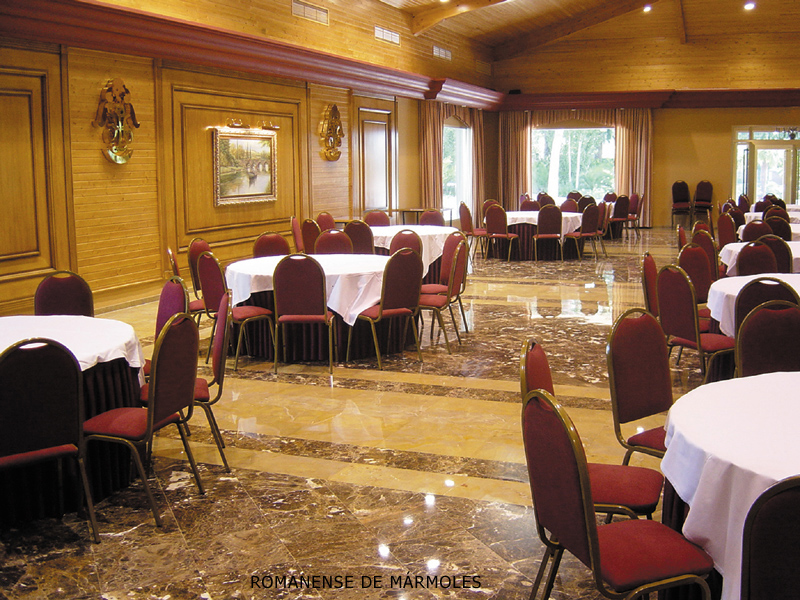 How to distinguish between Spanish Marrón Emperador and other materials with same name?
Apart from Spain there are two other countries where materials similar to Marrón Emperador are found, both in the dark shade as well as clear and which use the same name when selling- China and Turkey. Both countries started extracting this type of material a few years ago while in Spain the quarrying has been going on since several years.
China buys the blocks of Marrón Emperador or Dark Emperador, of dark colour from Spain, at least some of which have been rejected by the Spanish companies.
This darker brown colour and its uniform shade with clearer interlaced veins is the main distinctive feature
. That extracted in China has a different drawing, according to the experts in the sector.
The Marrón Emperador from Turkey is similar to that found in China and the veins are more lineal, the Spanish one is more uniform and grained but, in both countries, the shade of brown is different. Most of the clear shade varieties are from Turkey.
Deposits have been located of similar rocks of clearer brown shades in other parts of the world but, in no case, for the quarry people of this material, is there any other deposit of similar characteristics in beauty and majesty such as the deposits of the marble Marrón Imperial of the Sierra de la Magdalena in Yecla (Murcia).
Technical characteristics
- Density: 2.68 - 2.65 gr / cm3
- Absorption coefficient: 0.35 - 0.40%
- Porosity: 1.20%
- Resistance to compression: 1,597 Kg/cm2 and after frosting: 1,361 Kg / cm2
- Resistance to flexion: 158-210 Kg / cm2
- Resistance to impact: 31 - 35cm
- Resistance to wear: 0.55 mm
- Microhardness Knopp: 157 Kg / mm2
Markets
This marble has been present in the market since several years, it has several applications, and is appreciated for its beauty and quality, that is why it is known all over the world and is exported to all the corners of the world. The Arab countries and China continue to be the biggest markets, though there is also demand in many other countries.
Our thanks to Victor M. Segura, Amador Poveda, Juan Ramón Sánchez and Eugenio Arqués for the information provided for the elaboration of this article.