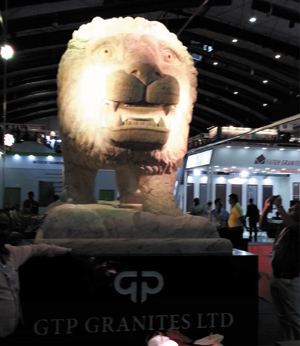 One of the most photographed exhibits in the Stona fair in Bangalore, held early February 2016, was the giant sculpture of a lion in granite, made by the Indian company, GTP Granites. How it was made is an interesting story.
The granite used for the sculpture is Yellow Maple, quarried in Rajamundri (AP). 15 tons were transported from the quarry to the factory of GTP Granites, located in Selam, 900 km away. A CAD drawing was first created outlining the lion to the required size. By using wire robotic machines an outline was then created and the excess material was scooped out making it easier for the artists to work upon. Then 5 sculptors started working on the stone creating the lion figure after 27 days of effort. Being a hard granite it was a tough challenge for the sculptors since there was a very high consumption of consumables like dry cutting blades, brushes, etc. The sculpture is a monolithic structure including the base which looks like a rock.
The beauty of this particular stone is that the pattern goes more with the character of the lion because the diffused pattern of the stripes and dots gives it a realistic look- and this was the reason for choosing this material. The Government of India is now promoting a "Make in India" campaign all over the world, looking for overseas investments in manufacturing in India and the lion is its logo. The company GTP has tried to capture the spirit of this initiative by capturing the symbol of the Government in stone.