When we think of furniture in natural stone what comes to our mind is the idea of elements that are rigid and cold, with limited possibilities of design. But that is not so.
During the fair Marmomacc in Verona in 2016, as part of the project "The Italian Stone Theatre ", the exhibition "New Marble Generation" presented prototypes of furniture made by prestigious Italian designers in collaboration with natural stone companies.
The versatility of natural stone and its capacity to adapt to new languages in design became clear. Furniture in sinuous forms and light, achieved thanks to new technologies combined with Italian design, showed the infinite possibilities of natural stone.
Designer: Giorgio Canale
Company: CERESER
Company partner: Folio Panel – Cifralluminio, T.L.C. Carpenteria Metallica
Material: White Diamond Marble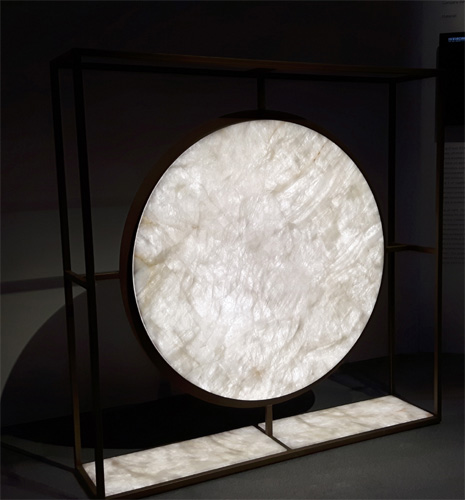 This ancient Chinese instrument, the gong of light, has inspired Georgio Canale to create this maxilamp that enhances the translucency of marble White Diamond.
PLAY PANCA
Designer: Denis Santachiara
Company: Paolo Costa
Material: Bianco di Carrara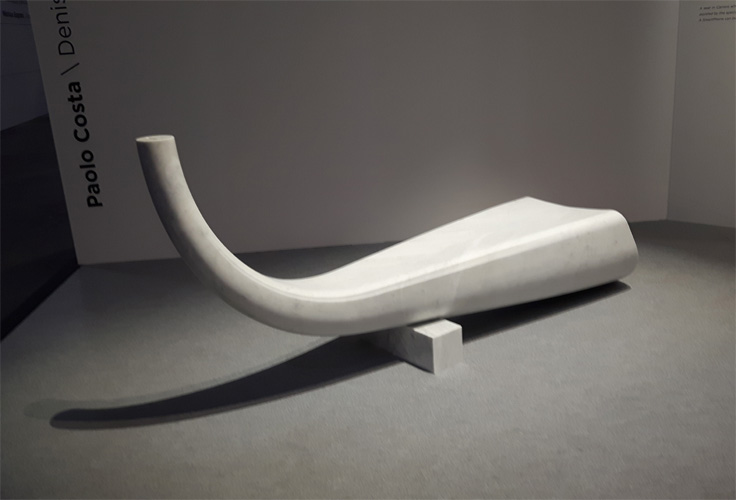 A seat in Carrara white marble. Its horn-shape helps it to become a kind of huge amplifier assisted by the special hardness of marble at the opening of the trumpet. A smart-phone can be inserted to amplifly music to the large trumpet.
PANCA SAMPIETRINA
Designer: Philippe Nigro
Company: Euro Porfidi
Material: Trachite mare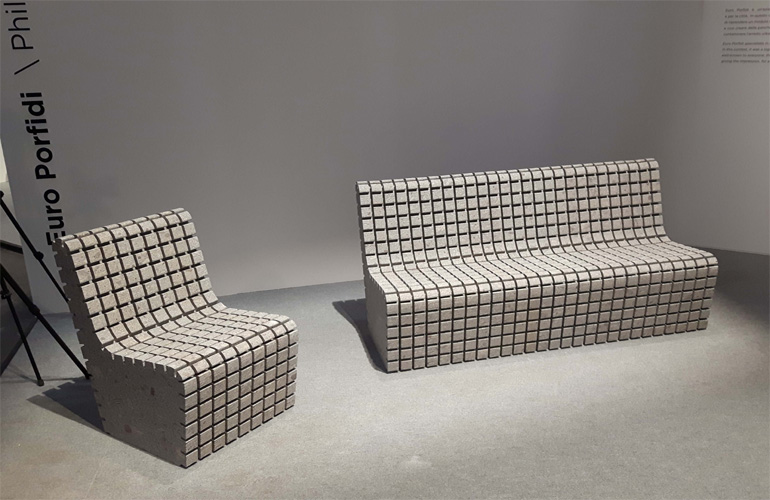 The cobblestone cubes used to pave streets are used here to create benches and seats given the impression, for a brief moment, that the pavement rises to merge into the street furniture.
Designers: Setsu & Shinobu Ito
Company: GDA Marmi & Graniti
Materials: Marmo Bianco Madielle, Marmo Bardiglio Madielle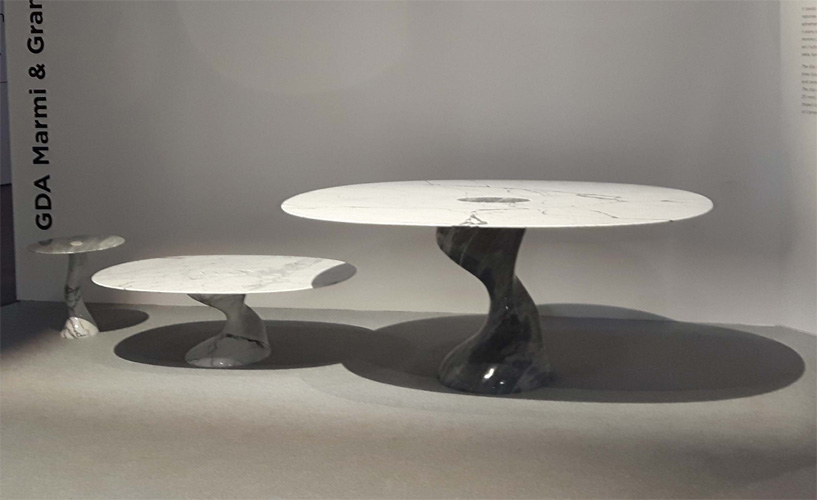 The Elic Table has a natural shape reminiscent of a cyclone and a natural yet at the same time futuristic pattern. Its slim thickness (just 20 mm) is accentuated by even thinner edges to achieve extreme lightness and movement.
Designer: Massimo Iosa Ghini
Material: Pietra di Vicenza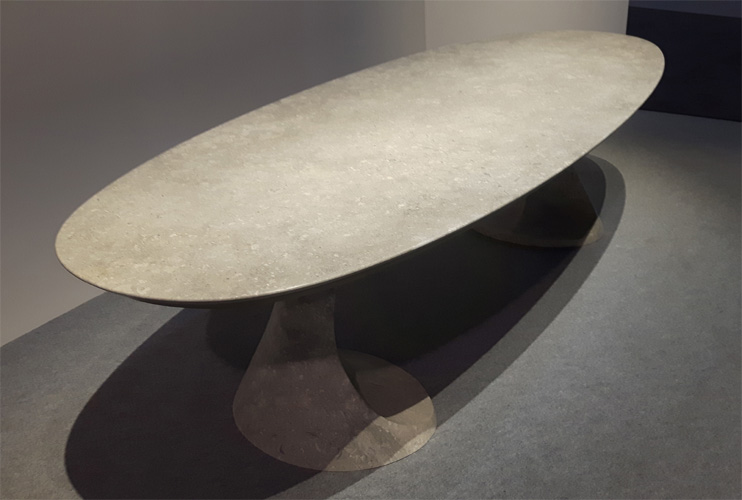 Having a sculpture-like appearance, Pedra is a table that besides being a furniture element also emerges as an image of lightness. Pietra Vizentina is a protagonist in architecture and here proves to be a malleable soft material with unexpected features: it can be used to produce an uniform, even surface without joints.
Company: Helios Automazioni
Material: Bianco di Carrara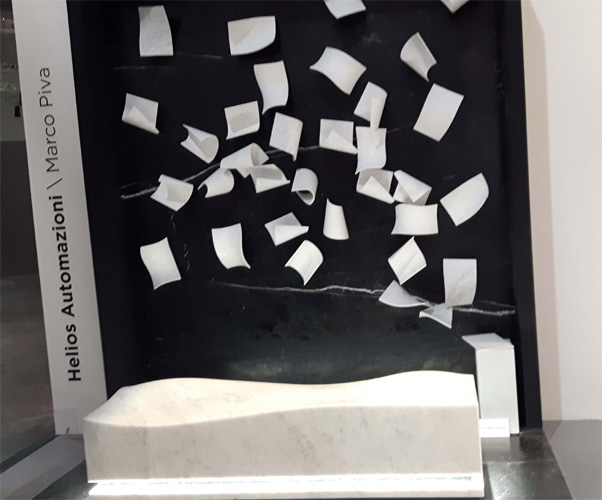 Marble in this installation simultaneously reveals its nature as well as becoming something else, hovering in space like the pages of story yet to be written: a stimulus for conversation about the new possibilities offered by technology and craftsmanship capable of shaping this material in ever new and surprising ways.
Designer: Giuseppe Fallacara
Company: MGI – Marmi e Graniti d´Italia Sicilmarmi
Collaborators: Daniele Malomo & Maurizio Barberio
Material: Perlato di Sicilia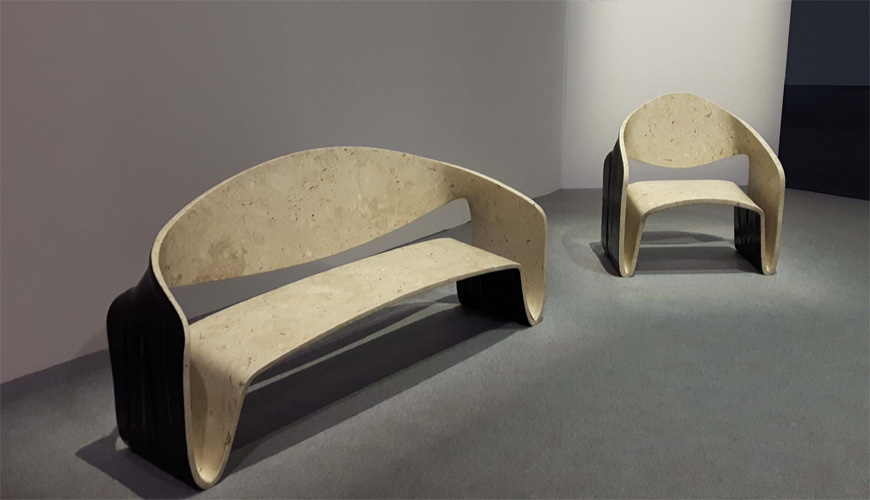 Inspired by the famous Möbius strip, the two chairs are configured as continuous 2 cm thick bands of Perlato di Sicilia by applying a layer of carbon fibre on the back. The bands are made up by assembling a few lightweight pieces manufactured by using CNC machinery.
Company: Nikolaus Bagnara
Materials: Silver Cloud, Alps Glitter, Moon Rock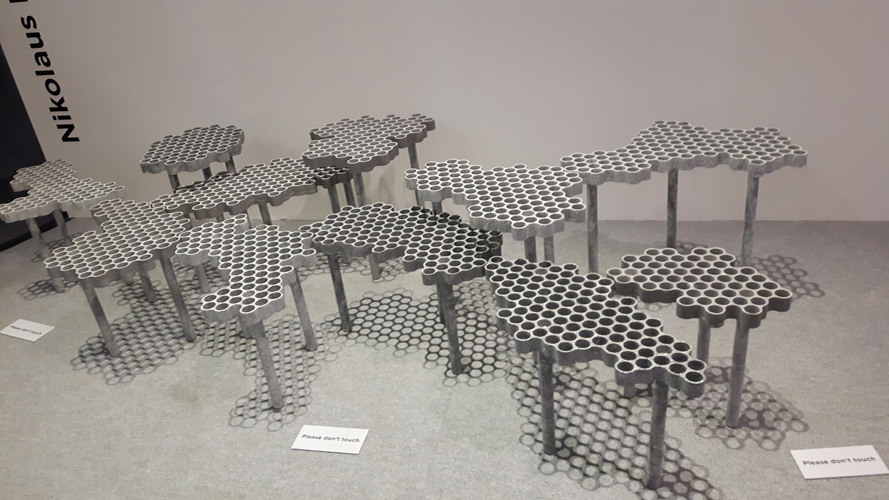 This series of 10 modular coffee tables is worked from a single 100x100x5 cm slab of marble using waterjet cutting technologies. The tables can be combined freely with each other and even stacked to create table tops of different edges.
Designer: Giuseppe Fallacara
Collaborators: Marco Stigliano, New Fundamental Research Group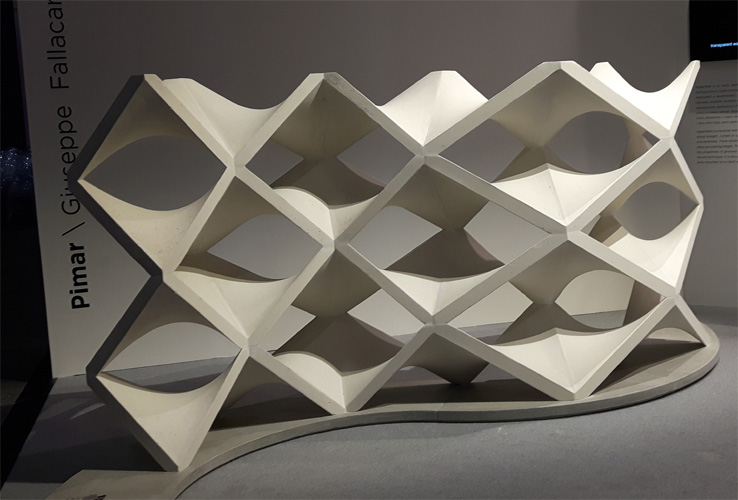 Hyparwall is a modular wall in perforated stone for exteriors and interiors ensuring multiple configurations: along straight, curved or cylindrical courses thanks to just two basic ashlars which are easy to produce and assemble.
Designer: Marcello Morandini
Company: Remuzzi Marmi Bergamo
Materials: Bislapis ® Negro Marquina & Bianco Carrara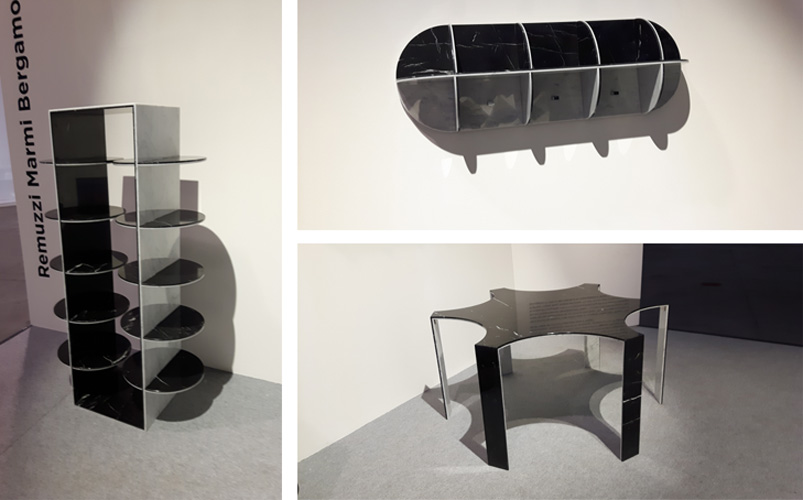 Bislapis ® is a product developed by the company Remuzzi consisting of the union of two thin stone plates. Its main application is furniture design. The collection presented in this exhibition is made Bislapis ® Black Marquina and White Carrara
Company: Tenax, Ionia Pietre Naturali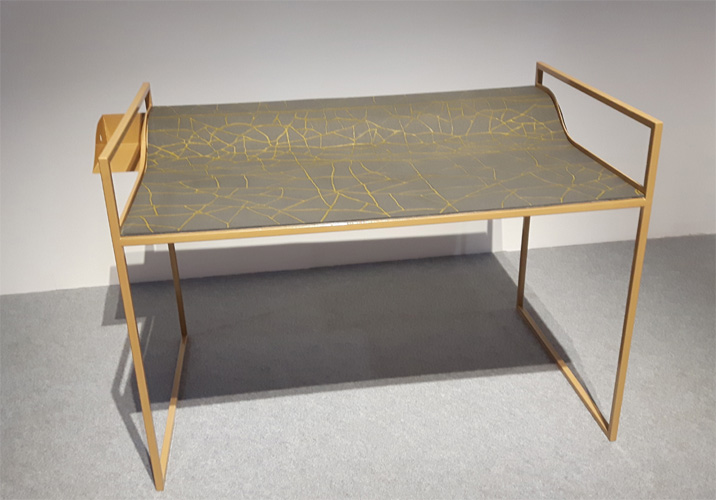 The kintsugi is a Japanese art involving the use of liquid gold to repair ceramic objects. The art of embracing such damage without being ashamed of it, is the starting point for a research task in order to define an industrial process capable of breathing new life into standarised materials. The "controlled split" texture bonded with tone-to-tone or contrasting resins suggests new creative uses of natural stone.
The
New Marble Generation
exhibition is part of The Italian Stone Theatre project implemented by Marmomacc with support of theMinistry for Economic Development (MISE), ICE-Italian Trade Agency and Confindustria Marmomacchine within the scope of the Special "Made in Italy" Promotion Plan valorising excellence in the Italian natural stone and related technology field.
New Marble Generation
aims to develop prototype of high quality design products intended for mass production.