Paul Daniel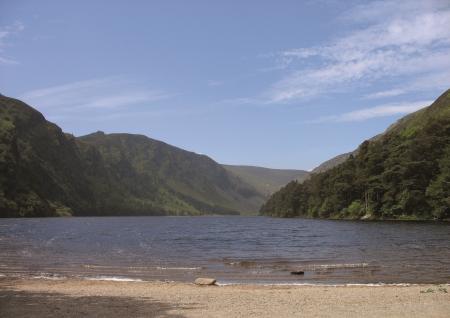 (Published on February 2007)
The Celtic Tiger may have slowed down a little but he is still going strong. The mid-1990s brought unexpected prosperity and opportunity to the south (Republic of Ireland) and the north (Northern Ireland). For this report, Paul Daniel visited almost all the leading dimensional stone producers working today and asked their opinions about the future.
Ireland's history of stone use is truly remarkable. According to archaeological evidence, man first arrived in Ireland about 10000 years ago. Around 4000 BC Neolithic settlers began to build stone structures in which the high ranking dead were buried with elaborate ritual. Older than the pyramids in Egypt, the megalithic passage tomb at Newgrange in Co. Meath is a UNESCO World Heritage site. It was constructed around 3200 BC on a scale not witnessed elsewhere in Western Europe at that time. The great mound, nearly100 m in diameter and 12 m high, is retained by a kerb of massive horizontal stones. The magnificent entrance stone was probably carved in situ. To the west, Carrowmore´s megalithic cemetery in Co. Sligo pre-dates Newgrange by perhaps 700 years. Portal tombs, popularly called dolmens, are single-chamber tombs.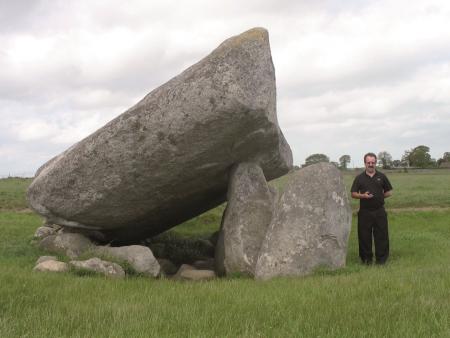 Brownshill dolmen with taxi driver to show scale.
What the Brownshill site might have looked like about 5000 years ago.
The capstone on a dolmen at Brownshill in Co. Carlow may be the largest in Europe - it weighs around 103 tons. It is thought that the stone was hauled up an earthen ramp built behind the chamber, using a system of levers and wooden rollers. The hundreds of portal tombs in Ireland were probably built towards the end of the Neolithic period. Stone circles came a little later. The transition from prehistory to early Christian period saw the appearance of Ogham script, an early form of writing on stone that has been described as "Ireland's first venture into literacy". Most decipherable inscriptions are commemorative, usually relating to individuals and their antecedents. Round Towers are another Irish stone speciality. They were mainly built between 800-900 AD, initially to serve as bell towers adjacent to a place of worship. Some towers were also manned to watch out for Viking invaders. The great scriptural High Crosses also appeared around this time. The arrival of the Normans in the 12th century transformed the Irish landscape. You can't go far without seeing a castle in Ireland!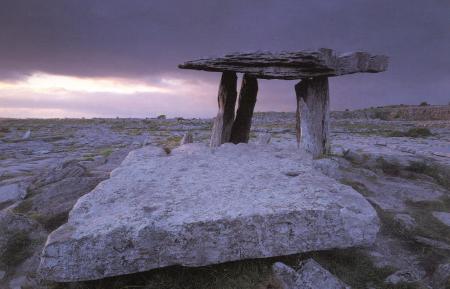 Poulnabrone dolmen, circa 2500 BC.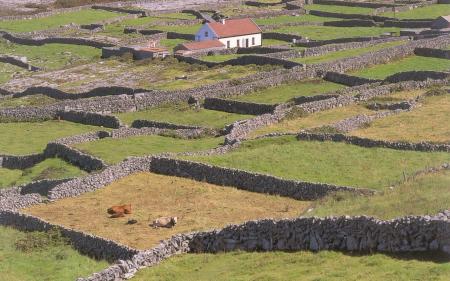 Earliest use of Stone – division of property.
The Republic of Ireland's population in 2005 rose to a new modern high of 4,1 million, thanks in part to immigrants from the newest European Union nations and especially Poland, with whom Ireland shares Roman Catholic traditions and since 1990, commercial links in banking and the cement industry. Historically, however, the current combined population of the Republic and Northern Ireland (about 5,8 million) remains millions below the estimated 8 to 8,5 million who lived on the island in the first half of the 19th century before the Famine. In 2005, Ireland retained its place as the EU's second richest nation per capita - Luxembourg remained at the top of the list.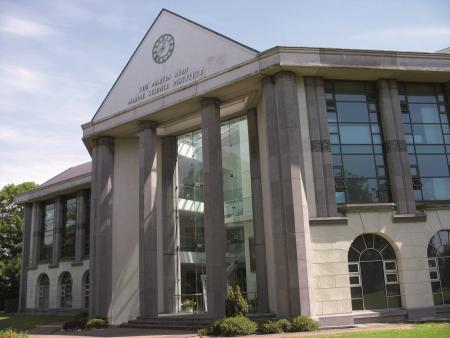 Irish Blue Limestone from Kilkenny was used for this Galway University building.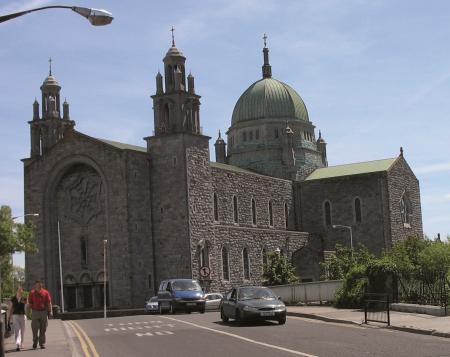 Galway Cathedral was completed in 1965. It is a treasure house of Stone.
The Irish stone industry today
The Republic of Ireland's flourishing economy of the last decade has brought significant benefits to the decorative stone producers. While the quarrying of Irish granite is in decline, Irish Blue Limestone is in great demand at home and abroad. Marble, sandstone and slate are quarried in Ireland but the volumes are small. According to the Construction Industry Federation (CIF), 2004 was a good year for the construction industry in the Republic. A record number of 78000 housing units were built overshadowing a more sluggish performance in the non-residential sector. Houses were produced at a rate of 19,5 units per 1000 of population, which compares with the European average of 5 units and the US figure of 6 units per 1000. Construction output overall was expected to grow 2% in volume in 2005, against 6% in 2004. Full details are given in Construction Industry Overview at www.cif.ie. Company profiles follow in order of reported turnover. Some companies declined to disclose their turnover.
Company profiles
Stone Developments Ltd
This is the No.1 dimensional stone firm in Ireland with a reported turnover in 2005 of around 25 m Euros. Founded in 1964, it is a subsidiary of the multinational Sisk Group. John Sisk & Son Ltd is Ireland's largest construction firm. Sicon, the holding group for John Sisk companies in Ireland and the UK, had revenues of 1,4 bn Euros in 2005. Stone Developments Ltd is Ireland's leading producer and supplier of architectural and monumental stonework in its various forms and finishes, and is the largest exporter of Irish Blue Limestone.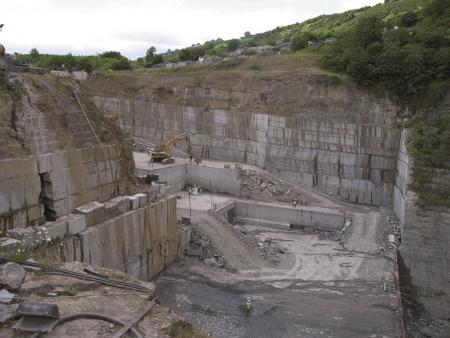 Part of the Stone Developments quarry at Old Leighlin.
The company supplies natural stonework to the Irish, Continental European, UK and USA markets in addition to processing and supplying stone sourced from all over the world, including Europe, India and China. Stone Developments operates 2 main limestone quarries in Ireland at Old Leighlin, Co. Carlow and Holdensrath, Co. Kilkenny. The company also operates a limestone quarry at Ballinasloe in Co. Galway. A white limestone source in Co. Cork and a red limestone quarry in Co. Kerry are worked "on demand". The Ballybrew granite quarry in Co. Wicklow was closed at the end of 2005. Demand for Irish limestone both on the domestic building market and from the Continent has been at an all time high since 1998. In order to meet this demand, Stone Developments Ltd commissioned a new 4,35 m Euro additional production / stone processing facility at Old Leighlin, Co. Carlow in 2001. Around 15 years ago, the Belgian Courtois group came to investigate Irish Blue Limestone because it is very similar to Belgian Petit Bleu and they were worried about their reserves in the long term. Courtois (trading as Erinstone) subsequently bought the Kilkenny quarry now owned by Stone Developments and a strong business relationship between Courtois and Stone Developments developed. In April 2003 Stone Developments acquired the Erinstone quarry in Kilkenny and also the operations of the Courtois Group in Belgium. With the acquisition of the Courtois Group, Stone Developments has a strong presence in mainland Europe. The main operating entities are Courtois NV in Hemiksem just south of Antwerp, and Belgian Stone Supply (BSS) in Basecles. BSS is responsible for the sawing and finishing of the raw Erinstone blocks into slabs and tiles. The company is particularly proud of its contribution to the More London project. This is a 1,45 bn Euro redevelopment between London Bridge and Tower Bridge which includes a new office block for the Greater London Authority, surrounded by a 13 acre (5,26 ha) landscaped area. The development holds 30000 m2 of Irish Blue Limestone paving. In addition it includes heavy section Irish Blue Limestone for an amphitheatre ("The Scoop"), balustrading, cladding, seating and water features. Phases 1 and 2 of the project have been completed, with Phase 3 (of 4) under way now. Enquiries to: Stone Developments Ltd, One Southern Cross Road, IDA Business Park, Bray, Co. Wicklow. Tel. +353 (1) 2021 100. E-mail: info@stonedev.ie www.stonedevelopments.ie
Erinstone is the registered trade name under which Irish Blue Limestone, extracted at Holdensrath quarry in Co. Kilkenny and James Walsh quarry at Old Leighlin in Co. Carlow, is sold. www.erinstone.com
Kilkenny Blue Limestone
Kilkenny Blue Limestone is a new name for an old company, namely Feelystone. An 11th generation family business, Feelystone has decided that the most prudent way forward is to split their business into Kilkenny Blue Limestone and Feelystone. Kilkenny Blue Limestone is the No.2 dimensional stone company in Ireland today. The Feelystone factory at Boyle in Co. Roscommon processes up to 70% imported materials, whilst the Kilkenny Blue Limestone factory adjacent to Kellymount quarry in Co. Kilkenny works 95% blue limestone.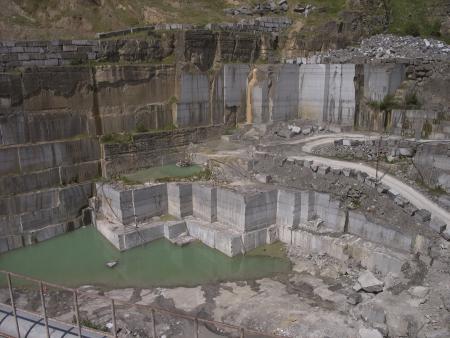 Kilkenny Blue Limestone operate three quarry áreas on one site.
Blue limestone and the "Marble City" Irish blue limestone was the material of choice for many tombs fashioned in the 13th and 16th centuries which can be seen today in St Candice's Cathedral in Kilkenny City. The sobriquet "Marble City" came into general use shortly after 1730. It was then that the Colles family began to extract and work Kilkenny marble (polishable limestone) on a considerable scale. This industry continued for nearly 200 years, until concrete became the mass building material. Quarrying of what is today called Irish blue limestone continued intermittently until the latest boom period began around 1995. A unique property of some varieties of the hard limestone is that the surface colour can be modified from light grey through blue to black. The black resulting from high polishing can be seen on street benches in Kilkenny City and on tombs in St Candice's Cathedral.
Street bench in Kilkenny City – polished blue limestone!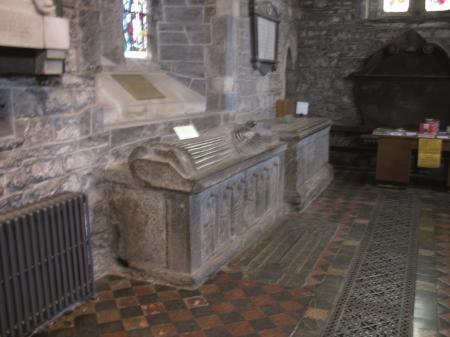 Ancient tombs in St. Canice´s Cathedral are made of local blue limestone.
The current producers - Kilkenny Blue Limestone, McKeon Stone, Stone Developments and Murphy Stone - have put together a 64-page booklet available on request to any of them.
Feelystone, from which Kilkenny Blue Limestone has evolved, was established around 1784 and Patrick Feely, the current CEO, represents the 11th generation to have worked in the stone business. He holds an MBA from the University of Berkeley in California. The Kellymount quarry near Paulstown is in fact three quarries on the same 75 acre (30, 35 ha) site. By moving a lot of rock, two of the quarries will soon be converted into a very large one. Extraction at Kellymount was around 47000 m3 in 2005. The Kellymount factory has 6 frame saws, 2 large diameter circular blade machines, 3 diamond wire sawing machines plus ancillary secondary saws and a polishing line. Apart from the domestic market, there are significant sales to Belgium, The Netherlands, Germany and the USA via an agent in Canada. Kilkenny Blue Limestone and Feelystone combined had a turnover of around 16 million Euros in 2005. Asked to name one in Ireland and one abroad of which the company was especially proud, Patrick nominated an internal conversion project at Kilkenny Castle- "contemporary work in a heritage setting", and the Ireland Park complex in Toronto which will commemorate the arrival of 38000 famine immigrants in 1847.The memorial complex will be inaugurated in July 2007 by the Irish President. Kilkenny Blue Limestone, Kellymount Quarries, Paulstown, Co. Kilkenny. www.feelystone.com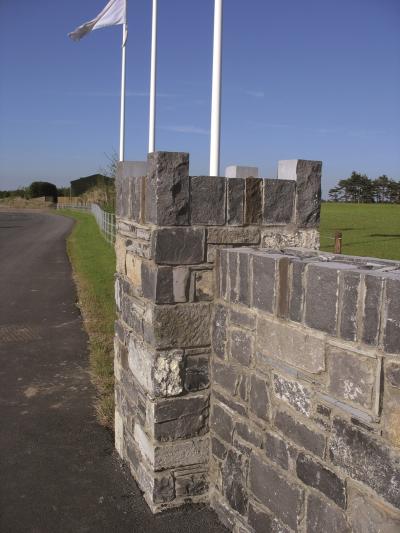 Nothing wasted – Irish Blue Limestone at local hotel entrance.
McMonagle Stone
Dan McMonagle & Sons is a Donegal company which owns three sandstone and two quartzite quarries. It also imports sandstone from India and other materials from China, Portugal, etc. Turnover in 2005 was around 10 m Euros, and the forecast for 2006 is 12,5 m Euros. Including the processing factory, 120 people are now employed. In business now for over 30 years, many buildings in Ireland, the UK, France, Belgium, Germany, Japan and the USA incorporate McMonagle stone products. Major projects for which the company has supplied stone include Port Tunnel, Dublin, and Centre Parcs in the UK. Dan McMonagle & Sons Ltd, Mountcharles, Co. Donegal. www.mcmonaglestone.ie
McKeon Stone
Since 1950 McKeon Stone has been supplying natural stone products to the Irish and European markets. Its roots go back to 1898. The modern company owns a blue limestone quarry and factory at Threecastles, Co. Kilkenny and a processing plant at Stradbally, Co. Laois.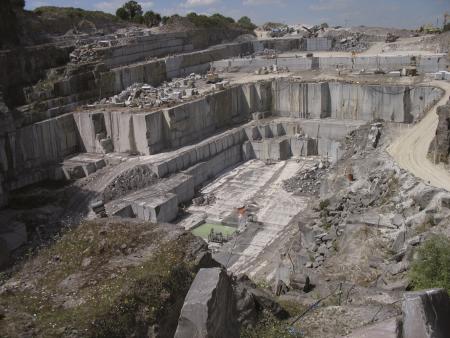 A view of Threecastles quarry, owned by McKeon Stone.
There are 3 diamond wire machines and a Fantini chain saw in the quarry. Where appropriate, primary sawing is done at the small works adjacent to the quarry where there are 4 diamond wire-sawing machines. At the factory blocks of limestone are slabbed using 3 frame saws and 3 single blade saws. Maximum slab sizes are 2700 x 1700 mm with thickness from 20 to 200 mm. About 8 years ago McKeon moved away from the manufacture of monuments because they could no longer compete with imports from India and China. They now concentrate on building products of all kinds including some sculptured work. Door surrounds with decorative carving are very popular at present in Ireland, as also are quoins, estate entrances and decorative paving. Containers of slabs are exported every week to Belgium, Holland and Germany. McKeon nominated a new Hilton Hotel at Dublin Airport built by P. J. Walls with stone supplied by McKeon Stone and fixed by Stone Management as a recent project they were proud to be associated with. Opened in May 2004, the cladding was flamed Irish blue limestone with blue honed window reveals. The company's turnover in 2005 was around 5 m Euros. McKeon Stone, Stradbally, Co. Laois. www.mckeonstone.ie
Ryanstone
Ryanstone claims to be the oldest supplier of granite in Ireland. Established in 1850, Paul Ryan, MD, represents the sixth generation. The granite quarry in the Wicklow Mountains is one of few still operational in Ireland. Ryanstone describe themselves as a leading producer and supplier of granite monuments, building stone, hard landscape materials, stone furniture, fountains and ornaments. Turnover in 2005 was 3 m Euros. In 2000 the company supplied a 24' 6'' high Celtic Cross, the tallest in Ireland, to a local authority in Carraigmore, Co. Tyrone. Over the years Ryanstone has been commissioned to produce monuments for clients in the UK, Germany and the USA. When asked if granite quarrying was still viable in Ireland in view of "dumping" imports from China, Paul Ryan replied that delivery from China takes 8-10 weeks - some clients do not wish to wait that long. Ryanstone are particularly proud of having supplied the architectural and monumental stonework for the Battle of Britain Monument on Victoria Embankment in London, completed in 2000. J. M. K. Ryan Ltd, Blessington, Co. Wicklow. www.ryanstone.com
Murphystone
This is the trade name of James Murphy & Sons Ltd, founded in 1890 in Dublin. The company owns an Irish blue limestone quarry in Co. Roscommon and a granite quarry at Barnacullia, Sandyford, Co. Dublin. The granite is used locally for small private building work. However a contract was recently obtained to supply 700 - 800 m2 where the Planning Dept. of a local authority insisted on the use of local stone. In August 2006 Murphystone was due to move to a new factory and offices near the Barnacullia quarry. The factory will have a new 2,7 m diameter circular saw to complement an existing one, for all primary sawing. Says Gerry Cotter, sales director, "Our granite quarry has a good future. Experienced users know that when Chinese grey granite weathers, it has no life". Murphystone supplies the building industry and monumental sculptors. It has around 20 staff and turnover in 2005 was around 2 million Euros. It does not supply outside Ireland, though an export enquiry would be seriously considered! Murphystone, Barnacullia, Sandyford, Co. Dublin. info@murphystone.com
Connemara Green Marble Quarries plc
According to chairman Kevin Joyce, his father bought the Barnanoraun quarry more than 50 years ago. It is believed that green marble has been quarried in the region for perhaps 400 years. Joyce lived in the US for many years but moved back in the early 1980s. He bought the quarry when his father died in 1994. Barnanoraun (or Ballynahinch) quarry is estimated to hold about 1,5 million tons of marble. Only around 10000 tons are extracted per year at present. The Precambrian stone is around 750 million years old, and it shows twisted and interlocking bands of serpentine in varying shades of green, sepia, cream and grey, interrupted by veins of crystalline calcite and dolomite. Because of its mineralogical and physical properties, it is a lot more difficult than the average marble to cut. Says Kevin Joyce, "The quarry is operated on a campaign basis like all the decorative marble in Europe, for "on" and "off" periods with care and maintenance only during the "off" periods". Blocks of marble of up to 40 tonnes are diamond wire sawn from the quarry. When they have been cut to smaller sizes they either go to CGMQ´s own tile line at Recess or they are shipped out to Antolini Luigi in Italy to be sawn into slabs. Tile production at the Recess factory during one week in late June 2006 exceeded the production at any time during the last two years. Says Kevin Joyce, "We are in the process of revamping the factory with major plans to build some new showrooms and a bespoke manufacturing plant for high end marble, granite and semiprecious products. We continue to sell slabs and tiles at increasing rates all the time, with some major projects just completed in Ireland, the US and Dubai- with more to come". Connemara Green Marble Quarries plc, Recess, Co. Galway, Ireland. www.connemarble.ie + Antolini Luigi Spa, Italy. www.sales@antolini.it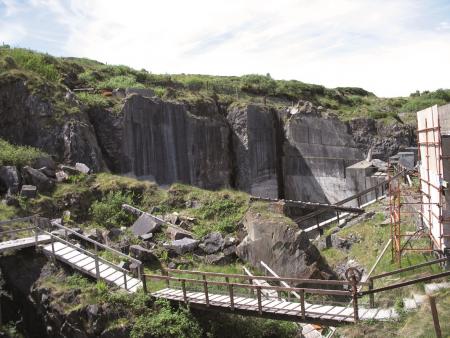 Streamstown quarry – Connemara marble is still extracted here.
Connemara Marble Industries Ltd
The only other Connemara marble quarry currently operating, Streamstown quarry near Clifden was first opened around 1800 - 1810. It was bought from the previous owners, Stonefacings Ltd, by Mr Ambrose Joyce Sr. in 1996. According to Ambrose Joyce Jr., "Our company Connemara Marble Industries has decided to specialize in products that foreign would-be competitors do not make - jewellery". A wide range of costume jewellery and decorative products for the home are produced in a small workshop at the rear of the Connemara Marble Visitor Centre on the main road passing through Moycullen in Co. Galway. It was in 1983 that diamond wire extraction technology was first introduced at the Streamstown quarry. By 1985 the cutting rate was reported as around 4 m2/hour whilst labour costs were halved compared with the previous helicoidal wire and loose abrasive method. Connemara Marble Industries Ltd, Moycullen, Co. Galway, Ireland. Tel + 383 91 555102.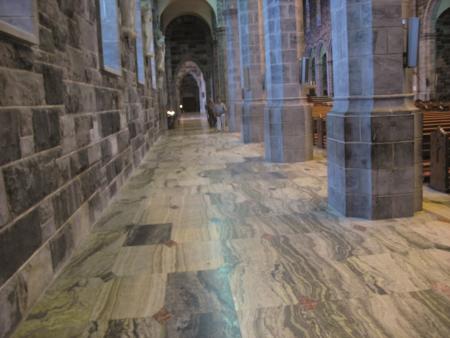 Connemara green marble flooring at Galway Cathedral.
Liscannor Stone Company
Liscannor Stone is the name given to a variety of thinly bedded flagstones and sandstones quarried around the Cliffs of Moher and in the townland of Luogh, Co.Clare. In 1895 the quarries employed over 350 people and the stone was exported to Great Britain. It is still a popular flooring stone though nowadays used almost exclusively in Ireland. The colour is typically dark silver grey to blue grey. Liscannor Stone Company, Luogh, Doolin, Co. Clare. www.therockshop.ie
S. McConnell & Sons Ltd
McConnell's factory in County Down at the foot of the Mourne Mountains is best known nowadays as the creator of the memorial to the late Princess Diana, unveiled in London in 2004. The firm used state-of-the-art technology including an OMAG CNC profiling machine to cut 550 pieces of Cornish De Lank granite to an accuracy of +/- 2 mm for the memorial. No blame can be attached to the architects or McConnell's for mis-use of the site by some young visitors. The firm has been in business for 40 years. In 2005 a contract was secured for a monument in Richmond, Virginia. When contacted in June 2006, Alan McConnell confirmed that the firm's granite quarries at Castlewellen and Newcastle are currently the only two active dimensional stone quarries in Northern Ireland. S. McConnell & Sons Ltd, 184 Carrigenagh Road, Kilkeel, Co. Down. www.smcconnellandsons.com
Natural Stone Weathering Database Project
A partnership between Consarc Design Group and Queen's University, Belfast is carrying out surveys of existing or recently abandoned quarries in Northern Ireland to gauge the availability of stone for conservation and repair. A database will be available on www.ehsni.gov.uk from 2007.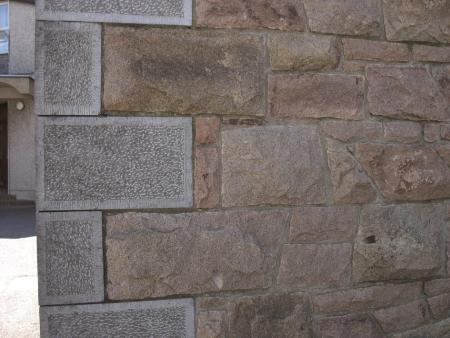 Granite and limestone detail at Dominican Church in Galway.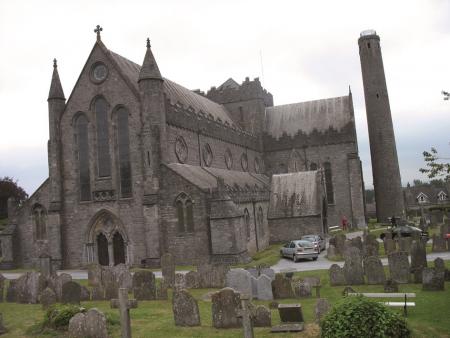 Round tower next to St. Canice´s Cathedral in Kilkenny (849 AD.).
We Sell Stone
The company describes itself as "one of the largest producers and distributors of natural stone in Ireland", a claim disputed by others in the industry. However, it does produce the biscuit coloured Slieve Bloom sandstone from its own quarry. We Sell Stone.Com, Ashbury Business Centre, Roscrea, Co. Tipperary. www.wesellstone.com
Howthstone
This is an example of a small traditional Irish stone company supplying the local market only. Located on the Hill of Howth in the north of Dublin Bay, the small sandstone quarry was originally acquired by George Cooke Sr. in the early 1900s. Flagstones, random stone and chippings are the basic products. Other stones from all over Ireland can be supplied. Most clients are private builders in the exclusive Howth area. Contact details on www.howthstone.com.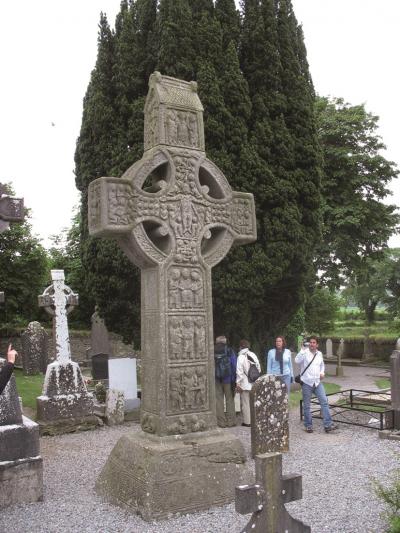 High Cross at Monasterboice.
We hope that this survey has give readers a good idea of what's going on in the dimensional stone business in Ireland at present.