NAME: Claude Gargi
COMPANY: Pierre Actual, Lyon, France
ACTIVITY: Stone industry magazine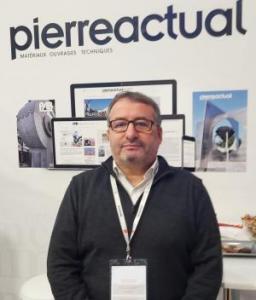 How do you see the French econony?
It is good right now. Local elections will take place in 2020 and there are a lot of projects in landscaping in the cities. It is good for the French stone industry and also good for companies from Spain and Portugal.
How are the artificial materials being accepted in the market?
The big format porcelain market share is growing in the segment of kitchen countertops due to great marketing. Dekton has recently won a big project, the Grand Paris Express for supply of the material in 68 train stations.
How do you see the situation of natural stone in France?
Right now it is good. Trends are positive for natural products, there is social pressure towards them and awareness of concepts like circular economy is growing. That is why natural stone can have a good future, especially in thickness stone.
NAME: Marc Spadaccini
COMPANY: Spadaccini, Paris, France
ACTIVITY: Wholesaler of stones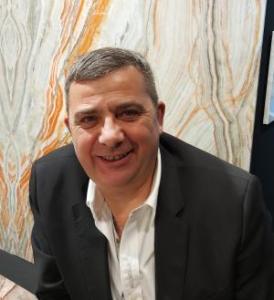 What percentage of your business is in natural stone?
-Natural stone: 85%
-Porcelain: 15%
Which of the above two is growing in your business?
Porcelain is growing especially in the applications in kitchen and bathrooms.
Which are the most popular materials in your business?
Nero Zimbabwe. Carrara white. Quartzite from Brazil. Travertine from Italy. Negro Marquina from Spain. Limestones from Portugal.
How would you characterise the current business environment?
The French economy has improved and is currently good. Our clients always want high quality materials.
What are your biggest problems?
We work by the week. There is no way to predict the future. The biggest problem is there are no rules in the business, everyone sells to everyone.
NAME: Didier Carme
COMPANY: Export Stone France
ACTIVITY: Blocks trading, pavings and claddings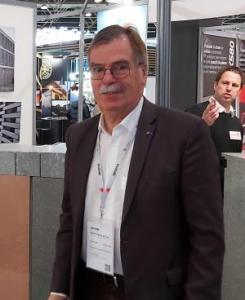 How is business?
Business has improved during the last year. Public works are going on at a very fast pace because of local elections next year. However, there are some doubts as to what will happen after the elections.
How do you see artificial stone affecting your business?
My business not so much affected, but it is having an impact in a big way on companies that work with kitchens. Porcelain is increasing market share very fast. Big changes are taking place in our industry.
What are the most popular materials you work with?
Spanish sandstones from the Zaragoza área, Tarn granite for the German market, Alta Quartzite from Norway.
How do you see the natural industry in the next few years?
I meet many architects and they try to work with local materials. I think the market will be good for the local materials. Architects know very little abour natural stone. For example, when sometimes there is natural stone quarried close to a project but its use is not advisable for a particular application due to the technical characteristics, they still use it.