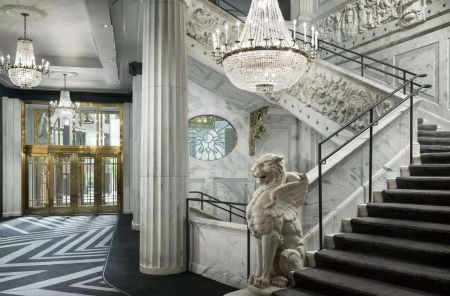 By Steven Schrenk, POLYCOR
In 1906, Asa G. Candler, founder of Coca-Cola and prominent philanthropist, constructed the renowned Candler building in the heart of Atlanta. The Candler building quickly became a city landmark, and part of the city's lore: A safe in the basement cellar was said to have contained the famously secret recipe for Coca-Cola. It has been, and continues to be, one of the most historic buildings in downtown Atlanta for decades, and now has taken on a new life as a luxe boutique hotel.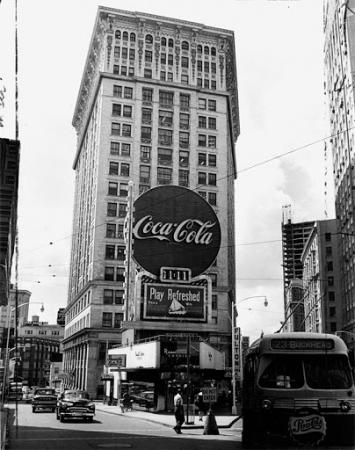 The Candler building proudly displaying the Coca-Cola name
Made in the Beaux-Art and Art Deco styles, the exterior architectural and décor details are elaborate even by the standards of its day. It is an outstanding example of early twentieth century architecture, known for its incredibly elaborate decorative details. The building's interior and exterior architectural vernacular is defined by the extensive use of locally quarried Georgia marble from Tate, GA. Massive blocks of the white crystalline marble form a pair of Corinthian columns gracing the façade. Another entrance is festooned with a frieze featuring multiple ornate marble figures and carved figurative jambs appearing as though they are holding up the pediment with their muscular arms, a testament to the artistic qualities admired in the stone.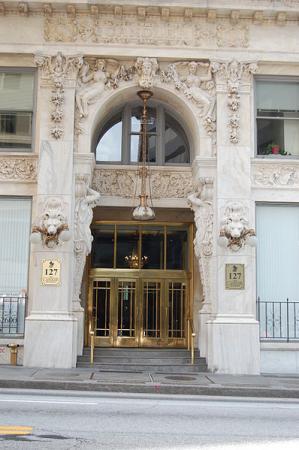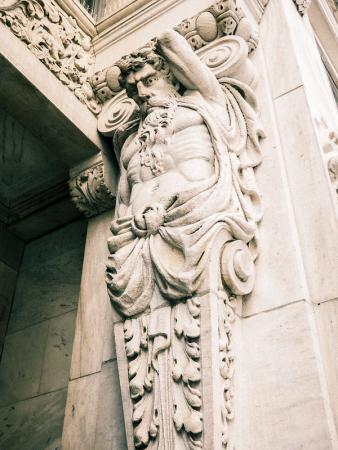 The richly sculpted panels pay tribute to the world's leaders in arts and sciences, including Benjamin Franklin, Ludwig von Beethoven, Sir Walter Scott, William Shakespeare, Raphael, Michelangelo and H. C. Hunt. All of this detailed stonework was handcrafted by a select group of international artists using the locally quarried Georgia Marble and is an incredible example of the refined finishes that can be achieved using the stone.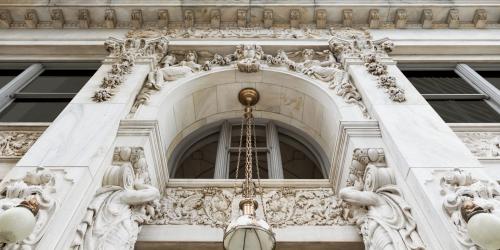 Upon entering the Candler building's lobby it is clear that the interior is as dramatic as the exterior: The magnificent cavernous space features an ornate, cascading staircase constructed entirely of GEORGIA MARBLE - WHITE CHEROKEE™ where a pair of marble winged lions sit guard at the foot. All along the veined marble stairs you can see a cherub-laden frieze on the wall while brass gargoyles brace the ceiling.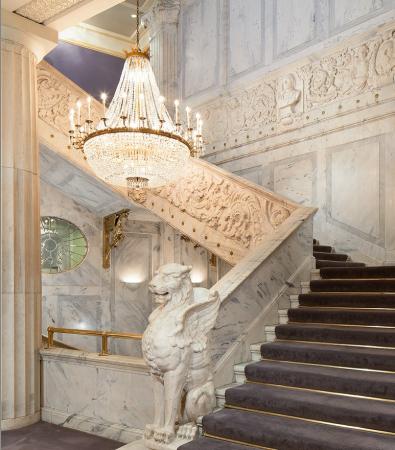 A watchful winged lion stands guard at the base of the marble-clad grand staircase.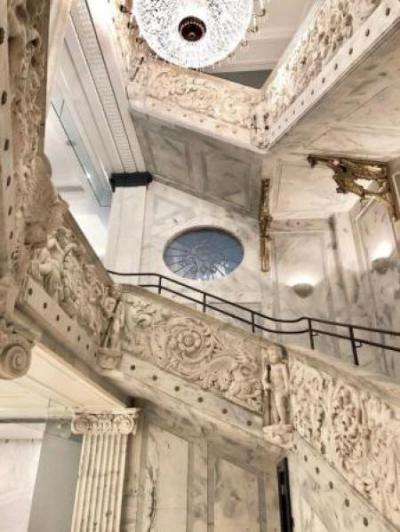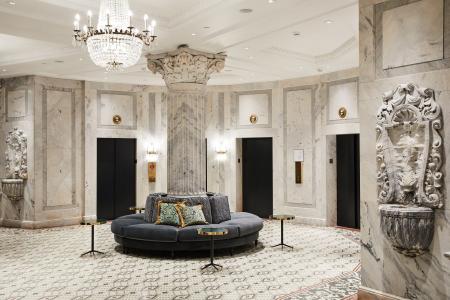 Candler spared no expense in  the construction and personally oversaw all of its most crucial details. Working closely alongside architect George Murphy, Candler chose the material himself and insisted on the use of the nation's finest Georgia marble, from the quarries just north of Atlanta, where marble has been mined for over 180 years. Today these quarries remain the pillars of America that Polycor continues to own and operate.
By choosing GEORGIA MARBLE - WHITE GEORGIA™ for the exterior of his building, the American business tycoon opted for a stone that has a story close to home as well as a wider history. Asa Griggs Candler himself was born in Villa Rica, Georgia, just a short 60 mile journey from the Tate quarry. For century's builders, sculptors and masons have appreciated the natural qualities, majestic beauty and purity of the white Georgia marble: its luster and pure calcite crystals sparkle on their own without the addition of chemicals or fillers. The marble has graced some of the best known buildings and monuments across the U.S. such as the New York Stock Exchange, the Lincoln Memorial, and the U.S. Capitol. You can take a walking tour of Washington D.C. here for a rundown of iconic Georgia marble projects in the nation's capital.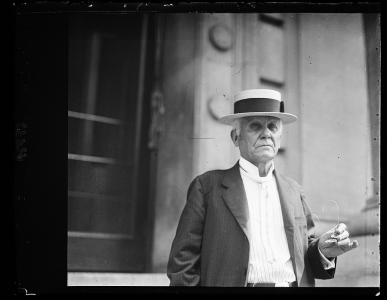 Business tycoon, Asa G. Candler
For a century, the Candler building functioned as an office building with its fourteen floors occupied by prominent businesses and law offices. Today the building continues as an everlasting piece of history with a new role which is being embraced by a new generation that respects the architectural integrity of bygone construction details, methods and materials.
In late 2019, the Candler building became Atlanta's newest luxury boutique hotel when it reopened as The Candler Hotel, Curio Collection by Hilton. The building's current owners, REM Associates began a painstaking restoration and conversion process. They hired Design Services Group International as developers and The Beck Group, who specialize in refurbishment, as the project's design-builder.
This project is a wonderful example of adaptive reuse happening in Atlanta, which is giving new purpose to storied and beautiful old buildings. Adaptive reuse is popular with developers as part of a larger sustainable business plan that cuts down on the carbon footprint of building new, sparing them from having to grapple for ever more elusive developable land, and sending good quality, usable materials to landfills (in this case gloriously pristine marble). Across the US, adaptive reuse is a growing movement with hotels opening up in once grand spaces—such as office buildings, post offices, train stations and banks—giving new life to these existing structures. And adaptive reuse is helping foster a new generation of design lovers and architecture fans, with younger people really connecting to their cities as they get to know and appreciate repurposed buildings, some of which have long been sitting, ignored, for decades.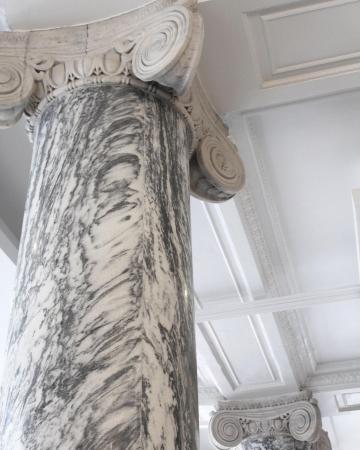 Columns of Georgia Marble - Solar Grey™ topped with White Cherokee marble capitals.
The Candler Hotel's General Manager, Martin Wormull, said visitors and city residents have been thrilled with the project: "People who walk into the lobby are totally stunned, overwhelmed with emotion about how beautiful the hotel is." A far cry from the typical, cookie-cutter repetition seen at other establishments where less thoughtful designs typically dominate the décor.
The Candler Building is on the National Register of Historic Places, so preserving its historical elements was a requirement—not that anyone would really want to tamper with the masterpieces throughout the building. Interior designer Nicole Harris wanted to give the grand building a residential—granted a grand residential—feel, while keeping the connection between present and past. The hotel honors its past by retaining the original iconic lobby, grand marble staircase, Tiffany windows and brass fixtures, offering patrons a unique, boutique experience. The 265-room property heralds Atlanta's new era of grandeur, by combining its distinctive, beloved history with modern Southern hospitality.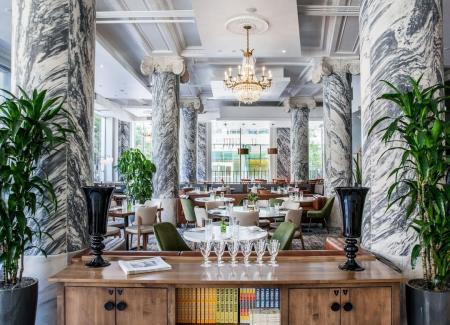 Another way she connected the past and the present was by continuing the use of Georgia marble in the new hotel spaces. Polycor's pioneering advancements in marble quarrying and manufacturing have resulted in a new, thinner 1cm marble slab which is one third the weight of a normal 3cm slab. A proprietary composite backing engineered for the stone increases its strength tenfold. The bathroom counters of the Candler Hotel are sheathed in these ultra thin marble slabs, cut from GEORGIA MARBLE - PEARL GREY™, of course. Read more about these lighter, stronger 1cm slabs used on another hotel project, the Ritz Carlton.
Housed within the hotel is another hidden gem providing a special culinary experience set against a rich, marble backdrop. By George, a French-inspired restaurant run by award-winning chef and food author, Hugh Acheson of Ottawa, Canada, provides a luxe dining experience steeped in the past. The light-filled spaces overlooking Peachtree Street are punctuated by solid marble columns cut from giant blocks of GEORGIA MARBLE - SOLAR GREY™, and flanked by engaged pilasters along the side walls, creating a sophisticated and timeless ambiance.
Martin Wormull, the Candler's general manager, says he is very friendly with the current generation of the Candler family and said they told him that the family patriarch "Asa Candler would be extremely proud and honored in the way the building has been preserved."
NOTE: Photos courtesy of Curio Collection by Hilton Hotels
Article reproduced with permission of POLYCOR INC. Company