Export turnover
Exports of Brazilian ornamental rocks and diverse products amounted to US$ 1.107 billion and 2.36 million tons in 2017. These figures mean a 2.74% decline in turnover and a 4.10% decline in physical volume as compared to the year 2016. Processed stone accounted for 80.45% of the total in 2017, similar to the figure of 80.15% in 2016.
Average price
The average price of exports increased slightly, by 1.41%, from US$ 463/ton to US$ 469.5/ton. In processed stone the average price increased by 2.38% from US$ 663.4/ton to US$ 679.1% while for blocks the average price declined by 0.98%.
Export markets
The number of countries to which Brazil exported natural stone was 117. The three main destinations were USA, China and Italy, in this order.
The exports to USA, dominated by slabs, reached a sales figure of US$ 692.3 million which, when compared to the exports in 2016, showed a decline of 3.2%. Exports to China, mostly of blocks, reached a figure of US$ 136.2 million which in tons was 758,200, a slight increase compared to 2016.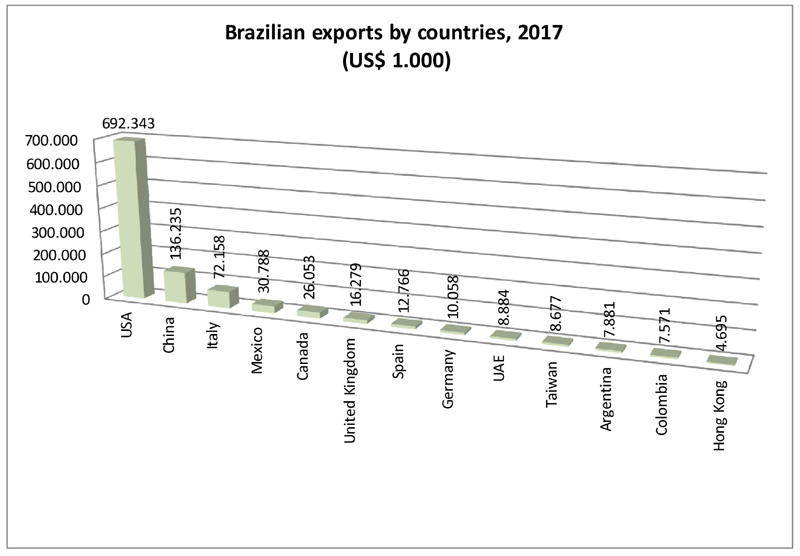 Imports to Brazil
Imports to Brazil of natural stone in 2017 was US$ 35.9 million, an increase of 12.62% compared to 2016. The imports of artificial stone increased during 2017 to US$ 39.1 million, an increase of 28.2% over 2016. Imports of natural stone came basically from Italy, Spain, China, Turkey, Indonesia, Greece and Portugal, in this order. China accounted for 81% of the imports of artificial stone, followed by Spain, Hong Kong and Israel. The average price of artificial stone from Spain and Israel was two to three times higher than that coming from China and Hong Kong.
Internal consumption
Taking as base the amount of production, exports and import figures, the internal consumption of natural stone in Brazil in 2017 was estimated to be about 3.63 million tons, very similar to the estimated figure of 3.6 million tons in 2016. This figure in 2 cm thickness equivalent would be 67.3 million sqm.
Text elaborated by geologist Cid Chiodi Filho - Kistemann & Chiodi Assessoria e Projetos, for ABIROCHAS – Brazilian Natural Stone Association, on January 2018. Data source: Base ALICE of MDIC.