Teresa González Díez
IT´S BETTER TO PREVENT...
One of the unexpected consequences brought about by this global pandemic that we are still suffering from, has been the increase in works and reforms which has led to, as a result,a big increase in activity in the construction sector and, in parallel, denand for Natural Stone, with pending orders for some time ahead. The stonemasons have noted that their clients, as a result of the compulsory lockdown, started paying more attention to their homes as they have had time to observe the deficiencies and defects which they had not done before. They have started to improve their homes as much as possible. to make them more enjoyable for their enjoyment. The remodelling that has won the "gold medal" has been that of the kitchen countertops. But, in addition, many other parts of the houses and buildings have also been considered worthy of major changes. Among them, the staircases, the floors and the bathrooms. For many of these reforms, natural stone, in all its variants, has been chosen to improve the aesthetic appearance.
But what do these reforms have in common in a house, in a portal, in an office? Maybe several, but one of them is that they are to be stepped on and, if they are not well treated… people slip!
… THAN TO CURE
Preventing slipping on pavements with natural stone- floors, bathrooms, swimming pools and stairs, is something that has to go hand in hand with the finishing of a job. Several systems can be used, always according to what interests the client the most and, of course, adjusting to the aesthetics of the place where the stone is placed.
Treatment of the stones
They are non-slip finishes that are made on the surface of natural stone. Some of them cannot be applied, or are not the most suitable, in all types of stone, and in that we must be careful when making a decision. Bush-hammered, sandblasted, carved and flamed, can all be considered as 100% non-slip. Honed and aged finishes are also valid, but to a lesser degree.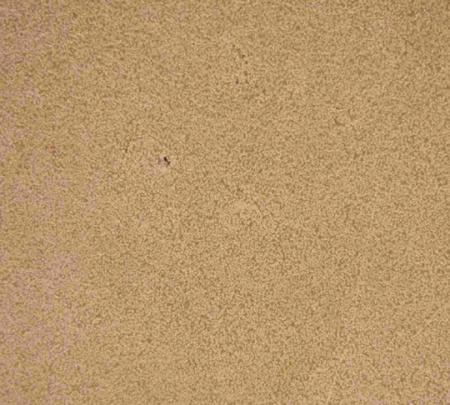 Bush-hammered Cenia Stone
But, if what the client wants is a polished and shiny stone surface, then different systems must be used:
- Make ribbed anti-slip strips with a special portable bushhammering machine, or
- Apply a chemical treatment
Chemical treatments
The companies specializing in chemical products for natural stone surfaces have a wide range of products that help prevent  from causing unexpected accidents.These products have many advantages:
-They are easy to apply and not noticeable.
-They protect the stone, both indoors and outdoors, as they are resistant to UVA rays and frost and prevent the growth of algae, lichens and molds.
-They can be applied on both new and old surfaces.
-There are different effects on the stone after application: transparent, with a wet stone effect, color enhancers.
-They do not stain.
-In bathtubs and showers, some generate a field of "micro-suction cups" imperceptible to the human eye.
In general, what most of these products do is to raise the coefficient of friction.
Anti-slip profiles for satirs and ramps
There are mainly two types:
1.- Non-slip metallic aluminum strips that are embedded in the stairs and ramps. Due to their prominence, they are especially recommended outdoors.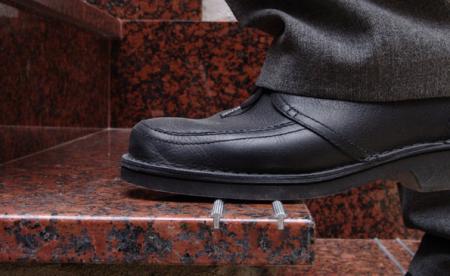 Its advantages are:
- As they are embedded, they avoid the "peel off" effect, especially outdoors, which is possible in the case of adhesive tapes.
- Being of one piece and metallic, wear is much lower than other treatments, including bush hammered, flamed, etc.
- If necessary, they are very easy to replace. On the other hand, direct treatments on the stone are practically unrecoverable.
- Finally, they do not easily catch dirt and they are easy to clean.
Disadvantages:
- They are somewhat more expensive than tapes.
- They need a groove, easy to make in the workshop before laying, but it is very laborious to do so on already laid pieces.
2- Anti-slip tapes:
They are easy to install and replace, although they are not the best option in places with a lot of traffic, such as, for example, the stairs in shopping centers.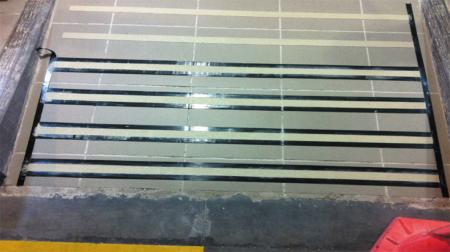 The market offers many formats and models: the most common are those that contain abrasive material, but one can also find those without this material to be able to walk with bare feet (in the case of spas and swimming pools); photoluminescent for low light; with transparent or colored format and of different widths.
Another format is the non-slip resin with corundum in the mixture: it is a product that is easily applied in the stone workshop or in an area in use where a non-slip system is required. They come in different colors and the product exerts great resistance outdoors, withstanding frost. It is especially suitable for places with more traffic: portals with ramps and stairs, parking entrances, stations for public transport, etc.
In short, do not let the fear of a slip stop you from choosing a beautiful natural stone for your home renovation.
Note: We are grateful to Antonio Scarcella, Xabier Aldanondo and Rubén Ruiz, for the information, photographs and comments for the realization of this article.