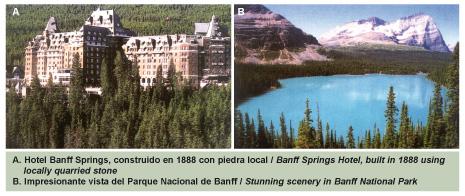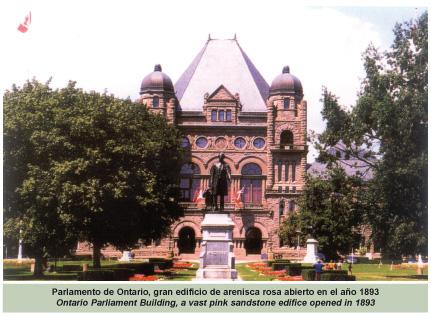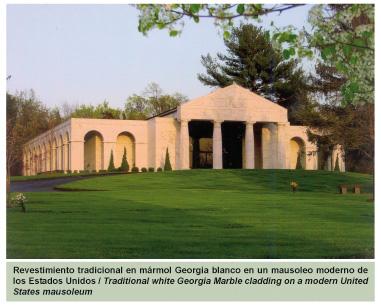 Canada's production and consumption of dimensional stone are growing at a healthy rate. Paul Daniel has conducted a search across the world's second largest country.
Its extremely big, cold in the winter, has six time zones, the maple leaf is its national symbol and it is a member of the G8. The population is a little over 32 million, of which about 24% are French speaking. It also has great dimensional stone. Canada is a growing producer and consumer of all types of natural stone. Production has increased from around 559.000 tons in 1999 to 769.000 tons in 2003, the last year for which official statistics are available. The majority of quarries are located in southern Quebec, eastern Ontario and British Columbia. Most dimension stone processing facilities are located in the same three provinces. Canada is both an exporter and importer of raw and processed dimensional stone. In 2003 exports were primarily to China (52%) and the USA (45%). Imports came principally from the USA, South Africa and Brazil. It was expected that demand for dimension stone would remain firm in 2004 as commercial construction levels in North America maintain moderate growth. The economies of Canada and the USA are closely interlinked and this is mirrored by the activities of the leading dimensional stone companies on both sides of the border. In this survey, we will look at production in each Canadian province or territory in alphabetical order and conclude with a profile of a truly remarkable group - Polycor - who represent Canadian enterprise at its finest.
ALBERTA
There is a lot of limestone in Alberta but it is not used as dimensional stone. There appears to be no granite. Banff Springs Hotel was built in 1888 using Rundle Rock, described as shale or sandstone by different sources. Thunderstone Quarries Ltd, founded in 1960, call it "a black or brown sedimentary shale" which is quarried near Canmore outside of Banff National Park.
BRITISH COLUMBIA
There are reported to be at least 114 known dimensional stone occurences in British Columbia, including granite, gneiss, marble and quartzite. In 27 of these occurences, dimensional stone is a primary commodity. Margranite Industry Ltd and a related group of companies operate a well-equipped processing plant in Surrey, British Columbia. The product line includes several exclusive BC granites. Related fabricating company Atlas Stone Products operates a similar plant in Burnaby. Garibaldi Granite is based in Squamish, BC where it owns three granite quarries. It is 50% owned by Pender Capital Corp. of Vancouver. Westcoast Granite Mfg. of Delta, BC operates what it claims is the only granite slabbing gang saws on the west coast of North America. Matrix Marble & Stone Co. operates quarries on Southern Vancouver Island which yield black, blue and white hard limestone while the factory is at Duncan, BC. There are a number of relatively small flagstone producers. There are also several nephrite jade deposits in the province, from which expensive tiles, table tops and fireplaces are produced. Given the favourable location of many sources at or near tidewater, there is a distinct competitive advantage in transportation costs, particularly in servicing Pacific Rim markets. California however remains the largest single market for British Columbia stone.
MANITOBA
There are believed to be three companies currently quarrying granite in Manitoba.
Cold Spring Granite (Canada) Ltd operates a quarry and processing plant 14 km southeast of Lac du Bonnet in southeastern Manitoba.
CanAmerican Granite Corp. operates three quarries 80 km east of Winnipeg and a processing plant in the provincial capital.
Polycor Inc. intermittently operates a granite quarry 90 km east of Winnipeg. Tyndall Stone, a mottled dolomitic limestone, is quarried by Gillis Quarries Ltd at Garson, northeast of Winnipeg. The Legislative Building in Winnipeg is built of Tyndall Stone. Manitoba Marble Inc. quarries a reddish dolomitic limestone called Manitoba Prairie Rose Marble in The Pas area, 35 km southeast of Snow Lake. Large blocks and slabs can be supplied.
NEW BRUNSWICK
Granite is quarried intermittently for building and monumental purposes at a number of sites in New Brunswick. A red granite is available near St Stephen, and pink, grey and blue-grey granites in the Hampstead (Spoon Island) district.
NEWFOUNDLAND & LABRADOR
In 1994 there were 6 active dimension stone quarries in Newfoundland & Labrador: a slate quarry in eastern Newfoundland, three granite quarries in central Newfoundland, a sandstone quarry on the west coast, and an anorthosite (labradorite) quarry in Labrador.
The slate quarry and processing plant were unique in Canada. Green and purple slate blocks were processed into slabs, roofing slates or floor tiles and the final products sold across North America and in Europe. Granite colours include black, pink, yellow and green. On the northern Labrador coast, near Nain, labradorite is quarried and shipped to Italy in 10 - 30 ton blocks. In a paper presented in late 2003, dimension stone specialist Mr. Dave Evans noted that there were three dimension stone producers in the province. However, there is "a tremendous, largely unknown, stone resource here awaiting exploitation". Torngait Ujaganniavingit Corporation (TUC) is a dimension stone quarrying and processing company owned by the Labrador Inuit Development Corporation (LIDC). Quarrying commenced at Ten Mile Bay in 1992. A processing plant nearby commenced production in 2001. In 2001 a second quarry was opened at Iggiak Bay, about 40 km from Nain. The Iggiak stone is a brownish granite, whilst at Ten Mile Bay the stone is grey with dark blue crystals. A new plant to manufacture monuments and custom products was opened in Hopedale, Labrador in 2002.
NORTHWEST TERRITORIES, YUKON & NUNAVUT
A decade or so ago, a Whitehorse-based processor of architectural stone evaluated several prospective granite sources in the Yukon. Grey-white and beige coloured granites were thought to have development potential. The current position on commercial exploitation is unclear. A large, unique occurrence of limestone has been recognized in the Arctic at Bear Island, about 20 km from Coral Harbour. The fine-grained, attractively veined stone was judged to be excellent for sculptural and architectural uses. On April 1, 1999 Canada gained its newest territory, the Inuit homeland of Nunavut which is situated north of Manitoba. No decorative stone sources have been reported there.
NOVA SCOTIA
The exploitation and use of Nova Scotia sandstone and granite for building and monuments began in the mid-1700s. By the mid-1800s the province had become a major exporter, with some 75 quarries actively involved. Today just 4 quarries, albeit modern and well equipped, are active. There are Devonian granites on the southern mainland, Carboniferous sandstones in the northern mainland and Precambrian marbles on Cape Breton island. Here MacLeod Resources Ltd quarries a range of dark coloured hard limestones which they call "Canada's Marble". The product is available as finished slabs and cut-to-size products.
ONTARIO
In terms of volume, this province was Canada's top producer of dimension stone in 2003. According to a brochure published by the Ministry of Northern Development & Mines (MNDM), Government of Ontario, ´Granite, limestone, marble, sandstone, soapstone and flagstone are extracted from more than 80 quarries in the province. According to another official source, however, there were 32 quarries active in 2003.
The largest concentration of dimension, building and landscape stone quarries in the province is at Wiarton. Granite occurs in northern, northwestern and southeastern Ontario. Leading companies in the sector include Nelson Granite Ltd, Canital Granite, and Granimar Quarries Ltd. Arriscraft Corporation quarries a blue-grey to buff dolomitic limestone (dolostone) near Wiarton. Sold under the trade name Adair Marble, this stone has been widely used in prestigious construction projects including the Canadian Chancery in Washington, DC. Said to be Ontario's most recognized building stone, in 2003 Eramosa Marble was being extracted from 13 quarries by Owen Sound Ledgerock Ltd, employing over 410 people. Rough blocks of multi-coloured marble are also quarried about 35 km north of Sudbury.
Sandstone quarried near Toronto, Ottawa and Kingston has been widely used in Ontario for building. The Ontario Parliament Building is a vast pink sandstone edifice that was opened in 1893, and used Credit Valley sandstone.
Ontario's dimensional stone producers have many customers to satisfy, due to the proximity of cities such as Toronto, with its 4 million inhabitants, and Ottawa in Canada, and major cities such as Chicago and New York in the United States.
PRINCE EDWARD ISLAND
This is the smallest of Canada's provinces and it has no active dimension stone quarries.
QUEBEC
Quebec is Canada's largest province - it is many times the size of France. Montreal is the second largest city in Canada, while Quebec City is the heart and soul of French Canada. It was founded in 1608 and is North America's only walled city. Its location on the St Lawrence River facilitates shipments of stone to the northeast United States and to Europe via the Gulf of St Lawrence.
In 2004, according to the Ministry of Natural Resources & Fauna (MRNF) of the Government of Quebec, there were 106 architectural stone quarries active. Most are located in southern Quebec. About 20 companies quarry granite, mainly in the Riviere-a-Pierre region (17 quarries) and the Lac St Jean, St Lawrence North Shore, the Eastern Townships and Appalachian regions. In addition to granite, Quebec has important sources of limestone, marble, dolomite, sandstone, gneiss, schist, quartzite, etc.
SASKATCHEWAN
This central Canadian province does not appear to have any dimensional stone quarries currently active.
POLYCOR - NO. 2 IN NORTH AMERICA
The growth of Polycor over the last 18 years has been truly remarkable. The group is the result of mergers and acquisitions of many ventures, some originating in the 19th century. The main activities are quarrying stone blocks, manufacturing finished stone products, and designing custom stone products. A management team and a company were created in 1987 initially to develop the quarry portfolios of the Bussiere family and the Piertal family.
In 1990 the group became involved in stone processing through the acquisition of Granite Bussiere Inc, a company founded in 1911. The name of this subsidiary is now Polycor Granite Bussiere inc. Through the acquisition in 1992 of Dumas & Voyer (established in 1885), Polycor developed competence in the manufacture of thick granite products like street kerbs and bridge pillars. This company now is known as Polycor Granite Curbs Inc.
To provide a complete line of stone products for the construction market, in 1998 Polycor bought Tuiles Grani-Decor´s tile factory. Two companies now operate from the St-Sebastien site roughly 120 km southeast of Quebec City - Polycor Slabs Inc and Polycor Tiles Inc. In 2003, the group acquired the Georgia Marble Dimension Stone operation based in Tate, Georgia in the US - a venture that has been operating since 1884. An early evaluation of the white marble deposits confirmed them as the world's largest. Even at the present high rate of extraction, it is conservatively estimated that there is enough marble to last more than 3.000 years.
Georgia Marble has been used in such prestigious and historic projects as The Lincoln Monument, The US Capitol, The New York Stock Exchange and The Alamo Cenotaph. In 2004, Polycor integrate Colorado Yule Quarries, open new marble quarries in Quebec, invest massively in modernizing Georgia Architectural Stone, and develop a new plant for Polycor Tiles Inc. In early 2005, Jean St-Onge, President of Polycor Tiles & Slabs, announced the investment of more than $5 million into the plant.
Polycor Inc. is controlled by GPI, a private company 100% owned by five of Polycor´s directors and officers. Sales volume has expanded from around $2, 5 million in 1988-89 to exceed $55 million in the fiscal year ended January 31, 2005. With the most recent acquisitions, total staff now exceeds 500.
Some major projects
Polycor has supplied around 25.000 ft2 (2.325 m2) of stone for each new mausoleum project administered by Forever Cemeteries and Funeral Homes in the US. Among its major projects figures: the Federal Courthouse in Central Islip, Long Island, NY., the new international arrivals complex at Montreal's Trudeau Airport, the outdoor gardens of the Mormon Temple in Belmont and several projects in China, like the Wu Jing Building, a multi-storey public building in Beijing.
Having established a predominant position in North America, Polycor is now set to expand its profile in Europe. It has been exhibiting at the major stone trade European fairs and has established a stockyard of Colorado Marble in Carrara, Italy.