Campo Bahia is a hotel resort located in an area of environmental protection in Vilas de Santo André, the municipality of anta Cruz de Calabria, 25 km north of Porto Seguro, in Brazil. It consists of 14 houses with a total of 74 suites in an area of 15000 sqm on the edge of the sea. Built specially as the headquarters of the German football team in the 2014 World Cup, which ended up winning it, the resort puts together the Brazilian uniqueness and German technology. And a lot of natural stone has been used there.
The choice of the stones, all Brazilian and in shades of beige and grey, and the finishes, all rustic, were chosen with the criteria being combination with the style typical of Bahia, with floors of cement burnt in several colours, and to achieve an integration with other raw materials, such as wooden floors in the suits.

The majority of the materials for cladding were supplied by the company Paraná Granitos. The interiors of the houses were cladded with around 600 sqm of Crema Paraná in the brushed finish. The limestone Crema Paraná was chosen for its high degree of strength, its thermal characteristics, the presence of fossils and for its sustainability. Around 2000 sqm of it was used. The bush hammered finish was used so that there would be anti-slippage in the swimming pool and the bathrooms. This finish also permits that the limestone always remains at low temperature.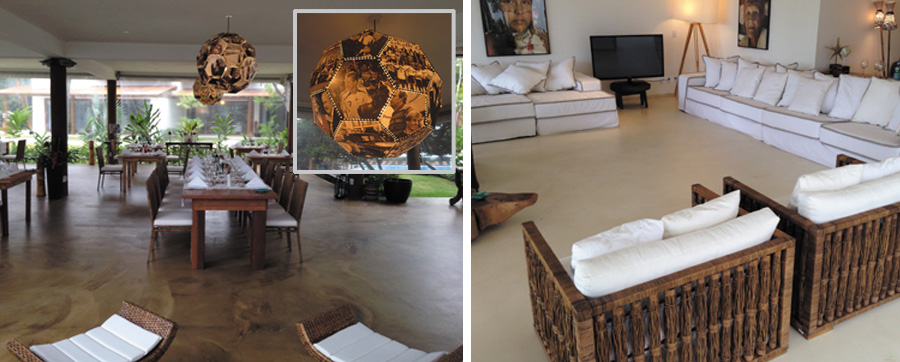 For the sauna the material chosen was the translucent material Blanco Paraná Pietra Fina of which 80 sqm was used. In the showers of the sauna the super exotic granite Vitória Regia was installed, supplied by Brasigran Granitos. This material, of green colour with brown veins, received the "aged" finish, which gives it natural texture, honed and anti-slippage.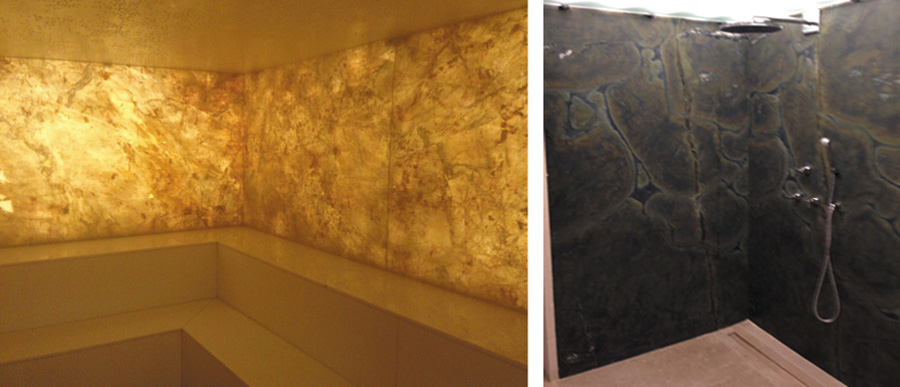 The cutting work and finishing of the stones was done by the company Marmoraria Stone Artes Pedras. The project was finished in a period of 8 months and sustainable elements such as wind energy, cladding structures with eucalyptus wood obtained from areas of reforestation, reusing of rain water, etc. were used.
Technical data:
Campo Bahía: Partners Christan Hirmer and Tobias Junge
Construction company: Falabretti. (Member- Director- Claudio Falabretti).
Architect: Sandro Pretti
Interior Design: Christiane Hirmer
Stone workshop: Stone Artes Pedras
Stone Supplier: Paraná Granitos and Brasigran.