Cid Chiodi Filho, ABIROCHAS cdchiodi@terra.com.br
During 2013 the Brazilian exports of ornamental stone and cladding reached a figure of US$ 1.302.11 millions, corresponding to commercial volume of 2.725.629 tons. The processed stone constituted 76.9 % of revenues and 47 % of physical volume of these exports while the exports of rough stone was 23.1% of revenue and 53 % in terms of volume.
In the year 2013, there was an increase of 22.8% in revenue and 21.8 % in physical volume of the exports. With these rates of increase the Brazilian exports exceeded the historical record of 2007(US $ 1.1 billion), reaffirming the strong Brazilian presence in the international markets, especially United States of America and China.
The imports of natural stone reached US$ 69.6 million and 109.210 tons in 2013, which was an increase of 14.33% and 10.33% respectively compared to 2012. More than 70 % of these imports was of slabs and tiles of marble, travertine and limestone.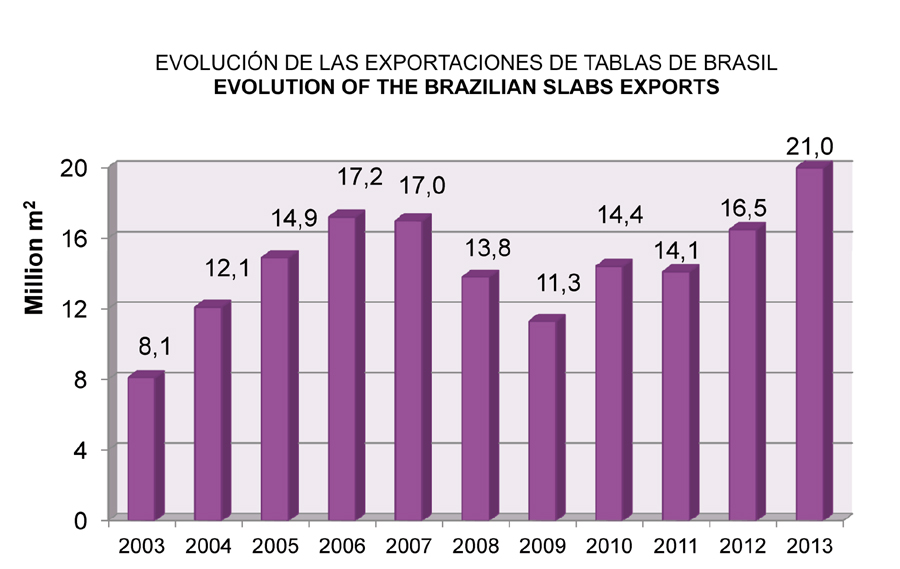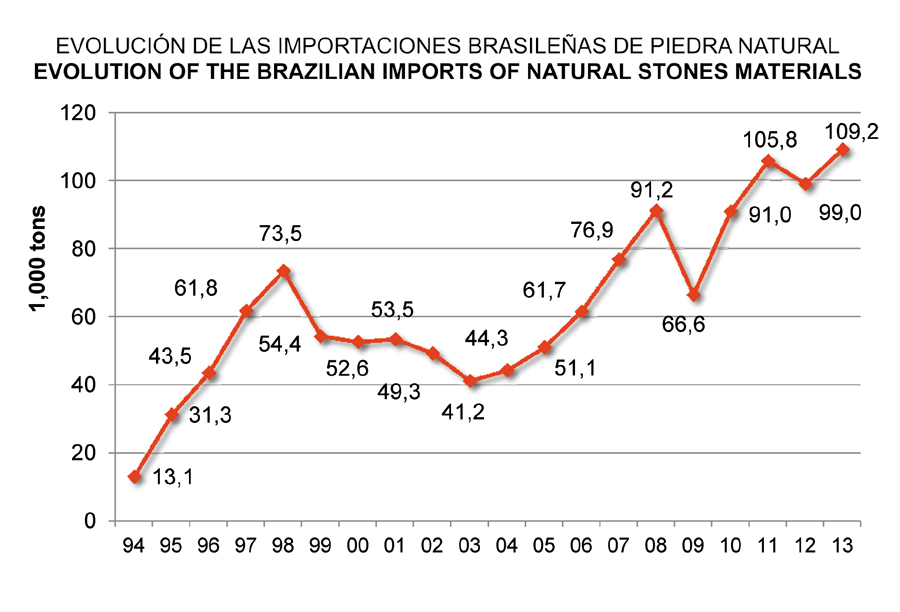 THE DIMENSION OF THE BRAZILIAN STONE SECTOR – 2013
- 10.5 million tons of quarry production (9% of the world total)
- 1,200 commercial varieties of stones sold in the domestic and overseas markets
- 1,500 dimension stone quarries
- 10,000 companies operating in the production chain
- 126,000 direct jobs in the sector
- 200 multiwire gangsaws and 1,000 multiblade gangsaws in operation
- Production capacity of 90 million m2 a year of special processed stones
- Production capacity of 40 million m2 a year of simple finished stones
- Domestic consumption of 78.0 million m2, including special and simple processed stones
- US$ 1.30 billion and 2.73 million tons exported
- Exports of 21.0 million m2 equivalent (2 cm thick) of granite and similar stone slabs
- About 400 exporting companies (overseas sales to 100 countries)
- US$ 5.5 billion of commercial transactions in the internal and external markets
- 4th world producer and 6th worldwide exporter of natural stones
- US$ 771 million (941 thousand tons) exported to USA
- Main supplier to the USA market (over 17 million m2 of slabs were exported in 2013)
- Largest world producer of granite big slabs and other hard materials
MAIN DESTINATIONS OF THE BRAZILIAN STONE EXPORTS, 2011 (over US$ 10 mill.)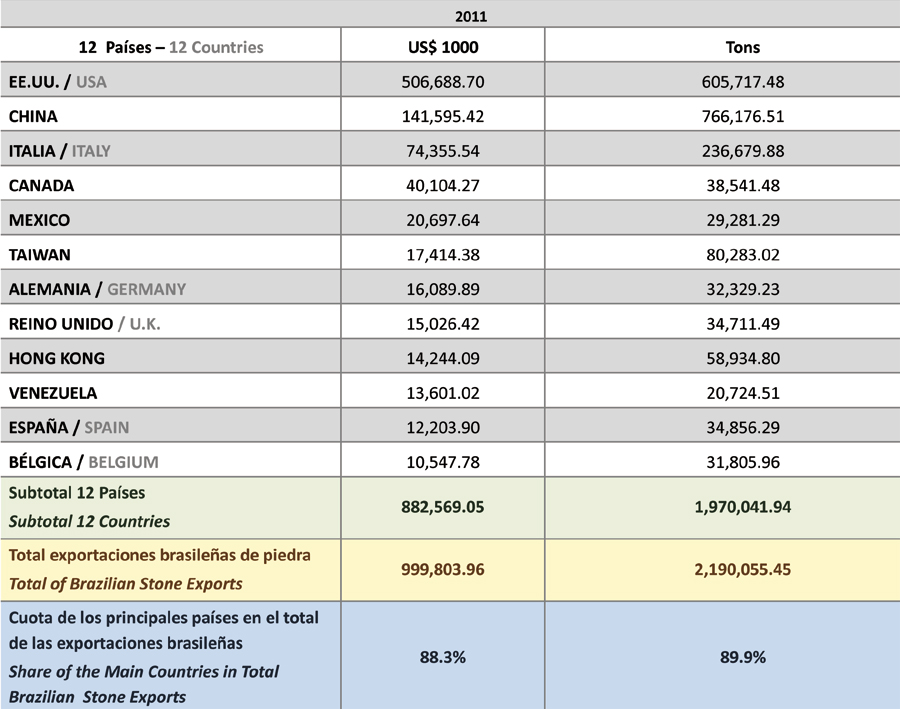 MAIN DESTINATIONS OF THE BRAZILIAN STONE EXPORTS, 2012 (over US$ 10 mill.)