The award for Best Communicator organised by the fair Marmomacc in Verona has its objective to recognise the efforts made by exhibitors when designing their stand with the aim of presenting their products in the most effective and attractive manner. This year, 2016, the tenth edition of these awards was celebrated and the winners in the different categories were the following:
Design Category

First Prize Italy to PIBA MARMI for its stand designed by Go Hasegawa: "A polygonal micro architecture, church, chapel, cell or molecule but also a possible spatial module where marble becomes a thin skin that sometimes lets light through to hint at other presences".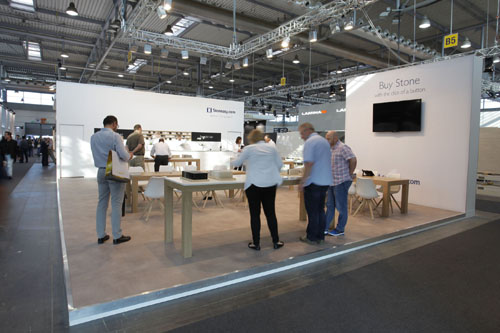 First Prize INTERNATIONAL to STONEASY Belgium "for a new exhibition approach in this sector, inspired by the world of technology, exploiting its space and language, freeing itself from the weight of stone effectively on show here through small samples".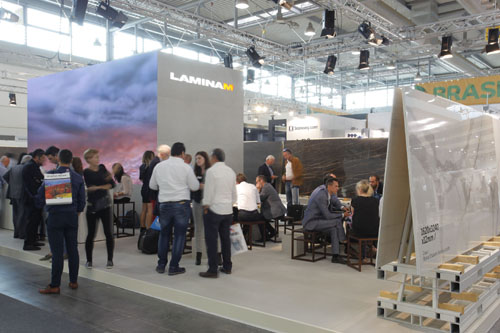 Special Mention to LAMINAM and its stand designed by the company's art director Alessandra Stefani "for an immediately appealing set-up even from the outside which defines interior space in an harmonious and stylistically consistent manner. The video wall, furnishings and slabs highlighting different textures convey dynamism and strong contemporaneity".

First Prize ITALY to MARMO ELITE for its stand by architect Enrico Toso "and its deliberately labyrinthine configuration which, on one side, highlights slab transport systems, while the other has a kind of exhibition of paintings on easels to provide a close-up view of the materials".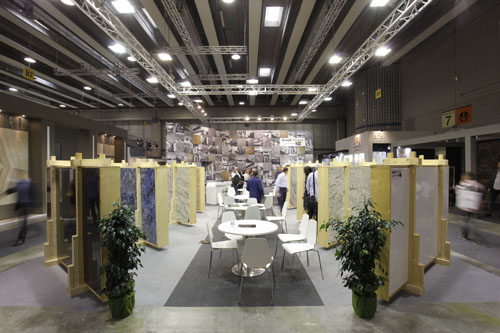 First Prize INTERNATIONAL to GRANITI TECNICA from South Africa "for the essential layout of its stand incorporating stimulating sensations, starting with the methods used to transport large slabs through to a high-impact graphic collage".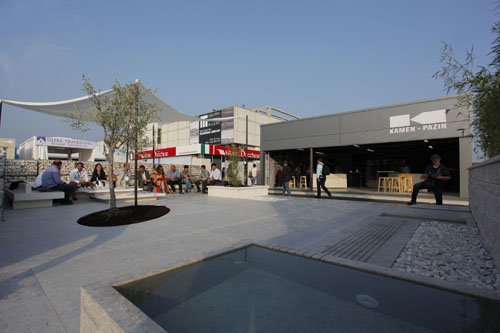 Special Mention to KAMEN PAZIN from Croatia with its stand designed by architect Sandra Krebel and its "configuration of an outdoor space where material and nature blend harmoniously together to create an original and varied landscape highlighting a huge variety of finishes".
Machinery Category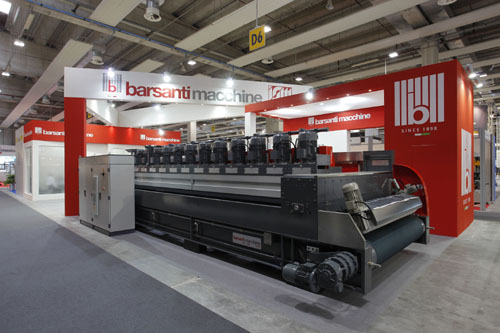 First prize ITALY to BARSANTI MACCHINE "for the overall impact of the stand, which effectively integrates with the product through a detailed and functional structure".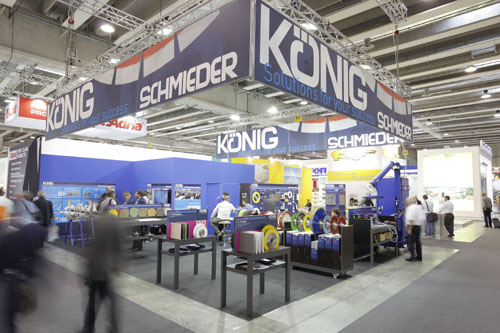 First Prize INTERNATIONAL to KOENIG from Germany with its stand by designer Clemens Beck "for clear and immediately comprehensible exhibit. The tool factory focuses on the environment in a workshop and suggests an exhibition order of extreme functionality. Cobalt blue, the brand's distinctive colour, conveys energy and, at the same time, elegance".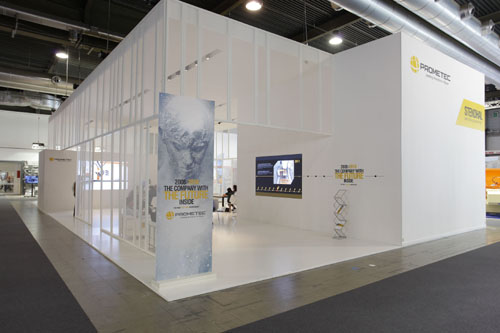 Special Mention to PROMETEC for its stand designed by architect Giovanni Giorgi - "a concept enclosed in an exhibition space where work tools become exhibition design items. The essential white cube recalls a block of marble defined by the delicate technical fabrics the company uses in its processing operations".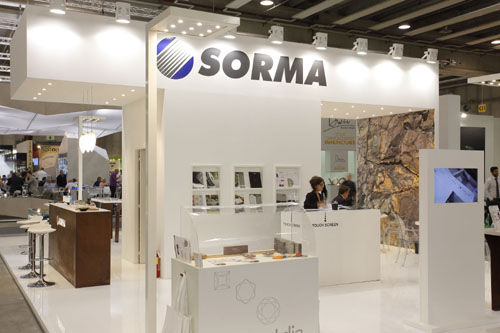 First Prize ITALY to SORMA "for the iconic impact of its graphics and the precision design of the display cases".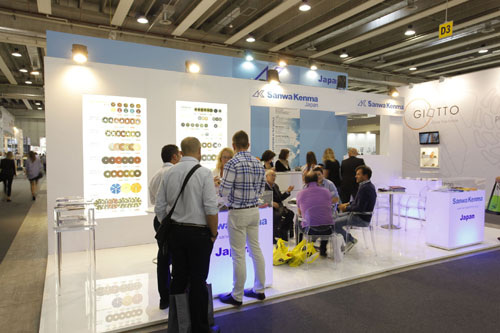 Special Mention: SANWA KENMA from Japan "for the straightforward yet effective representation of the product backed up by streamlined graphic communication".
Information provided by ZED_COMM