Paul Daniel
With the remarkable growth in the economies of Latvia, Estonia and to a lesser extent Lithuania in recent years, the construction sector is seeing a lot of activity. Dolomite, used regionally for building castles, churches and manor houses since Medieval times, is still employed but its popularity has been completely overshadowed by imports of granite and marble.
The dynamic duo´ was the accolade bestowed on Estonia and Latvia at the end of 2006 by The Economist magazine. The two Baltic countries GDP were reported to be growing at 11,6% and 10,9% respectively. Lithuania was reported elsewhere to be growing at around 7,2%. The high growth rates are an exceptional product of good luck and good policies. Especially since joining NATO and the EU in the spring of 2004, the countries are stable, business-friendly and lie close to large, rich markets. Consumption is soaring in all three countries, as is credit. Getting the economy under control is vitally important to ensure stable growth. Whether the "new Europeans" can keep up the pace and catch up the richer half of their continent remains to be seen.
Republic of Lithuania
Decorative dolomite blocks were extracted until fairly recently in northern Lithuania, at Petrasiunai near the town of Pakruojis. Pakruojis Manor comprised 43 buildings built at the end of the 18th century by Baron von der Ropp from the local stone. Europe's only dolomite-arched bridge/dyke was built here in 1821 – it was rebuilt in 2001. Today at Petrasuinai, AB Dolomitas – a member of the Achemos Group – produces crushed dolomite of every fraction in line with EU standards.
Independent between the two World Wars, Lithuania was annexed by the USSR in 1940. In March 1990 Lithuania became the first of the Soviet republics to declare its independence, but Moscow did not recognize this proclamation until September of 1991. The last Russian troops withdrew in 1993. Lithuania subsequently restructured its economy for integration into western European institutions; it joined both NATO and the EU in the spring of 2004. This is the largest of the three Baltic countries with an area of 65200 km2.
Lithuania applied to adopt the Euro at the same time as Slovenia. Whilst the latter's bid was accepted, Lithuania's was declined on the grounds of inflation above the set limits. The year 2010 is currently being mooted.
The stone industry in Lithuania
According to Mr. Zygimantas Ivasauskas, trade manager of RUDMARMA Joint Stock Company based near Trakai, ´Stone culture in Lithuania is rising just now. But everything is imported. We import granite slabs from Brazil, Africa, Scandinavia, India, Chile, China and Italy, while marble, travertine and onyx raw materials are obtained from Greece, Italy, Iran, Turkey, India, Spain and Portugal. In our factory we produce fireplace surrounds, kitchen table tops, floor tiles, window sills, stairs and architectural components. Our main customers are in Lithuania. We have supplied many projects, including the central landing stairs and window sills in the Presidential Palace, chapel and altar floors in Vilnius Cathedral, fireplaces in Vilnius Town Hall, stairs and floors in the Grand Casino, Vilnius, and many others. We export some production to the UK, Sweden, Latvia and Russia, but our export turnover is not big´. Rudmarma´s website is www.rudmarma.lt. Or e-mail zygimantasi@takas.lt
Some other stone companies operating in Lithuania include: UAB Akmenija, founded in 1999 in Klaipeda who make fireplaces, stairs and kitchen worktops in granite and marble (www.akmenija.lt) UAB Akmens statyba of Vilnius specialize in artisanal and rustic stone products (www.akmensstatyba) UAB Granitas of Kaunas import granite from the Ukraine mainly for making cube setts or cobblestones: established in 1959, this company had 690 employees (!) in 1996. (www.granitas.lt) UAB Graniteka, of Siauliai, offers a wide range of granite and marble products (www.graniteka.lt.)
Lithuania's capital city Vilnius was declared a UNESCO World Heritage Site in 1994. With Linz in Austria it will be European Capital of Culture in 2009 – the same year as the 1000th anniversary of the city's founding. Vilnius will be the first capital city of a post-communist country to receive this honorary title. According to a local journal, ´Most of the pieces are in place for a sustained building boom. New apartment blocks are usually sold out before any spade breaks the ground to start the work´. New public buildings include the Vilnius Art Centre with exhibitions from the Guggenheim and Hermitage museums, the National Palace with a 1800-seat concert hall and cultural centre, and the Congress Centre with a seating capacity of 3000. The Vilnius Office Park is a 38 m Euros project with five seven-floor office buildings by the Vilnius-Riga highway. The retail property market is developing at full speed, with several new shopping malls built, under construction or planned. And finally the restoration of important city buildings including the Royal Palace will surely bring quite a bit of work for the local stone firms.
Republic of Latvia
Latvia's capital Riga came top of the property price growth league in 2006 – an almost 40% increase compared with 2005 was reported by Knight Frank International. For investors, the question is: can it last?
Latvia has a border with Estonia to the north, Russia and Belarus to the east and Lithuania to the south. Riga celebrated its 800th anniversary in 2001. Having re-established independence in 1991, Latvia joined both NATO and the EU in the spring of 2004.
The first Russian car, the first Russian tank and the first Russian aircraft engine were all developed and built in Riga. Today there is still a sizeable Russian minority in the country – some 30% of the population.
The stone industry in Latvia
The CSB (Central Statistical Bureau) of Latvia confirmed that no decorative or building stone was quarried in the country from 2003-2006. Krantsiems pink dolomite and Sauriyeishi brown-grey gypsum, described in a Russian guide, are now only extracted occasionally and on demand, usually for restoration projects. Limestone deposits confined to the Permian formation in south-western Latvia are not currently worked. There are quite a few companies importing granite and marble and they all seem to be in Riga. The author visited three leaders - AGNI, Uldis Leilands and Dans Jansons - and a sculptor.
The founder of AGNI took the name from the Hindu word for fire, as the initial products sold were stoves and fireplaces. It is believed that the forerunners of the Latvians came from India: they migrated from the region before the Indians arrived! The AGNI showroom on Brivibas Street opened in 1992. The Stone Department opened later to offer clients a choice of fireplace surrounds. It currently has 12 employees and two Italian secondary sawing machines. Mr. Ragnars Gulbis, showroom manager, had spent 3 years in England so communication was easy. He introduced Gints Ozolins, head of the Stone Dept., who stated that AGNI holds around 100 different types of stone in stock, around 2200 m2 in total. Gints favours Italy for supplies, but his favourite stone is Aran White from Brazil!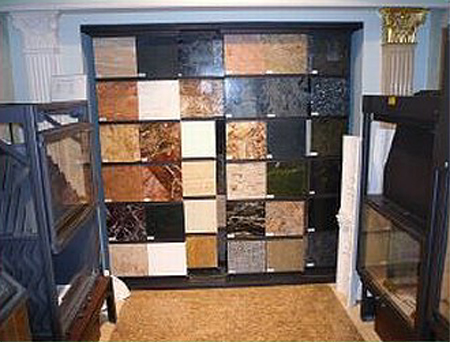 Part of AGNI´s stone selection in the showroom
Questioned about the famous Freedom Monument in Riga, Gints replied that it was erected in 1935. The red granite for the base and the grey granite for the statues came from Scandinavia, whilst the travertine used for the murals and Freedom centerpiece came from Italy. He further stated that no block stone is now extracted in Latvia – explosives are used in the dolomite quarries so that only small pieces are available. If a client insists on local dolomite for a fireplace surround, it can be done but such requests are rare. Finally Gints revealed that granite occurs in Latvia, but at 700 m below ground! For further details about AGNI, see the website www.agni.lv. As Gints does not speak English, enquiries are best sent to ragnars@agni.lv.
The next visit was to SIA Uldis Leilands, whose offices, stockyard and works are a little way out of town on a lane leading from Bauskas Street. The company was founded in 1998 and imports slabs and tiles from China, Italy, Spain and Finland. Mr. Leilands said there were 30 employees and the workshop has ´two and a half´ bridge saws. The quantity of material in stock varies, but averages around 1000 m2. The product mix includes fireplace surrounds, kitchen worktops, bathroom cabinet tops, window sills, stair steps and façade cladding panels. According to Mr. Leilands, his company supplied around 2200 m2 of Chinese light colour granite for the Nordea Bank building at 151 Brivibas Street in Riga, and 3500 m2 of similar material for the Unibank building near the Uldis Leilands works, which can be contacted at leiland@latnet.lv Next visit was to an area in the woods on the outskirts of Riga where several sculptors live. Most have detached houses on a large plot of land, sufficient to accommodate their work. The taxi driver chanced upon Mr. Indults Ranka who has created around 300 sculptures during his 70-plus year life. Mr. Ranka has exhibited in Norway and Japan. He says "My garden workshop could be called a forest of ideas. I walk among the pieces of rough stone as among growing trees and I try to hear which of them is ready to reveal itself to me. When the time is right, my chisel splits off fragments from the stone ´log´, and the sculpture gradually announces itself". Some of his work can be seen on the website www.gallery.lv/Ranka. He estimated there were around 200 sculptors in Latvia, half of them female. There is a major exhibition site at Turaida, some 50 km north of Riga near Sigulda.
Next stop was a modern office block in Riga where Dans Jansons has an office on the 4th floor. By coincidence, Dans´ grandfather was a sculptor so he claims to have 25 years experience in the stone business. However he was employed in a general office until founding his own business in 1996. Primarily Dans Jansons is an importer, with the main focus on cladding, wall and floor tiles and also cobble stones (cube setts). The company does not have a workshop, so all cutting and ancillary work (except for onsite tile cutting) is sub-contracted to different local firms. For this reason stock is kept to a minimum, usually around 300 m2. Dans has 8 employees, which include salesmen and installers. More installers are hired when needed. Dans Jansons is also the Latvian agent for AKEMI products. As regards reference projects, Dans cited the Nordea Bank building on Brivibas Street in Riga ´using Chinese granite of course!´. A refurbishment contract involving 2500 m2 at the Ministry of Foreign Affairs in Riga will probably be the next major project. In conversation, Dans was clearly very well acquainted with the world stone business. For him, Italy is´the supermarket of stone where everything can be bought and at a good price´. www.dansjansons.lv
Amongst other stone companies, Akmens Apstrades Darbnica claims to undertake all types of stone processing and installation (www.aad.lv)
Akmens Baltija (www.stoneplus.lv) tends to specialize in walling, paving, steps and garden furniture. Republic of Estonia
Dolomite and limestone block quarrying continue in this northernmost of the Baltic States. Kuressaare Episcopal Castle on the island of Saaremaa is the only entirely preserved stone castle in the Baltics. It was probably built around 1265 There is a dolomite quarry at Mundi close to the town, where Limestone Days are held with sculptors at work. The Stonemasons Guild was one of the oldest of all professional unions established in the 14th century. A fascinating account in English of limestone / dolomite use in Estonia up to 1997 is given in www.einst.ee/Ea/2/TEXT/hallas.htm.
Almost all of a defensive wall surrounding the old town of Tallinn remains intact today. A lot of dolomite was used in constructing 1.8 km of wall, generally 2 – 3 m thick and up to 15 m high, with numerous towers. Dolomite is everywhere in evidence in Tallinn – from terraced houses on the approach to the city from the west, to the magnificent 600-year old Town Hall (Raekoda) and the new National Library opened in 1993.
After centuries of Danish, Swedish, German and Russian rule, Estonia regained independence in 1991. As a member of the WTO and the EU, the country has transitioned effectively to a modern market economy which benefits from strong electronics and telecommunications sectors, and is considerably influenced by developments in Finland, Sweden and Germany, three major trading partners.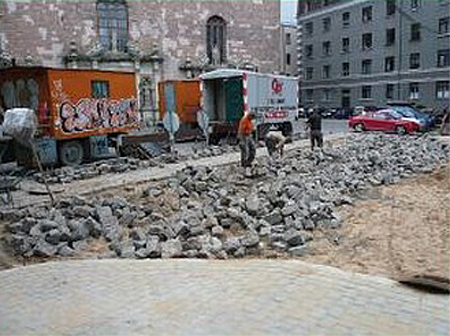 Renovating the square in front of St. Peters, Riga
The stone industry in Estonia
Perhaps the most outstanding geographical feature of Estonia is geological: the Baltic Clint. This starts at Lake Lagoda in north-western Russia and runs 1200 km to Oland in southern Sweden. In Estonia it can be observed over a distance of 300 km. The base of the Clint is of Cambrian blue clays and sandstones, the middle part Ordovician sandstones and slates, and the upper part of stratified limestone deposits. Parallel to the Baltic Clint is the Silurian Clint which runs through Saaremaa. Not surprisingly, therefore, Estonia has the greatest resources of decorative and dimension stone in comparison with the other Baltic countries. There are probably 15 or so quarries active today. These include Kaarma and Selgase dolomite quarries on the island of Saaremaa, and Orgita, Ungru, Vasalemma, Lasnamae and Kostivere on the mainland. Older quarries including Inju, Tamsalu, Kaugatuma and Soeginina may be worked spasmodically for restoration projects.
Dolomite was named after the French mineralogist Deodat de Dolomieu. Sometimes called dolostone or dolomitic limestone, dolomite differs from limestone because it contains magnesium as well as calcium. From the commercial point of view in Estonia, sources on Saaremaa Island are the most important. The dolomites here are of yellowish-grey, brownish-grey and bluish-grey colours with a fine grained structure. On the mainland, from Tallinn westwards there are a number of yellowish-grey and greenish-grey limestone sources.
Concise definitions of ´Technological´ and ´Construction´ were not available.
At least five stone companies have their own raw material sources: Erek, Haakeri, Haapsalu Paekivi, Orgita and Saare Dolomiit-Vaokivi. The latter is the biggest company in the sector, with a turnover of 2, 68 m Euros for 2006. Cladding panels were produced in Kaarma before World War II. The dolomite quarry has an area of 38 ha and is estimated to contain around 700.000 m3 of usable stone. From 1985 until 1992 Saare Dolomiit supplied 3000 m3 of dolomite blocks and decorative cladding for the large National Library building in Tallinn (see picture). The builder was the state company Ehitusvalitsus, which does not exist any more. The new building opened its doors to readers in 1993. The history of Saare Dolomiit goes back to 1958. In 2003, the two biggest stone processing companies in Estonia joined forces to become Saare Dolomiit-Vaokivi OU. The new company has 85 employees. It has two factories, one in Tallinn which mainly processes limestone and imported materials, while the other in Saaremaa mainly processes different dolomites. Dolomite and limestone are extracted from six quarries. In 2006 the company quarried around 2500 m3 of Reval limestone, and 1800 m3 plus 1500 m3 respectively of different kinds of Kaarma dolomite. Main products are floor tiles, façade panels and cut-to-size products. A list of reference projects is given on www.saaredolomiit.ee. Around 10% of production is exported – to Finland, Sweden, Latvia, Germany, Russia and Lithuania.
Haapsalu Paekivi exhibited at Stone+tec in Nurnberg in 2001 and 2003. With a reported turnover of a little less than 1,0 m Euros in 2006, this is the second largest operator in the sector in Estonia. Ungru limestone is quarried at a site 10 km from the town of Haapsalu. The factory near the quarries processes Ungru limestone and imported materials. Slabs, tiles and other finished products are imported from Italy, Spain, Germany, Belgium and Poland, and also from China. The website is www.ungru.ee.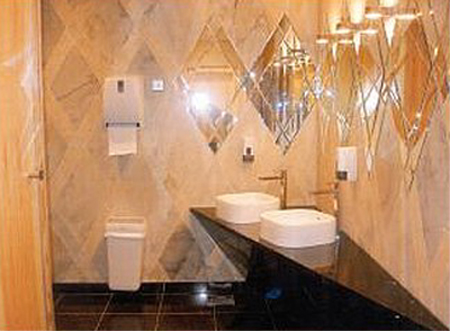 Ungru limestone wall tiles at Hotel Europa, Tallin (courtesy of Haapsalu Paekivi)
OU Haakeri´s quarry near Selgase village, Mustjala district of Saaremaa contains dolomite formed around 425 million years ago. It contains many fossils and may be yellow, brown, grey or nearly black. It is estimated that there are 380000 m3 reserves of building dolomite and 380000 m3 of ornamental dolomite for souvenirs. The company was founded in 1995. Founder Alver Sagur was initially involved in the forestry products business, but a chance to buy Selgase quarry was ´too good to miss´. Everything is made by hand at the small works equipped with a gang saw, two circular saws and lathes for turning craft articles. Dolomite gift ware is still the main revenue earner, but tiles and cladding panels, window sills, pillars, cornices, fireplaces, stairs, gravestones and sculptures are also made. The Kaali Visitor Centre is built of Selgase dolomite and is the sales outlet. Near the Kaali meteorite crater, the Centre includes a limestone and meteoritics Museum, a tavern and rooms to let. www.dolomiit.kaalitrahter.ee contains more details.
Orgita Dolomiiditooted was established in 2001 and has a quarry at Orgita-Haimre, about 5 km from Marjamaa village in Rapla County on the mainland. Products include slabs and walling stones. Beige-grey Orgita dolomite is used for internal and external work – it is frost resistant for over 50 cycles and is popular with sculptors. The website www.orgitadolomiit.ee includes illustrations.
Erek has processed limestone since 1989. Currently Kostivere limestone and Vasalemma marble quarries are worked. Using know-how from the renovation of buildings, Erek now specialize in facades. Since 1991 they have represented the Swedish company Marmoroc on the Estonian market. Erek´s website is www.erek.ee.
After 12 years as Manager of Haapsalu Paekivi, Mr. Aivar Allikmaa left in March 2005 and rejoined his family company Lossikivi OU which was founded in 1990. He also owns Stoneserv OU, established in 2006, which specializes in installation of facades, floors, stairs, walls, etc. Lossikivi imports granite and marble from China, Germany, Italy, Spain and Portugal. Lossikivi´s turnover in 2006 was 467500 Euros. The website is www.lossikivi.ee
Processing companies
Diapol Granite Ltd in Saue (www.diapol.com) supplies custom-made granite kitchen worktops to private clients in the UK, Netherlands, France, Belgium, Sweden and Finland. Dolokivi OU of Kaarma vald was founded in 1989 and mainly produces fireplaces and statues – see www.dolokivi.ee.
Gildemann Dolomite Designs are based in Jalase, Rapla County, about 65 km from Tallinn. The website www.kamin.ee devotes a whole page each to fireplaces, garden tables and ornaments, vases, bowls and goblets, balustrades and columns.
Gramet Ltd.´s main product line is headstones, shown on the company's website www.hauakivi.ee. Gramet also make granite stairs, hearth slabs, and other articles at the customer's request. They import stone from Finland, Karelia and Ukraine, and also use local materials. The works are at Voru in the far south of Estonia.
ISCG (International Stone Construction Group) was formed in 2004 and has offices in Tallinn. It specializes in imports from 14 quarries in Karelia, the Urals and Leningrad region in Russia (www.iscg.ee)
Kivisepad Ltd processes granite, marble, etc at a factory in Tartu, Estonia's second largest city. It was established in 2001 and claims to export 95% of its production. The website is www.kivisepad.ee.
We hope this survey of activity in the Baltic countries will prove useful to stone specialists but the author cautions that not all e-mail enquiries will be answered!