The Valencia (Spain) based Spanish company, Xilex Development S.L., has developed a simple solution that revolutionizes the market with two compact ovens: ARES for drying, and KRONOS for resin curing. This allows for working in continuous production process to make slabs in 1 hour. This feature has already been accepted by service companies as they are the most dependable in quality, costs and speed of production.
Behind this simplicity lies 27 years of long experience in electromagnetic wave technologies what have been applied in numerous projects and more than 450 machines designed and produced for customers worldwide. During the last 5 years more than a dozen companies in the marble and granite sector in Spain, Italy and Brazil have already improved the quality of their products and processes with the installation of ARES and KRONOS.
The process is as follows: right after cutting, the slab can be completely dried by ARES with continuous speed of 0.8 to 3 minutes per minute based on the productivity required by the customer. Next it arrives to the resin application station directly. With the conventional drying oven a minimum of 40 minutes was needed for completion.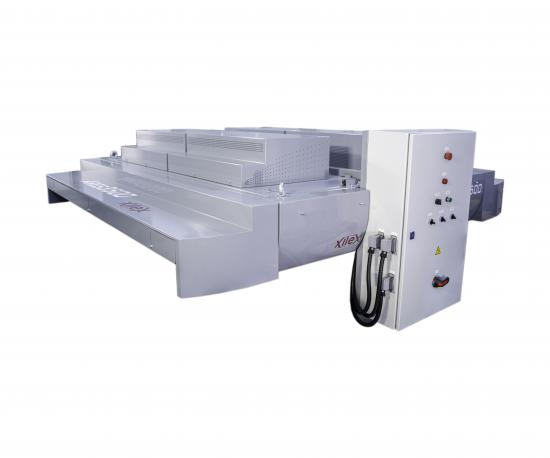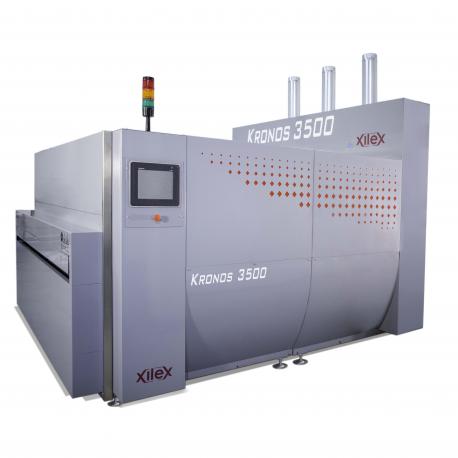 KRONOS is the machine that allows total control of the filtering and adhesion processes to obtain top quality finishes. It is an oven for epoxy, polyester and polyurethane (PUR) resin curing that accelerates the activation and consolidation of chemical properties in marble, granite and other delicate types of natural stone such as onyx or alabaster.
KRONOS differs from conventional machines in that it performs greater filtration and adhesion of resins with a production of 30 tables per hour and more.
Also, KRONOS by Xilex eliminates waiting times of 24h-48h-72h since natural stone can be polished directly after only 45 minutes. In this way, production lines can perform reinforcement, finishing and continuous polishing, which translates into a 30% increase in productivity and a significant reduction in delivery times of the final product and final price of process by square meter.
This technology appears to be the most Eco-friendly in the industry. Often natural gas, recycled heat from boilers working on fossil or organic fuels, are being used in the industry with the conventional resin curing lines. Even the heat emission during this process is so low that it can be ignored. Besides significant economic advantages this opens new possibilities for the stone producers to decrease the carbon foot print for their products, especially when the factory is using renewable electricity. It eliminates speculations that green technologies have to be expensive and have low productivity.
Xilex Development SL
C/Senda de les Deu 18A
46138 Rafelbunyol
Valencia – España
Email:
w:www.xilexforstone.com
Phone:
+34 644 235 205