Sponsored
Mármoles Fernández: experts creating natural spaces in Piedra Paloma and Calatarao
To state that a big company such as Mármoles Fernández has become one of the big experts in creating natural spaces with recognised materials such as Piedra Paloma is a fact that must be highlighted.
If there is something distinctive about this Andalusian company it is its two almost two centuries of history dedicated to extraction and processing of natural stone. Its history goes back to the XIX century, when its founder, D.Leandro Lomeña, started this activity in the Andalusian locality of Coín. His passion of stone has been contagious through successive generations up to today, where the fifth generation of brothers Fernández Lomeña continue with professionalism providing service to each and everyone of their clients.
With the philosophy of work well done, Mármoles Fernández continues to offer high quality service fulfilling totally the expectations and demands of the current market.
The success of this company lies in the full satisfaction of its clients and the seriousness in completing its commitments, generating, this way, total confidence.
Without doubt, the secret of success of Mármoles Fernández in the sector is also due to the first quality products with which it works. That is why major companies such as Piedra Paloma trust it with their materials, Piedra Paloma, Ambra, BK Kafe and BK Génesis, to create unique natural spaces. Examples of these are in their projects of :
- Interior floorings, bathrooms and staircases in Piedra Paloma for a private home in the Costa de Sol.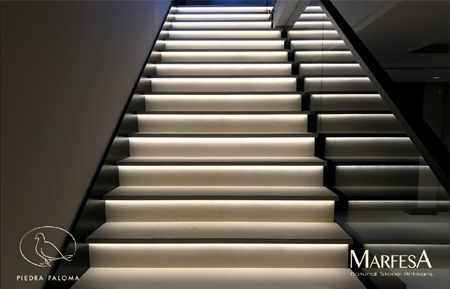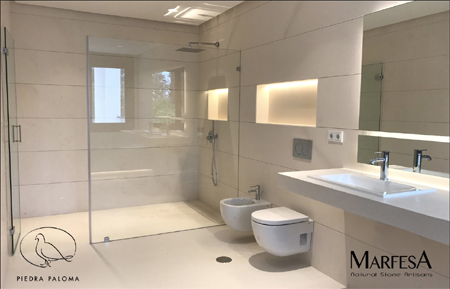 - Panels of BK Kafe in aged finish for the bathrooms in the hotel complex La Zagaleta.
- Swimming pool kerbs and fountain made in Piedra Paloma for the exteriors of the real estate company Benalus.
- Exterior flooring in Ambra for the entire exterior cladding of the Hospital Internactional HC in Marbella.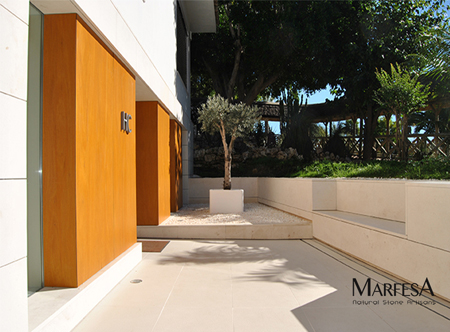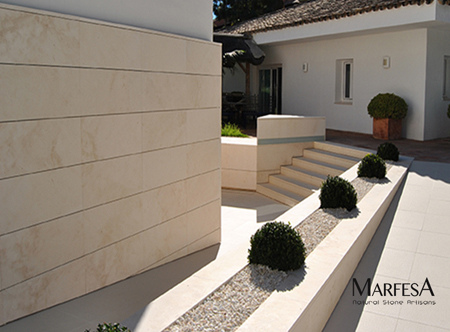 - Flooring in Piedra Paloma in polished finish for the Villa Guadalmina Alstolfi.
-Flooring, bathroom tops and bathing dishes in Piedra Paloma for a private home in El Ancon (Marbella).
- Swimming pool edges in Piedra Paloma in sanded finish for a private home.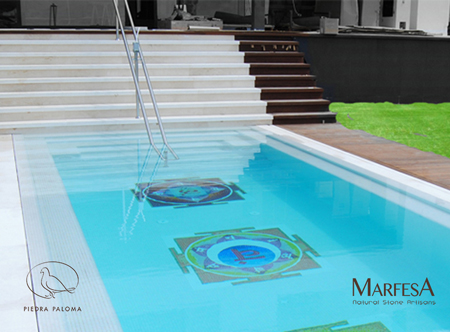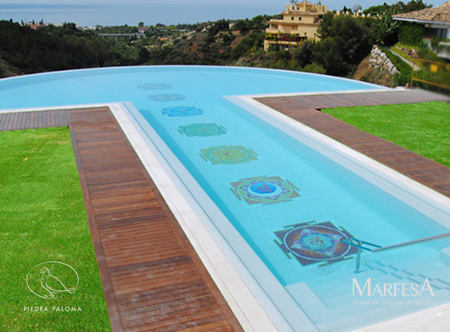 Beauty, elegance, nature, exclusiveness and doing it well, are all part of the same universe to provide solutions beyonf the established frontiers.
The experience, professional commitment, passion for natural stone and, above all, the people willing to do their very best, are the elements that form the perfect equation to respond to the increasingly demanding market.
This is how PIEDRA PALOMA and MÁRMOLES FERNÁNDEZ come together, one more year, to continue to create unique and unequalled universes.

Blas Madrid, the oldest official distributor of Piedra Paloma
If anything characterises the company Blas Madrid S.L., it is its fifty years of experience dedicated to the selling of a wide range of granites, natural stones and marbles, both Spanish and from other countries. Currently the company works with sources of raw material from the 5 continents, occupying the first rankings in the Spanish and international markets.
That is why Piedra Paloma, the recognised company in natural stone, is proud of its association with Blas Madrid as its official distributor for its materials. In its warehouses located in Montemayor (Córdoba) and Úbeda (Jaén), they stock all the products proceeding from the quarries of Piedra Paloma, being these the exclusive Piedra Paloma, as well as Ambra, Faces from Calatorao in its varieties, and Génesis.
Among its alternatives, Blas Madrid trusts fully in the power of nature to offer unique materials for their aesthetics and sense of touch. And it could be no other way, the material Piedra Paloma is at the top of the list. Its innate naturalness, obtained from the quarries of natural stone, and its quality, make it unique and exclusive in this market.
Piedra Paloma is extracted directly from the quarries in Pedrera (Seville) and Calatorao (Zaragoza) and sent to the warehouses of Blas Madrid in Jaén and Córdoba in its different finishes, from the polish and honed, till the rain or storm look, as also leather, brushed and flamed. From both warehouses it is distributed all over Spain and to other countries.
The trustworthiness, professionalism and seriousness of Blas Madrid, makes this company among the most important in the sector, which is why major brands such as Piedra Paloma have put their faith in the distribution of this material.
Thus, one more year, Blas Madrid will supply to its customers both in Spain and abroad, the unique and exclusive natural stone Piedra Paloma, with which any architecture and decoration needs can be fulfilled.
Mina Piedra Viva becames official sales point of Piedra Paloma in Spain
Piedra Paloma, one of the more recognised and prestigious companies in the world of natural stone, has renewed its agreement on distribution with the company Mina Piedra Viva, located in Novelda (Alicante). Mina Piedra Viva is now the official sales point of Piedra Paloma.
The origins of the company Mina Piedra Viva goes back to 2009, when Adán Seva and Alberto Manchón started what is today one of the main companies in Spain in production and distribution of natural stone, onyx and marble from different quarries all over the world.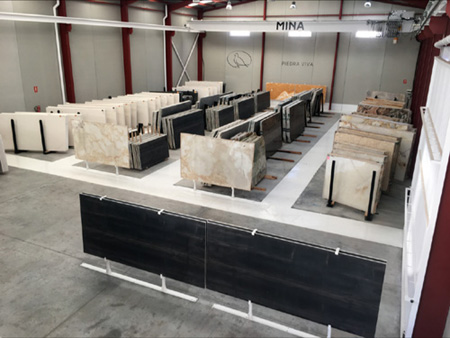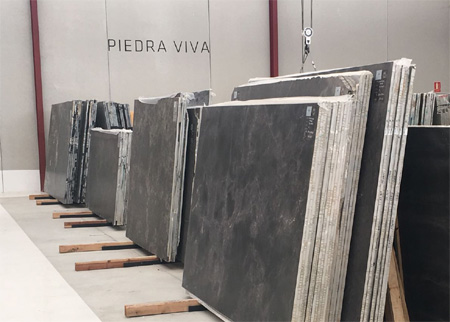 Currently, Mina Piedra Viva will be responsible for the distribution of all the products coming out of the quarries of Piedra Paloma, these being Piedra Paloma, 100% exclusive, Ambra, Faces from Calatarao in its varieties and Génesis.
Mina Piedra Viva currently has two sales points of Piedra Paloma in Spain, one located in Novelda where it has a gallery of exclusive materials of Piedra Paloma and Calatarao, and another in Elda (Alicante) from where it supplies the material to its clients. Both enclaves display the unique material with stamp of Piedra Paloma, one of the most important companies in the natural stone sector. This material, which is extracted in the quarries of Piedra Paloma located in Matagallar and Calatarao, can be found in the installations,and information is also in the website of Mina Piedra Viva, in all the finishes, polished or honed, or finish with aspect rain or storm, and also leather, brushed and flamed.
Therefore, throughout 2018 Mina Piedra Viva can supply all its customers that want a combination of expression, style, elegance and exclusivity with natural stone in the form of Piedra Paloma, which allows for all types of construction, and something unique.
The Sevilian Company Piedra Paloma S.L. announces a distribution agreement with the company Marmoris located at Palma de Mallorca
The company specialized that extract exclusively products from its quarries, ensures a continued deposit and permanent presence on that market. Piedra Paloma S.L confirms that this operation will be beneficial for the brand, thanks to the good work done by Mármoris.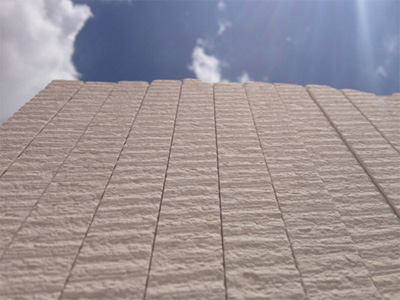 "Our objective with this action is to improve customer service. We want to guarantee a continuous supply in the area to anyone who wants to make use of our materials" said the responsible of the Sevilian firm. "Thanks to the professionalism of Marmoris this agreement could be possible nowadays". With this action Piedra Paloma S.L makes a clear commitment to the Mallorcan market, positioning their materials as real alternatives to what currently offers the market.
Marmoris is located at Avda. 16 de Julio, 77 Polígono Industrial Son Castelló, Palma de Mallorca,
They will be glad to help you all you need.
Start up resin line machine for Faces From Calatorao in Piedra Paloma
(July 2016).-
Piedra Paloma is launching its own resin line machine for the processing of extracted material from its quarry in Calatorao.
All manufacturing process with the new resin line machine is made in Piedra Paloma facilities located in the quarry of the same name in Pedrera (Sevilla). This process is controlled from the same extraction of block to cutting of slab, resinated and further processing and cutting of standard and cut to sizes.
Collaboration with Mina Piedra Viva
(July 2016).-
The materials of the company Piedra Paloma with own quarries, are available in the Alicante area thanks to the collaboration with the company Mina Piedra Viva.
The location of their warehouse in Elda provides access to any customer visit in the Alicante area. This material is available in stock in both materials, Piedra Paloma in different finishes, and Faces From Calatorao (selections that are currently made from material extracted from its own quarry in Calatorao).
___________________________________________________________________
The authentic 

Piedra

 

Paloma

 sounds like this:
PIEDRA PALOMA presents its new selection of Calatorao stones at Coverings
In its second consecutive year, Piedra Paloma participated at Coverings last April 2015 in Orlando (Florida). It took the opportunity to show the new selections (Black, Kafe, Devil and Gold) that they are doing from material extracted from their own quarry in Calatorao, which was purchased in 2011. Since then, Piedra Paloma has been working on extraction , processing and marketing of the materials under the commercial name of Black Kafe both in slabs and tiles. The company owns the quarry of Matagallar in the South of Spain where they extract and process Piedra Paloma for more than 4 decades.  Both materials are being specified in projects around the world not only in exterior but also interior and both residential and commercial use.