Georgia (USA), December 2019.- The Guidoni Group from Brazil is setting up a quartz surfaces factory in McRai-Helena, in the state of Georgia. The new plant is expected to commence production in late 2020 and is expected to employ more than 400 people when working at full capacity.
Amsterdam (Holland), October 2019.- Neolith® inaugurated its new urban boutique in, Amsterdam (Holland), in collaboration with its distributor Michel Oprey & Beisterveld (MOB). Neolith® Urban Boutique (NUB) is the all-new concept store developed by Neolith® which focuses on the customer experience as a way to re-invent the traditional showroom and turn it into an imaginative exhibit space. As Mar Esteve, Neolith® Marketing Director says: "Our urban boutiques are more than just showrooms: we've carefully chosen their locations in dynamic and international urban areas, inviting people with all types of baggage to explore and enjoy them". NUB Amsterdam joins the NUB series recently inaugurated in other major European capital cities like Madrid, London, Milan and Düsseldorf.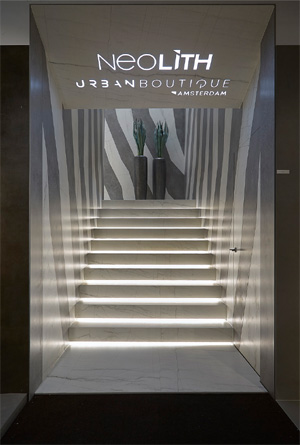 October, 2019. USA.- The US government has decided to impose a temporary CVD (counter-veiling duties) on imports of quartz from India of 4.32%. The definite duties will be known sometime in January 2020. This measure follows the much higher around 300% custom duties on quartz from China implemented earlier this year.
October, 2019. Australia.-  The state of Victoria in Australia, in its efforts to protect  exposure to workers of crystalline silica, found in engineered stone, and which leads to the  disease silicosis, has banned dry cutting of engineered stone unless the tools used have water suppression or dust extraction devices incorporated and there is also respiratory protection.
Narón, La Coruña (Spain).- The Guidoni group inaugurated the new second line of Breton in a ceremony in its installations in Naron, Spain last 19 September. With this new investment the company doubles production of Topzstone to reach one million sqm per year. Present in the ceremony were the CEO of the group Rafael Guidoni, the Vice President Rayner Guidoni along with the founder of the group, Jose Antonio Guidoni. There was also the presence of several authorities from the Galician government, apart from customers, employees and professionals in the construction industry.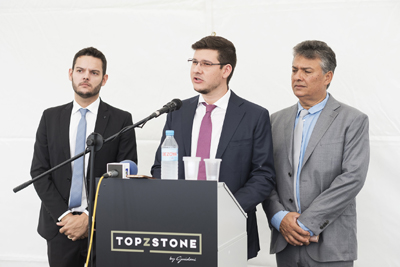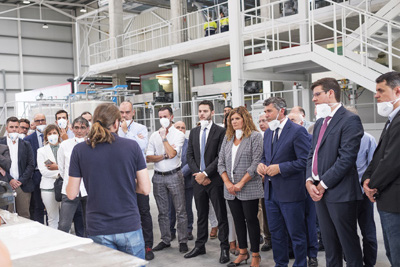 India, July,2019.- The quartz industry in India is now beginning to acquire a certain dimension in terms of new factories coming into operation. To protect the interests of the industry, the companies  have recently got together and formed a Federation of Indian quartz surface industry. The President of the Federation is Mr Krishna Rao.
USA, 24 June, 2019.- The tariff wars in quartz continue and are playing havoc with investment decisions everywhere and uncertainty among American buyers. The US Department of Commerce will continue with its antidumping and countervailing duty investigations concerning imports of quartz from India and Turkey, and around 1 August preliminary counterveiling duties will be decided upon ( from 45% to 180%) and antidumping duty determination is expected around October 15, 2019. These antidumping duties could be from 140% to 190%. In other words, in practical terms, the approximately 20 new quartz factories coming up in India may not even get to start production.
Spain, 15 June, 2019.- The company Investindustrial of which Andrea Bonomi is the President of the Board, has taken over majority control of the  Spanish company TheSize, whose factory in Almassora (Castellón) manufacturers the big format porcelain,under the well known brand Neolith. The founders, the Esteve brothers, continue to have a significant market share in the company and will continue to be involved in the management of company. There is no change in the Presidency of the company and the management. The company plans to invest around 100 million euros to keep developing the brand, increase production capacity and its international presence.
USA, 11 June 2019.- In a judgement  the United States International Trade Commission (USITC) determined today that the imports of quartz surfaces from China would NOT be to retroactive anti-dumping and counterveiling duties. The judgement has come as a huge relief to the American distributors. USITC also determined that quartz from China is subsidized and sold at less than fair value, which means the US government will impose anti-dumping and counterveiling duties on quartz imports from China. In practical terms this means that the approximately $500 million quartz exports business from China to US is finished for now.
USA, 9 May, 2019.-  Even though the American economy is booming and construction activity in the country may well be at the highest level ever, all of a sudden there is tremendous nervousness, uneasiness and uncertainty among those working in the US stone industry. A very large part of the industry works with imported materials, be it natural stone or quartz. Apart from the possible consequences of countervailing duties related to quartz imports from China (see earlier news item), now it seems that perhaps even more shocks lie ahead. The American quartz company, Cambria, has filed a petition to the US government asking for antidumping and countervailing duties  to be imposed on quartz surfaces from Turkey and India. Moreover, there are now reports of public hearings taking place soon on whether high duties should be imposed on quartz surfaces and granite from the European Union. Strangely,marble and otjer limestone is not included. (Granite exports from EU to USA amount to almost 150 million euros and quartz exports are around 200 million euros).A massive disruption in supplies could take place soon in the industry if these measures take effect. Not only could all kinds of projects in USA, big or small, currently being executed, be severely affected in terms of meeting deadlines and being within projected budgets due to disruption in supplies and possible bankruptcies declared by American companies, the risk for foreign suppliers, be they of any kind of stone, of not getting paid, is now very high.
USA,May,2019.- The high tariffs on quartz imports in USA from China may well end up, in an indirect way, having devastating negative secondary consequences for the natural stone suppliers. The US government is now imposing duties on the American quartz importers, with retroactive effect, on imports 90 days prior to the imposition of tariffs from 1 December, 2018, and these are arounf  300 to 500%, depending on the company, citing the clause of "critical circumstance". Coalitions of Amercian importers have gone to court on this matter. Hearings are scheduled soon and a verdict is expected in June. If these duties become definite, in practical terms there is a very high probability of several American companies declaring bankruptcy and this would mean, among several other consequences, that their foreign natural stone suppliers will not get paid. A frightening prospect indeed, since a  very large part of exports to US are made without guarantees,
April, 2019.- The Cosentino Group reached a turnover of Euros 984.5 million with EBITDA (earnings before interest taxes depreciation and amortization) of Euros143 million in the financial year 2018.
April, 2019.- Mr Paras Kumar Jain has been appointed the CEO of Pokarna Engineering Stone Ltd, the whole owned subsidiary of Pokarna Limited as of 1 April, 2019.
March, 2019.- LAPITEC has been awarded the first prize in design iF DESIGN AWARD 2019 with the colour Nero Assoluto, which was given in the section'Product' within the category 'Innovative Product'. The award for design iF DESIGN AWARD 2019 recognises the value of full mass sintered stone. iF International Forum Design Gmbh, the oldest independent organization dedicated to design, organizes every year the iF DESIGN AWARD.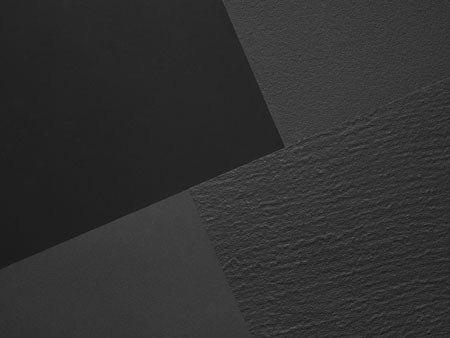 February, 2019.- The tariffs by the US government on quartz from China is creating a tremendous amount of uncertainty in the market. American importers had started stocking quartz from China in huge quantities last year in anticipation of the tariffs, but had hoped the trade wars would end in early 2019. As of mid-February it seems possible the tariffs may continue for longer period of time, and now the American buyers are wondering what to stock up on. In the mean time, Chinese quartz manufacturers are flooding the markets of the rest of the world with low price offers. Many businessmen in other countries who, spotting an opportunity, started planning on setting up new quartz factories, but many are now having second thoughts, unwilling to take risk in such an uncertain environment.
Valencia, Spain, February, 2019.- The main novelty in the annual Cevisama fair, held in Valencia( Spain) from 28 January to 1 February this year, was the greater presence of big format porcelain slabs manufactured by different companies with a special emphasis on the application in the kitchen.
In terms of visitors, as expected, there were a large number of Spanish interior designers and architects. The exceptionally cold weather in North America was probably a factor for less visitors from that continent, but the presence of visitors from all over Europe kept the exhibitors busy. Notable was the much reduced presence of buyers from the Middle East, a consequence of the currently weak construction activity in the Gulf area. 
January,2019.- The South Korean company, Lotte Advanced Materials, has recently acquired the Turkish engineered stone company, Belenco, which manufactures quartz under the brand name Radianz.
January,2019.- The Cosentino group presented Dekton slabs of big format in 4mm thickness during the Cevisama fair in Valencia end of January.
January, 2019.- The high import tariffs imposed on quartz from China by the US government as part of the "trade wars" currently taking place has meant that new factories are being set up in other countries. In India, for example, an estimated 30 new factories for quartz are under construction, in different parts of the country. Most should be ready by end of 2019. While it is hard to estimate new production capacity at this stage, it will easily exceed 1 million sqm per year. 
December, 2018.- The frenetic pace of technological innovation in the ceramics industry continues (apart from new production coming into the market of big format porcelain slabs on a huge scale). Just during the second half of the year 3 mm thin slabs of porcelain have now become hugely popular among prescribers due to their lightness, ease in handling, etc. apart from maintaining the other characteristics such as strength.
November 23th, 2018.- The Spanish company Compac took part in the Boutique Design  New York where it presented its range of surfaces, specially the latest collections Ice of Genesis and Unique Collection. Boutique Design New York, which this year completes its nineth edition, and is held in Jacob K Convention Centre, brings together every year interior designers, architects, builders and manufacturers and commercial companies in the hospitality sector.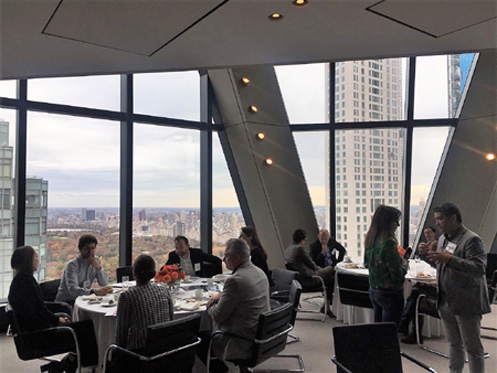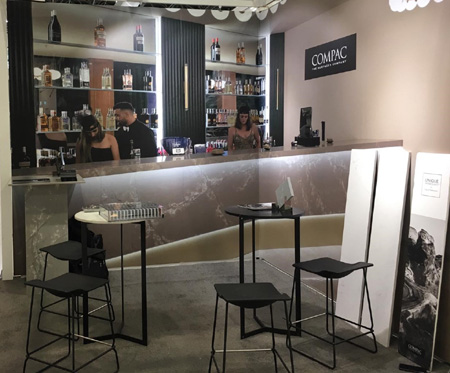 November 5th, 2018- The company Compac has recently presented its new range of quartz collections in its new showroom in the United States in Aventura (Florida) in an event attended mostly by architects and interior designers. The two collections, Ice of Genesis and Unique Collection, are available in big format(330 x 163 cm). The Ice of Genesis, a collection created in collaboration with Arik Levy, is inspired by the glaciers in the Artic Ocean while the Unique Collection comes in different shapes and two finishes.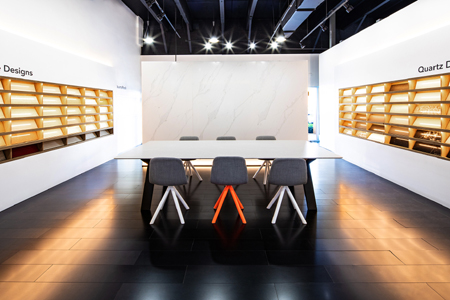 October , 2018.- The Spanish company Neolith inaugurated its new stockyard in Novelda (Alicante) on 25 October with the presence of around 300 people, mostly stone industry people from the neighbouring area.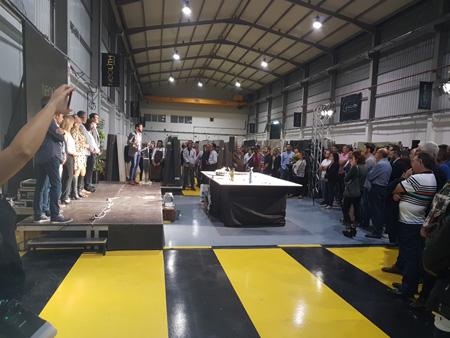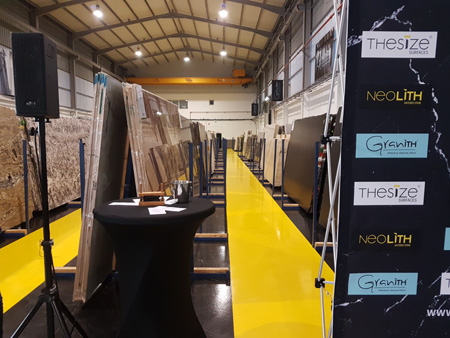 October 2018.- According to the Spanish association of Tile and Ceramic Pavement Manufacturers, ASCER, the tendencies in designs seen during the recent fair CERSAIE, held in Bologne (Italy)  last September, have moved towards geometric forms and a return to colour, harking back to the aesthetic of the 80s in the last century. The combining of different textures has been another trend, along with the highly polished surfaces inspired in marble and ceramics in marble look and black stone.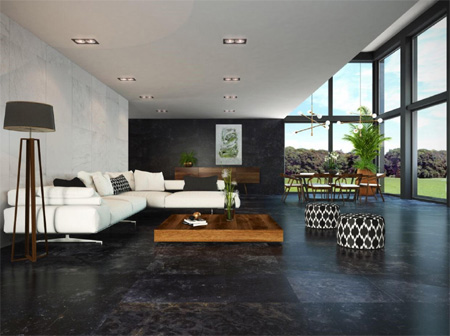 October,  2018.- One consequence of the high tariffs on Chinese quartz imports to USA is that American buyers are now desperately looking for alternative suppliers. Indian quartz manufacturers are,all of a sudden,flooded with orders. At least 10 new factories are expected to come soon. The same American buyer who would pay his granite slab suppliers after several months is now willing to pay a deposit upfront to assure supplies.
August,2018.- All the noise regarding tariffs on imports of Chinese quartz by the US government has had some side effects. For example, many American importers are  now shifting from China to other countries like India for their suppliers of quartz slabs. It remains to be seen to what extent suppliers from other countries can really substitute China, which accounted for almost US$ 500 million of quartz to USA in 2017.
July,2018.- The quartz manufacturer Caesarstone Ltd has appointed a new CEO, Mr Yuval Dogim. 
June,2018.- In recent years the ceramic industry, now undergoing through an unprecedented innovation phase due to technological improvements in different aspects of production and end products, has caught the attention of investment funds, which have invested in major companies in Italy and also in Spain, till now family owned. How the structure of the industry will change in the medium term, with the industry becoming more and more capital intensive, requiring huge investments in production lines, logistics and marketing, is now becoming the favourite topic of social conversations in the industry.
June,2018.-  Most people in the ceramic industry would easily be able to calculate the annual production of a factory. But what is the total production of the vast ceramic industry in the world? Official organisations and associations have calculated it to annual figure of around 13 billion sqm.
June, 2018.-  NEOLITH has recently opened a showroom in one of the most upmarket area of Madrid in Barrio Salamanca in the street Pasaje de Enrique Ruano, as a way of being closer to the end customer. The showroom displays a wide range of NeoLith colours and its applications.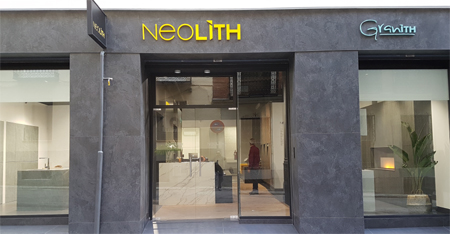 June, 2018.- The data available from US customs for the first 3 months of 2018 reveals that for the first time ever the import of quartz surfaces was higher than that of processed granite. Worked granite accounted for US$ 195 million in the first 3 months (Brazil being the biggest supplier) while that of quartz it was US$ 252 million, with China being the biggest supplier. (Source: StoneUpdate).
June, 2018.-  The COSENTINO GROUP plans to instal the biggest solar energy installation for self consumption in the industrial park of Cantoria (Almería, Spain). The capacity being planned is between 10 to 40 photovoltaic megawatts and is expected to be ready around 2020.