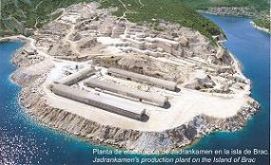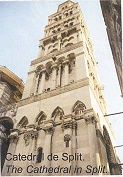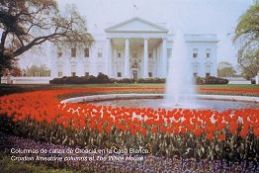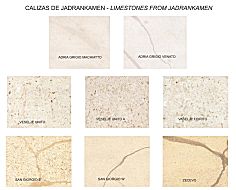 Providing white limestone columns for The White House in Washington, DC, in 1824 is something the Croatian industry is still proud of. The calcareous belt along the Adriatic coast, including the islands, remains the source of most of Croatia's stone.
When Yugoslavia split apart in 1991, no less than 80% of the country's tourist resorts ended up in Croatia. The calcareous belt along the 1.000 km of Adriatic coast, including the islands, is where nearly all of Croatia's stone comes from. According to the Croatian Chamber of Economy's office in Split, total quarry production of decorative stone in the year 2000 was 348.967 tons, of which 91.368 tons was processed in the country. A 1995 report put output at 50.000 m3 (130.000 tons) - the dramatic increase in recent times is due in no small measure to the region's greatly improved political and economic stability.
The years since independence have presented the government with some formidable challenges. Switching from a state controlled to a market economy, rebuilding its infrastructure after a devastating war, rehousing returning refugees and finding new markets to replace those lost in the southern regions of former Yugoslavia are just a few. By maintaining a tight fiscal policy. it is expected that Croatia should emerge from the economic doldrums by around 2005. Services account for the larger part of GDP, with industry and mining accounting for less than 20% and agriculture around 10%.
Industry is particularly concentrated in the capital, Zagreb. The coastal regions of Istria and Dalmatia are supported by tourism. Provided the region remains peaceful, tourism should eventually return to prewar levels when it provided 33% of national income. Dubrovnik's fortunes for example now largely depend on tourist income. In 1931 the famous writer George Bernard Shaw remarked "If you are looking for heaven on earth, go to Dubrovnik". Sixty years later, heaven became hell - for a while. Today there are few visible reminders of the shelling of Dubrovnik by the federal army in late 1991 and early 1992. Stari Grad, the perfectly preserved old town, is unique because of its marble (hard limestone) paved squares, steep cobbled streets, tall houses, convents, churches, palaces, fountains and museums, all cut from the same light-coloured limestone.
Roman legacy
Traces of old Roman quarries can be found along the coast, together with ruins of public buildings, basilicas and temples. Many of the towns have their own amphitheatre. the most important of which is in Pula. It was built in the 1st century AD using stone from a quarry near the village of Vinkuran, the oldest quarry in Croatia. The Diocletian Palace complex in Split has been described as a "symphony in stone" - it was built in the 4th century BC using limestone from the island of Brac. In the north, the basilica Eufrasiana in Istria was built of marble and other stone imported from Greece and Bosnia, showing that an international stone trade was already operating in the 5th / 6th centuries BC.
In the Istrian region, probably the best known material is Orsera (now called Kirmenjak ), a very hard and dense limestone with an ivory colour. An area of the quarry is still worked today for restoration projects in Venice -the stone has proved to be uniquely qualified for use in buildings making continuous contact with water.
Also in Istria, a company called Kanfanar operates 2 subterranean and 4 open quarries for the extraction of Istria Giallo hard limestone blocks. Production is around 130 m3 a month.
In the continental part of Croatia, Litotamnia limestone from the hills around Zagreb was used to build the 13th century cathedral. Stone has remained in fashion for important buildings throughout the Renaissance and Baroque periods, right up to the present day.
Many new hotels are being built on the coast, and stone is usual1y a key part of their design. The strong influence of Italian architecture is noticeable, with Italian marbles and granites frequently employed.
Extraction and processing
At one time, Croatia had about 10 companies extracting from around 50 quarries. Detailed information is hard to come by today, but since independence many new small companies have been established in the sector, generally for processing alone.
With the exception of a coarse grain light green and red granite found in the Papuk Mountain region of Slavonia, no igneous rocks are quarried for block stone in Croatia. The import of raw granite blocks, slabs and tiles has there- fore grown in recent years.
The most significant stone extraction and processing companies in Croatia today, which have their own quarries and together provide over 85% of the country's exports, are:
Jadrankamen based on the island of Brac in Dalmatia
Kamen which operates in Pazin in central Istria and
Agan Kamen based in Split.
Jadrankamen (fax + 385 21 587 427 ) is the successor of a stone - cutting cooperative founded in Pucisca in 1902. In 1947 it was nationalized by the communists. Privatisation has been an ongoing process since 1991. Currently the company owns eight quarries. The continuity of extraction in the area of Split and the Island of Brac since Roman times up to today is sure testimony to the local limestone's constant and enduring qualities. Reserves are said to be practically inexhaustible.
Fantini, Pellegrini, Benetti and Korfmann machines are installed in the quarries. The processing factory is equipped with modern primary and secondary sawing machines and polishing lines.
In the year 2000 Jadrankamen exported some 4.000 m3 (10.400 tons) of blocks and 22.000 m2 of slabs, earning over $US 3 million. Export destinations include Italy, Germany, Austria, Belgium, the Netherlands, Slovenia, Bosnia -Herzegovina, Czech Republic, UK, South Korea and Australia. Exports were expected to increase in 2001. Readers may be surprised to learn that the columns at the front of The White House in Washington, DC are fashioned from Brac limestone. Built during the last decade of the 18th century, the President's House was burnt down during the War of 1812. Rebuilding commenced in 1815 and the columns were added in 1824. It is not known whether they were carved in Croatia or in the USA.
Currently Jadrankamen can offer virtually any kind of product from slabs to complex architectural parts, from a wide range of local and imported stones. Limestones exclusive to the company include Veselje, Adria Grigio, San Giorgio, Rasotica, Dracevica and Zecevo. The list of reference buildings for which Jadrankamen (or its predecessor) have supplied stone is quite impressive and includes the Parliament and New Palace in Vienna, Austria, the Parliament buildings in Budapest, Hungary, the Spare Palace in Trieste, Italy, sculptures in Battery Park, New York, USA, and the Monument to the Fallen Canadians in Vimy, France.
Mr Karmelo Krebel of Kamen, Pazin (fax + 385 52 624 441) has chosen not to reply to the author's enquiries, but contempories confirm that this is indeed a major Croatian stone producer.
The Company Agan Kamen of Split employ over 220 people in the quarries and in two processing factories in Trogir and Kastel Sucurac, situated close to maritime and road transport links. Limestones named Zeleni Jadran, Red Alkasin, Light Alkasin, Rozalit, Vrsine, Seget and Plano from this company are well known in Croatia and have been purchased overseas. Reference buildings include Split and Zagreb Airports and the Monastery at Sinj. The general manager Mr Ante Vulic can be reached by fax on + 385 21 323 282.
As can be gauged from this brief survey, the future of Croatia's decorative stone industry is looking increasingly bright.