August,2018.- All the noise regarding tariffs on imports of Chinese quartz by the US government has had some side effects. For example, many American importers are  now shifting from China to other countries like India for their suppliers of quartz slabs. It remains to be seen to what extent suppliers from other countries can really substitute China, which accounted for almost US$ 500 million of quartz to USA in 2017.
July,2018.- The quartz manufacturer Caesarstone Ltd has appointed a new CEO, Mr Yuval Dogim. 
June,2018.- In recent years the ceramic industry, now undergoing through an unprecedented innovation phase due to technological improvements in different aspects of production and end products, has caught the attention of investment funds, which have invested in major companies in Italy and also in Spain, till now family owned. How the structure of the industry will change in the medium term, with the industry becoming more and more capital intensive, requiring huge investments in production lines, logistics and marketing, is now becoming the favourite topic of social conversations in the industry.
June,2018.-  Most people in the ceramic industry would easily be able to calculate the annual production of a factory. But what is the total production of the vast ceramic industry in the world? Official organisations and associations have calculated it to annual figure of around 13 billion sqm.
June, 2018.-  NEOLITH has recently opened a showroom in one of the most upmarket area of Madrid in Barrio Salamanca in the street Pasaje de Enrique Ruano, as a way of being closer to the end customer. The showroom displays a wide range of NeoLith colours and its applications.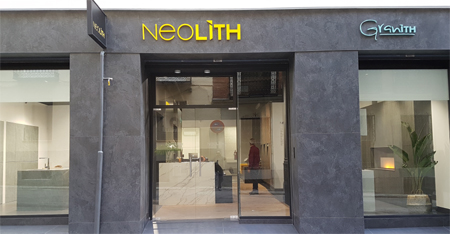 June, 2018.- The data available from US customs for the first 3 months of 2018 reveals that for the first time ever the import of quartz surfaces was higher than that of processed granite. Worked granite accounted for US$ 195 million in the first 3 months (Brazil being the biggest supplier) while that of quartz it was US$ 252 million, with China being the biggest supplier. (Source: StoneUpdate).
June, 2018.-  The COSENTINO GROUP plans to instal the biggest solar energy installation for self consumption in the industrial park of Cantoria (Almería, Spain). The capacity being planned is between 10 to 40 photovoltaic megawatts and is expected to be ready around 2020.