Sponsored
The 12th Cosentino Design Challenge reveals its winners
Cantoria (Almeria ), 22 June 2018.-  Cosentino Group, the global Spanish firm and leader in the production and distribution of innovative surfaces for architecture and design, has announced that the winners of the international 12th Annual Cosentino Design Challenge are: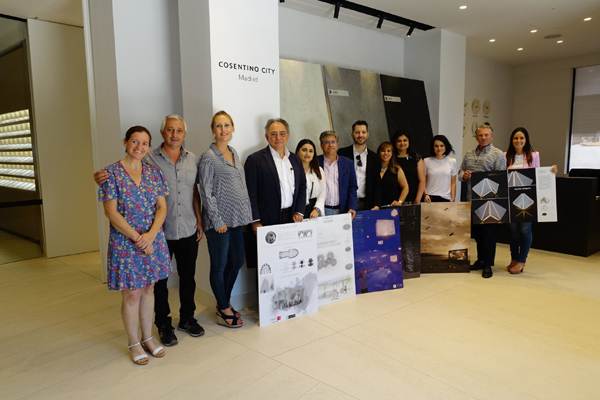 Architecture Category – Theme: "Cosentino and the Performing Arts"
Three winning projects, awarded €1,000 each
GEODA OF MARBLE of Laura García Navas (ESADA)
Stalactige of Miguel J. Martínez Peirotén (ETSAM)
DUTTILE of Estela Benito Molina (Universidad de Zaragoza)
Four runners-up, awarded a certificate
At the edge of Gema Barranco Martín (ESADA)
JUST AN ILLUSION of Charles Tutin and Gaspard Pellerin (École Camondo)
Block of Patricia Bintaned Trigo and Eduardo Fustero Jarque (Universidad de Zaragoza)
Darkness Lights of Silvia Franco Tarriño (ESADA)
Design Category – Theme: "Cosentino and light":
Three winning projects, awarded €1,000 each
Marble Origami of Sophie Perrier (ESAM Design)
Ascension of the Stones of Ulises Moya Rodríguez (ESADA)
Bajo la sombra de un árbol of David Hervás Rey (ETSAM)
Three runners-up, awarded a certificate
LascasLamp of Arturo Garrido Velilla (ETSAM)
Wink Light of Julie Lefranc (ESAM Design)
SUNSET of Cristina Moreno García (Escuela Politécnica Superior de Sevilla)
The 12th Annual Cosentino Design Challenge received a total of 333 entries (141 for the architecture category and 192 for the design category), a 47% increase on the previous year. Submissions may come from up to four continents: Europe, America, Asia and Oceania.
Adelina Salinas, Cosentino Design Challenge coordinator: "The quality of the submissions, especially in terms of design and presentation, has increased a great deal compared to previous years. The competition is strengthening its position and becoming more accepted across universities and educational institutions."
The jury deliberations for the Cosentino Design Challenge 12th edition took place at the Cosentino City Madrid, a showroom that since its opening one year ago, has become a world leader, especially for architecture and design professionals. There, the members of the jury - five teachers from the competition's partner schools, a guest architect and a representative of the Cosentino company - met:
            Chair: Santiago Alfonso, Cosentino Vice-President of Communications and Marketing.
            Board Members:
            Endriana Audisho, professor at the University of Technology Sydney, UTS (Australia)
            Olivier Vedrine of the École Supérieure des Arts Modernes, ESAM (France)
            Taciana Laredo from the Escuela de Arte de Teruel (Spain)
            Teresa Franqueira from the University of Aveiro (Portugal)
            José Antonio González from the Escuela Superior de Arte y Diseño de Andalucía, ESADA (Spain)
            Guest architect: Carlos Rubio Carvajal.
The Cosentino Design Challenge is a competition promoted by the global company Cosentino to encourage the talent of architecture and design students from all over the world.
Cosentino takes inspiration from cement and natural stone to expand its Dekton® and Silestone® colour ranges
Cantoria (Almería), 21 June 2018 - Cosentino Group is launching new colours for the leading innovative surfaces Dekton® and Silestone®. This major commercial launch, which Cosentino is carrying out at a global level, is primarily defined by two clear aesthetic trends: one based on the appearance and chromatic diversity of cement, and the other aimed at paying homage to different notable natural models.
- Cement Trend. Cosentino has managed to reinterpret the different grey and industrial tones that make up building materials such as cement and concrete, and whose presence in avant-garde and contemporary design grows every day.  This trend includes the new Laos, Soke, Kreta and Lunar colours from the Dekton® Industrial Collection, and the Brooklyn and Silver Lake colours from the Silestone® Loft Series.
- Natural Trend. Cosentino continues to bet on the beauty of the natural, the beauty of the eternal, the beauty given to us by the most well-known and requested marbles asked for by lovers of natural stone. Within this trend, we find the new Vera and Kira colours from Dekton®, as well as the new colours from the Silestone® Eternal Collection.
These colours made their début at Milan Design Week 2018, where they received very positive reviews from professionals and end customers. This entire new line of colours for Dekton® and Silestone®, which answers the aesthetic and decorative trends appearing today in interior and exterior architecture and design, will be available for purchase in Europe starting today.
Dekton® by Cosentino
- New Dekton® Industrial colours. Cosentino is developing four matte colour offerings to expand the successful Industrial collection of the ultracompact surface Dekton®. Laos, Soke, Kreta and Lunar are the names given to the new Dekton® Industrial colours; with a calm, detailed aesthetic, they reinterpret different cement finishes.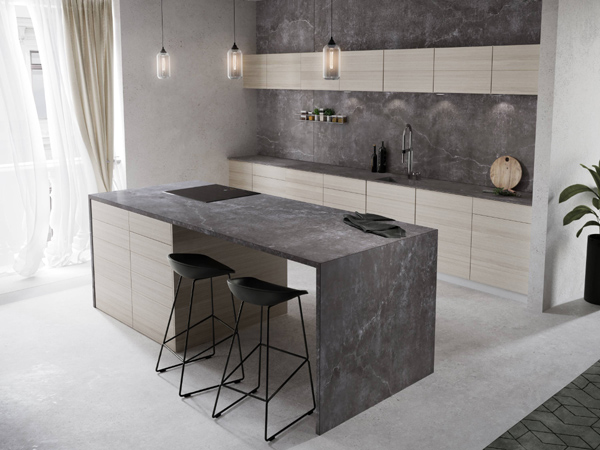 Learn more about them here.
- Vera and Kira. With nature and its pure aesthetic as the real protagonist, Cosentino is launching these two new colours to form part of the Dekton® Natural Collection. Vera and Kira are inspired by the elegant, versatile appearance of the popular Gris Pulpis marble, and the difference between the two lies in their base tone.
Silestone® by Cosentino
- Silestone® Loft Series. Cosentino is presenting a new, sophisticated collection of two colours that offers a fresh and contemporary take on the industrial and architectural look of concrete and cement. The Silestone® Loft Series is made up of Brooklyn and Silver Lake, two classic colours where history and the avant-garde meet.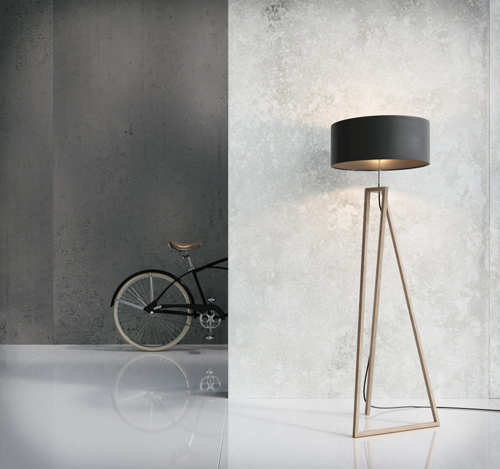 Learn more details about them here.
- Silestone® Eternal expansion. Cosentino is expanding the successful Silestone® Eternal collection, which pays faithful tribute to history's most popular marbles. The new colours bring an authentic natural, marbled aesthetic, which they fuse with the technology, innovation, quality and functionality of Silestone®.
Dekton® delivers the "Sustainable Restaurant Award 2018" to Azurmendi
Cantoria (Almería), 20 June 2018.- Dekton®, the innovative ultracompact surface by Cosentino for the world of architecture and design, shone yesterday at the marvellous event announcing the names that will appear on the list of The World's 50 Best Restaurants 2018. Besides being sponsor of the event and the official worktop partner of one of the most notable events in the world for the haute cuisine sector, Dekton® sponsored the 'Sustainable Restaurant Award 2018'. Santiago Alfonso, Cosentino Group Vice-President of Communications and Marketing, was in charge of handing over the award to Eneko Atxa, chef of the Azurmendi restaurante, located in Larrabetzu (Biscay, Spain).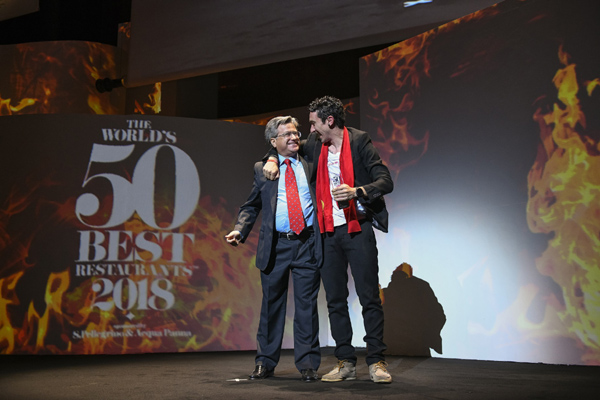 The role played by Dekton® at the World's 50 Best Restaurants 2018 gala once again demonstrated the strong links that bind the Spanish company Cosentino and the world of gastronomy and dining, as its advanced surfaces are present in millions of home kitchens across all five continents, as well as in the kitchens of the world's most prestigious hotels and restaurants. In the words of Santiago Alfonso, Director of Communications and Marketing for the Cosentino Group: 'we're proud that many of the restaurants named here tonight, which are considered the best in the world, feature our Dekton® and Silestone® products in their interiors. Mugaritz, Disfrutar or DiverXO in Spain, Restaurant André in Singapore, De Librije in the Netherlands or The French Laundry in the USA are just a few examples. An award for them is also an award for us.'
Cosentino wanted to attend this event for the eighth consecutive year because this is the first time it is being held in Spain; previous locations have included the USA, Australia and the UK. Bilbao was chosen as the host city, and all eyes were on the Palacio Euskalduna for the main event. Inside this spectacular space, Dekton® by Cosentino had its own booth, where a Dekton® worktop in the colour Orix dazzled onlookers with its beauty and personality. The space occupied by the Spanish company Cinco Jotas also selected a Dekton® worktop in the colour Domoos to offer a tasting of the best Iberian ham. This exquisite delicacy was presented on a striking, elegant display stand made of the quartz surface Silestone® by Cosentino.
Two Marble-Inspired New Colours, Opera and Natura
The global leader in the production and distribution of surfaces for the world of architecture and design, the Cosentino Group, presents two striking new colours for its ultra-compact surface brand, Dekton®.
Launching in September 2017, the new additions join Dekton®'s existing Natural and XGloss Natural collections, offering a range of unique designs boasting the excellent technical properties expected of the revolutionary ultra-compact surface brand. Created from a sophisticated blend of inorganic materials using an innovative ultra-compaction process, Dekton® has a high resistance to UV rays, scratches, stains and thermal shock. These benefits ensure its surfaces are durable and very easy to maintain, offering a wealth of possibilities for both internal and external projects, including flooring, façades, wall cladding and worktops.
DEKTON® – NATURAL COLLECTION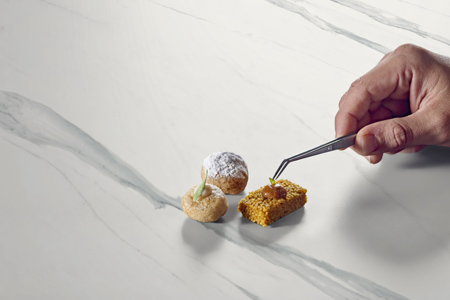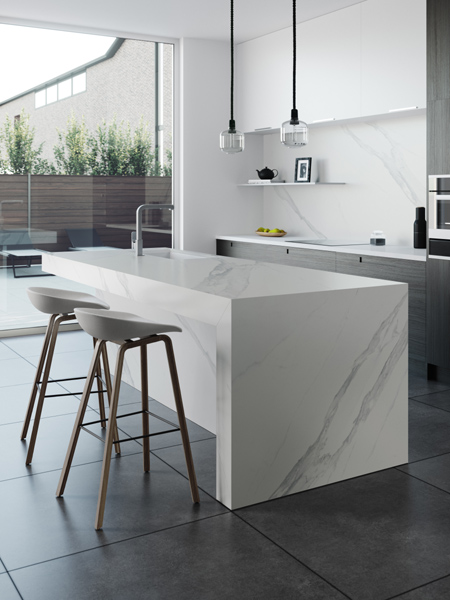 OPERA: Inspired by the current desire for marble interiors, Opera takes inspiration from elegant Italian Carrara marble and boasts the extraordinary new soft touch finish from Dekton®, Velvet Texture. Simple, light grey veining adds depth and interest to the creamy white surface for a classic understated finish.
DEKTON® XGLOSS – NATURAL COLLECTION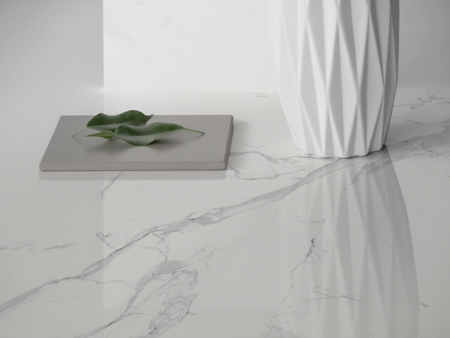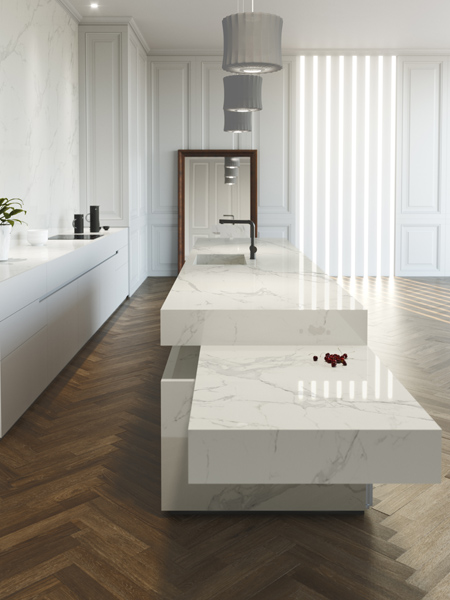 NATURA: Replicating the quintessential style of marble with soft grey veining accentuating the classic white surface, Natura also offers a lustrous polished finish. With all the benefits of Dekton®'s technical characteristics, the striking colour's reflective nature is due to the nano-technological treatment and mechanical polishing process it undergoes, resulting in a crystal-like shine.
Combined with the strength and stain resistance of Dekton®, the resulting product provides exceptional performance paired with unique characteristics. This includes water repellent properties, ensuring an impressive resistance to stains. The 'Nanocoating Process' and mechanical polishing also enhances Dekton®'s colour.
Daniel Germani and Dekton® by Cosentino present the groundbreaking new 'Industrial' collection
Cantoria, September 2017.- Dekton®, the innovative, ultracompact surface created by Cosentino for the world of architecture and design, is delighted to introduce four groundbreaking, urban and ecological colours. The range was a collaboration with architect and designer, Daniel Germani that will furnish architectural or decorative projects with strength and personality.
Dekton® Industrial collection is comprised of three new shades, Nilium, Radium and Orix as well as the award-winning Dekton® Trilium (launched commercially in 2016). Nilium, Radium and Trilium are based on the look of aged, rusted metals with irregular, organic patterns, giving a hybrid appearance taken from weather-worn and exotic natural stone. Orix represents the degradation of cement and the biological transformation of stone.
Daniel Germani, designer of the colour collection says: "The Dekton® Industrial colour collection was created so as to contemplate the beauty of metals and cement at every stage of their life; it pays homage to the beautiful imperfections of the oxidation and degradation processes undergone by certain materials. The incomparable technology of Dekton® gave us the tools necessary to explore and design, and the result is a collection of colours that highlight the richness and depth of natural, organic processes."
As part of its commitment to sustainability, Cosentino allocated part of its R+D to the creation of products that are increasingly respectful to the environment. Dekton® is a reflection of this sustainable policy as Cosentino carries out a series of measures to achieve true responsible production of the material. Systems maintaining clean air in the factories, methods supporting energy efficiency, sustainable systems assisting the management and use of water, and the valuation of waste to achieve the "zero emissions" objective all form part of the catalogue of sustainable actions carried out throughout the production of Dekton®, and the other products manufactured by Cosentino.
Specifically, with regard to the valuation of waste and promoting a circular economic model, Cosentino incorporates excess materials from its own production processes into the creation of the diverse range of Dekton® shades. Trilium and Radium, two of the colours in the Dekton® Industrial colour collection, are a clear example of this as they are manufactured using up to 80% recycled materials.
Dekton® Industrial, the most relaxed yet groundbreaking colour collection of Dekton®.
Industrial was created to be the most relaxed yet groundbreaking collection of Dekton® due to its urban character, a style that was predominant in the 80s, with the metropolitan movement towards loft studios displaying these designs. This dominant trend in construction, identifying fully with the constant growth and renovation of cities, re-awakens today to establish itself as a lasting style in the modern world of decoration and design. Under the premises of this trend, concrete and metal beams and bricks step into the limelight, becoming true protagonists.
Dekton® Industrial presents a surface with a rough, strong, daring and expressive appearance, in which order and disorder complement each other perfectly. With Dekton® Industrial, metallic, oxidised and cement tones from the past are brought back to life and improved thanks to Cosentino's innovation.
Dekton® Industrial achieves a matte-gloss finish never before seen in these types of materials. The appearance of the new colours varies depending on the angle of the light on the surface, creating a rich a design with varied sublte effects.
Dekton®'s Industrial collection is the ideal material for use in large commercial and architectural projects thanks to its impressive appearance, and outstanding technical properties, which include UV, scratch, stain and heat resistance, along with production in large format slabs (up to 144cm x 320cm) and different thicknesses (20mm, 12mm and 8mm). These large format slabs allow for the creation of seamless surfaces and spaces without limits and joins, both in indoor and outdoor spaces. Dekton® Industrial is also the ideal choice for domestic use for flooring, staircases, bathrooms, cladding and worksurfaces.
Dekton® Industrial is composed of the following shades: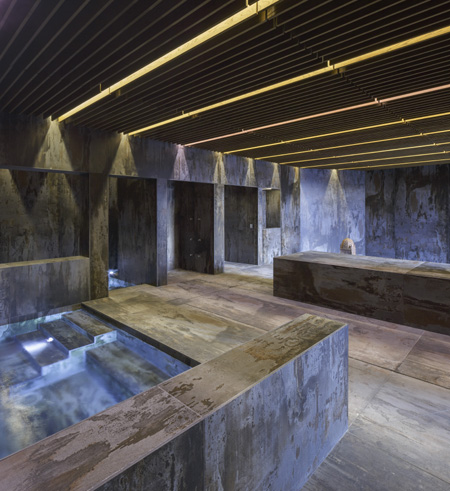 Trilium: Dekton® Trilium offers a mixture of colours inspired by volcanic rock, with intense accents of black and grey. Made using up to 80% recycled materials, Trilium was created in 2016, becoming the first ecological Dekton® colour. During its first year of existence, Dekton® Trilium received a great deal of recognition from industry magazines and publications, including the Fuera de Serie de Expansión (Spain) Design and Innovation Prize 2016; the Interior Design (USA) Best of the Year Prize 2016, and the Architectural Record (USA) Product of the Year Prize 2016.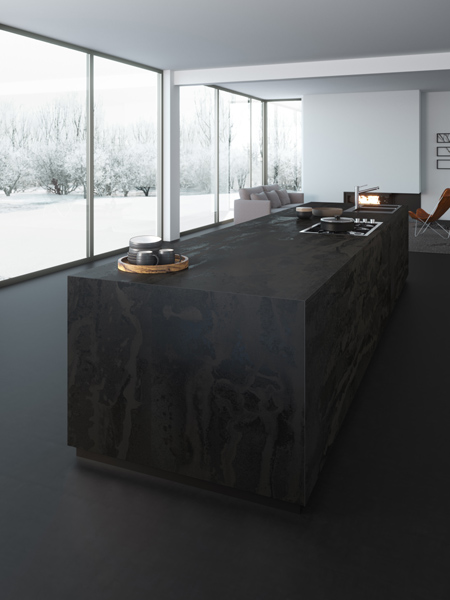 Radium: Dekton® Radium represents a sheet of rusted, acid-washed steel, creating a look that perfectly combines the warm expression of orangey brown tones with the coldness of blue and green hues. Made using sustainable production methods, Dekton® Radium is manufactured using 80% recycled material.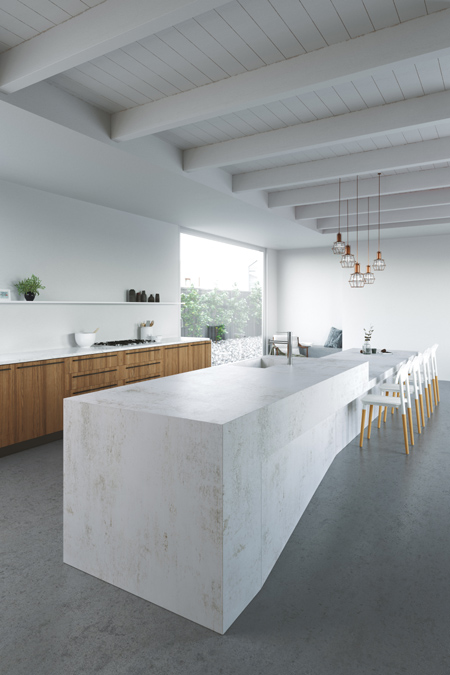 Nilium: Dekton® Nilium forms the minimalist element of the Industrial colour collection. Inspired by metal, Dekton® Nilium offers a subtle blend of silver and white colours. The delicate appearance of warm colours represents the beginning of the oxidation process.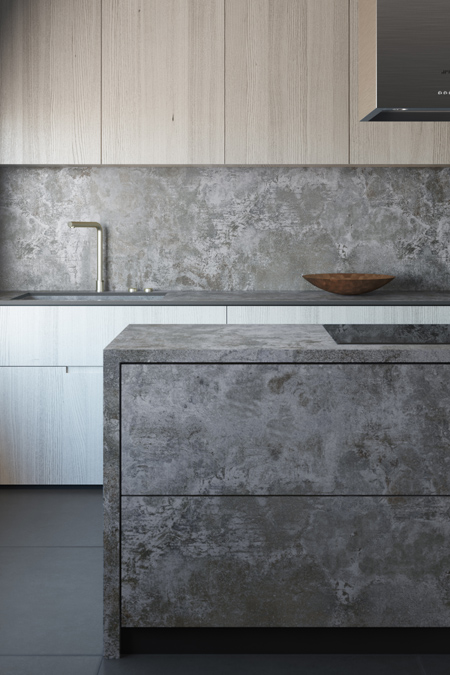 Orix: Dekton® Orix takes inspiration from eroded cement; an industrial appearance characterised as being steely, cold and broken. Representing a dichotomy between the old and the new, the colour combination is based on different tones of grey, blue and green.
Daniel Germani
Daniel Germani is the creative director and founder of Daniel Germani Designs. Born and raised in Buenos Aires, Argentina. After completing his studies as an architect, Daniel spent eight years living in Europe, working on a wide range of creative and corporate projects. He lives in Phoenix, Arizona, where his work is focused on bespoke furniture design and architectural renovation. Daniels aesthetic is influenced by Bauhaus, Oscar Neimeyer, Le Corbusier, Mies and Frank Lloyd Wright, and his philosophy is simple: good design should always be honest and inspiring.
Dekton® by Cosentino unveils DeKauri, a bespoke bath credenza designed in collaboration with Daniel Germani and Riva 1920
 
Miami (January 9, 2018) – Cosentino, the global leader in production and architectural surfaces, and Italian furniture manufacturer Riva 1920 together introduce DeKauri, the latest piece designed in collaboration with renowned architect and designer Daniel Germani that will debut at the 2018 Kitchen and Bath Industry Show in Orlando, FL, January 9-11.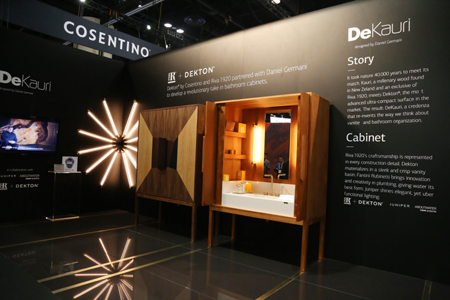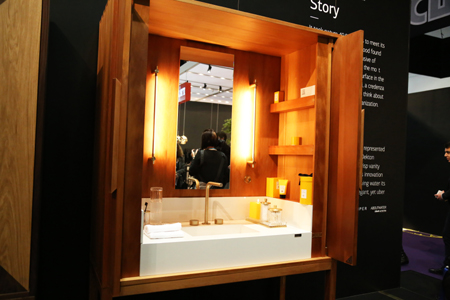 DeKauri, a freestanding enclosed bathroom vanity crafted from 50,000-year-old Kauri wood exclusive to Riva 1920, takes inspiration from the traditional Italian credenza and brings its beauty and functionality into the bathing space. "When it comes to the kitchen there are ingenious, innovative design solutions to hide and store everything," Germani says. "But that's not always the case in the bathroom. I realized bathroom storage has at its core remained the same." That sparked the concept for a freestanding piece of furniture to house and conceal both the sink and storage. "DeKauri transforms incredibly utilitarian parts of the bath into something incredibly beautiful. It helps take away the feeling of being in a bathroom. I could very easily see this in a master suite, a power room, or even in an open-concept bedroom where the sleeping space and bath flow into one another."
Download DeKauri high resolution images here
Download "The Making of DeKauri" video here
Watch "The Making of DeKauri" video here
With a washbasin crafted from Dekton® by Cosentino and Kauri wood used for the credenza, Germani's use of materials pays homage to the resilience of Mother Nature: the technology behind Dekton® captures the beauty of natural stone with unparalleled durability, and the Kauri wood – excavated from New Zealand where it has been buried under mud and water for thousands of years—adds a truly exotic feel to the piece. "DeKauri is a modern day heirloom," Germani says. "Its timeless appeal and impeccable construction will last generations." A faucet from Fantini Rubinetti and lighting from Juniper Design complete the look. As an alternative, DeKauri can also be constructed from inlays of Walnut, Wenge and Cedar.
DeKauri marks the fifth piece that Germani has designed in collaboration with Dekton® by Cosentino, and the second with both Dekton® and Riva 1920. Following its debut at KBIS, DeKauri will exhibit at Salone del Mobile in Milan, Italy. "Cosentino is thrilled to continue its collaboration with Daniel Germani alongside Riva 1920, a brand admired across the globe for its artisanship of classically styled wood furniture," says Massimo Ballucchi, Marketing Director of Cosentino North America. "We continue to be inspired by Daniel's innovative approach to furniture design and the unlimited applications he envisions for Dekton®, and we hope it inspires the industry, as well. He's truly a visionary, and it's an honor to work with him."
Since its launch in 2013, Dekton® has since transformed the world of surfacing by offering superior design and performance and low maintenance. Due to its technical properties, the material offers exceptional strength; high resistance to impact, scratches and stains; very low water absorption; UV resistance; and resistance to thermal shock against extremely high temperatures. These unique characteristics permit Dekton to be used in multiple interior and exterior applications. Similarly to Cosentino, Riva 1920 is rooted in a family heritage, committed to producing pieces that last generations by combining cutting-edge technology with attention to detail to create something unique and timeless.
CASE STUDY:
Chef and Restauranteur Grant van Gameren's Head Office – 'The Overbudget Offices'
Toronto, Ontario - Canada
Project Details:
Project: Head Office of nationally acclaimed Chef and Restaurateur, Grant van Gameren (Bar Isabel, Bar Raval, El Rey, Tennessee Tavern, Harry's Char Broil, Quetzal, Victor Dries and PrettyUgly)
Concept: Working test kitchen/bar, offices and small event venue
Location: Toronto, Ontario
Completed: September 2017
Duration of the building project: One year
Architecture/Design: Studio Junction Architect and Design Studio
Fabricator: Maple Stoneworx
 
Cosentino Materials:
Kitchen island: Dekton® Glacier 2 cm thickness; 43 sq. ft.
Kitchen countertop and backsplash: Silestone® Charcoal Soapstone 2 cm thickness; 70 sq. ft.
Bar top and prep area: Dekton® Glacier 2 cm; 50 sq. ft.
Work station countertops and backsplash: Dekton® Glacier 2 cm; 64 sq. ft.
Staff kitchen countertops and backsplash: Dekton® Glacier 2 cm; 70 sq. ft.
Grant van Gameren Biography
One of Canada's best-known chefs and restaurateurs, Grant Van Gameren is self-taught and first rose to prominence as co-owner and head chef of The Black Hoof. He now owns 6 restaurants and bars in Toronto including the award-winning Bar Isabel and Bar Raval, as well as El Rey, Tennessee Tavern, Harry's Char broil and PrettyUgly. Grant is credited with popularizing the concept of nose-to-tail cooking and eating in Canada, as well as helping make charcuterie a staple on Canadian restaurant menus. His newest restaurant, Quetzal, will open in early 2018 and features authentic, regional Mexican cuisine, cooked over 26 feet of open flame. He recently launched an innovative catering service, Victor Dries with partner Chris Brown.
Project Overview
The Overbudget Offices was a complete rebuild renovation combining modern Japanese and Scandinavian design influences. Chef and Restaurateur, Grant van Gameren worked closely with Studio Junction Architect and Design Studio to design the space to be a creative platform and a central hub for partners and employees under the Overbudget Inc. umbrella. The primary functions of the multi-use space are to conceptualize and test new recipes and drinks and to hold group meetings and launch events. Whether it is a weekly meeting about financials, fine-tuning a dish, or testing a new cocktail concoction, the space was created to elicit discussion and encourage feedback.
Functionality is equally as important as the design of the Overbudget Offices. Ultra-compact Dekton and Silestone quartz surfaces play a significant role in the design and were utilized throughout as countertops, backsplashes and wall cladding, allowing van Gameren and his team to work in a worry-free environment resistant to stains, heat and scratches. Dekton® in Glacier was used as the kitchen island, demonstrating extreme durability when faced with the unforgiving force of a working chef. It was also featured as the bar top and bar prep area countertops and backsplash, where it consistently stands up to stubborn stains. Silestone® in Charcoal Soapstone was installed as the kitchen countertops and backsplash, creating a striking juxtaposition between the kitchen and the rest of the open space.
The Overbudget Inc.
Overbudget Inc. is a parent company of popular Toronto-based restaurants Bar Isabel, Bar Raval, El Rey, PrettyUgly, Harry's Char Broil, and Quetzal. The name 'Overbudget' is derived from a tongue-in-cheek reference to which any restauranteur can relate. From concept into execution, in order to uphold extremely high standards, decisions are often made beyond the budget to deliver the desired end result. The restaurants under the Overbudget Inc. umbrella, and all future concepts each speak to restauranteur Grant van Gameren's desire to open restaurants and bars which are against the grain of formality. The mainstays are the use of elite level products from Ontario and around the World, prepared by the dedicated members of the kitchen and bar teams, and delivered through honest service.*
Q+A with Grant van Gameren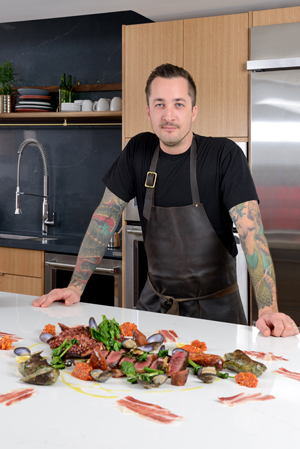 What is the purpose of the Overbudget Offices?
Our main objective is to provide a space where our chefs, bartenders, servers, owners, marketing, public relations and accounting teams can collaborate in a creative and vibrant environment. It's a space where we can meet to further develop our existing projects and be the birthplace of new ideas and businesses.
How does the renovation meet your needs?
It is both functional, beautiful and is adaptable to our day to day needs. It can easily transform from a space of recipe development and marketing meetings to a catered event for an important client. We have selected durable surfaces that can hold up to being utilized daily without sacrificing on design.
What was the inspiration behind the design of the Overbudget Offices?
Our main inspiration was for the space to be bright, airy and clean. A typical restaurant office can be dark and depressing. We wanted a space that was both inviting and productive – a space that makes you happy to come to work each day and perform to your fullest extent. With every restaurant, we design based on creating a feeling for the end user. In this case, the feeling we wanted to create for our office is one of inspiration and productivity. We love natural materials. When working with beautiful stone and wood, you don't have to do much. We wanted the rich warmth from oak and walnut and the clean and bright feeling of Cosentino countertops.
Why did you decide to incorporate Dekton and Silestone into the project?
When contemplating countertops, we needed something both resilient and beautiful. Very rarely do you see both of these qualities in the same product. Dekton has the durability of a man-made product with the beauty of a natural stone. It's heat and scratch resistance is second to none. We chose to do our backsplash with Silestone in charcoal, a beautiful option that looks like natural soapstone but without the upkeep and fragility you encounter with natural soapstone.
How does this new space factor into the future of Grant van Gameren and team?
Running restaurants has become more than just cooking and serving food. The landscape has evolved and we now employ a whole team of members who tackle the creative aspects of marketing and idea building. Our offices are only the beginning for this extension of our business and we look forward to growing into our new space.
Photography: Larry Arnal, Arnal Photography
*Sources: Overbudget Offices Inc. Concept Plan
 
About Dekton® by Cosentino
The Dekton® by Cosentino ultra-compact surface is a new and innovative category of surfaces created with the objective of becoming a global leader in the world of architecture and design both for indoor and outdoor spaces.
Dekton® is a sophisticated mixture of the raw materials that is used to manufacture glass, porcelain materials and quartz surfaces. The Dekton® surface can recreate any type of material with a high level of quality. It is manufactured in large format (up to 320 cm x 144 cm) and thin thicknesses (0.8 cm, 1.2 cm and 2 cm). It as superior technical characteristics: resistance to UV rays, scratches, stains, thermal shock and very low water absorption.
All of these characteristics unique to Dekton® are present thanks to the technology used in its production, which has been developed exclusively by the Cosentino Group's R&D department. Dekton® is manufactured with Technology of Sinterized Particles (TSP), an innovative ultra-compaction process. This contributes greatly to the fact that Dekton® is a completely revolutionary product; it is durable, very easy to maintain, and has potential for both indoor and outdoor uses including flooring, façades, wall cladding and worktops.
The prestigious architect and designer Daniel Libeskind used Dekton in the creation of "Beyond The Wall", his only work in the Iberian Peninsula. Dekton® is sponsor of the "Rafa Nadal Academy by Movistar", where more than 40.000 m2 of the product have been used in different areas such as the façades, flooring and other coverings.
Dekton XGloss has obtained Red Dot Award: Product Design 2016