Sponsored
Cosentino presents the 13th edition of Cosentino Design Challenge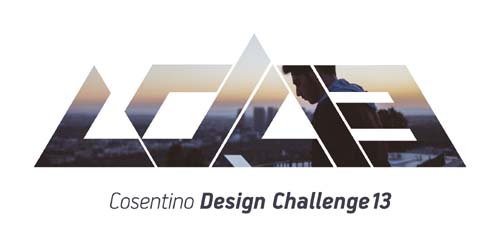 Cantoria, 8 October 2018 – Cosentino, the leading Spanish global company in the production and distribution of innovative surfaces for the world of architecture and design, is once again seeking to promote the talent and creativity of future international architecture and design professionals.
One year on, Cosentino is launching a call for entries for the Cosentino Design Challenge (CDC), which is celebrating its thirteenth edition. The aim of this competition is to encourage students from all over the world to create sustainable and innovative projects that boast outstanding conceptual and technical quality, with a creative and technical emphasis placed on the topics set for each category.
In the Architecture section, Cosentino proposes students to reflect on "Cosentino and water". In the Design category, the subject is based on "Cosentino and energy". These represent two passionate proposals in which the company provides students with unfettered freedom to research and create and where they must incorporate one or more of the innovative products that Cosentino offers to the world of architecture and design: the Silestone® quartz surface, the ultra-compact Dekton® surface and/or the natural stone range with exclusive anti-stain Sensa protection by Cosentino®.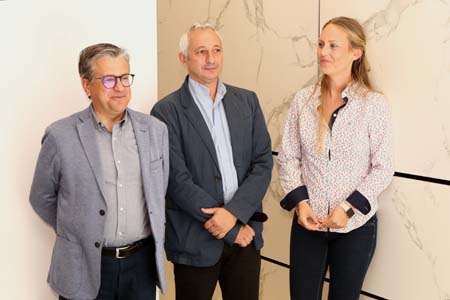 Cosentino City Madrid hosted the competition presentation this morning, stating that it has the support of Cosentino company representatives, architecture and design professionals, specialist press and some teachers/professors from some of the 29 schools and universities of renowned national and international prestige who actively collaborate in the competition.
Spain
Escuela Técnica Superior de Arquitectura de Madrid (ETSAM)
Escuela de Arte número diez, Madrid
Escuela Técnica Superior de Arquitectura de Sevilla (ETSAS)
Escuela de Arte de Almería (EAA)
Escuela de Arte Superior de Diseño de Alicante (EASDA)
Universidad de Zaragoza (UNIZAR)
Escuela Técnica Superior de Arquitectura de Barcelona (ETSAB)
Escuela Técnica Superior de Arquitectura de Universidad de Navarra (ETSAUN)
Escuela de Arte de Pamplona
Escuela Arte3 de Grado Superior de artes plásticas y diseño, Madrid
Escuela de Arte de Zaragoza
Universidad Rey Juan Carlos I, Madrid
Universidad San Pablo CEU, Madrid
Escuela de Arte de Teruel
Escuela Superior de Arte y Diseño de Andalucía, Granada (ESADA)
Escuela Universitaria de Diseño, Innovación y Tecnología, Madrid (ESNE)
Escuela Técnica Superior de Ingeniería del Diseño. Universidad Politécnica de Valencia
ELISAVA Escuela Universitaria de Diseño e Ingeniería de Barcelona
Portugal
Faculdade de Arquitetura, Lisboa
Universidade de Aveiro
Italy
Istituto Europeo di Design Milano (IED)
France
École Supérieure des Arts Modernes (ESAM)
Germany
BAU International Berlin
Sweden
Luleå University of Technology (LTU)
United States
American Society of Interior Designers (ASID)
Mexico
Universidad Marista de Mérida
Australia
University of Technology Sydney (UTS)
Singapore
LASALLE College of the Arts
Israel
Holon Institute of Technology
Since last year, Cosentino has been enjoying collaboration with its first media partner: the magazine Experimenta. Via its online and offline platforms, this publication has become a great ally in disseminating and raising awareness of the CDC initiative.
The students have from now until 1 June 2019 to submit their projects via the website www.cosentinodesignchallenge.org. In June 2019, the jury's will deliver its decision on the winning projects and students. For each category, there will be three prizes of €1,000 for first place and there will also be three runners-up.
Today also saw the opportunity of awarding the prizes to the three winners of the previous edition. The event culminated in a talk by guest Architect Daniel Rincón de la Vega called "La vivienda de lujo en Madrid desde 1.900 [The luxury home in Madrid since 1900]".
Cosentino opens its first Center in Poland and consolidates its presence on the European market
Cantoria (Almería), 14 Sep. 2018.- Cosentino Group, the global Spanish firm and leader in the production and distribution of innovative surfaces for the world of architecture and design, has entered Poland for the first time with the opening of a "Center" to provide direct services to the country, strengthening its presence in Europe. With this entry into a new country, the multinational now has 47 "Centers" or integrated service logistics facilities across 16 countries over the continent. It is also continuing with its active policy of geographical diversification and the control of its own distribution, consolidating itself as one of the most internationally present Spanish companies around today.
The "Center", which represents a total investment of over a million Euros (4.4 million Polish złotys - PLN) including fixed assets and initial stocking, is in Parzniew, a locality in the west of the capital, Warsaw. The facilities, measuring a total of 3,500 metres2, comprise warehouse and office space, warehousing capacity for approximately 10,000 slabs, and is starting out with a team of 11 people who will offer independent and direct service to the Polish market.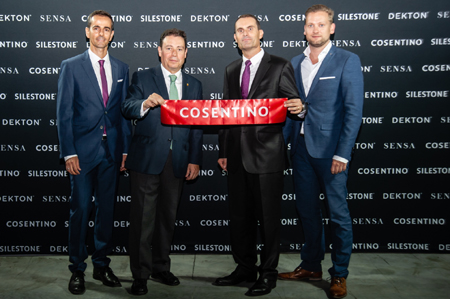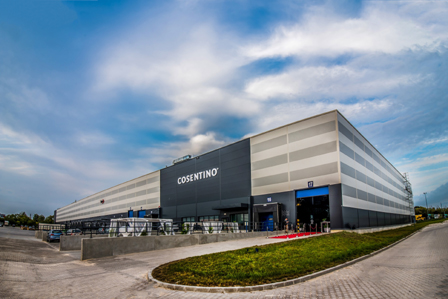 The "Cosentino Center" in Warsaw was officially inaugurated yesterday in a spectacular event that brought together over 200 people, including a large number of the company's customers and partners, official and sector representatives, local designers and architects, and members of the Polish media. There was live music and flamenco show at the event as well as various presentations on Spanish design and the importance of stone in architecture. The event was attended by official representatives of Spanish Embassy, including Ambassador Francisco Javier Sanabria Valderrama, Mr. Mariano Muñoz Counselor for Economic and Commercial Affairs, as well as Mr. Marcin Siemdaj Director of Extenda, Trade Promotion Agency of Andalusia, in Poland – institutions that took Honorary Patronage of this event. The multinational was represented by: Mr. Pedro Parra, Vice President Sales Europe, Mr. Hendrik Willems, Regional Director The Netherlands and Poland, and Mr. Miguel Sierra, General Manager of Cosentino Poland.
According to Pedro Parra, VP Sales Europe, "our objective is to continue growing in Europe as we have done in recent years. Entering the Polish market is another step in our diversification strategy to control service and distribution via a Center, and in this case, one that is strategically located to give us full autonomy and distribution capacity in this country. Poland is a clear, emerging market with a GDP growth of 5% these past years. With high household spending and consumption, differentiating products such as Dekton® offer us a great opportunity when it comes to projects as well as in the kitchen and bathroom sectors, where we are already a benchmark."
Representing over 30% of the Group's total sales, including Iberia, Europe is still Cosentino's second biggest market. A market it entered for the first time in 1999 when it opened its second foreign subsidiary in Holland. A journey of almost 20 years that has been constantly growing both with regards to market share as well as establishing itself in new countries.  In fact, this year, Europe will the location of many of the "Centers" the multinational aims to open, with facilities in the UK, Italy, Central Europe, and Scandinavia.
Cosentino Group opens a new Vancouver Center
Cantoria (Almería), September 7th, 2018 .-  Cosentino Group, the global leader in the production and distribution of innovative surfaces for architecture and design, officially opened yesterday its new Centre, located in Burnaby, British Columbia. Members of the A&D community attended the soft opening, previewing the space and latest colours from the Silestone®, Dekton® and Sensa by Cosentino® brands.
Cosentino has made a total investment of over 1.2 million euro (1.4 million USD) for the new installation, which substitutes the one Cosenitno had open in this city since 2015. The new center highlights Cosentino's international growth and continued commitment in the Canadian market. The modernized 4.000 square foot showroom is located next to the west coast distribution centre and will remain the hub for the growing British Columbia region.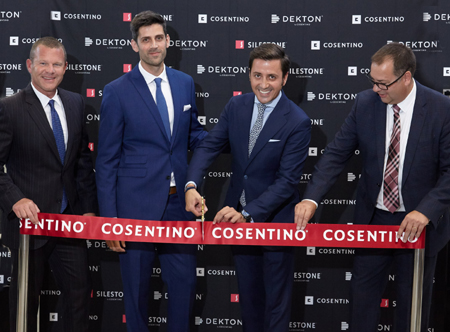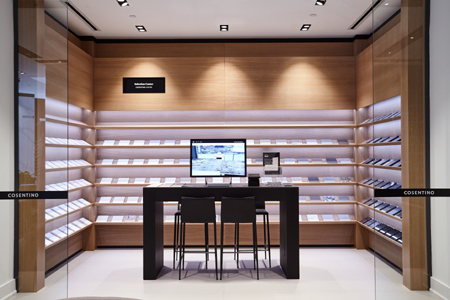 The event celebrated last night, with the traditional ribbon cutting act, was hosted by Eduardo Cosentino, EVP Global Sales for Cosentino Group and Cosentino North America CEO; Brandon Calvo, COO of Cosentino North America; Philip Eeles, Regional Director of Distribution Cosentino Northern Region; and Jesús Carreño, General Manager for British Columbia.
"We look forward to continuing to grow the Cosentino brand in the west coast market. This impoartant región hosts an incredible amount of Canadian design talent and by increasing our presence here with our new Vancouver Centre, we can effectively meet the industry's surfacing needs." Said Eduardo Cosentino, EVP Global Sales for Cosentino Group and CEO of Cosentino North America.
As a Spain-based, family-owned business, Cosentino has long been a globally trusted surfacing brand. The opening of the Vancouver Centre reflects the company's overarching strategy to strengthen its position as the surfacing leader in the North American market.
Cosentino has two City Centre showrooms, one in Old Montreal and one in Toronto, as well as four Cosentino Centres located in Stanstead, Toronto, Calgary and Vancouver.
The new Cosentino Vancouver Centre is located at 8603 Glenlyon Parkway in Burnaby, British Columbia.
Cosentino Group boosts its presence in Mexico with spectacular new logistics and sales facilities
Cantoria, (Almería), 4 September 2018.- Cosentino Group, Spanish global leader in the production and distribution of innovative surfaces for the architecture and design sector, has expanded its presence in the Mexican market this week with the launch of new logistics facilities, which replace the multinational's former Center in the city of Naucalpan de Juárez in Mexico State. These new facilities will incorporate the former Center's functions as a full-service warehouse facility and country-wide distribution hub as well as housing the company's offices in Mexico.
In operation since 2007, when Cosentino first established a presence in this country, the Center in Mexico has closed its doors to make way for dramatically modernised facilities that meet the needs of a growing market. Located between the Toluca Valley and Lerma, in the second largest metropolitan area of Mexico State, the infrastructure covers almost 7,000 m2, divided into warehouse, office and showroom areas, and represents an approximate total investment of 940,000 euro (1.1 million USD).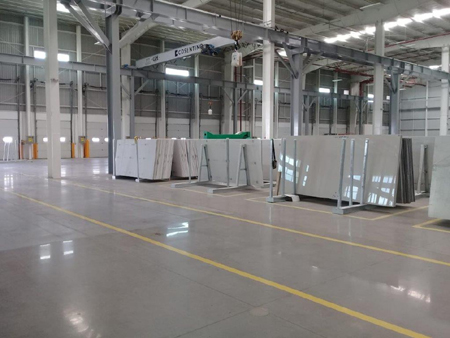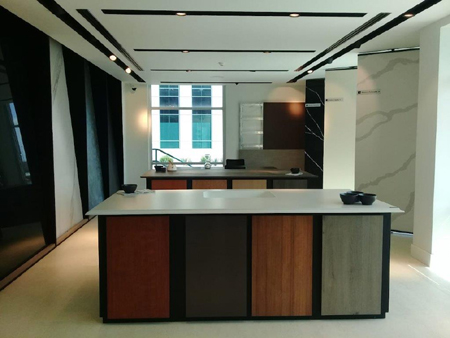 The new Center in Mexico demonstrates a clear commitment and investment in this market by the multinational. As well as a warehouse, the new facilities will also function as a true Hub, or logistics centre, for more efficient distribution across the whole country. They join Cosentino's three other Hubs, in Norfolk and Houston in the United States and in Sydney, Australia. The arrival of the new Center has directly created four new jobs, bringing Cosentino's headcount in Mexico to 25.
For David Benavente, Vice President of Latam Sales for Cosentino Group, "This major investment represents a huge step forward in terms of our presence in Mexico. This is a dynamic country with a thriving tourism industry and, as a result, hospitality and restaurant sector. So, in keeping with our philosophy of continuous adaptation and improvement, we have reorganised our entire structure in order to empower our team and allow us to do business differently. The resulting logistics Hub and distribution centre enable us to provide the best possible service to our distributors across the country."
Thanks to the latest changes, the company has already enjoyed benefits such as extending and improving its inventory of products and solutions for this market, and a single logistics centre for better distribution at a national level. Following the new launch, Cosentino's forecasts for the Mexican market are predicted to increase from 20% growth in sales (annual average in recent years) to 30% for the next three years.
Cosentino Opens First Hawaii Center in Honolulu
August 28, 2018.- Cosentino Group has opened last month of July its Hawaii showroom in Honolulu. The new Cosentino Hawaii showroom highlights Cosentino's international growth and continued expansion in North America and is the first outside of the contiguous United States.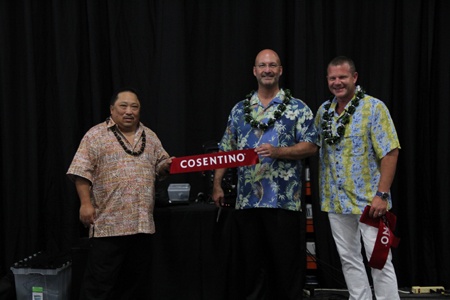 "Hawaii has established itself as one of the most unique architecture and design communities in North America," said Eduardo Cosentino, Executive Vice President of Global Sales for Cosentino Group and CEO of Cosentino North America. "By expanding our presence with the new Hawaii showroom, we'll ensure the city's preeminent architects and designers have instant access to our latest products and expertise that underscores our firm commitment to the U.S. market."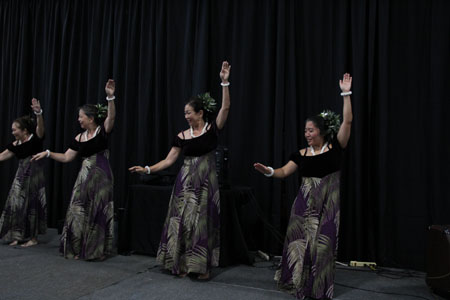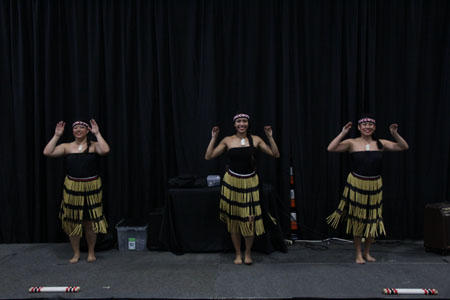 Cosentino hosted a traditional Hawaiian ceremony and dance performance to celebrate the showroom's opening. For the ceremony, the Hawaiian "Kahu", or priest, Kahu Shon Kihewa, conducted various traditional blessings and cleansings. The Hawaiian blessing ceremony dates back to ancient Hawaiian culture and is based on traditional Hawaiian belief in taboos, or "Kapu", that can be placed on a physical space. During a blessing ceremony a Kahu clears any curses or negative energy that might have been placed on a space, so the new occupants may move forward with a clean slate.
Entertainment after the ceremony included various dances from Hawaii and the South Pacific. These dances have been traditionally performed to honor Hawaiian royalty and today are performed as a showing of respect and honor for special guests. Dances performed included the Hula, the Tahitian and the Siva Afi.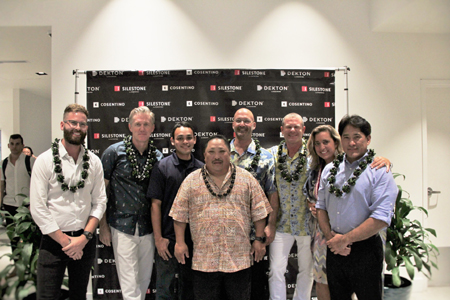 Cosentino City Hawaii Team (from left to right): Sean Paul, CSR- Hawaii Center, Matt Thurston, Joseph Torres, Warehouse Associate- Hawaii Center, Paul Custino, Chris King, Brandon Calvo, Patty Dominguez and Don Detwiler, AM/ADSM – Hawaii Center
Spectacular Villa Omnia in Ibiza with Dekton® and Silestone®
Project Details:
Name: Villa Omnia
Address: Carretera de Sant Josep, Ibiza, Spain
Total surface area: 550 m2
Completion: completed in July 2017
Work duration: 1 year and 2 months.
Promoter: Manuel Ayas. Entrepreneur
Architecture and Design:
Architect: Jano Blanco
Interior design: Jose Antonio Flores
Cosentino Materials:
Dekton® by Cosentino
Application: indoor flooring
Colour: Dekton Strato
Quantity: 366 m2
Format: 144 x 158 cm
Thickness: 8 mm
Application: outdoor patio flooring and chillout zone (no-slip)
Colour: Dekton Strato
Quantity: 224 m2
Format: 144 x 158 cm
Thickness: 8 mm
Application: pool (non-slip pavement)
Colour: Dekton Sirocco
Quantity: 111 m2
Format: 40 x 70 cm
Thickness: 8 mm
Application: outdoor steps (non-slip) for patio access
Colour: Dekton Strato
Quantity: 58 units
Format: various custom formats
Thickness: 2 cm
Application: indoor steps for indoor staircase, bedrooms, kitchen and dining room
Colour: Dekton Strato
Quantity: 29 units
Format: various custom formats
Thickness: 2 cm
Application: cladding for bathrooms
Colour: Dekton Aura 15
Quantity: 66 units
Format: 100 x 240 cm
Thickness: 8 mm
Application: shower tray, Kador model
Colour: Dekton Strato
Quantity: 5 units
Format: custom 
Silestone® by Cosentino
Application: bathroom counter with built-in Elegance sink
Colour: Silestone Blanco Zeus
Quantity: 5 units
Format: custom
Application: kitchen island
Colour: Silestone Iconic White
Format: custom
Thickness: 2 cm
The project
Designed by the prizewinning architect Jano Blanco, Villa Omnia is a handsome, modern and elegant luxury villa 550 m2 in size, located on a parcel of land 20,000 m2 at the very heart of the mountains of Ibiza (Balearic Islands, Spain). It communicates a feeling of timeless natural beauty, and every detail is taken care of to offer perfect balance and the ideal place to take a seat, rest and relax.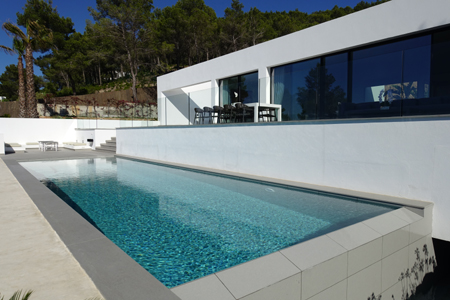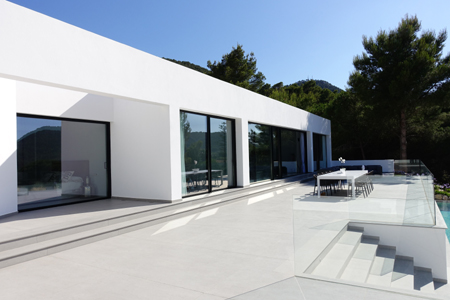 The latest technology melts with next-generation materials for construction, architecture and design like the ultracompact surface Dekton® and the quartz surface Silestone®. Both materials give form to indoor and outdoor floors, stairs, pool, kitchen worktop, bathroom sinks and surfaces, wall cladding and shower trays.
Manuel Ayas. Entrepreneur and owner:  'The villa was my dream project, and it meant investing a very significant sum, so I knew that I wanted to use the best. When I visited the Cosentino factory, I was very impressed by the products, by their quality, durability, properties and versatility. My friends and colleagues told me that using products by Cosentino everywhere would be overdoing it. After the project was completed, I couldn't be happier and more satisfied with my decision. Just like you make great food if your use good ingredients, if you work with a great architect and use an excellent product, the result will be wonderful.'
Villa Omnia has five bedrooms, five bathrooms, spacious common areas and corridors, parking, a patio, chillout zone and an outdoor pool 20 metres long. The large glass windows let natural light in and afford impressive views of the ocean and mountains. The indoor and outdoor colour palette ranges from light greys and whites to periodic brown tones, providing an air of sophistication, warmth and an overall feeling of spaciousness. The straight lines and large formats become one with the minimalism and the art.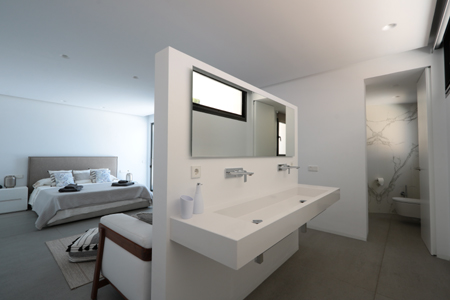 Villa Omnia stands out aesthetically for its sublime elegance and exquisite taste in design and architecture.
Dekton® by Cosentino. Indoor and outdoor floors
Nearly 700 m2 of the ultracompact surface Dekton® make up part of the interior and exterior flooring of this spectacular villa.
Manuel Ayas: 'Choosing the correct flooring for the villa was the hardest part. My main goal was to make the biggest format possible. After visiting the Cosentino showroom, I chose Dekton® and the possibility of making it in a large format. They're durable floors, and need very little maintenance without compromising their aesthetics.'
The use of 8-mm-thick Dekton® for this application stands out. This means that the flooring can boast excellent technical and aesthetic properties in a format that is thin, light and easy to handle during installation.
Dekton® is the perfect material for ensuring that the design flows from the inside out - or vice versa - to achieving the desired harmony and continuity. Cosentino's surface is able to remain unmarked and perfect regardless of where it is placed. It adapts to the climate of its surroundings, including temperature changes, and is highly resistant to UV rays.
The use of no-slip grip technology also gives Dekton® a higher safety index in order to prevent possible accidents in the pool area.
The subtle grey colour palette of Dekton® Strato provides that feeling of spaciousness that was the goal from the outset, and contrasts elegantly with the white colour that wraps the villa.
The hardness, resistance and easy-to-maintain nature of Dekton® makes it into the perfect product for use as pavement.
Dekton® by Cosentino A safe, elegant pool 
Dekton® makes Villa Omnia's 20-metre-long pool stand out. Its design, based on straight lines, is restrained and elegant. In it, aesthetics and safety come hand in hand. The pool is made of custom pieces of Dekton® in Sirocco, a limestone-like rough grey that provides a natural, restrained look. The entire paved area is also equipped with no-slip grip technology to prevent slips and ensure maximum safety. Thanks to its excellent performance when wet, Dekton® is perfect for pool applications. Neither the composition nor the aesthetics of Dekton® change over time, ensuring its long-term durability and original beauty.
Dekton® by Cosentino Custom: stairs, vertical surfaces and shower trays
Special and custom-made indoor and outdoor architectural items are made possible by the versatility of Dekton®. Villa Omnia is an impeccable example of the same. The stairs of the villa, located both inside and outside the house, are made out of 2-cm-thick pieces of Dekton® custom-cut to size. The chosen colour is the one that dominates most of the floor of the project: the grey and urban Strato.
Strato is also the colour chosen for the shower trays installed in each of the house's five bathrooms. The unique and exclusive design of the Kador model is tailored to the space, incorporating smooth, sandy bands that provide the greatest possible anti-slip protection.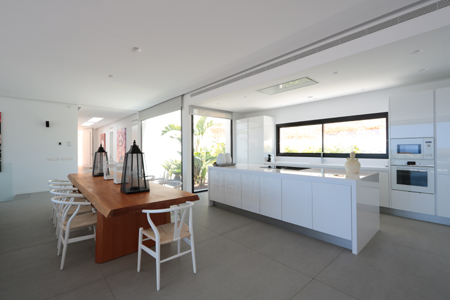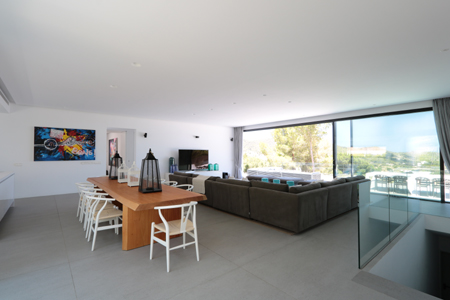 The vertical cladding found in the bathrooms are truly spectacular in terms of architectural beauty. The unique colour of Dekton® called Aura 15, thanks to its never-ending symmetrical pattern of veins, is largely responsible for this result. Vertical and horizontal continuity come together with ideal mechanical properties to fearlessly resist the characteristics of a bathroom environment. The pieces, produced in a large format and 8 mm thick, provide striking, attractive uniformity.
The open kitchen of Chef Oswaldo Oliva - Lorea Restaurant – Mexico
Project Information
Project: Lorea Restaurant, which belongs to the famous chef Oswaldo Oliva.
Concept: Open kitchen.
Location: Sinaloa 141. Col. Roma Norte, CDMX.
Grand opening: 22 February 2017.
Cosentino Materials
Dekton® by Cosentino
Application: Mixology bars and kitchen drop front
Colour: Kelya
Quantity: 26.88m2
Format: diverse tailor-made formats
Thickness: 1.2cm
Application: Kitchen worktop
Colour: Kelya
Quantity: 8.96m2
Format: 320cm x 140cm
Thickness: 2cm
Application: Kitchen worktop and surfaces
Colour: Zenith
Quantity: 26.88m2
Format: 320cm x 140cm
Thickness: 2cm
Application: Wall cladding
Colour: Zenith
Quantity: 35.84m2
Format: 320cm x 140cm
Thickness: 1.2cm
Application: Flooring
Colour: Sirocco
Quantity: 218.56m2
Format: diverse tailor-made formats
Thickness: 1.2cm
Silestone® by Cosentino
Application: bathroom basins
Colour: Lagoon polished
Model: Armony with 2 sinus
Format: 155cm x 0.60cm and 225cm x 0.60cm
Thickness: 16cm
Lorea, blends design and taste with an open kitchen
The famous Mexican restaurant Lorea, located at the heart of the Roma neighbourhood of Mexico City, combines design and cutting-edge dining in a kitchen with a unique style.The chef Oswaldo Oliva and his wife bring together the best of experimental cooking and an architectural space that takes the gourmet experience to a whole new level.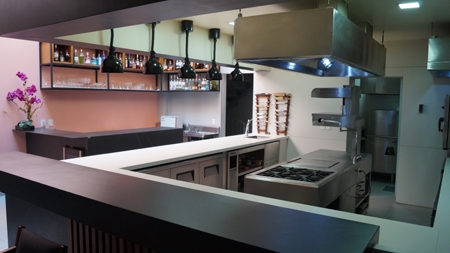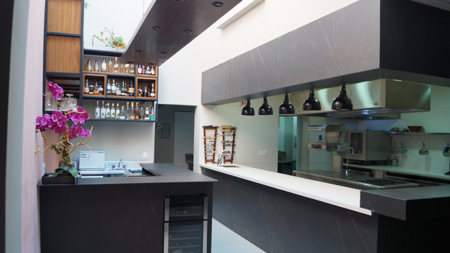 Lorea is an unique restaurant where a creative spirit floods the space with design and taste in an open kitchen. Dekton®, used for the restaurant's floors, walls, worktops and bars, is integrated into the organic design of this culinary space in a natural way.
Oswaldo Oliva, famous Mexican chef, decided to make his dream a reality and share it with more people when he and his wife Elizabeth Chichino together decided to open Lorea, a restaurant offering something new in the city: creating an experience of quality, design and culinary creativity inside an open kitchen, creating a vote of confidence among diners.
Project Summary
When he returned from Spain, Oswaldo Oliva and his wife, Elizabeth Chichino, came up with a very specific idea of what they wanted to create in their own restaurant. The kitchen should be something more than a pretty space; it had to be completely functional. To achieve this goal, they needed to bring together three main ideas in an organic way: ergonomics as the centre, beauty as a duty for an open kitchen, and design as a synergy between Cosentino and Lorea. The result is an enigmatic location where space makes it possible to enjoy every little detail, including hidden shelves, tucked-away refrigerators under the work surfaces, modules that can be adapted to different ways of cooking and thinking, and a gastronomy that belongs to avant-garde cooking, mixing a variety of techniques at a global level. The colour aims above all to represent the essence of Oswaldo's cooking philosophy: for this reason, Cosentino surfaces bring the space into perfect harmony. They can be used with any cooking technique, as well as providing other advantages, such as its aseptic character, impossible to damage.
Lorea is located in one of Mexico City's most iconic neighbourhoods, Roma, which is notable for its diverse architecture. It features building styles ranging from the Baroque to the modern; the district was home to the famously luminous artist Jorge Alzaga, who left his stamp on a space that invites you to dream, create and imagine.  The entrance to Lorea features a design full of contrasts and minimalist details, both in its decoration and its gastronomy. The open kitchen project was created to show the process of preparing the dishes in their entirety, keeping the workspace simple and tidy to focus perception on fully enjoying the food in harmony with the space.  In the words of Oswaldo himself, continuity between design and experience creates a feeling of congruence for the guest, making them feel comfortable and happy.
The restaurant's design seeks to integrate different elements that seize every opportunity to surprise customers in a natural way, using materials like wood and a variety of Cosentino slabs that are organically combined. The floor is covered in an elegant Dekton® Sirocco, the walls made to brighten the space are left up to Dekton® Zenith, as are the work surfaces in the kitchen, leaving space for the mixology bars that simplify the work of the preparation process thanks to Dekton® Kelya and Dekton® Zenith. 'We chose Dekton® because it transmits hardness but is warm at the same time; this is why we love having picked Dekton® Kelya, because even before you touch it, the whitish veining gives it texture, the kitchen isn't flat', said the Mexican chef. Besides its aesthetic contributions to the integration of the spaces, Oswaldo and Elizabeth decided to use the ultra-compact surface Dekton for its many advantages, as it is very durable when used in a variety of ways, and is resistant to heat and cold as well as scratches and cuts, helping to keep the space clean.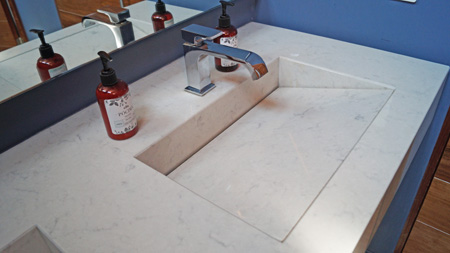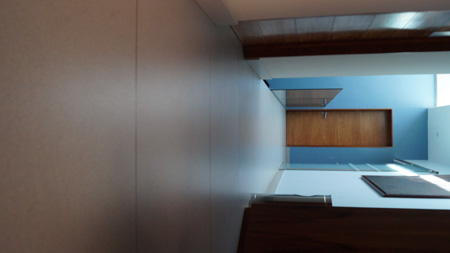 We must also mention the bathrooms, which make up part of this functional space: this is the reason behind the selection of polished Silestone® Lagoon, which can be seen in the basins, which feature perfect shaping and finishing that mimic natural shapes and textures while being impermeable and easy to maintain. 
The project assumes that diners will visit the kitchen, a characteristic that has made the restaurant stand out from the very beginning. 'At a certain point, we invite our customers to visit the kitchen, we invite them to stand at that Dekton® Kelya bar for a minute, and everyone always goes over and touches the Dekton® material. That search for contact and tactile exploration is something we all have, so our customers like it when what they see corresponds to what they're feeling as part of the experience', says Oliva.
Lorea's open kitchen reflects the values its owners hold most dear: seriousness, design, tidiness and continuity, offering a unique experience in Mexico's capital.
Dekton® by Cosentino in the "Dona", "Bandido" and "Surabaya Daybed" collections by Skyline Design®
Dekton®, the Cosentino Group's ultracompact surface, has been turned into one of the perfect complements for the new collections created by Skyline Design®, the prestigious Spanish company that has been manufacturing outdoor furniture for custom contract projects since 2001.
Dekton® and Skyline Design® are synonymous with innovation and quality, which is superbly reflected in these three collections shown at Milan Design Week 2018.
Dona. Designed by Belén Burguete, this new collection by Skyline Design® express warmth and comfort, and features a sofa combining an aluminium frame with braided polyester ropes. The rounded forms of the design are both captivating and welcoming. The coffee table that forms part of the set and culminates the delightful setting features a top made from the Dekton® surface in the Aura shade. Its colour, natural beauty and marble-like appearance give the composition additional appeal.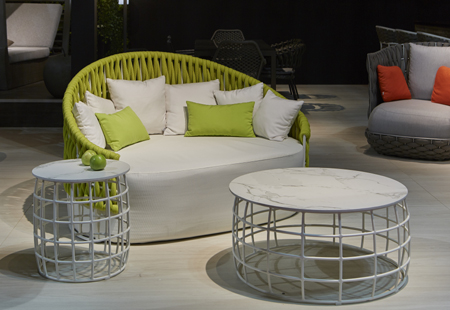 Bandido. Designed by Sanitago Sevillano, this collection consists of an armchair, sofa and coffee table. The table top is in the resistant Dekton® by Cosentino, a surface in the Kelya shade. Kelya presents an aesthetic based on nature, with a dark background and veining, which combines wonderfully with the woven and upholstered parts of the other pieces. There is a perfect and elegant balance of colours.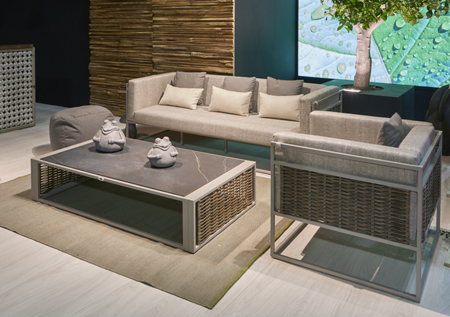 Surabaya Daybed. Dekton® is incorporated into one of the most iconic pieces made by Skyline Design®, their striking canopied daybeds with spectacular forms that are perfect for outdoor living. More specifically, Dekton® is present in the Surabaya, designed by Santiago Sevilla, used in the original table design that slots into the daybed.  The Aura by Dekton® shade provides an exquisite contrast to the aesthetics of the design and the sombre combination of tones and materials around it.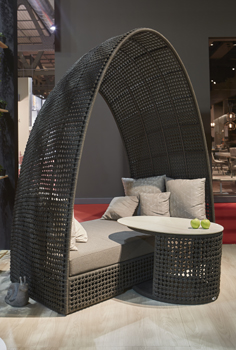 José Revert, CEO of Skyline Design®: "Dekton® not only adds warmth to our products, which we are unable to find in other materials such as glass or aluminium, but also adds value to them."
Because it is a material made by means of an innovative ultra-compaction process, Dekton® is highly resistant to scratches, stains and hydrolysis. Its colour remains remarkably stable owing to its resistance to UV rays, and it can be used in any climate because of its excellent behaviour in the presence of heat and thermal shock. Such technical features make it an essential part of outdoor designs stressing quality and aesthetics. The collections by Skyline Design® are an example of this.
Cosentino brings together more than 2,000 professionals from kitchen and bathroom stores in Spain, Portugal and Andorra to present its latest developments
Cantoria (Almeria), 12 July 2018.- Cosentino Group, the Spanish company and global leader in the production and distribution of innovate surfaces for the world of architecture and design, brought together 2,180 professionals from kitchen and bathroom stores in Spain, Portugal and Andorra to inform them of the latest colours that expand the portfolio of innovative Silestone® y Dekton® surfaces.
The schedule comprised a total of 50 conferences held in May, June and early July. These presentations were held as part of the dynamic programme of training events that Cosentino actively promotes at all of its Cosentino Centers and Cosentino City showrooms. With specific reference to the Iberian market, Cosentino has 20 Cosentino Centers (18 in Spain and 2 in Portugal) and 1 Cosentino City (Madrid, Spain). Most of the attendees at these courses were professionals belonging to Elite, the Cosentino loyalty programme focuses on kitchen and bathroom stores around the world.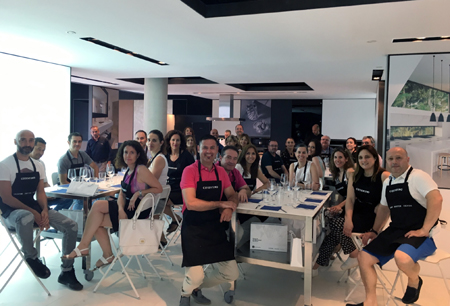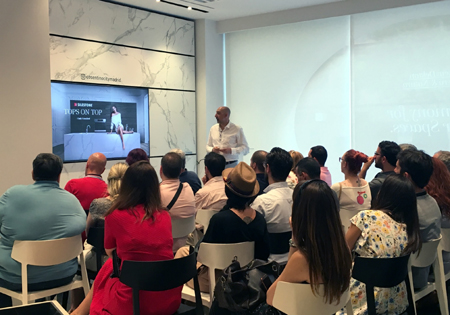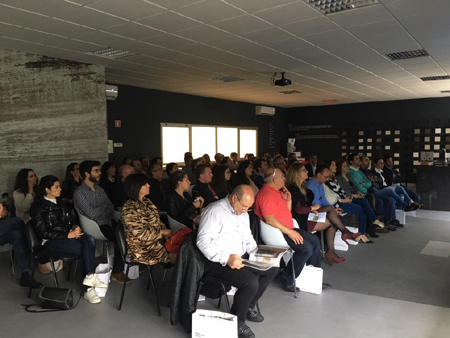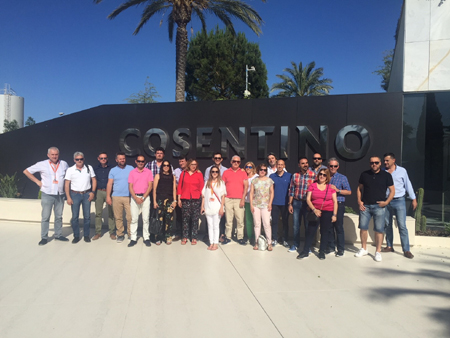 At these events, the guests were informed of the grand commercial launch Cosentino held internationally barely three weeks ago, consisting of the development of more than ten new colours for its Dekton® and Silestone® surfaces. By putting great faith in innovation and through its premise of two clear aesthetic trends, 'natural' and 'urban', Cosentino has once again listened to the market and responded to the current developments in interior and exterior design and architecture.
In addition to explaining the latest developments, the programme was rounded off with the presentation of the refreshed company website , the advantages encompassed by the Elite loyalty programme, and the Cosentino social media platforms and its brands. Some of the conferences ended with attractive live culinary shows to the great delight of the guests. The conference content was presented by the expert Cosentino sales teams in each geographic area.
Hotel with Dekton façade in Yilan, Taiwan
Project details:
Name: Hotel MU Jiaoxi (former Le Meridien)
Address/Location: Yilan, Taiwan
Total surface area of the project: 3.800m2
Relevant dates: Project finished July 2017
Architecture Studio
Architects: TMA Architects and Associates
Owner: Trans Globe
Constructor: Ruentex Group
Cosentino Materials:
Application: Façade
Anchor system: Fisher Anchor
Material: Dekton® by Cosentino
Colour: Aura and Kelia
Thickness: Kelya in 20mm thickness and Aura in 12mm and 8mm thickness
Quantity: 3.800 m2
Formats: 140cm x 120cm and 85cm x 120cm
About the project
3.800m2 of the ultracompact surface Dekton ® by Cosentino have been applied for the façade of MU Jiaoxi (former Le Meridien) hotel in Yilan, Taiwan.
Mu Jiaoxi Hotel (former Le Meridien), located in Yilan city, is a 5 star luxury hotel which offers a unique experience to its guests, with a beautiful avant-garde architecture, and a wide diversity in quality services and amenities. The building, finalized in July 2017, applies in its façade 3.800m2 of Dekton® by Cosentino ultracompact surface in the colours Aura (1,300m2) and Kelya (2,500m2).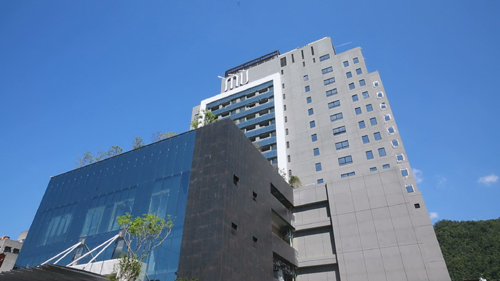 Dekton® by Cosentino – Le Meridien façade
Trans Globe, the owner of the hotel, fell in love with the aesthetic of Dekton® Aura and its similarity to Carrara marmor. Dekton® Kelya was chosed for its perfect contrast with Dekton® Aura, as well as with the façade design as a whole, and for its sophisticated design. The natural character of Dekton®, its advanced technology and easy maintenance were key elements to develp the project.
The advantages and benefits of Dekton® ultracompact applied to the façade
Dekton® allows a uniform design to be created, making all the walls of the building appear clad in a single covering. Qualities such as its high resistance to ultraviolet rays, its resistance to extreme temperatures, its very good dimensional stability, its colour stability, its resistance to scratching, its low porosity and its high stain and graffiti resistance are essential properties for its use for exterior façades with these characteristics.
Valdebebas 127 with Dekton® and Silestone® by Cosentino
Name: Valdebebas 127
Address/location: C/José Antonio Corrales 1-15. Madrid
Total area of project: 55,201.36 m2
Work completion date: 21/11/2017 for stage 1 (stage 2 completion scheduled for February 2019)
Architecture studio / architect:
Estudio Rubio Arquitectura / Carlos Rubio Carvajal
Design studio / designer:
Estudio Rubio Arquitectura
Landscaping: Susana Canogar and Iñaki Viñuela from Evergreen Paisajismo.
Developer: Valenor
Builder: Arpada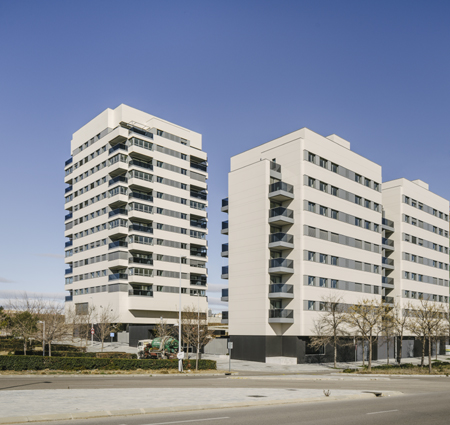 Valdebebas 127 is a residential project with an exclusive location along the edge of Valdebebas Central Park in northern Madrid. The development consists of 201 two-, three- and four-bedroom homes, all with double orientation, views of the park, storage rooms and parking spaces. There are also shops separate from the residential area.
This project's most notable features are its layout, accessibility and thermal and acoustic efficiency, as well as its incorporation of the latest technology and application of innovative, next-generation materials for construction, architecture and design, such as Dekton® by Cosentino and Silestone® by Cosentino.
Almost 8,000 m2 of the ultracompact surface Dekton® have been used in the first stage of this residential development to make façades and pedestals, as have 72 worktops and 72 shower trays made from the quartz surface Silestone®.
Cosentino Materials:
Application: Façade
Material: Dekton® by Cosentino
Colour: Warm (customised) and Korus
Thickness: 12 mm 
Quantity (m2): 7,200 m2
Format: Various. Largest format 3.15 x 1.38 m
Application: Pedestal
Material: Dekton® by Cosentino
Colour: Domoos
Thickness: 12 mm
Quantity (m2): 400 m2
Format: various. Largest format 3.2 x 1.44 m
Application: Shower tray
Material: Silestone® by Cosentino, Kador model.
Colour: Blanco Zeus
Thickness: 2.5 cm
Quantity: 72 units
Format: Various, with lengths ranging from 140-170 cm and widths from 70-80 cm.
Application: Kitchen worktops
Material: Silestone® by Cosentino
Colour: Blanco Zeus
Thickness: 1.2 cm
Quantity: 72 units
Format: Custom
Dekton® by Cosentino - façades and pedestal
Dekton® by Cosentino has been chosen as the façade cladding for this project due to its excellent aesthetic and building qualities, which ensure exceptional durability and extraordinary thermal performance.
Carlos Rubio. Architect. Estudio Rubio Arquitectura: 'The exceptional qualities of Dekton® were a key factor in its choice as the façade material. Its large format, as well as its variety of textures and colours, have allowed us to respond and emphasise our play on form and volume.'
Cesar Cort. Valenor President: 'Our projects stand out for their exclusive architecture, functional design, accessibility and versatility, incorporating the latest technologies for both materials and facilities. Dekton® is a material with zero porosity that neither expands nor contracts with changes in temperature, so it doesn't degrade or deteriorate. It's a unique product.'
The selected Dekton® colours - Warm and Korus - bring harmony and restraint to the development. Warm's white finish gives the building a cosy feel and brings it into harmony with its surroundings. Korus' grey shade has been installed to highlight particular parts of the façade, complementing the colour Warm to perfection. The pedestal has been surfaced with Domoos, a very elegant black shade that facilitates a unique contrast with the larger areas.
Dekton® by Cosentino is the perfect material for this kind of application due to its excellent qualities, such as high resistance to UV radiation, colour stability, durability, resistance to thermal shocks, high stain resistance, reduced porosity, and large-format and personalised manufacturing.
ETA 14/0413 (European Technical Assessment) documentation and CE certification attest to its suitability as cladding for a ventilated façade.
In this first stage of the work, Dekton® has given shape to 7,200 m2 of façade and 400 m2 of pedestal.
Silestone® by Cosentino - shower trays
The Valdebebas 127 project was conceived with the idea that its interiors, like the exteriors that surround them, would be of the highest quality and provide design that stands out.
The Silestone® Kador model has been chosen for the shower trays, providing the excellent durability of quartz, which is entirely impervious to stains and scratches. The colour chosen for this application - Silestone® Blanco Zeus - brings a sense of cleanliness, hygiene and space to the environment.
The Cosentino bathroom collection allows all the elements to be customised, adapting them to the dimensions of the space, including large formats and unique geometrical arrangements.
Cosentino's shower trays comply with DIN 51097:1992 standards certifying their low slip risk.
This first set of homes features 72 custom Silestone® Kador shower trays.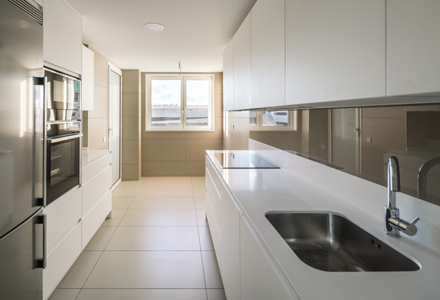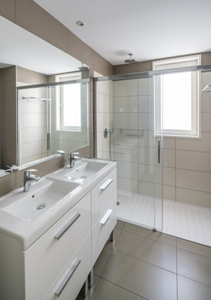 Silestone® by Cosentino - kitchen worktops
The kitchens in this housing development were conceived to give customers top performance. For this reason, the kitchen worktops have been made of Silestone®, the sector benchmark and leader. Silestone® guarantees worktop quality, durability, low porosity, stain resistance, easy maintenance and cleaning, scratch and knock resistance, a wide range of colours and textures, and large-format and custom manufacturing.
The search for light meant that the colour chosen for the worktops was the purest white: Silestone® Blanco Zeus. The kitchens are elegant, restrained and light-filled thanks to Silestone®. 
A total of 72 custom Silestone® Blanco Zeus worktops have been used in the first stage of the housing development.
More details about Valdebebas 127
This project's main aim was to allow all the homes to benefit from their location next to Valdebebas Central Park, a genuine breath of fresh air 80 hectares in size. The Valdebebas 127 buildings are arranged in two parallel lines. One, facing the park, has three towers that rise above a commercial square; the other, facing the promenade, forms a continuous row made up of five shorter buildings. The space between the towers allows the buildings in the row to also enjoy views of the Guadarrama mountain range and Valdebebas Park.
In the tower homes, the living room and balcony are located at the corners of the flat, emphasising a diagonal line of sight from inside. This solution allows residents to enjoy the benefits of having two exterior walls and a better relationship with the outdoors. The tower's construction seeks to play with form and composition at its corners, alternating the position of sitting room and balcony to create a dynamic zippered look that gives the development its personality. In the continuous row, the living room is located at the back of the home, allowing for two opposing balconies and double orientation onto the development's central garden and the avenue.
The treatment of the large garden area between the two rows of buildings is particularly important to the project. As it contains no walls, it remains open, displaying the inner garden's luxuriant foliage.
Cap Ferrat Building – Dekton® by Cosentino
Project details:
Name: Cap Ferrat Building
Address/location: Av. Vieira Souto, 564 - Ipanema, Rio de Janeiro, Brazil
Project end date: 2013-2016
Construction schedule: 12 months
Architecture studio/architect:
DI FILIPPO ARQUITECTURA
Juan Carlos Di Filippo Architect – Rosario-Argentina National University
Collaborators: Gabriela de Lana, Carolina Luz, Renata Martinho, Marina Accioly
Builder/Cladding installation:
GMM-ANCHOR SYSTEMS
SA MARTINS SLIDING DOORS
Q-RAILING - RAILING SYSTEMS
Cosentino Materials:
Application: Façade
Material: Dekton® by Cosentino
Colour: Danae
Thickness: 12mm
Quantity (m2): 3,800 m2
Format:  Custom
Installation system: Keil anchors, metallic insert
Project Definition
3,800 m2 of the ultracompact surface Dekton® by Cosentino have been used in the remodelling of the façade of the iconic Cap Ferrat building.
Cap Ferrat is an iconic residential building located on the exclusive Avenida Vieira Souto in Ipanema, Rio de Janeiro. Built in 1976, this iconic feature of the Brazilian neighbourhood of Ipanema has a surface area of 2,000 m2 and is 20 floors high. It includes flats, duplexes, garages and spaces for public use.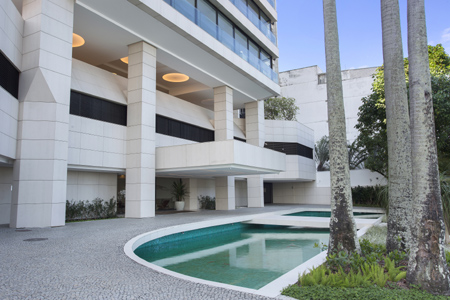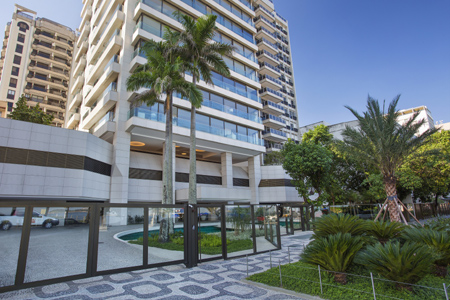 Between 2013 and 2016, forty years after it was built, a remodelling project was carried out on the building's balconies cladding due to the deterioration caused by the galvanic corrosion of the aluminium parts of the railings, which caused cracking of the original granite pieces that sheathed the perimeter beams of the tower's six balconies. The galvanic corrosion was caused by the anchoring system of the aluminium railings, which used pieces of iron. The combination of different metals caused the corrosion. The resulting expansion of the mortar that held the granite pieces caused the original material to crack and break in many areas.
The architecture studio in charge of the project, Di Filippo Arquitectura, studied the behaviour of various materials and decided that Dekton® brought together all the necessary and indispensable requirements for the rehabilitation work on the façade.
The project was completed with the installation of new balconies in laminated-tempered glass, and large format sliding doors, which meant the addition of more than 40m2 (for private use) to each housing unit.
Dekton® by Cosentino -- Cap Ferrat façade
When work began on the rehabilitation project, an original idea was distinguished by the need to remove the original damaged pieces. However, this would have meant costs and timeframes unacceptable to the property owners. Given this situation, the great challenge faced by the working team was searching for a new cladding that could be installed over the original and that would weigh no more than 90 kg per square meter. At the same time, due to its proximity to the ocean, the material chosen needed to suit the aesthetics of the outside environment, offering gentle, agreeable colours for its surroundings, as well as offering mechanical properties that could resist the deterioration that this type of area often produces.
Juan Carlos Di Filippo. Architect: "As we had decided to keep the existing cladding, we had to choose a cladding material with very particular properties: its porosity needed to be as low as possible in order to resist the damage caused by a seafront environment; it needed to weigh as little as possible, but have large dimensions; and it needed to be able to be installed using the system of stainless steel inserts. Last, but not least, it needed to have a low level of solar absorption (characteristic of the area), as well as to suit the chromatic tones of the beach sand, as the Cap Ferrat is located on Ipanema Beach. After analysing several materials, the choice fell on the ultracompact surface Dekton® by Cosentino. It united all the requirements set for the project."
Di Filippo Arquitectura chose Dekton® by Cosentino for the façade because it represented 50% of the weight permissible for the material, because it could be made in large-format slabs (3.2 m x 1.44 m) and custom sizes, for the cutting precision of the pieces, for its ideal performance when faced with erosion caused by beach sand and salt residue, and other exceptional qualities such as its high resistance to UV radiation, colour stability and high stain resistance.
The custom cutting of the 12 mm-thick pieces, as well as their number, dimension, and the precise location of the holes, was carried out at the Cosentino factory in Cantoria, Almeria (Spain), for later shipment by boat to Brazil. The holes were made through a novel anchoring technique designed for the project by the company GMM Anchor Systems with the ongoing collaboration of the Cosentino engineering department. Keil pieces provided by Cosentino were used for the anchoring. The rest of the pieces and metal accessories were made by GMM.
The Dekton® colour chosen for the façade cladding was the cream colour Danae for its elegance and chromatic similarity to the colour of the beach sand. Dekton® Danae also blends perfectly with the rest of the materials that shape the covering as a whole.
Juan Carlos Di Filippo. Architect: "Dekton® was the right solution, and the installation of the 3,800 m2 of material happened smoothly and on schedule."
The work on the building was carried out with...
the installation of new balcony railings in pieces of 20-mm thick colourless glass set into aluminium profiles provided by Q-railing. Broad sliding doors were installed on the frontal balconies. The frontal side columns, originally tilted at 45 degrees, were squared to the upper floor of the garage.
Juan Carlos Di Filippo. Architect: "The set of interventions carried out provide the contemporary look that we wanted when we started this project."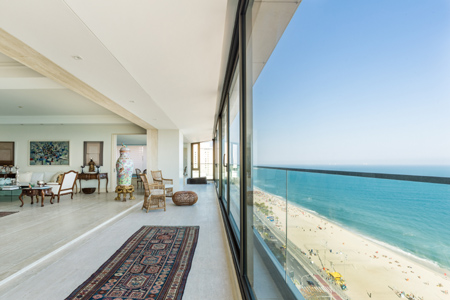 A total of 3,800 m2 of Dekton® Danae forms part of the remodelled Cap Ferrat building at Ipanema, an architectural icon that will continue its history with a new aesthetic identity.
The 12th Cosentino Design Challenge reveals its winners
Cantoria (Almeria ), 22 June 2018.-  Cosentino Group has announced that the winners of the international 12th Annual Cosentino Design Challenge are: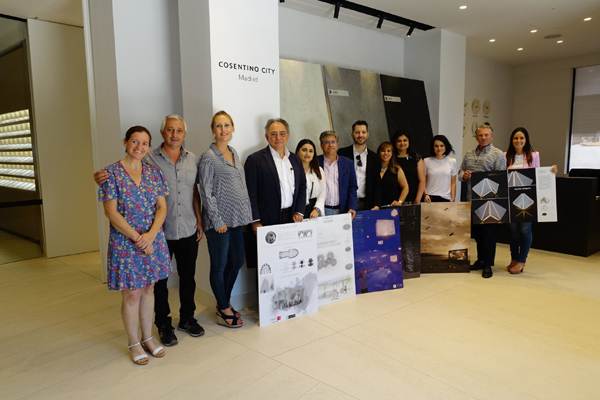 Architecture Category – Theme: "Cosentino and the Performing Arts"
Three winning projects, awarded €1,000 each
GEODA OF MARBLE of Laura García Navas (ESADA)
Stalactige of Miguel J. Martínez Peirotén (ETSAM)
DUTTILE of Estela Benito Molina (Universidad de Zaragoza)
Four runners-up, awarded a certificate
At the edge of Gema Barranco Martín (ESADA)
JUST AN ILLUSION of Charles Tutin and Gaspard Pellerin (École Camondo)
Block of Patricia Bintaned Trigo and Eduardo Fustero Jarque (Universidad de Zaragoza)
Darkness Lights of Silvia Franco Tarriño (ESADA)
Design Category – Theme: "Cosentino and light":
Three winning projects, awarded €1,000 each
Marble Origami of Sophie Perrier (ESAM Design)
Ascension of the Stones of Ulises Moya Rodríguez (ESADA)
Bajo la sombra de un árbol of David Hervás Rey (ETSAM)
Three runners-up, awarded a certificate
LascasLamp of Arturo Garrido Velilla (ETSAM)
Wink Light of Julie Lefranc (ESAM Design)
SUNSET of Cristina Moreno García (Escuela Politécnica Superior de Sevilla)
The 12th Annual Cosentino Design Challenge received a total of 333 entries (141 for the architecture category and 192 for the design category), a 47% increase on the previous year. Submissions may come from up to four continents: Europe, America, Asia and Oceania.
Adelina Salinas, Cosentino Design Challenge coordinator: "The quality of the submissions, especially in terms of design and presentation, has increased a great deal compared to previous years. The competition is strengthening its position and becoming more accepted across universities and educational institutions."
The jury deliberations for the Cosentino Design Challenge 12th edition took place at the Cosentino City Madrid, a showroom that since its opening one year ago, has become a world leader, especially for architecture and design professionals. There, the members of the jury - five teachers from the competition's partner schools, a guest architect and a representative of the Cosentino company - met:
            Chair: Santiago Alfonso, Cosentino Vice-President of Communications and Marketing.
            Board Members:
            Endriana Audisho, professor at the University of Technology Sydney, UTS (Australia)
            Olivier Vedrine of the École Supérieure des Arts Modernes, ESAM (France)
            Taciana Laredo from the Escuela de Arte de Teruel (Spain)
            Teresa Franqueira from the University of Aveiro (Portugal)
            José Antonio González from the Escuela Superior de Arte y Diseño de Andalucía, ESADA (Spain)
            Guest architect: Carlos Rubio Carvajal.
The Cosentino Design Challenge is a competition promoted by the global company Cosentino to encourage the talent of architecture and design students from all over the world.
Cosentino takes inspiration from cement and natural stone to expand its Dekton® and Silestone® colour ranges
Cantoria (Almería), 21 June 2018 - Cosentino Group is launching new colours for the leading innovative surfaces Dekton® and Silestone®. This major commercial launch, which Cosentino is carrying out at a global level, is primarily defined by two clear aesthetic trends: one based on the appearance and chromatic diversity of cement, and the other aimed at paying homage to different notable natural models.
- Cement Trend. Cosentino has managed to reinterpret the different grey and industrial tones that make up building materials such as cement and concrete, and whose presence in avant-garde and contemporary design grows every day.  This trend includes the new Laos, Soke, Kreta and Lunar colours from the Dekton® Industrial Collection, and the Brooklyn and Silver Lake colours from the Silestone® Loft Series.
- Natural Trend. Cosentino continues to bet on the beauty of the natural, the beauty of the eternal, the beauty given to us by the most well-known and requested marbles asked for by lovers of natural stone. Within this trend, we find the new Vera and Kira colours from Dekton®, as well as the new colours from the Silestone® Eternal Collection.
These colours made their début at Milan Design Week 2018, where they received very positive reviews from professionals and end customers. This entire new line of colours for Dekton® and Silestone®, which answers the aesthetic and decorative trends appearing today in interior and exterior architecture and design, will be available for purchase in Europe starting today.
Dekton® by Cosentino
- New Dekton® Industrial colours. Cosentino is developing four matte colour offerings to expand the successful Industrial collection of the ultracompact surface Dekton®. Laos, Soke, Kreta and Lunar are the names given to the new Dekton® Industrial colours; with a calm, detailed aesthetic, they reinterpret different cement finishes.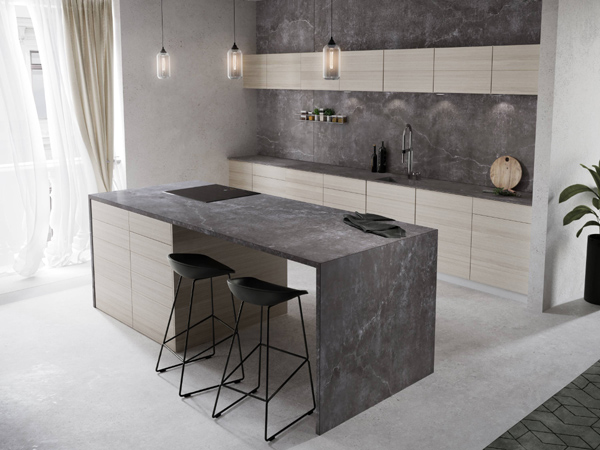 Learn more about them here.
- Vera and Kira. With nature and its pure aesthetic as the real protagonist, Cosentino is launching these two new colours to form part of the Dekton® Natural Collection. Vera and Kira are inspired by the elegant, versatile appearance of the popular Gris Pulpis marble, and the difference between the two lies in their base tone.
Silestone® by Cosentino
- Silestone® Loft Series. Cosentino is presenting a new, sophisticated collection of two colours that offers a fresh and contemporary take on the industrial and architectural look of concrete and cement. The Silestone® Loft Series is made up of Brooklyn and Silver Lake, two classic colours where history and the avant-garde meet.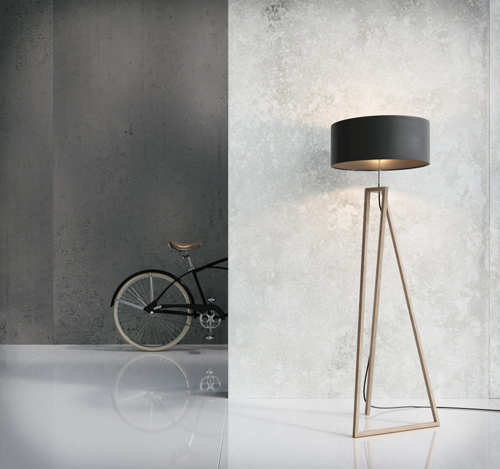 Learn more details about them here.
- Silestone® Eternal expansion. Cosentino is expanding the successful Silestone® Eternal collection, which pays faithful tribute to history's most popular marbles. The new colours bring an authentic natural, marbled aesthetic, which they fuse with the technology, innovation, quality and functionality of Silestone®.
Dekton® delivers the "Sustainable Restaurant Award 2018" to Azurmendi
Cantoria (Almería), 20 June 2018.- Dekton®, the innovative ultracompact surface by Cosentino for the world of architecture and design, shone yesterday at the marvellous event announcing the names that will appear on the list of The World's 50 Best Restaurants 2018. Besides being sponsor of the event and the official worktop partner of one of the most notable events in the world for the haute cuisine sector, Dekton® sponsored the 'Sustainable Restaurant Award 2018'. Santiago Alfonso, Cosentino Group Vice-President of Communications and Marketing, was in charge of handing over the award to Eneko Atxa, chef of the Azurmendi restaurante, located in Larrabetzu (Biscay, Spain).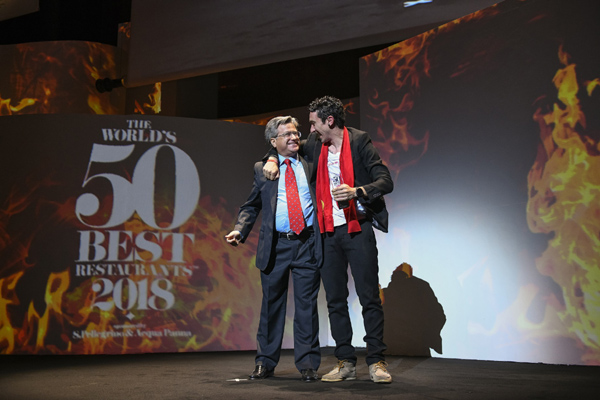 The role played by Dekton® at the World's 50 Best Restaurants 2018 gala once again demonstrated the strong links that bind the Spanish company Cosentino and the world of gastronomy and dining, as its advanced surfaces are present in millions of home kitchens across all five continents, as well as in the kitchens of the world's most prestigious hotels and restaurants. In the words of Santiago Alfonso, Director of Communications and Marketing for the Cosentino Group: 'we're proud that many of the restaurants named here tonight, which are considered the best in the world, feature our Dekton® and Silestone® products in their interiors. Mugaritz, Disfrutar or DiverXO in Spain, Restaurant André in Singapore, De Librije in the Netherlands or The French Laundry in the USA are just a few examples. An award for them is also an award for us.'
Cosentino wanted to attend this event for the eighth consecutive year because this is the first time it is being held in Spain; previous locations have included the USA, Australia and the UK. Bilbao was chosen as the host city, and all eyes were on the Palacio Euskalduna for the main event. Inside this spectacular space, Dekton® by Cosentino had its own booth, where a Dekton® worktop in the colour Orix dazzled onlookers with its beauty and personality. The space occupied by the Spanish company Cinco Jotas also selected a Dekton® worktop in the colour Domoos to offer a tasting of the best Iberian ham. This exquisite delicacy was presented on a striking, elegant display stand made of the quartz surface Silestone® by Cosentino.
Two Marble-Inspired New Colours, Opera and Natura
The global leader in the production and distribution of surfaces for the world of architecture and design, the Cosentino Group, presents two striking new colours for its ultra-compact surface brand, Dekton®.
Launching in September 2017, the new additions join Dekton®'s existing Natural and XGloss Natural collections, offering a range of unique designs boasting the excellent technical properties expected of the revolutionary ultra-compact surface brand. Created from a sophisticated blend of inorganic materials using an innovative ultra-compaction process, Dekton® has a high resistance to UV rays, scratches, stains and thermal shock. These benefits ensure its surfaces are durable and very easy to maintain, offering a wealth of possibilities for both internal and external projects, including flooring, façades, wall cladding and worktops.
DEKTON® – NATURAL COLLECTION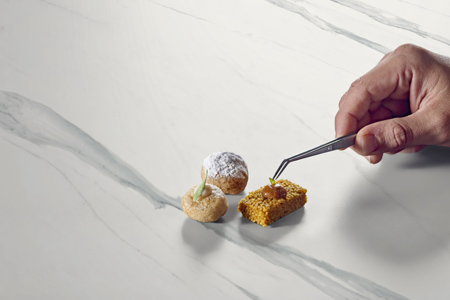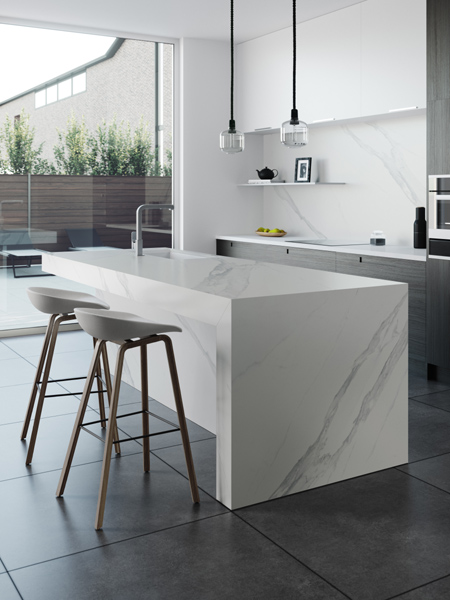 OPERA: Inspired by the current desire for marble interiors, Opera takes inspiration from elegant Italian Carrara marble and boasts the extraordinary new soft touch finish from Dekton®, Velvet Texture. Simple, light grey veining adds depth and interest to the creamy white surface for a classic understated finish.
DEKTON® XGLOSS – NATURAL COLLECTION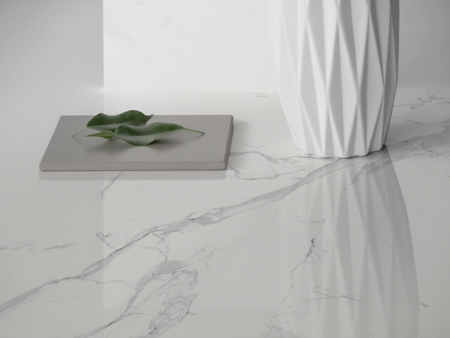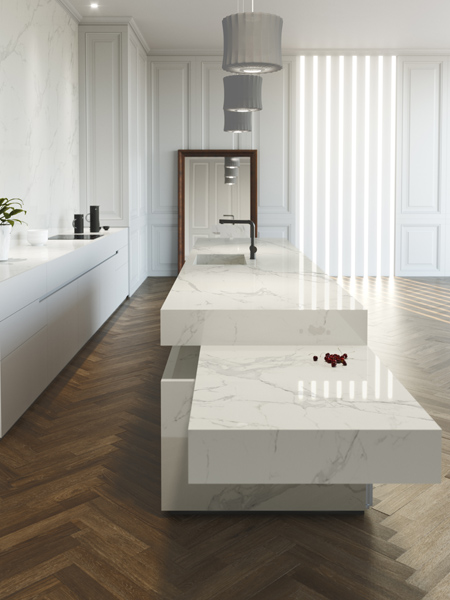 NATURA: Replicating the quintessential style of marble with soft grey veining accentuating the classic white surface, Natura also offers a lustrous polished finish. With all the benefits of Dekton®'s technical characteristics, the striking colour's reflective nature is due to the nano-technological treatment and mechanical polishing process it undergoes, resulting in a crystal-like shine.
Combined with the strength and stain resistance of Dekton®, the resulting product provides exceptional performance paired with unique characteristics. This includes water repellent properties, ensuring an impressive resistance to stains. The 'Nanocoating Process' and mechanical polishing also enhances Dekton®'s colour.
Daniel Germani and Dekton® by Cosentino present the groundbreaking new 'Industrial' collection
Cantoria, September 2017.- Dekton®, the innovative, ultracompact surface created by Cosentino for the world of architecture and design, is delighted to introduce four groundbreaking, urban and ecological colours. The range was a collaboration with architect and designer, Daniel Germani that will furnish architectural or decorative projects with strength and personality.
Dekton® Industrial collection is comprised of three new shades, Nilium, Radium and Orix as well as the award-winning Dekton® Trilium (launched commercially in 2016). Nilium, Radium and Trilium are based on the look of aged, rusted metals with irregular, organic patterns, giving a hybrid appearance taken from weather-worn and exotic natural stone. Orix represents the degradation of cement and the biological transformation of stone.
Daniel Germani, designer of the colour collection says: "The Dekton® Industrial colour collection was created so as to contemplate the beauty of metals and cement at every stage of their life; it pays homage to the beautiful imperfections of the oxidation and degradation processes undergone by certain materials. The incomparable technology of Dekton® gave us the tools necessary to explore and design, and the result is a collection of colours that highlight the richness and depth of natural, organic processes."
As part of its commitment to sustainability, Cosentino allocated part of its R+D to the creation of products that are increasingly respectful to the environment. Dekton® is a reflection of this sustainable policy as Cosentino carries out a series of measures to achieve true responsible production of the material. Systems maintaining clean air in the factories, methods supporting energy efficiency, sustainable systems assisting the management and use of water, and the valuation of waste to achieve the "zero emissions" objective all form part of the catalogue of sustainable actions carried out throughout the production of Dekton®, and the other products manufactured by Cosentino.
Specifically, with regard to the valuation of waste and promoting a circular economic model, Cosentino incorporates excess materials from its own production processes into the creation of the diverse range of Dekton® shades. Trilium and Radium, two of the colours in the Dekton® Industrial colour collection, are a clear example of this as they are manufactured using up to 80% recycled materials.
Dekton® Industrial, the most relaxed yet groundbreaking colour collection of Dekton®.
Industrial was created to be the most relaxed yet groundbreaking collection of Dekton® due to its urban character, a style that was predominant in the 80s, with the metropolitan movement towards loft studios displaying these designs. This dominant trend in construction, identifying fully with the constant growth and renovation of cities, re-awakens today to establish itself as a lasting style in the modern world of decoration and design. Under the premises of this trend, concrete and metal beams and bricks step into the limelight, becoming true protagonists.
Dekton® Industrial presents a surface with a rough, strong, daring and expressive appearance, in which order and disorder complement each other perfectly. With Dekton® Industrial, metallic, oxidised and cement tones from the past are brought back to life and improved thanks to Cosentino's innovation.
Dekton® Industrial achieves a matte-gloss finish never before seen in these types of materials. The appearance of the new colours varies depending on the angle of the light on the surface, creating a rich a design with varied sublte effects.
Dekton®'s Industrial collection is the ideal material for use in large commercial and architectural projects thanks to its impressive appearance, and outstanding technical properties, which include UV, scratch, stain and heat resistance, along with production in large format slabs (up to 144cm x 320cm) and different thicknesses (20mm, 12mm and 8mm). These large format slabs allow for the creation of seamless surfaces and spaces without limits and joins, both in indoor and outdoor spaces. Dekton® Industrial is also the ideal choice for domestic use for flooring, staircases, bathrooms, cladding and worksurfaces.
Dekton® Industrial is composed of the following shades: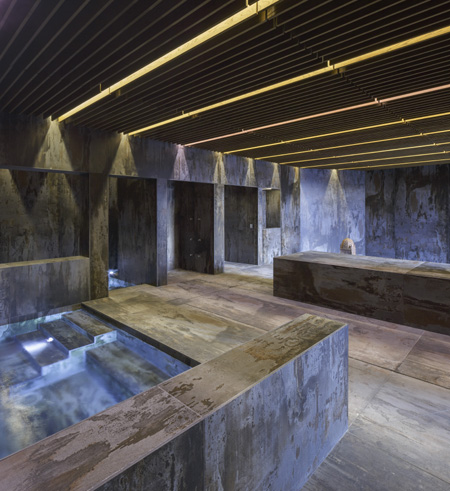 Trilium: Dekton® Trilium offers a mixture of colours inspired by volcanic rock, with intense accents of black and grey. Made using up to 80% recycled materials, Trilium was created in 2016, becoming the first ecological Dekton® colour. During its first year of existence, Dekton® Trilium received a great deal of recognition from industry magazines and publications, including the Fuera de Serie de Expansión (Spain) Design and Innovation Prize 2016; the Interior Design (USA) Best of the Year Prize 2016, and the Architectural Record (USA) Product of the Year Prize 2016.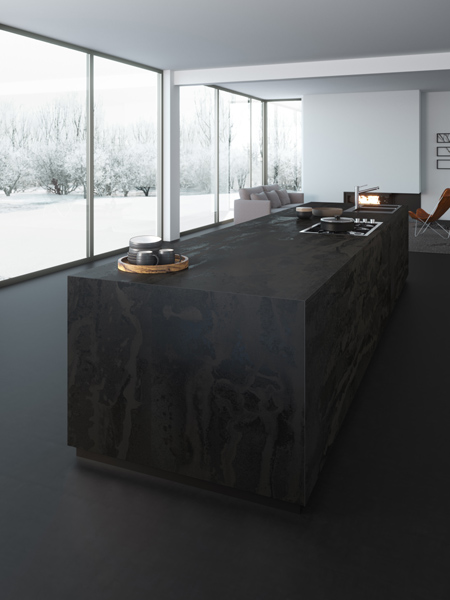 Radium: Dekton® Radium represents a sheet of rusted, acid-washed steel, creating a look that perfectly combines the warm expression of orangey brown tones with the coldness of blue and green hues. Made using sustainable production methods, Dekton® Radium is manufactured using 80% recycled material.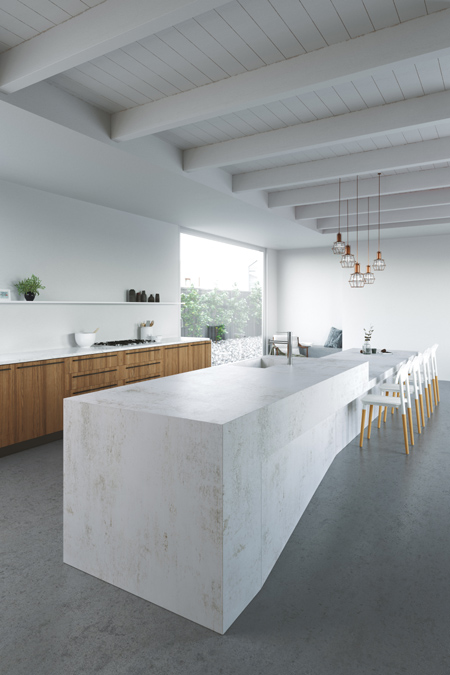 Nilium: Dekton® Nilium forms the minimalist element of the Industrial colour collection. Inspired by metal, Dekton® Nilium offers a subtle blend of silver and white colours. The delicate appearance of warm colours represents the beginning of the oxidation process.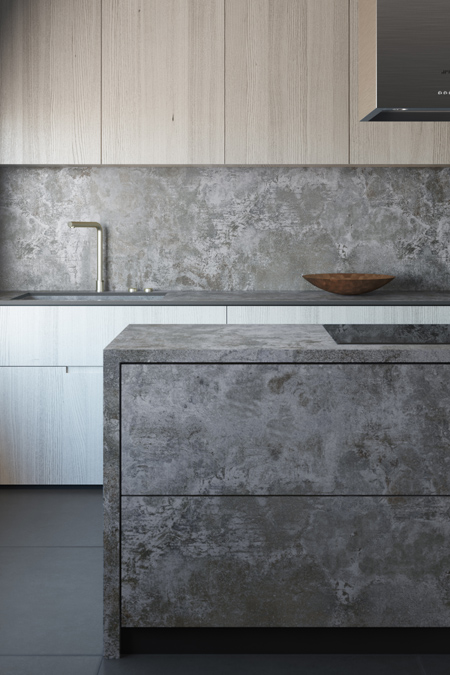 Orix: Dekton® Orix takes inspiration from eroded cement; an industrial appearance characterised as being steely, cold and broken. Representing a dichotomy between the old and the new, the colour combination is based on different tones of grey, blue and green.
Daniel Germani
Daniel Germani is the creative director and founder of Daniel Germani Designs. Born and raised in Buenos Aires, Argentina. After completing his studies as an architect, Daniel spent eight years living in Europe, working on a wide range of creative and corporate projects. He lives in Phoenix, Arizona, where his work is focused on bespoke furniture design and architectural renovation. Daniels aesthetic is influenced by Bauhaus, Oscar Neimeyer, Le Corbusier, Mies and Frank Lloyd Wright, and his philosophy is simple: good design should always be honest and inspiring.
Dekton® by Cosentino unveils DeKauri, a bespoke bath credenza designed in collaboration with Daniel Germani and Riva 1920
 
Miami (January 9, 2018) – Cosentino, the global leader in production and architectural surfaces, and Italian furniture manufacturer Riva 1920 together introduce DeKauri, the latest piece designed in collaboration with renowned architect and designer Daniel Germani that will debut at the 2018 Kitchen and Bath Industry Show in Orlando, FL, January 9-11.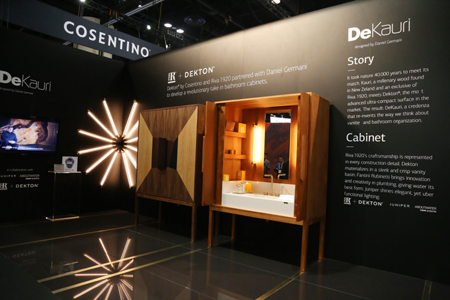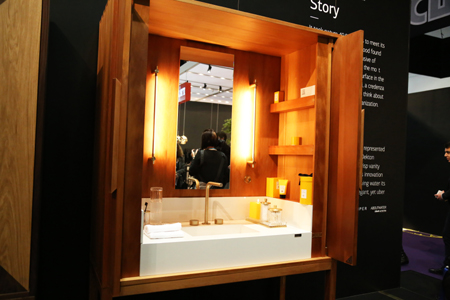 DeKauri, a freestanding enclosed bathroom vanity crafted from 50,000-year-old Kauri wood exclusive to Riva 1920, takes inspiration from the traditional Italian credenza and brings its beauty and functionality into the bathing space. "When it comes to the kitchen there are ingenious, innovative design solutions to hide and store everything," Germani says. "But that's not always the case in the bathroom. I realized bathroom storage has at its core remained the same." That sparked the concept for a freestanding piece of furniture to house and conceal both the sink and storage. "DeKauri transforms incredibly utilitarian parts of the bath into something incredibly beautiful. It helps take away the feeling of being in a bathroom. I could very easily see this in a master suite, a power room, or even in an open-concept bedroom where the sleeping space and bath flow into one another."
Download DeKauri high resolution images here
Download "The Making of DeKauri" video here
Watch "The Making of DeKauri" video here
With a washbasin crafted from Dekton® by Cosentino and Kauri wood used for the credenza, Germani's use of materials pays homage to the resilience of Mother Nature: the technology behind Dekton® captures the beauty of natural stone with unparalleled durability, and the Kauri wood – excavated from New Zealand where it has been buried under mud and water for thousands of years—adds a truly exotic feel to the piece. "DeKauri is a modern day heirloom," Germani says. "Its timeless appeal and impeccable construction will last generations." A faucet from Fantini Rubinetti and lighting from Juniper Design complete the look. As an alternative, DeKauri can also be constructed from inlays of Walnut, Wenge and Cedar.
DeKauri marks the fifth piece that Germani has designed in collaboration with Dekton® by Cosentino, and the second with both Dekton® and Riva 1920. Following its debut at KBIS, DeKauri will exhibit at Salone del Mobile in Milan, Italy. "Cosentino is thrilled to continue its collaboration with Daniel Germani alongside Riva 1920, a brand admired across the globe for its artisanship of classically styled wood furniture," says Massimo Ballucchi, Marketing Director of Cosentino North America. "We continue to be inspired by Daniel's innovative approach to furniture design and the unlimited applications he envisions for Dekton®, and we hope it inspires the industry, as well. He's truly a visionary, and it's an honor to work with him."
Since its launch in 2013, Dekton® has since transformed the world of surfacing by offering superior design and performance and low maintenance. Due to its technical properties, the material offers exceptional strength; high resistance to impact, scratches and stains; very low water absorption; UV resistance; and resistance to thermal shock against extremely high temperatures. These unique characteristics permit Dekton to be used in multiple interior and exterior applications. Similarly to Cosentino, Riva 1920 is rooted in a family heritage, committed to producing pieces that last generations by combining cutting-edge technology with attention to detail to create something unique and timeless.
CASE STUDY:
Chef and Restauranteur Grant van Gameren's Head Office – 'The Overbudget Offices'
Toronto, Ontario - Canada
Project Details:
Project: Head Office of nationally acclaimed Chef and Restaurateur, Grant van Gameren (Bar Isabel, Bar Raval, El Rey, Tennessee Tavern, Harry's Char Broil, Quetzal, Victor Dries and PrettyUgly)
Concept: Working test kitchen/bar, offices and small event venue
Location: Toronto, Ontario
Completed: September 2017
Duration of the building project: One year
Architecture/Design: Studio Junction Architect and Design Studio
Fabricator: Maple Stoneworx
 
Cosentino Materials:
Kitchen island: Dekton® Glacier 2 cm thickness; 43 sq. ft.
Kitchen countertop and backsplash: Silestone® Charcoal Soapstone 2 cm thickness; 70 sq. ft.
Bar top and prep area: Dekton® Glacier 2 cm; 50 sq. ft.
Work station countertops and backsplash: Dekton® Glacier 2 cm; 64 sq. ft.
Staff kitchen countertops and backsplash: Dekton® Glacier 2 cm; 70 sq. ft.
Grant van Gameren Biography
One of Canada's best-known chefs and restaurateurs, Grant Van Gameren is self-taught and first rose to prominence as co-owner and head chef of The Black Hoof. He now owns 6 restaurants and bars in Toronto including the award-winning Bar Isabel and Bar Raval, as well as El Rey, Tennessee Tavern, Harry's Char broil and PrettyUgly. Grant is credited with popularizing the concept of nose-to-tail cooking and eating in Canada, as well as helping make charcuterie a staple on Canadian restaurant menus. His newest restaurant, Quetzal, will open in early 2018 and features authentic, regional Mexican cuisine, cooked over 26 feet of open flame. He recently launched an innovative catering service, Victor Dries with partner Chris Brown.
Project Overview
The Overbudget Offices was a complete rebuild renovation combining modern Japanese and Scandinavian design influences. Chef and Restaurateur, Grant van Gameren worked closely with Studio Junction Architect and Design Studio to design the space to be a creative platform and a central hub for partners and employees under the Overbudget Inc. umbrella. The primary functions of the multi-use space are to conceptualize and test new recipes and drinks and to hold group meetings and launch events. Whether it is a weekly meeting about financials, fine-tuning a dish, or testing a new cocktail concoction, the space was created to elicit discussion and encourage feedback.
Functionality is equally as important as the design of the Overbudget Offices. Ultra-compact Dekton and Silestone quartz surfaces play a significant role in the design and were utilized throughout as countertops, backsplashes and wall cladding, allowing van Gameren and his team to work in a worry-free environment resistant to stains, heat and scratches. Dekton® in Glacier was used as the kitchen island, demonstrating extreme durability when faced with the unforgiving force of a working chef. It was also featured as the bar top and bar prep area countertops and backsplash, where it consistently stands up to stubborn stains. Silestone® in Charcoal Soapstone was installed as the kitchen countertops and backsplash, creating a striking juxtaposition between the kitchen and the rest of the open space.
The Overbudget Inc.
Overbudget Inc. is a parent company of popular Toronto-based restaurants Bar Isabel, Bar Raval, El Rey, PrettyUgly, Harry's Char Broil, and Quetzal. The name 'Overbudget' is derived from a tongue-in-cheek reference to which any restauranteur can relate. From concept into execution, in order to uphold extremely high standards, decisions are often made beyond the budget to deliver the desired end result. The restaurants under the Overbudget Inc. umbrella, and all future concepts each speak to restauranteur Grant van Gameren's desire to open restaurants and bars which are against the grain of formality. The mainstays are the use of elite level products from Ontario and around the World, prepared by the dedicated members of the kitchen and bar teams, and delivered through honest service.*
Q+A with Grant van Gameren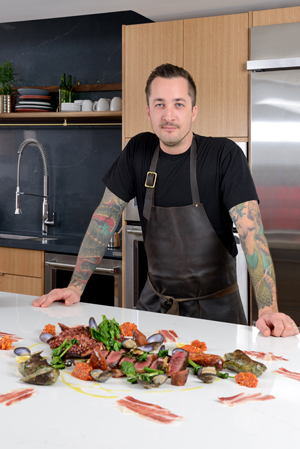 What is the purpose of the Overbudget Offices?
Our main objective is to provide a space where our chefs, bartenders, servers, owners, marketing, public relations and accounting teams can collaborate in a creative and vibrant environment. It's a space where we can meet to further develop our existing projects and be the birthplace of new ideas and businesses.
How does the renovation meet your needs?
It is both functional, beautiful and is adaptable to our day to day needs. It can easily transform from a space of recipe development and marketing meetings to a catered event for an important client. We have selected durable surfaces that can hold up to being utilized daily without sacrificing on design.
What was the inspiration behind the design of the Overbudget Offices?
Our main inspiration was for the space to be bright, airy and clean. A typical restaurant office can be dark and depressing. We wanted a space that was both inviting and productive – a space that makes you happy to come to work each day and perform to your fullest extent. With every restaurant, we design based on creating a feeling for the end user. In this case, the feeling we wanted to create for our office is one of inspiration and productivity. We love natural materials. When working with beautiful stone and wood, you don't have to do much. We wanted the rich warmth from oak and walnut and the clean and bright feeling of Cosentino countertops.
Why did you decide to incorporate Dekton and Silestone into the project?
When contemplating countertops, we needed something both resilient and beautiful. Very rarely do you see both of these qualities in the same product. Dekton has the durability of a man-made product with the beauty of a natural stone. It's heat and scratch resistance is second to none. We chose to do our backsplash with Silestone in charcoal, a beautiful option that looks like natural soapstone but without the upkeep and fragility you encounter with natural soapstone.
How does this new space factor into the future of Grant van Gameren and team?
Running restaurants has become more than just cooking and serving food. The landscape has evolved and we now employ a whole team of members who tackle the creative aspects of marketing and idea building. Our offices are only the beginning for this extension of our business and we look forward to growing into our new space.
Photography: Larry Arnal, Arnal Photography
*Sources: Overbudget Offices Inc. Concept Plan
 
About Dekton® by Cosentino
The Dekton® by Cosentino ultra-compact surface is a new and innovative category of surfaces created with the objective of becoming a global leader in the world of architecture and design both for indoor and outdoor spaces.
Dekton® is a sophisticated mixture of the raw materials that is used to manufacture glass, porcelain materials and quartz surfaces. The Dekton® surface can recreate any type of material with a high level of quality. It is manufactured in large format (up to 320 cm x 144 cm) and thin thicknesses (0.8 cm, 1.2 cm and 2 cm). It as superior technical characteristics: resistance to UV rays, scratches, stains, thermal shock and very low water absorption.
All of these characteristics unique to Dekton® are present thanks to the technology used in its production, which has been developed exclusively by the Cosentino Group's R&D department. Dekton® is manufactured with Technology of Sinterized Particles (TSP), an innovative ultra-compaction process. This contributes greatly to the fact that Dekton® is a completely revolutionary product; it is durable, very easy to maintain, and has potential for both indoor and outdoor uses including flooring, façades, wall cladding and worktops.
The prestigious architect and designer Daniel Libeskind used Dekton in the creation of "Beyond The Wall", his only work in the Iberian Peninsula. Dekton® is sponsor of the "Rafa Nadal Academy by Movistar", where more than 40.000 m2 of the product have been used in different areas such as the façades, flooring and other coverings.
Dekton XGloss has obtained Red Dot Award: Product Design 2016