Description of the system:
The cutting system "ZENESIS Gang Saw (ZGS) " is a consolidated technology developed to cut granite blocks for which use;
- Hardened steel blades with the special Zenesis diamond segments
- Pendular movement of the blade itself and water cooling.
The advantages of ZGS system: additional slabs in production
The width of cut (wasted material) is only 5 mm for the Zenesis Gang saw system and this gives you advantages as described below: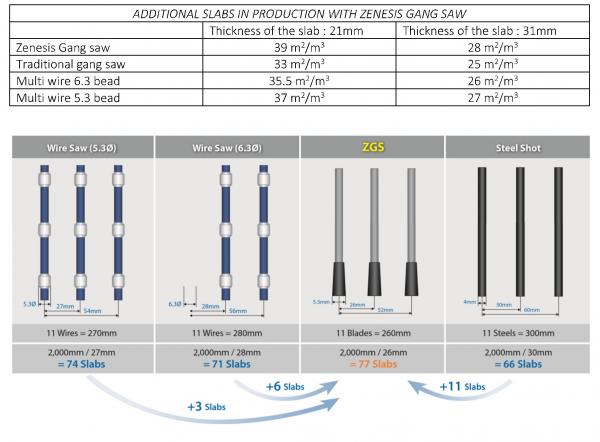 - With expensive materials, there is big return of investment thanks to the savings in material.
- The quality of the surface after the cut is very good: it is possible to avoid the smoothing of the slabs before the resin phase
- After the sawing, the slabs are ready to be delivered: no washing to remove the lime.
- It is possible to cut materials with fractures because the particular shape of the diamond segments does not generate forces horizontally along the thickness of the slabs.
- The typical problem of the steel grit which fits inside the micro holes of the slabs is solved.
- It is possible to cut hard marble, typically difficult to  cut, with the marble gang saw.
- The consumption of electricity (kW/ m2) is much reduced thanks to the ZGS system and the overall consumption of electricity for cutting a block is reduced to only 30% compared to the energy necessary to cut with the steel shot gang saws. If we compare the Zenesis system to the Multiwire, the cost of energy is less than half of the multiwire machine itself.
YOU HAVE TWO WAYS TO USE THE ZGS SYSTEM:
1) Modify your traditional machine.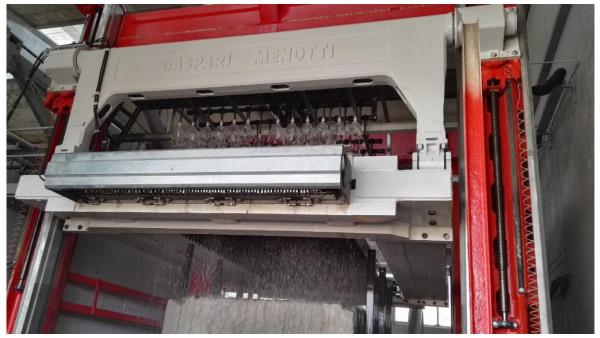 2) THE NEW BM-ZENESIS GANGSAW MACHINE DEVELOPED BY  BM Officine.
Zenesis Solutions Srl, after having accumulated strong experience in modifying the traditional granite gang saws realized it was necessary a new machine in order to give the opportunity to use the Zenesis Gang saw technology also to whom, for different reasons, do not have traditional machines to be converted, or, in case the condition of the single machine is not suitable for the diamond technology.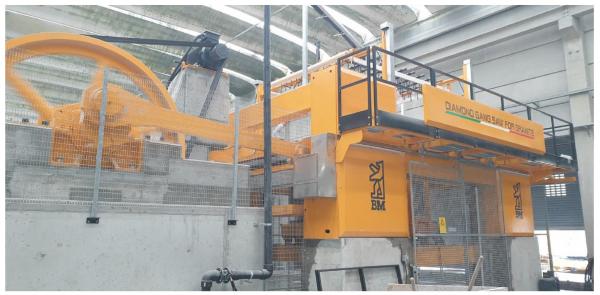 ZENESIS GANG SAW SYSTEM EXPERIENCE
Up to now we have cut more than 1.250.000 square meters of granite over more than 298 different kind of granites and also more than 200.000 square meter of hard marble Zenesis solutions, with its staff and service points in:
- Italy- India- Portugal- Poland- Ukraine
We remain at your full disposal for further support.
E-mail: info@zenesissolutions.it
Videos: