Sponsored
NODOSAFER will soon launch the new 68 series of multiwire machines, specifically designed for marble. Two models, 39 wires and 76 wires with drums of 1 and 2 meters respectively.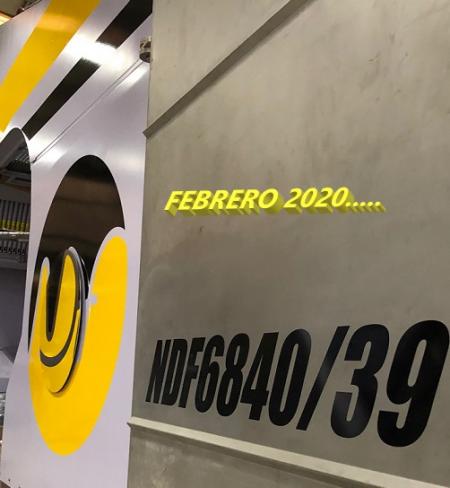 The experience and the good results accumulated for years in the cutting of granite through our multiwire machines, has made us develop a specific series for marble which presents spectacular results in terms of performance and quality of cut obtained through a multitude of tests made prior to the final launch of this series 68.
For these models we have concentrated all our efforts in developing a specific tensioning system for marble, based on the necessary, fast and precise sensitivity to the types of hardness existing in the marbles and limestones. Likewise, the novel geometry perfected from our machines in granite, provides optimization to the cut. The combination of these improvements for marble, results in a perfect balance between high cutting speed and a high quality finish always taking into account the profitability and productivity of the 5.3 mm diamond wire
The new NODOSAFER 68 series for marble aims to be the appropriate response and worldwide reference to a market for multi-wire machines that has already arrived with the intention of staying.
Multi-wire cutter NDF 6510/15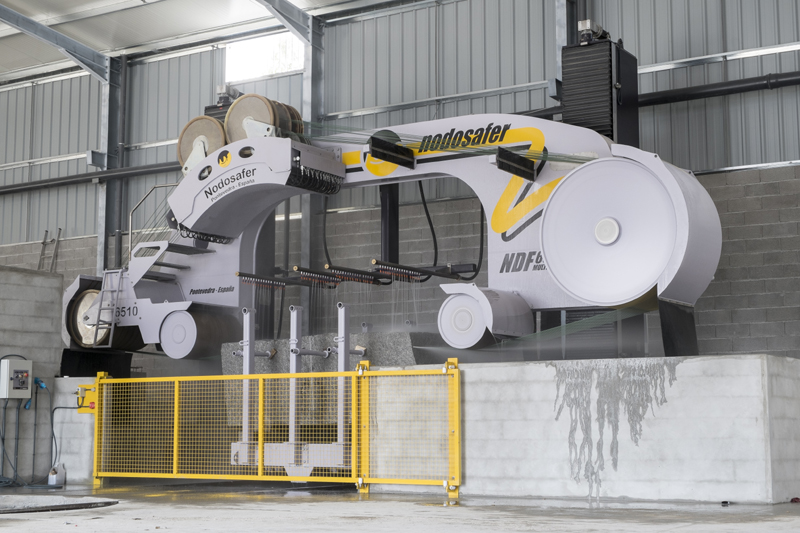 NODOSAFER has just put into operation the first units of its innovative cutting machine with multiple diamond wires NDF-6510/15, a very modern multi-wire cutter especially designed to produce thick boards and slabs from the large blocks of granite and natural stone.
This new machine, result of a constant work of research and development of new solutions, represents the most modern and efficient solution in terms of sawing thicknesses in the stone factories, becoming the best alternative to the methods for sawing thick slabs used until now.
The multiple diamond wire cutter, intended to obtain high yields, stands out for its efficiency and high productivity. It is also characterized by its great robustness and its particular design, forming a balanced and compensated set where all movements are concentrated.
This new model stands out for its particular tensioning device and control of the wire loops, in addition to separating them in a simplified way in order to do the automatic variation of cutting thicknesses in the slabs to be cut in a simple and easy way.
The new multi-wire cutter NDF6510/15 stands out for the following features:
- Active tensioning system which increases the useful life of wires, increasing profitability and ensuring optimal surface finishes.
- Novel design of pulleys, with pivot extraction system to reduce maintenance times.
- Full range of cutting thicknesses, thanks to its particular design of pulley assemblies and combination of slots, without penalizing the service life of the diamond wire.
- Excellent cutting accuracy and flatness, thanks to its special guidance system by linear roller bearings and its rigid structure.
- Easy and comfortable access to the inside of the machine, facilitating wire changing and maintenance tasks.
- Large diameter helical ball screws on the vertical movement for a smooth and precise movement.
- Servomotors synchronized by software in vertical movements which ensure smoothness in cutting, low consumption, maximum precision and avoid backlashes and problems of the central motorization using transmission and gearboxes.
- Up to 10 or 15 wires with several possibilities for the combination of cutting thicknesses.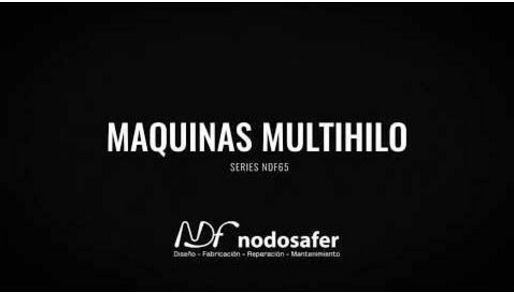 The development of its multi-wire cutting machines strengthens the international presence of the company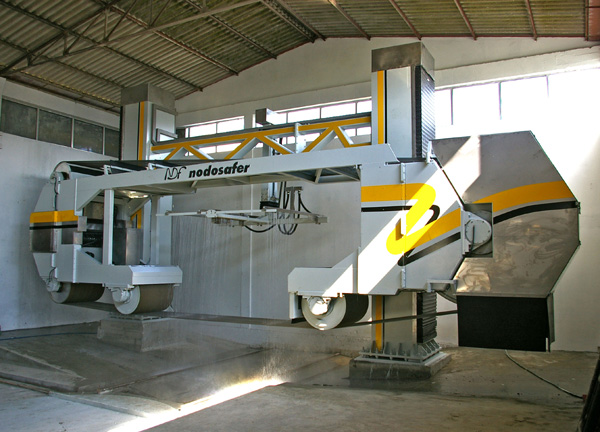 Since its beginning in the year 1983, Nodosafer has dedicated to the manufacture of machinery and equipment for the industry of transformation of granite and natural stone,
focusing
on offering to its clients high quality products and services. Since 2013 the presence of Nodosafer increased in the international markets by installation of its multi-wire machines in Brazil.
Jose Manuel López Guitián, Director of Nodosafer: "Just before the crisis of 2008 we went strongly for the development of multi-wire cutting machines since this was the segment of machinery that was going to be the new alternative to the sawing methods employed till now. We had (and still have) a great team of technical people and professionals, and the confidence that comes from the quality and reliability of our machines, it allows us to position our company as a reference in the market in this machine segment. We can highlight the installation of our machines in factories of the sector such as:
- Marmilages – Portugal
- Granitos Galrao – Portugal
- Granisa – Porriño
- Levantina - Porriño
- Fafstone – Portugal
- Levantina Stone – Brazil
- Vitoria Stone – Brazil
The South American markets have a lot of installations and so do Asian markets, and they need to modernise their installations with new and reliable machines to process with quality and low production costs. This is where we enter to advise them."
Gumersindo Alonso, General Manager of Granisa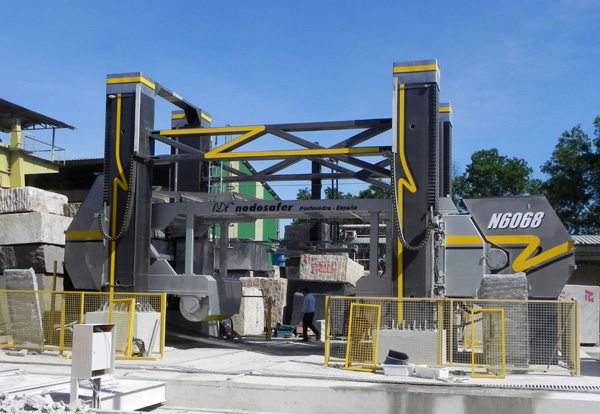 "In Granisa we have been pioneers in the use of this technology of cutting with multi-wire machines. When it came to acquiring the latest multi-wire cutting machine of Nodosafer, we took into account several factors. In the first place we highlight that Nodosafer is a Spanish company that has good after-sales service, since we already had installed machines with high reliability. But one of the aspects that surprised us of this cutting machine was the good opinion and high level of satisfaction that its clients had of it, the levelness and quality of finish of its sawing, apart from other aspects and technical details that were also evaluated by our people responsible for production and maintenance.
After some months of experience with sawing with this machine we can say that one of its most important aspects is its reliability since it is a machine that can work almost 24 hours a day without stopping throughout the week, and above all its low cost of maintenance compared to our previous experience. The current context obliges us to adjust production costs so as to compete in the market. One of the few ways out we have is the transforming factories to survive and prosper is the incorporation of advanced technologies in daily work, to optimize the time and resources needed with high performance machines. The multi-wire cutting machine of Nodosafer is a highly recommendable machine that fulfills these requirements."